Adar Pins Olympic Champ Wiebe, Moldova Advances 3 to Finals
Tuesday, December 15, 2020 - 18:04 By Andrew Hipps
Link:
Semifinal Highlights

BELGRADE, Serbia (December 15) -- World champion Yasemin ADAR (TUR) punched her ticket to the 76kg final of the Individual World Cup with a fall over Olympic champion Erica Elizabeth WIEBE (CAN).
Adar, a two-time world finalist and four-time European champion, trailed 1-0 after the opening period of her semifinal against Wiebe. Early in the second period, Wiebe fired off a shot and Adar scored an exposure before pinning the Canadian star's shoulders on the mat to earn the fall. 
The 29-year-old Adar was one of four wrestlers from Turkey competing in Tuesday's semifinals, but the lone Turkish wrestler to reach the finals. She will face Aline ROTTER FOCKEN (GER), who advanced with a 6-4 semifinal win over Aiperi MEDET KYZY (KGZ). Focken led 4-1 after one period. Medet Kyzy battled back in the second period and made the score 4-4 late while still trailing on criteria. Focken responded with a takedown to seal the victory. 
Moldova had a strong semifinal round, going 3-for-3, with finalists coming in the first three weight categories contested Tuesday. All three of Moldova's semifinal victories came over Turkey. Advancing to the finals for Moldova were Anastasia NICHITA (57kg), Mariana CHERDIVARA ESANU (59kg) and Irina RINGACI (65kg).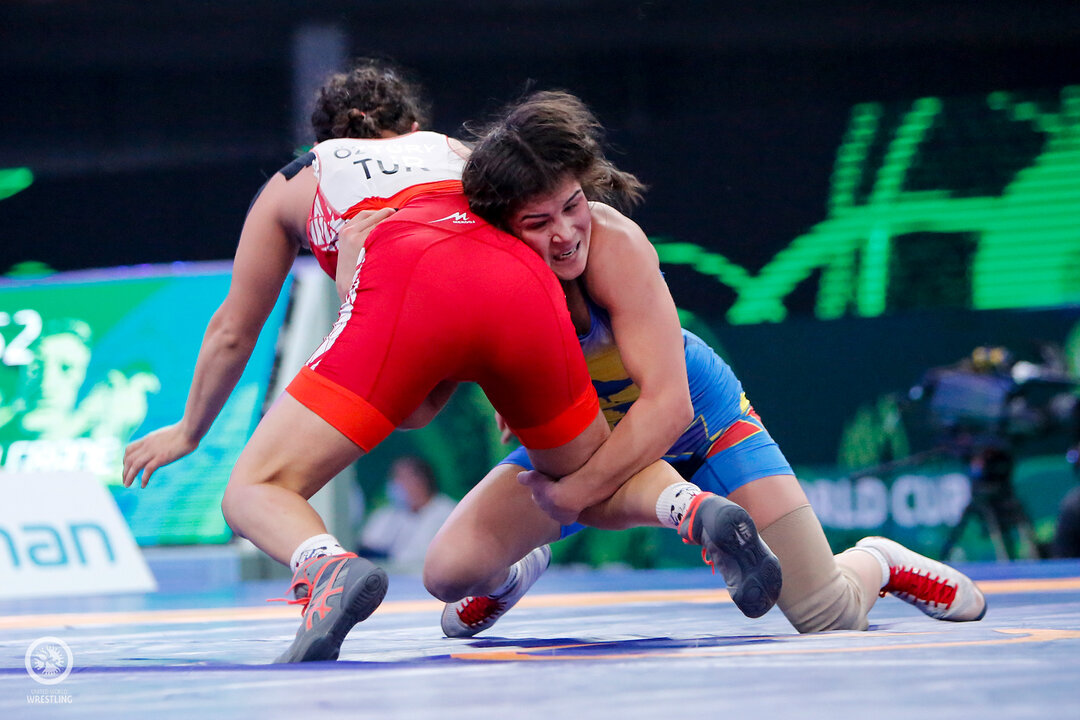 Anastasia NICHITA (57kg) was one of three semifinal winners for Moldova (Photo: Gabor MARTIN, UWW)

Nichita, a 2020 European champion, found herself in an early 4-0 hole after getting thrown to her back by Mehlika OZTURK (TUR). But Nichita battled back, scoring seven unanswered points to lead 7-4 at the break. Ozturk cut the deficit to 7-5 in the second period before Nichita picked up four straight takedowns on her way to a 15-5 technical superiority. She will face ANSHU (IND), who earned her spot in the 57kg finals with a fall over Veronika CHUMIKOVA (RUS).
Cherdivara Esanu reached the 59kg final by shutting out Elif YANIK (TUR), 4-0. Cherdivara scored a takedown in each of the two periods, with the final one coming with six seconds remaining in the match.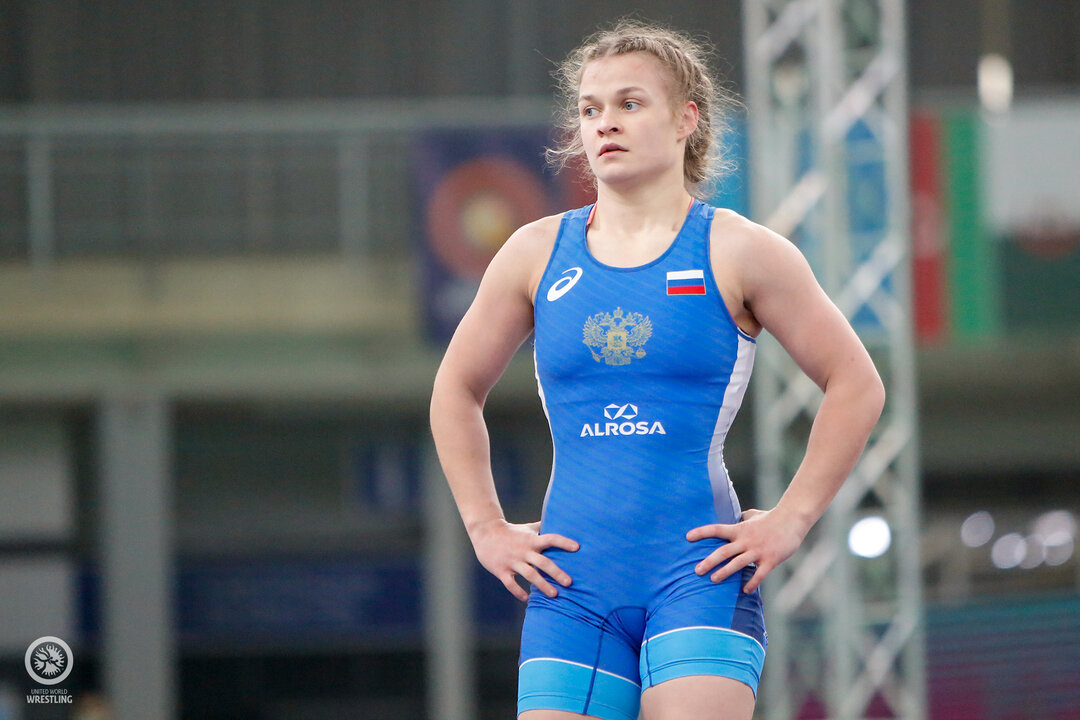 Svetlana LIPATOVA (RUS) reached the 59kg final (Photo: Gabor MARTIN, UWW)

Russia's lone semifinal winner Tuesday was Svetlana LIPATOVA (RUS) at 59kg. She trailed for most of her semifinal match against Elif YANIK (TUR). Down 2-0 after giving up both points off passivity, Lipatova fired off a shot with just under a minute remaining and scored a takedown to take the criteria lead and eventually earn the victory. 
Moldova's third semifinal winner was Irina RINGACI (65kg). Facing Asli DEMIR (TUR) in the 65kg semifinal, Ringaci fell behind 4-2 before throwing the Turkish wrestler to her back and nearly securing a fall as the first period came to a close. She carried that momentum into the second period, outscoring Demir 10-0 in the second period to earn the 14-4 technical superiority.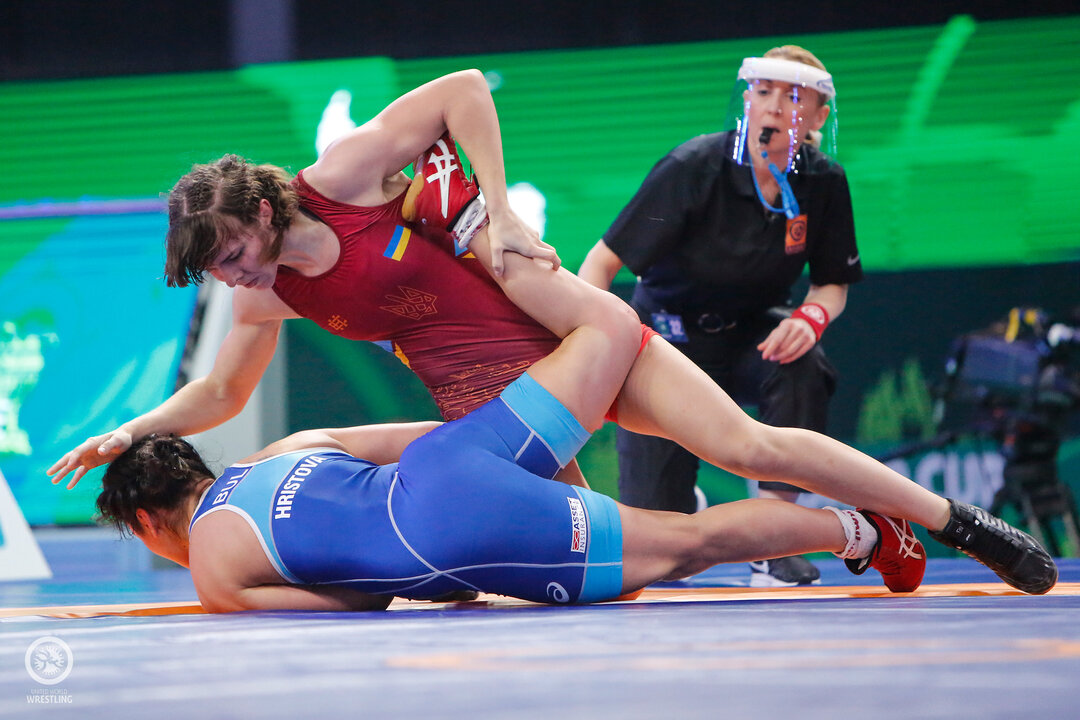 Tetiana RIZHKO (UKR) cruised to a 13-8 win at 65kg (Photo: Gabor MARTIN, UWW)

Tetiana RIZHKO (UKR) topped European champion Mimi HRISTOVA (BUL) 13-8 in a semifinal match at 65kg. Rizhko broke open the match early in the second period after a scoring with a four-point move to go up by six after an unsuccessful challenge by Bulgaria. Rizhko built her lead to nine before Hristova picked up two late takedowns to make the score respectable. 
At 68kg, 21-year-old Meerim ZHUMANAZAROVA (KGZ), a 2019 junior world silver medalist, edged 2013 world champion Alina BEREZHNA STADNIK MAKHYNIA (UKR) 7-6 to reach the championship match. Berezhna made it interesting late, scoring a two-point exposure with 30 seconds left to make the score 6-6, but Zhumanazarova held on for the narrow victory. 
Adela HANZLICKOVA (CZE) reached the 68kg final by earning a fall over Khanum VELIEVA (RUS). Velieva started fast, scoring a four-point takedown early to go up 4-0. The score remained that way until the second period when Hanzlickova took a shot and exposed Velieva before earning the fall.
Women's Wrestling Semifinal Results
57kg
Anshu ANSHU (IND) df. Veronika CHUMIKOVA (RUS) by VFA, 7-4
Anastasia NICHITA (MDA) df. Mehlika OZTURK (TUR) by VSU1, 15-5
59kg
Mariana CHERDIVARA ESANU (MDA) df. Elif YANIK (TUR) by VPO, 4-0
Svetlana LIPATOVA (RUS) df. Sandra PARUSZEWSKI (GER) by VPO1, 2-2
65kg
Irina RINGACI (MDA) df. Asli DEMIR (TUR) by VSU1, 14-4
Tetiana RIZHKO (UKR) df. Mimi Nikolova HRISTOVA (BUL) by VPO1, 13-8
68kg
Adela HANZLICKOVA (CZE) df. Khanum VELIEVA (RUS) by VFA, 2-4
Meerim ZHUMANAZAROVA (KGZ) df. Alina BEREZHNA STADNIK MAKHYNIA (UKR) by VPO1, 6-6
76kg
Aline ROTTER FOCKEN (GER) df. Aiperi MEDET KYZY (KGZ) by VPO1, 6-4
Yasemin ADAR (TUR) df. Erica Elizabeth WIEBE (CAN) by VFA, 2-1