Akhmetova Amanzhol Snatches Victory From Jaws of Defeat to Stun Mukaida for 53kg Title; Kawai Sisters Strike Gold
Friday, February 21, 2020 - 17:46 By Ken Marantz
NEW DELHI (Feb. 21)—Tatyana AKHMETOVA AMANZHOL (KAZ) has been around long enough to know anything can happen in wrestling. But the miracle victory she pulled off left her as stunned as anyone.
Akhmetova Amanzhol was on the verge of losing by technical fall in the women's 53kg final against world silver medalist Mayu MUKAIDA (JPN) when, on what would have been a decisive gut wrench, she stepped over and instead snatched a victory by fall and the gold medal on Friday at the Asian Championships.
"Still now, I can't believe it because I was losing 8-0 and I could make a fall, so I'm happy," said Akhmetova Amanzhol, who won her fourth career Asian title and first since winning back-to-back golds in 2013 and 2014. 
"It's the same as in 2013, the final was here in New Delhi," said the 34-year-old mother of two young boys. "And also in that final match I was losing and I used the same technique, but the opponent was Chinese." 
Akhmetova Amanzhol's gold was one of two captured by Kazakhstan as the final five titles in women's wrestling were decided. 
Zhamila BAKBERGENOVA (KAZ), a bronze medalist in 2019, moved to the top of the podium when she capped the evening with a 2-1 win over world U-23 bronze medalist Mei SHINDO (JPN) in the 72kg final.
The day was hardly a disappointing one for Japan, as sisters Risako and Yukako KAWAI (JPN) and Naomi RUIKE (JPN) seized the three other golds at stake as the East Asian powerhouse won the team title with 209 points.
Host India, which picked up a silver and three bronzes after winning three golds the previous day, finished second with 180 points, followed by Kazakhstan in third with 164.
For Mukaida, the loss added to a history of squandered opportunities in major events. She lost in the final seconds of the final at the 2017 World Championships in Paris, then again in the final at last year's Asian Championships. 
What makes this loss doubly disappointing is that the 2018 world 55kg champion was an absolute dynamo in ripping through the competition in New Delhi. But it all came apart with one sudden lapse that she can only look at as a lesson learned heading to the Tokyo 2020 Olympics.
"From my first match, I kept my feet moving, and I feel my mobility was really good this tournament," Mukaida said. "Even in [the final], I felt I was moving like I want to. But in the end, I was lax in trying to finish off the roll and it ended up as a fall." 
Up to that moment, Akhmetova Amanzhol had no answer as Mukaida used her trademark low single to score a takedown, then added a roll for a 4-0 lead. She then repeated the process to put her within two points of a technical fall.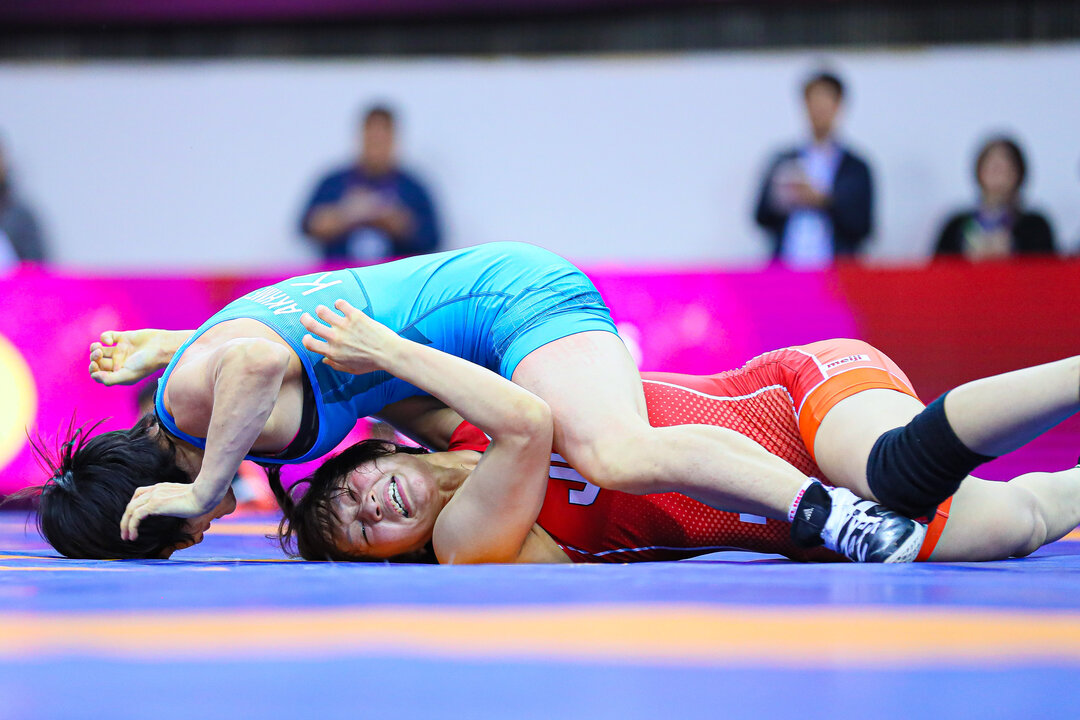 Tatyana AKHMETOVA AMANZHOL (KAZ) was down 8-0 when she planted Mayu MUKAIDA (JPN) on her back for the fall in the 53kg finals. (Photo: Kadir Caliskan)
Mukaida was on the verge of wrapping it up when she launched a gut wrench. But midway through the roll, Akhmetova Amanzhol managed to loosen the grip and step over Mukaida, who was stopped firmly on her back. The Kazakh only needed to clamp down to end the match at 1:48.
"I couldn't think about what to do," Akhmetova Amanzhol said of what her thought process was at 8-0 down. "But it's wrestling. In wrestling, anything can happen."
Even more amazing is that Akhmetova Amanzhol was competing despite nursing a right knee injury. "I was wrestling carefully because of my knee," she said. "It might be because of this that the score was 8-0."
Akhmetova Amanzhol, who took time off over the years for childbirth, was motivated to return by the desire to get back to the Olympics. She appeared at the Beijing 2008 Olympics, placing fifth at 48kg, and will try to earn a spot at the Tokyo Olympics at the Asian Olympic qualifier next month in neighboring Kyrgyzstan. 
"My motivation is to wrestle in the Olympic Games because once I was in it before," she said. "The Tokyo Olympics is motivation for me to return to wrestling and win the gold medal for my family, and dedicate it to my children and country."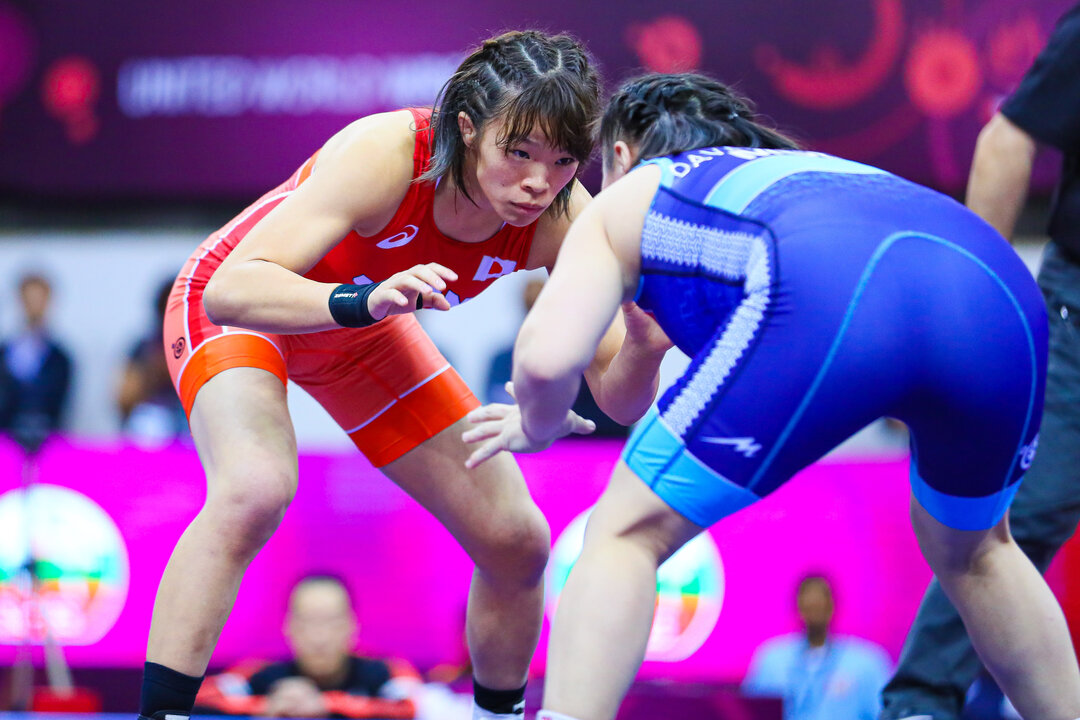 Risako KAWAI (JPN) claimed her fourth Asian title wit ha 10-0 win over Davaachimeg ERKHEMBAYAR (MGL) in the 57kg finals. (Photo: Kadir Caliskan)
Risako Kawai, the Rio 2016 and three-time world champion, secured her fourth career Asian gold and first since 2017 by overwhelming Davaachimeg ERKHEMBAYAR (MGL) in the 57kg by 10-0 technical fall.
Kawai used an arm drag to a single leg takedown, then secured a lace lock and ripped off four unencumbered rolls to win in 1:37. 
With the victory, Kawai secured the top spot in the UWW rankings, making her the top seed at the Tokyo Olympics. Not that she puts much stock in that. 
"I'm not really keeping that in mind so much," Kawai said. "In Rio, Sara won the gold as a non-seed, so I'm not making such a big deal out of it," she said, referring to 68kg gold medalist Sara DOSHO (JPN). "Even so, I'm glad to be No. 1."
Kawai's only regret in New Delhi was that women's wrestling powerhouses China and the Democratic People's Republic of Korea withdrew from the tournament due to circumstances related to the new coronavirus outbreak. That kept her from a highly anticipated rematch of the 2019 world final against RONG Ningning (CHN).
"I was hoping to face the Chinese and North Koreans before the Olympics, and try out different techniques," Kawai said. "But when it comes to matches, things don't always go as you want. When I get home, I will work on fine-tuning."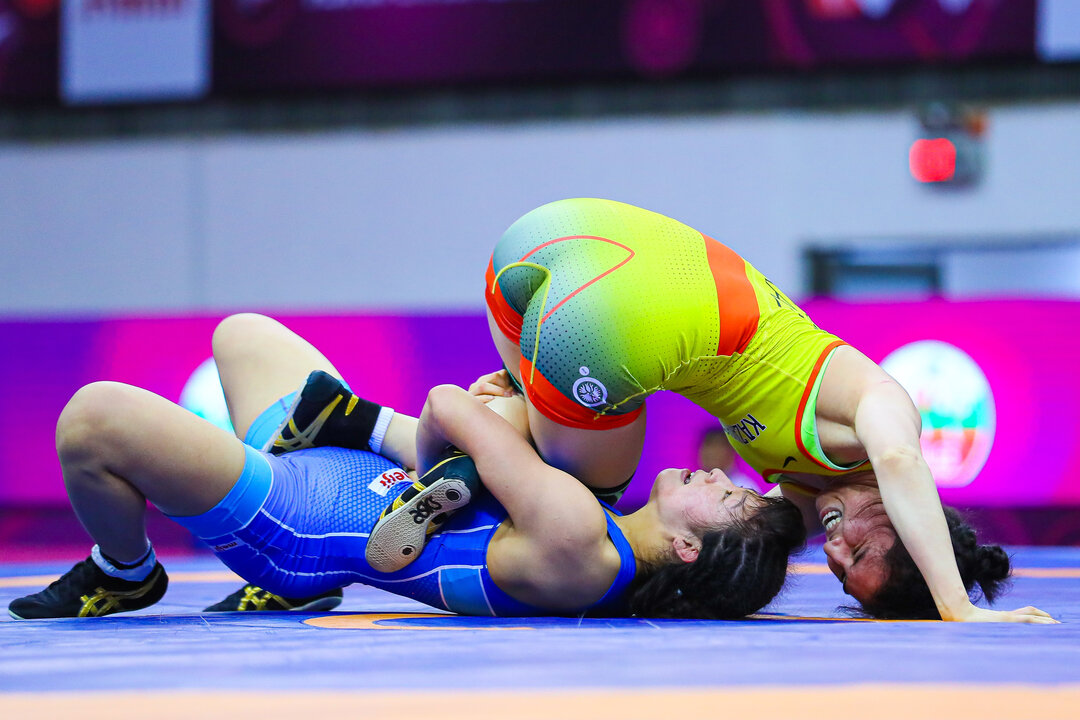 Yukako KAWAI (JPN) defeated Ayaulym KASSYMOVA (KAZ), 5-1, and grabbed her first Asian gold medal. (Photo: Kadir Caliskan)
Kawai was waiting for her medal ceremony when younger sister Yukako took the mat, allowing her to shout advice as the two always do for each other at tournaments. Not that Yukako needed much.
In the final against Ayaulym KASSYMOVA (KAZ), Kawai picked up the lone point of the first period via the activity clock, then just missed beating the clock herself when she scored a takedown in the second. She added a lace-lock roll to win 5-1 for her first senior Asian title.
In the 65kg final, Ruike improved on her silver medal from 2019 when she scored a spin-behind takedown in the first period, which held up for a 2-0 win over two-time bronze medalist Sakshi MALIK (IND).
The two had faced each other earlier in the day in the group stage, with Ruike notching a 2-1 win in which all points were scored on the activity clock.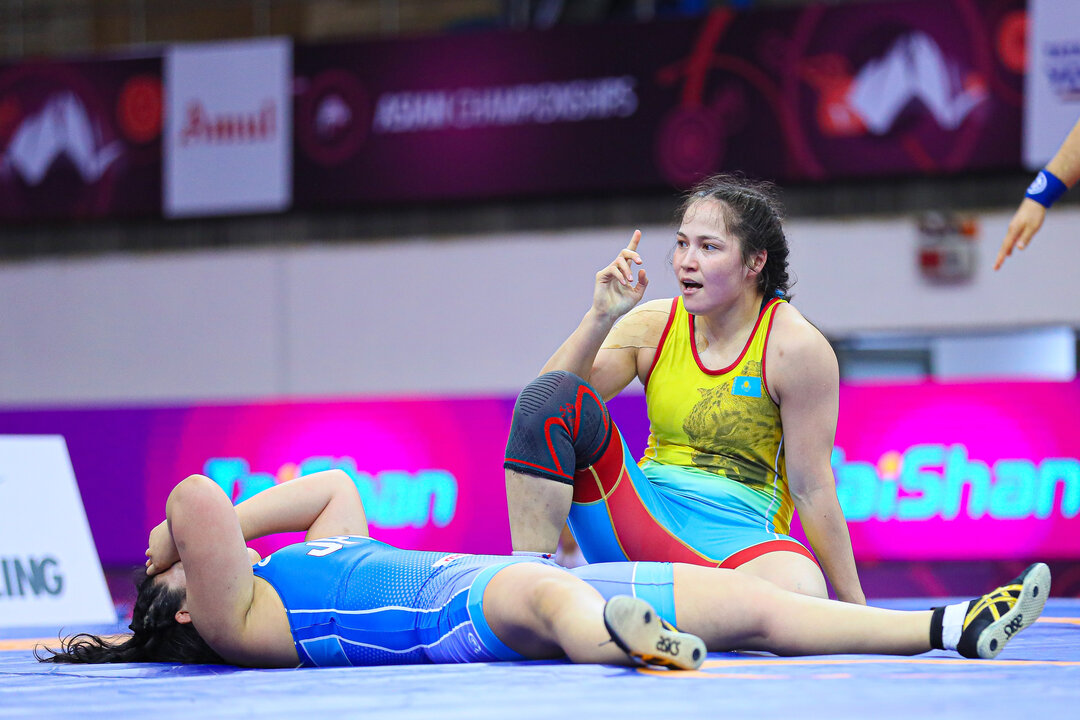 Zhamila BAKBERGENOVA (KAZ) edged Mei SHINDO (JPN), 2-1, in the 72kg finals. (Photo: Kadir Caliskan)
At 72kg, Bakbergenova scored a double-leg takedown with 1:40 left and held on to beat Shindo to become the second member of her family to take home a medal. Sister Madina won a bronze at 59kg the previous day.
Meanwhile, world 62kg champion Aisuluu TYNYBEKOVA (KGZ) assured she would not go home empty-handed when she won a bronze medal with an 11-0 technical fall of teenager Sonam SONAM (IND). 
Tynybekova had lost her opening match to Yukako Kawai in a rematch of both last year's Asian final and a second-round clash at the World Championships. Tynybekova had won both previous meetings.
The tournament continues with the start of the men's freestyle on Saturday, with action in the 57kg, 65kg, 70kg, 79kg and 97kg categories.  
Day 4 Results
Women's Wrestling
53kg (10 entries)
GOLD – Tatyana AKHMETOVA AMANZHOL (KAZ) df. Mayu MUKAIDA (JPN) by Fall, 1:48 (2-8)
BRONZE – Vinesh VINESH (IND) df. Thi Ly KIEU (VIE) by TF, 10-0, 2:52
BRONZE – Aktenge KEUNIMJAEVA df. Chantha THONGART (THA) by Fall, :26 (2-0)
57kg (8 entries)
GOLD – Risako KAWAI (JPN) df. Davaachimeg ERKHEMBAYAR (MGL) by TF, 10-0, 1:37
BRONZE – Anshu ANSHU (IND) df. Sevara ESHMURATOVA (UZB), 4-1
BRONZE – Altynay SATYLGAN (KAZ) df. Thi Huong DAO (VIE) by Fall, 4:15 (4-2)
62kg (8 entries)
GOLD – Yukako KAWAI (JPN) df. Ayaulym KASSYMOVA (KAZ), 5-1
BRONZE – Aisuluu TYNYBEKOVA (KGZ) df. Sonam SONAM (IND) by TF, 11-0, 4:24
BRONZE – Nomin Erdene PURVEE (MGL) df. Thi My Hanh NGUYEN (VIE) by Fall, 1:15 (4-1)
65kg (6 entries)
GOLD – Naomi RUIKE (JPN) df. Sakshi MALIK (IND), 2-0
BRONZE – Bolortungalag ZORIGT (MGL) df. Nabira ESENBAEVA (UZB), 7-4
72kg (6 entries)
GOLD – Zhamila BAKBERGENOVA (KAZ) df. Mei SHINDO (JPN), 2-1
BRONZE – Preet Kaur GURSHARAN (IND) df. Tsevegmed ENKHBAYAR (MGL), 5-2