Aleksanyan Looks to Add European Games Gold to Resume
Saturday, June 29, 2019 - 18:06 By United World Wrestling Press
MINSK, Belarus (June 29) - Artur ALEKSANYAN (ARM) has won gold medals at the Olympic Games, World Championships and European Games. Now the 27-year-old Armenian stands one win away from winning a gold medal at the European Games.
Competing in his first European Games, Aleksanyan won three matches on Saturday to earn a spot in the 97kg finals. He trailed in his first two matches before battling back to win. In his semifinal match, Aleksanyan faced two-time U23 world champion Aleksandr GOLOVIN (RUS). 
This time Aleksanyan led the entire time, jumping out to a 3-0 lead in the opening period, scoring off a passivity and then a gut wrench. He held on to win 3-1. Aleksanyan will face Aliaksandr HRABOVIK (BLR) in the gold-medal match at 97kg. Hrabovik shut out Olympic bronze medalist Cenk ILDEM (TUR) 2-0 in the semifinals.
Two world No.1's competed in Saturday's semifinals, with one winning and the other losing.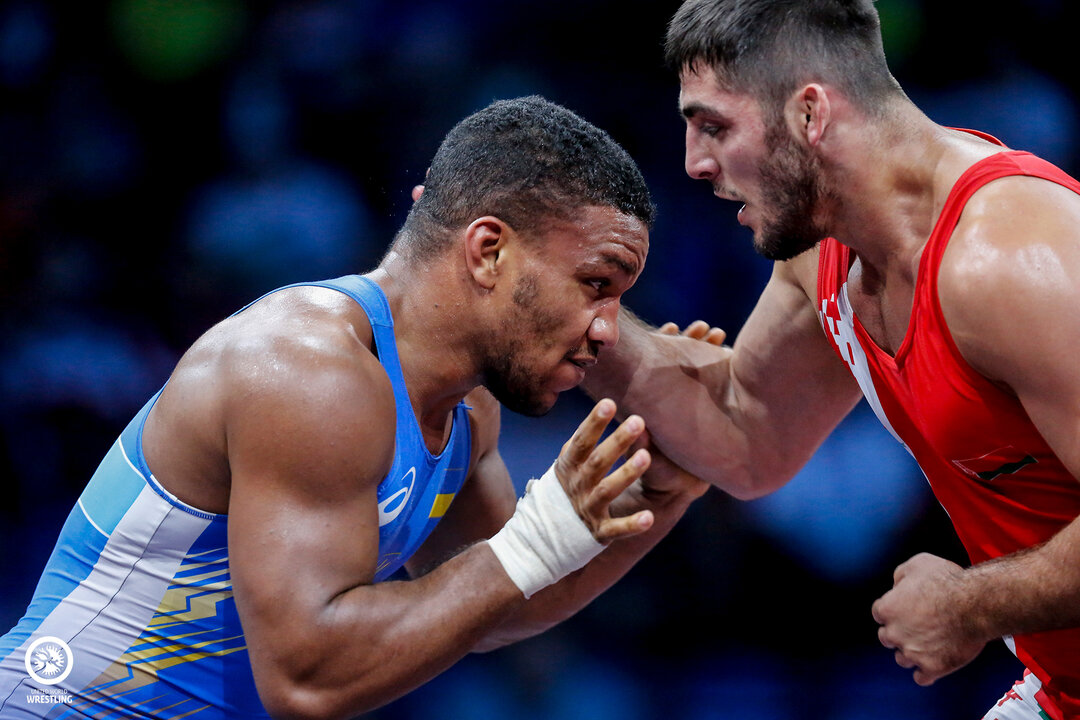 World No. 1's Zhan BELENIUK (UKR), a 2015 world champion and 2016 Olympic silver medalist, came back to defeat Radzik KULIYEU (BLR) 3-1 in the semifinals at 87kg. Kuliyeu led 1-0 at the break after scoring with a passivity point, but Beleniuk battled back in the second period to win, scoring off a passivity point and then with a gut wrench. He will meet Islam ABBASOV in the 87kg finals. Abbasov, a two-time U23 world medalist, shut out Ivan HUKLEK (CRO) 5-0 in the semifinals.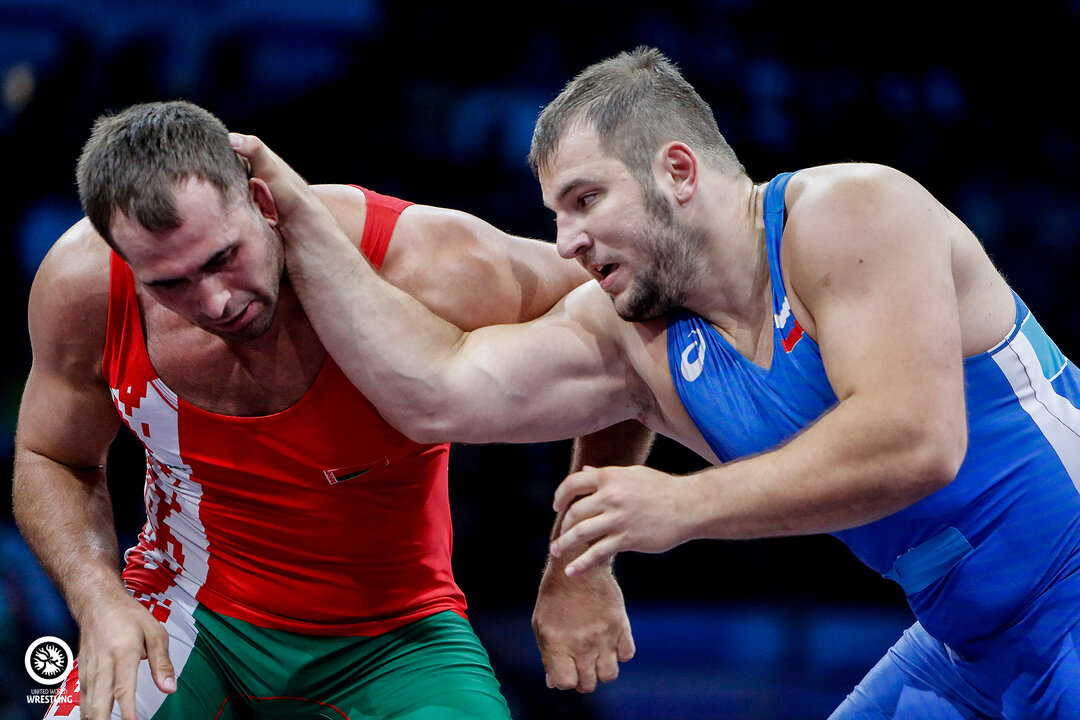 At 130kg, Kiryl HRYSHCHANKA (BLR) stunned world No.1 Sergey SEMENOV (RUS) 3-1 in the semifinals. The Russian Olympic medalist scored first off a passivity and held a 1-0 lead at the break. But with the home crowd cheering on Hryshchanka, the Belarusian Greco-Roman heavyweight scored three points in the final period to secure a spot in Sunday's gold-medal. He will face Iakobi KAJAIA (GEO) in the finals. Kajaia, a European silver medalist, advanced to the finals with a fall over world No.7 Oskar MARVIK (NOR).

RESULTS
Greco-Roman
87kg
GOLD - Islam ABBASOV (AZE) vs. Zhan BELENIUK (UKR)
SEMIFINAL - Islam ABBASOV (AZE) df. Ivan HUKLEK (CRO), 5-0
SEMIFINAL - Zhan BELENIUK (UKR) df. Radzik KULIYEU (BLR), 3-1
97kg
GOLD - Aliaksandr HRABOVIK (BLR) vs. Artur ALEKSANYAN (ARM)
SEMIFINAL - Aliaksandr HRABOVIK (BLR) df. Cenk ILDEM (TUR), 2-0
SEMIFINAL - Artur ALEKSANYAN (ARM) df. Aleksandr GOLOVIN (RUS), 3-1
130kg
GOLD - Kiryl HRYSHCHANKA (BLR) vs. Iakobi KAJAIA (GEO)
SEMIFINAL - Kiryl HRYSHCHANKA (BLR) df. Sergey SEMENOV (RUS), 3-1
SEMIFINAL - Iakobi KAJAIA (GEO) df. Oskar MARVIK (NOR), Fall (1:02)