Belarus Captures 2 Golds on Final Day of Women's Wrestling at European Games
Friday, June 28, 2019 - 19:26 By United World Wrestling Press
MINSK, Belarus (June 28) - Belarusian wrestlers Iryna KURACHKINA (57kg) and Vasilisa MARZALIUK (76kg) gave the home crowd something to celebrate on the final day of the women's wrestling competition at the European Games in Minsk, Belarus. 
Kurachkina and Marzaliuk captured gold medals in dominant fashion on Friday at the Minsk Sports Palace. Neither wrestler surrendered a point in the finals.
Kurachkina, a 2017 world bronze medalist, rolled to a 10-0 technical superiority over Mimi HRISTOVA (BUL) in the gold-medal match at 57kg. She used three takedowns in the first period to build a 6-0 lead. Kurachkina closed out the match early in the second period, scoring a fourth takedown, which she followed up with a gut wrench to close her spectacular finals performance.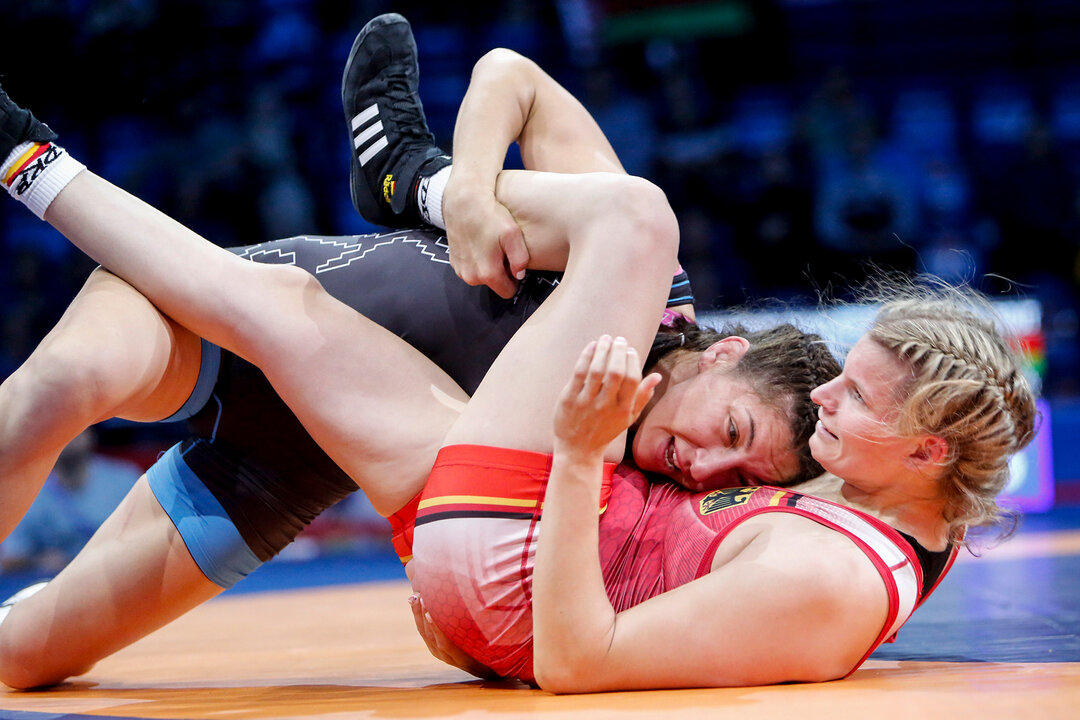 Marzaliuk, a four-time world medalist, won her second straight European Games gold medal, beating Francy RAEDELT (GER) 9-0 in the finals at 76kg. She controlled the match from start to finish, using a step out and takedown in the first period to go up 3-0 at the break. Marzaliuk pulled away in the third period with three more takedowns.  
Joining Marzaliuk as a repeat winner at the European Games was Mariya STADNIK (AZE) at 50kg. Stadnik, a three-time Olympic medalist and five-time world medalist, handled returning world bronze medalist Oksana LIVACH (UKR) 7-1 in the gold-medal match at 50kg.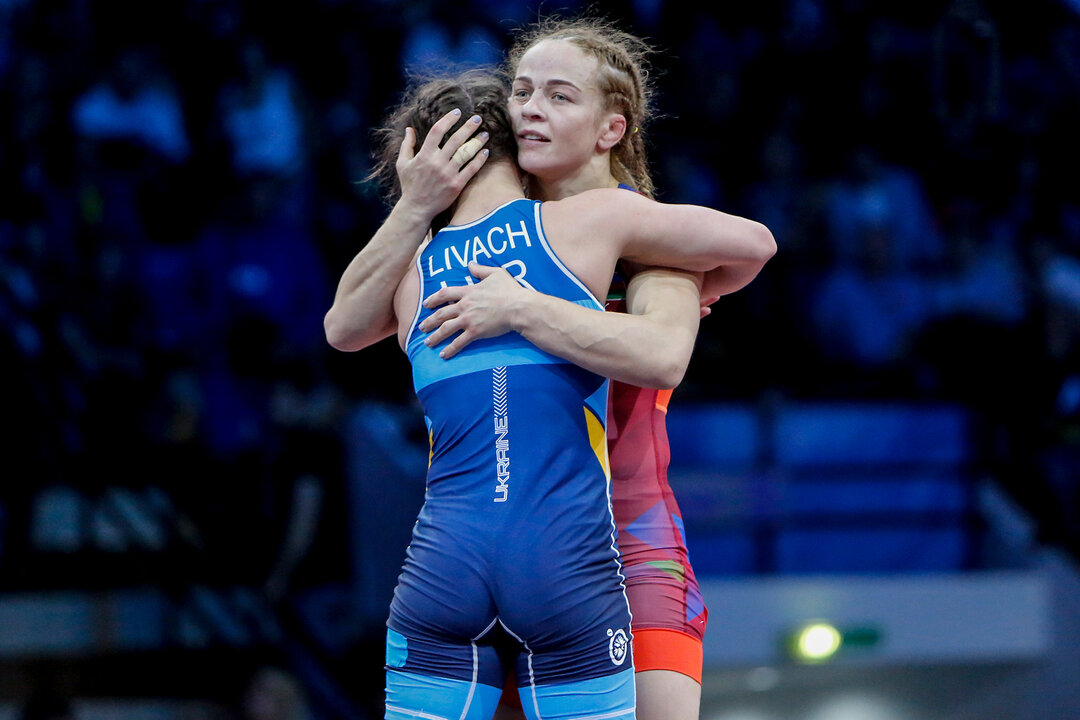 After scoring with a step out, Stadnik scored a takedown on the world No. 2 Livach, which she followed up with a gut wrench to grab a 5-0 lead. She added another takedown in the final period, while giving up just a point off a step out. Stadnik outscored her opponents 23-2 at the European Games.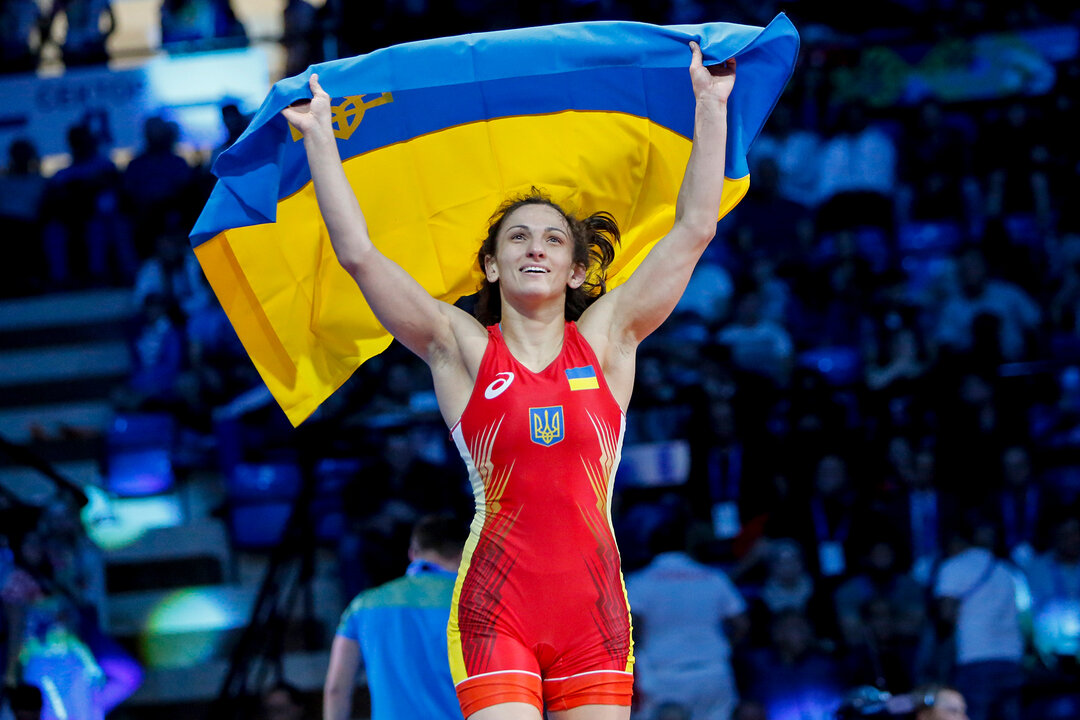 Yuliia TKACH (UKR), a four-time world medalist, won a gold medal at 62kg, improving on her silver-medal performance at the 2015 European Games. She topped Elmira GAMBAROVA (AZE) 4-0 in the finals. 
Tkach, ranked No.4 in the world, scored a takedown in the first period off a single leg attack to take a 2-0 lead. In the second period, Gambarova attempted an arm throw, which Tkach countered for another takedown, which closed out the scoring. 
Alyona KOLESNIK (AZE) and Anastasia NICHITA (MDA) earned the bronze medals at 50kg.
Mariia KUZNETSOVA (RUS) knocked off world No.1 Taybe YUSEIN (BUL) 7-4 in a bronze-medal match at 62kg. The other bronze at 62kg was won by Kriszta INCZE (ROU).
Epp MAE (EST), a 2015 world bronze medalist, defeated Olympic champion Natalia VOROBEVA (RUS) in dramatic fashion to win a bronze medal at 76kg. Vorobeva led most of the match before Mae scored the go-ahead points as time expired to steal the victory, 5-3. Iselin SOLHEIM (NOR) won by fall over Sabira ALIYEVA (AZE) to claim a bronze medal at 76kg. 
RESULTS
Women's Wrestling 
50kg
GOLD - Mariya STADNIK (AZE) df. Oksana LIVACH (UKR), 7-1
BRONZE - Evin DEMIRHAN (TUR) df. Anna LUKASIAK (POL), 6-2
BRONZE - Miglena SELISHKA (BUL) df. Viyaleta CHYRYK (BLR), 6-0 
57kg
GOLD - Iryna KURACHKINA (BLR) df. Mimi HRISTOVA (BUL), 10-0
BRONZE - Alyona KOLESNIK (AZE) df. Bediha GUN (TUR), 9-4
BRONZE - Anastasia NICHITA (MDA) df. Grace BULLEN (NOR), 11-4
62kg
GOLD - Yuliia TKACH (UKR) df. Elmira GAMBAROVA (AZE), 4-0
BRONZE - Mariia KUZNETSOVA (RUS) df. Taybe YUSEIN (BUL), 7-4
BRONZE - Kriszta INCZE (ROU) df. Katarzyna MADROWSKA (POL), 8-2
76kg
GOLD - Vasilisa MARZALIUK (BLR) df. Francy RAEDELT (GER), 9-0
BRONZE - Iselin SOLHEIM (NOR) df. Sabira ALIYEVA (AZE), Fall (1:13)
BRONZE - Epp MAE (EST) df. Natalia VOROBEVA (RUS), 5-3