Burroughs, Cox, Snyder Close out Yasar Dogu with Day 4 Titles
Sunday, July 14, 2019 - 16:24 By Eric Olanowski
ISTANBUL, Turkey (July 14) --- The United States closed out the final day at the Yasar Dogu with three gold medals -- bringing their overall freestyle championship total to five. They had a pair of winners on Day 3, then tacked on three additional golds thanks to the help of world champions Jordan BURROUGHS, J'den COX and Kyle SNYDER, who won the 74kg, 92kg and 97kg title respectively. 
Cox and Snyder now head into September's World Championships as the top-ranked wrestlers at their respective weights, while Burroughs gained the No. 2 ranking with his win in Istanbul.
Burroughs, a four-time world and Olympic champion, was scheduled to wrestle his biggest rival Frank CHAMIZO (ITA) for the 74kg title. But Chamizo, a two-time world champion, decided to sit out of the gold-medal bout after he locked up the top seed at 74kg -- handing the American the Yasar Dogu gold. 
With Chamizo grabbing the No. 1 seed from Sidakov, the Italian will face Budapest world runner-up and fourth-ranked Avtandil KENTCHADZE (GEO) in the top-side semifinal in Nur-Sultan, and Sidakov and Burroughs in the bottom side semifinal. That is, of course, if the seeds hold true in Kazakhstan.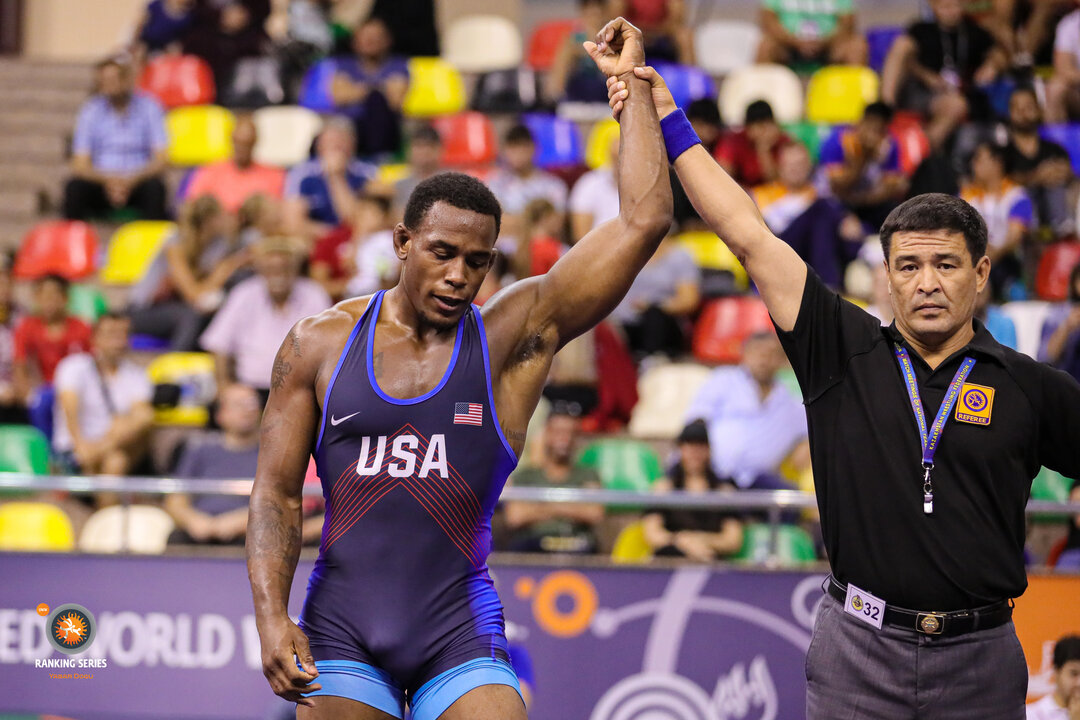 J'den COX (USA) outscored his four Yasar Dogu opponents 42-0 en route to the 92kg gold medal. (Photo: Kadir Caliskan)
J'den Cox closed out his run to a 92kg Yasar Dogu title outscoring his opponents 42-0 --including a 10-0 victory over Bendeguz TOTH (HUN) in the finals. 
Cox, the reigning 92kg world champion, picked up four takedowns then ended the finals match against Toth with a right side gut and slides into the World Championships with an unblemished 2019 record. 
Kyle Snyder earned a hard-fought 2-1 victory over Ali SHABANIBENGAR (IRI) in the 97kg finals and passed Abdulrashid SADULAEV (RUS) for the weights top spot. 
Snyder, a two-time world and Olympic champion, grabbed what ended up being the match-deciding takedown early in the first period with a quick ankle pick. Though he conceded a stepout point in the second period, Snyder hung on to win his first Yasar Dogu title -- improving on his third-place finish from a year ago.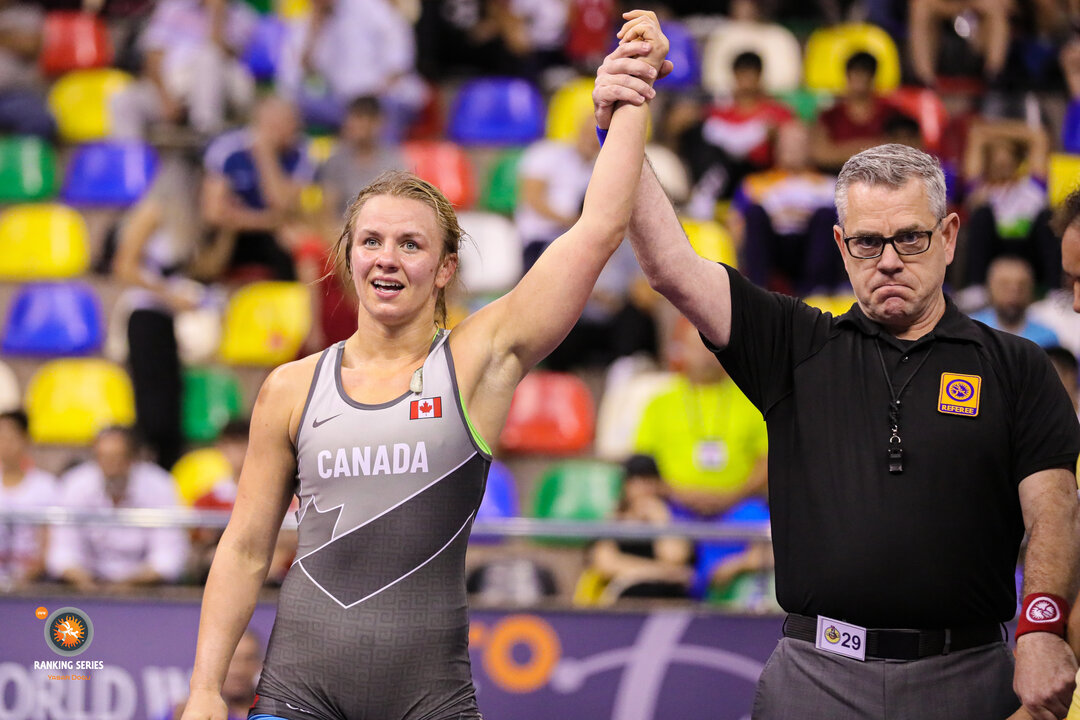 Erica WIEBE (CAN) won her second straight Ranking Series title with a 2-1 win over Aline DA SILVA FERREIRA (BRA) in the 76kg finals. (Photo: Kadir Caliskan)
Meanwhile, Erica WIEBE (CAN) became the third Olympic champion to win a Yasar Dogu title after scoring a 2-1 victory over Aline DA SILVA FERREIRA (BRA) in the 76kg women's wrestling finals. 
Wiebe and Da Sila Ferreira traded inactivity points, and the Brazilian led at the halfway point of the second period, but the Canadian earned her second inactivity point with 45 seconds left to hang on to win, 2-1. 
Wiebe has now defeated a world or Olympic champion in three straight tournaments en route to her gold medals. At the Sassari in late May, Wiebe stuck Olympic champion Natalia VORBIEVA (RUS) in the opening period, then followed that up by defeating reigning world champion Justina DI STASIO (CAN) to win the Canada Cup title two weeks ago.
Freestyle
Team Standings 
GOLD - Turkey (165 points) 
SILVER- USA (155 points) 
BRZONE - Azerbaijan (100 points) 
Fourth - India (94 points) 
Fifth - Hungary (83 points)

74kg
GOLD - Jordan BURROUGHS (USA) df. Frank CHAMIZO MARQUEZ (ITA), via injury default
BRONZE - Fazli ERYILMAZ (TUR) df. Enes USLU (TUR), via injury default 
BRONZE - Taimuraz SALKAZANOV (SVK) df. Yakup GOR (TUR), 7-5 
92kg 
GOLD - J'Den Michael Tbory COX (USA) df. Bendeguz TOTH (HUN), 10-0 
BRONZE - Shamil ZUBAIROV (AZE) df. Abubakar TURGAYEV (KAZ), via injury default
BRONZE - Suleyman KARADENIZ (TUR) df. Viky VIKY (IND), 8-0 
97kg 
GOLD - Kyle SNYDER (USA) df. Ali Khalil SHABANIBENGAR (IRI), 2-1 
BRONZE - Abraham CONYEDO RUANO (ITA) df. Aslanbek ALBOROV (AZE), via disqualification
BRONZE - Pavlo OLIINYK (HUN) df. Baki SAHIN (TUR), via fall 
Women's Wrestling
Team Standings
GOLD - Russia (113 points)
SILVER - Turkey (112 points)
BRONZE - Belarus (92 points)
Fourth - India (89 points)
Fifth - Canada (78 points)

72kg 
GOLD - Buse TOSUN (TUR) df. Anastasiya ZIMIANKOVA (BLR)
BRONZE - Alena STARODUBTSEVA (RUS) df. Nilufar GADAEVA (UZB)
76kg 
GOLD - Erica Elizabeth WIEBE (CAN) df. Aline DA SILVA FERREIRA (BRA), 2-1 
BRONZE - Yasemin ADAR (TUR) df. Aline ROTTER FOCKEN (GER), 10-3
BRONZE - Iselin Maria Moen SOLHEIM (NOR) df. Alla BELINSKA (UKR), via fall