Chakaev Knocks Off 2 World Champs to Reach Semifinals
Sunday, October 21, 2018 - 13:11 By Andrew Hipps
BUDAPEST, Hungry (October 21) – Akhmed CHAKAEV (RUS) knocked off two world champions en route to reaching the semifinals at 65kg on Sunday at the World Championships in Budapest, Hungary. 
Chakaev, a 2016 world bronze medalist, opened with a 7-5 victory over 2016 world champion Logan STIEBER (USA). After a picking up an 8-3 victory over Sirojiddin KHASANOV (UZB), the Russian squared off against Olympic and world champion Vladimer KHINCHEGASHVILI (GEO). 
Chakaev dominated Khinchegashvili, picking up a 10-0 technical fall in the quarterfinals. He used two takedowns to go up 4-0 and then broke the match open late in the first period off a four-point takedown. He will now face past cadet world champion Takuto OTOGURO (JPN), who also won by technical fall in the quarterfinals. 
On the bottom side of the bracket at 65kg, returning world bronze medalist Alejandro VALDES TOBIER (CUB) topped three-time world champion Haji ALIYEV (AZE).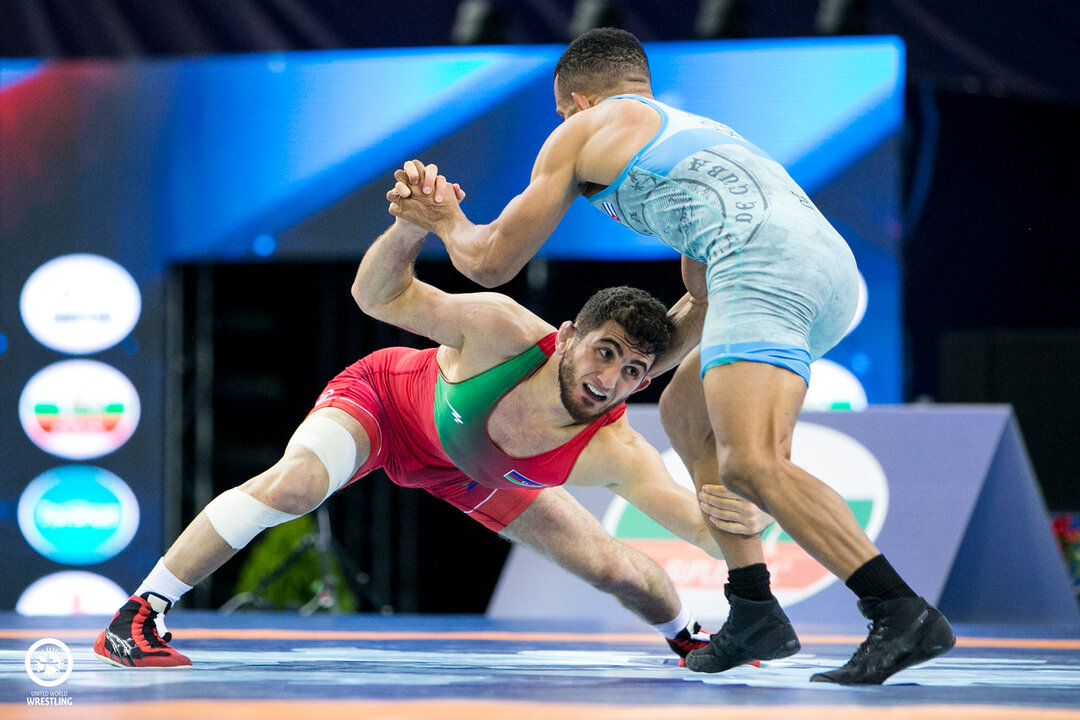 Valdes Tobier, who pinned Aliyev at the Freestyle World Cup, used a first-period takedown to notch a 2-0 victory over Aliyev on Sunday at the World Championships in Budapest, Hungary. The Cuban carried the momentum in his next two matches, two technical fall victories to earn a spot in tonight's semifinals at 65kg. He will face Bajrang BAJRANG (IND).
The two returning world finalists at 57kg, Yuki TAKAHASHI (JPN) and Thomas GILMAN (USA), reached the semifinals. 
The returning world champion Takahashi was pushed in his quarterfinal match, but prevailed 4-1 over Uladzislau ANDREYEU (BLR). The victory sets him up for a semifinal matchup against Zavur UGUEV (RUS), who shut out U-23 world champion Reineri ANDREU ORTEGA (CUB) 6-0. 
Gilman, a silver medalist in Paris, blanked Giorgi EDISHERASHVILI (AZE) 4-0. His opponent in tonight's semifinals is Asian champion Nurislam SANAYEV (KAZ). 
At 92kg, Alireza KARIMIMACHIANI (IRI), a 2015 world bronze medalist, shut out 2012 Olympic champion Sharif SHARIFOV (AZE) in the quarterfinals, and followed it up with a 12-1 technical fall in the quarterfinals over past cadet world champion Batyrbek TCAKULOV (RUS). In the semifinals he faces Olympic and world bronze medalist J'Den COX (USA).
Ivan YANKOUSKI (BLR) was unscored upon in two matches to reach the semifinals in the top side of the bracket at 92kg. He now faces Atsushi MATSUMOTO (JPN), a 3-2 winner over Atsushi MATSUMOTO (JPN).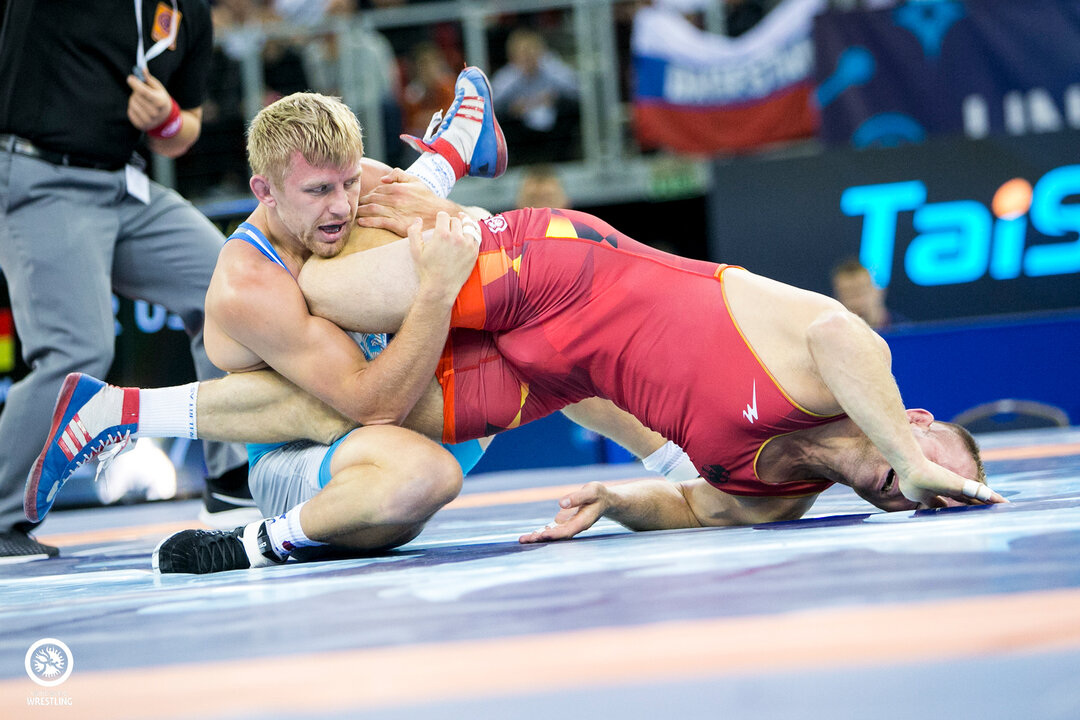 Competing in his first World Championships, Kyle DAKE (USA) showcased strong par terre in the quarterfinals at 79kg as he dominated 2011 world bronze medalist Davit KHUTSISHVILI (GEO) 11-0. The victory pits him against European champion Akhmed GADZHIMAGOMEDOV (RUS), who shut out Unurbat PUREVJAV (MGL) 6-0 in the quarterfinals. 
Olympic bronze medalist Jabrayil HASANOV (AZE) advanced to the semifinals at 79kg with a 6-0 win over returning world bronze medalist Ali SHABANAU (BLR).
The semifinals are set to take place at 5:45 p.m. local time. 
Semifinal Matchups 
57kg 
Zavur UGUEV (RUS) vs. Yuki TAKAHASHI (JPN)
Nurislam SANAYEV (KAZ) vs. Thomas GILMAN (USA)
65kg 
Akhmed CHAKAEV (RUS) vs. Takuto OTOGURO (JPN)
Alejandro VALDES TOBIER (CUB) vs. Bajrang BAJRANG (IND)
79kg 
Akhmed GADZHIMAGOMEDOV (RUS) vs. Kyle DAKE (USA)
Ezzatollah AKBARIZARINKOLAEI (IRI) vs. Jabrayil HASANOV (AZE)
92kg 
Atsushi MATSUMOTO (JPN) vs. Ivan YANKOUSKI (BLR)
Alireza KARIMIMACHIANI (IRI) vs. J'Den COX (USA)