China Hoping Rong Shift Turns Out to be Right Move to Upend Host Japan
Friday, November 15, 2019 - 13:52 By Ken Marantz
NARITA, Japan (Nov. 15)---A strategic move may have deprived the Women's World Cup of a classic clash of titans, but in the end, could pay off with a more exciting competition overall.
The Chinese team said Friday that RONG Ningning (CHN) will compete at 59kg for the two-day team competition in Narita, east of Tokyo, instead of 57kg---preventing a rematch with Risako KAWAI (JPN) of this year's final from the World Championships in Nur-Sultan, which the Japanese won for her third world gold.
"I just follow what the coach wants," Rong, who was the 2018 world champion at 57kg, said through an interpreter. 
Host Japan, aiming for its fifth straight title and 11th overall, and China will face each other in the third session on the opening day Saturday at Narita's Nakadai Sports Park Gym. Ukraine, the other entry in the three-nation group, will face both over the first two sessions.
China, which won the last of its six titles in 2013, will send out a formidable lineup that includes, in addition to silver medalist Rong, four bronze medalists from Nur-Sultan. Not to be overlooked is Rio 2016 Olympic bronze medalist SUN Yanan (CHN), who finished fifth at 50kg this year.
Rong's shift to 59kg will likely pit her against high schooler Yuzuka INAGAKI (JPN), one of seven recently crowned world U-23 champions on the relatively young Japanese squad. 
China's strategy appears to be to go with its strengths and play for a split of 57kg and 59kg, rather than opt for a lineup that increases the possible risk of losing both.  
"I'm really confident for this World Cup, because I could see everyone on our team is already prepared and they will perform at their best," Rong said. 
As for avenging the loss to Kawai, Rong said that can wait. She anticipates their paths crossing again, perhaps back in Japan at the Tokyo 2020 Olympics.  
"I'm really looking forward to facing her and getting revenge," Rong said. "So next year I will wait and prepare."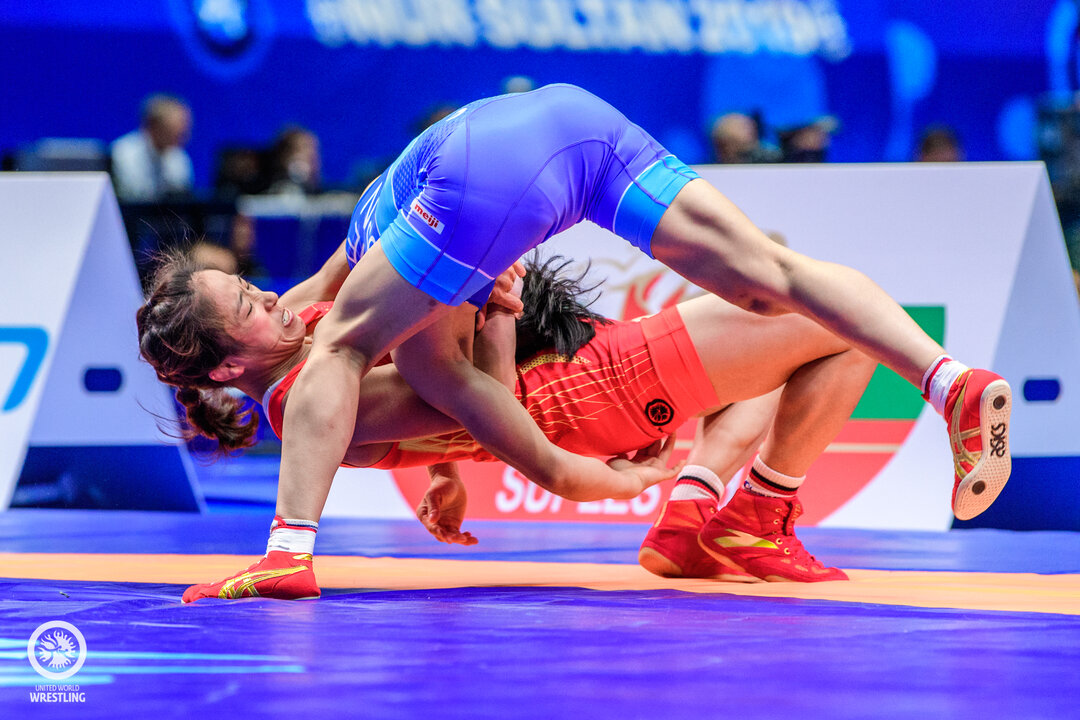 SUN Yanan (CHN) could meet rival Yui SUSAKI (JPN) when China wrestles Japan on Saturday at 17:00 (Photo: Tony Rotundo). 
Another Chinese wrestler looking for revenge will be Sun. She will likely get another shot at young star Yui SUSAKI (JPN), who missed out on a shot at a third senior world title in Nur-Sultan at 50kg when she lost a national team playoff to Yuki IRIE (JPN). 
In 2017, Susaki defeated Sun 9-4 in the quarterfinals at the Asian Championships, then again 4-2 at the Women's World Cup in the championship round. 
"I'm really looking forward to competing with Yui," said Sun, who edged Irie in a wild 13-12 quarterfinal win in Nur-Sultan. "I think she is a very talented and excellent wrestler." 
A year ago at the Women's World Cup in Takasaki, Japan, Sun lost by fall to Irie as Japan went on to win 6-4 in the final. This time, Sun will be looking to give China the early momentum.
"Because it is a team competition, each of us has to do our best to protect our zone and give the advantage to our teammates," Sun said. "Everyone has this responsibility."
In other weight classes, Masako FURUICHI (JPN) moved down to 68kg, leaving fellow 72kg world bronze medalist Paliha PALIHA (CHN) at the weight class, which could mean to likely clash with high schooler and world junior champion Yuka KAGAMI (JPN) at that division.
If the match comes down to the final bout at 76kg, it's anybody's guess which team will come out on top should it looks to shape up as a showdown between familiar foes Hiroe MINAGAWA (JPN) and ZHOU Qian (CHN).
Zhou defeated Minagawa 7-1 at last year's World Cup, but the Japanese reversed that outcome in the quarterfinals in Nur-Sultan, winning 3-1 en route to capturing the silver medal for her third career world medal.
Ukraine, which finished fifth in the team standings in Nur-Sultan to earn its place in the field in Narita, has opted for a young squad, leaving out its two world silver medalists, Iryna KOLIANDENKO (65kg) and Alina MAKHYNIA (72kg).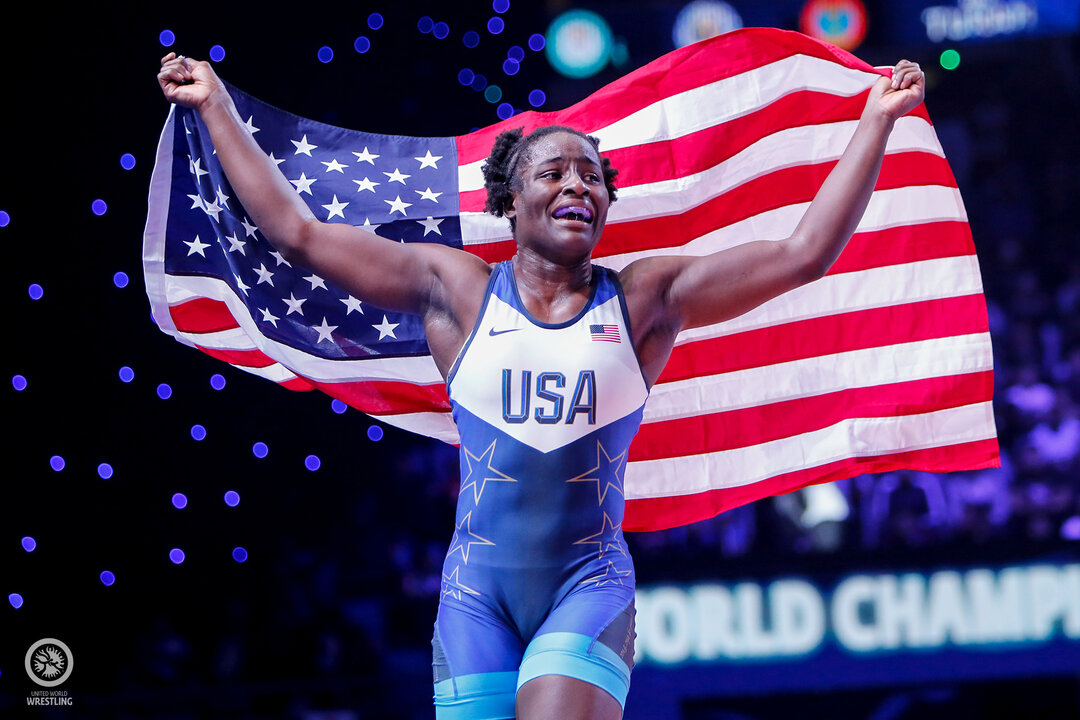 Tamyra MENSAH-STOCK (USA) is one of three American world champions that'll wrestle at the Women's World Cup. (Photo: Gabor Martin)
U.S. Relying on Triple-Threat of World Champions
Outside of Japan and China, the only nation to have won a Women's World Cup title in its 17-year history is the United States. 
That was back in 2003, but with three reigning world champions in its lineup, the Americans are hoping to make a run at finally breaking up the Asian stranglehold.
"We feel confident in who we are," USA coach Terry STEINER said. "We also know that every team here has some great athletes on their team. It's about performing when we're supposed to perform."
The group is a tossup between three evenly matches countries, with Russia and Mongolia also in the pool. Russia finished second in the team standings behind Japan in Nur-Sultan with two champions and five medals overall, three points ahead of the United States. Mongolia was seventh.
"We just have to be ready tomorrow to compete hard," Steiner said. "If we compete hard, I think we'll end up where we want to be. But Russia and Mongolia aren't going to lay down either. So, one match at a time, and we just have to focus on wrestling our style of wrestling."
For newly crowned 68kg world champion Tamyra MENSAH-STOCK (USA), the team aspect and representing her country adds excitement to an already blood-pumping sport.
"I love wrestling for my country," she said. "Since I'm not in the army, I try to figure out some way to represent my country, and I feel like this is the next best thing. 
"It's very exhilarating and exciting, and I love going out there, showing that I'm USA, and showing people that, hey, a lot of USA people are not that bad---look at Tamyra Mensah-Stock, she's such a sweetheart, but when she gets on the mat, whoa, can she go!" 
Mensah-Stock, who will be competing in her third World Cup, said she doesn't feel added pressure by coming in this time as a world champion. 
"Not pressure on myself, or even a little bit more pressure, but more 'expectation,'" she said. "For me, that's not really pressure. That's just going out there and saying, hey, Tamyra, [in September] you proved yourself by winning a world title.
"It felt absolutely amazing. And people were already gunning after me to begin with. It's not any different. I'm just going to go out there and prove I can work harder than ever. I just have to bring out the 'other' Tamyra Mensah-Stock."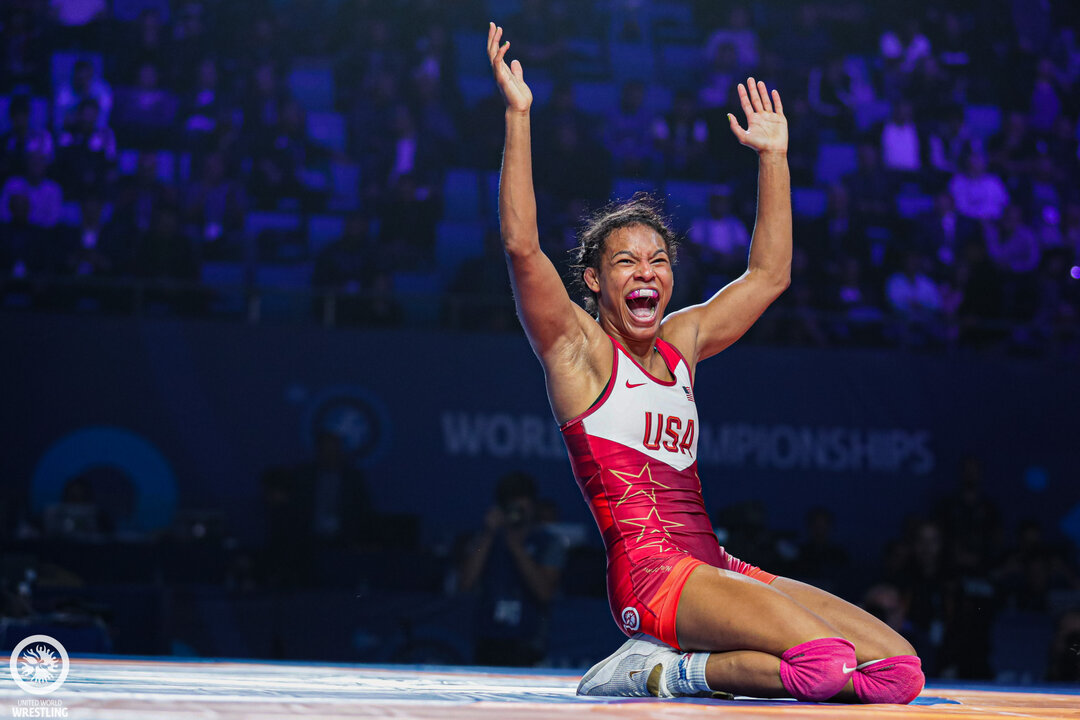 Newly crowned world champion Jacarra WINCHESTER (USA) will wrestle at 55kg at this weekend's World Cup. (Photo: Kadir Caliskan)
Jacarra WINCHESTER (USA), who won her first major medal when she took the gold in Nur-Sultan at 55kg, could face a showdown with bronze medalist Olga KHOROSHAVTSEVA (RUS). The Russian lost in the quarterfinals to Nanami IRIE (JPN), whom Winchester beat 5-3 in the final.
Another intriguing matchup could come at 76kg between Adeline GRAY (USA), who won her fifth world gold in Nur-Sultan, and Ekaterina BUKINA (RUS), the Rio 2016 bronze medalist who suffered a heartbreaking 6-6 loss in the first round to Epp MAEE (EST).
The effervescent Mensah-Stock also seems to serve as mood-maker for the U.S. team, and she sees it as her role of keeping the team on a even keel.
"I'm just going to cheer for my team and make sure they have the right mindset," she said. "Because I feel I bring calmness and I help make it a little less stressful. I know some of the girls are feeling that stress, because for some of them, this is their first World Cup. 
"I want to help them out the best I can. I don't know what they're going to bring to the table---I don't know what I'm going to bring to the table---but I'm hoping I can bring my A-game."