China, Mongolia Put 3 Wrestlers Each into Asian Women's Finals
Friday, March 2, 2018 - 10:46 By Ken Marantz
Coming off a haul of four gold medals from the previous day in women's wrestling at the Asian Championships, China put three wrestlers into the five remaining finals---a number limited by the fact that that was all China had in action on day four.
Paris 2017 world bronze medalist HAN Yue (CHN) won both of her matches by fall to advance to the 72kg final against Nasanburmaa OCHIRBAT (MGL), one of three Mongolians to earn spots in the gold-medal matches at the Kozhomkul Sports Palace.
There will also be a China-Mongolian duel at 62kg, in which Paris 2017 world champion Orkhon PUREVDORJ (MGL) will take on LUO Xiaojuan (CHN), a 2015 Asian champion who ousted Rio 2016 Olympic bronze medalist Sakshi Malik in the qualification round.
PEI Xingru (CHN), a 2016 world champion, sees her path to gold blocked by Sara NATAMI (JPN), an unheralded high schooler who marked her debut in a senior international tournament by recording a fall and a technical fall.
China's entries at 53kg (PANG Qianyu) and 65kg (XU Rui) are both injured and withdrew from the tournament, according to the team's Bulgarian coach Siemon CHTEREV.
"I am content with this result," Chterev said. "I'm very happy with the Chinese team. For six months, they have been getting better. They believe in themselves. This is very important."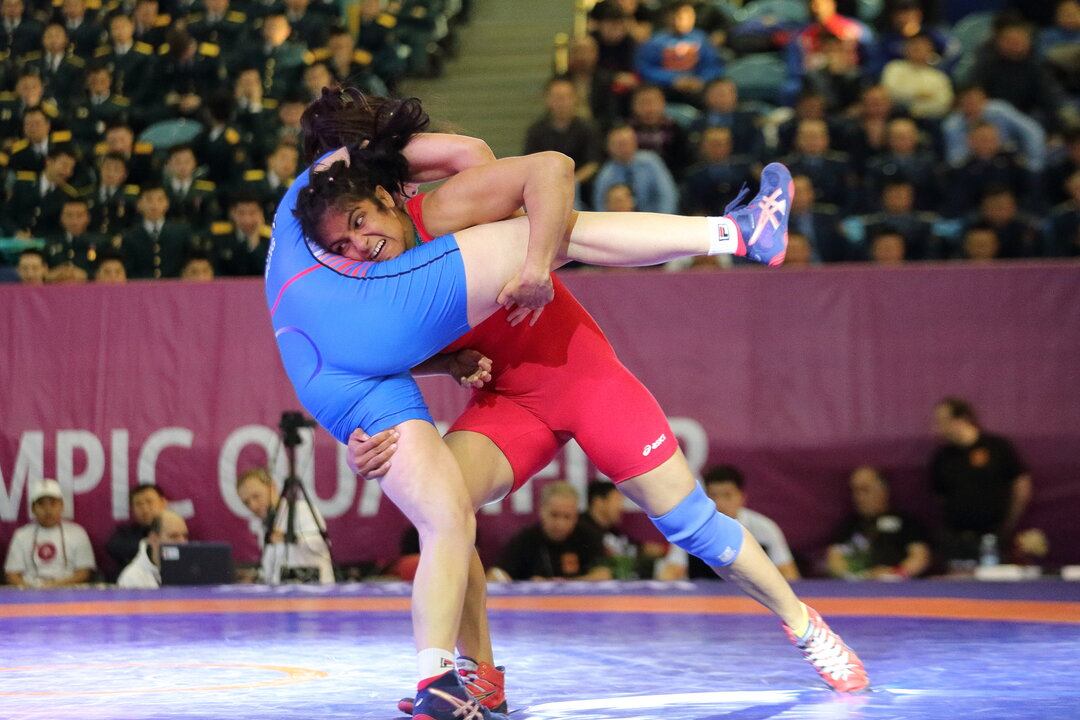 PICTURED: Navjot KAUR (IND)
Meanwhile, two-time Asian medalist Navjot KAUR (IND) will try to end India's hex in Asian women's finals---the country stands 0-13 dating back to 2001---when she takes on Miyu IMAI (JPN) in the 65kg final.
The Kaur-Imai showdown will be a rematch of a group stage match earlier in the day, which Imai won 4x-4 on criteria.
The possibility of a rematch came about because there were only six entries in both the 65kg and 72kg categories. The competitors were drawn into two groups of three. After a round robin, the top two in each group advanced to the semifinals.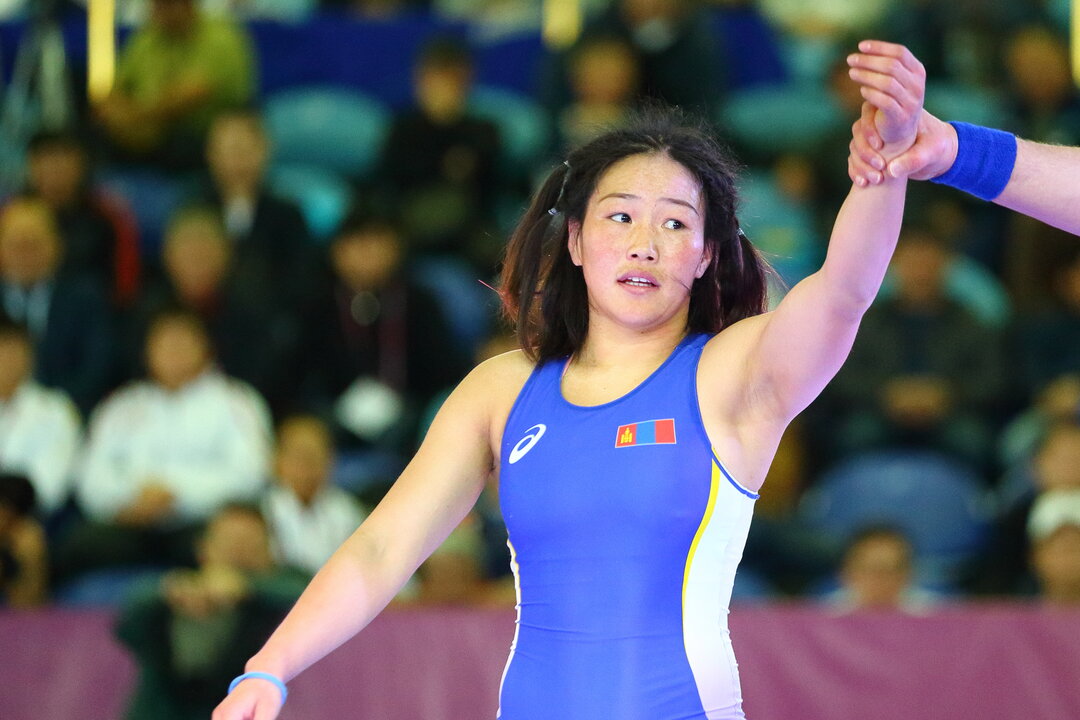 PICTURED: Sumiya ERDENECHIMEG (MGL)
PAK Yongmi (PRK) will try to give North Korea its first gold of the tournament with a victory in the 53kg final against Sumiya ERDENECHIMEG (MGL), a 2013 world bronze medalist.
Pak advanced to the final with a nail-biting 4-3 victory over Yu MIYAHARA (JPN), who was coming off victories at the Dave Schultz Memorial and Ivan Yarygin Grand Prix tournaments.
"Our wrestlers who are on the level of being finalists didn't make it," said Japan women's coach Hideo SASAYAMA, also referring to four-time Asian medalist Yurika ITO (62kg) and New Delhi 2017 silver medalist Masako FURUICHI (72kg).
Asked about the performance of 17-year-old Natami, whose lone international experience was a silver medal in the cadet class at the 2016 Klippan Open, Sasayama reserved judgment.
"She had a good draw, and as a third-year high schooler, she still needs to go on the attack more," he said.
Women's Wrestling
53kg (10 entries)
Gold - PAK Yongmi (PRK) v Sumiya ERDENECHIMEG (MGL)
Bronze –  Thi Hang VU (VIE) v Yu Miyahara (JPN)
Bronze – Zhuldyz Eshimova (KAZ) v CHIU Hsin Ju (TPE)
Semifinal – PAK Yongmi (PRK) df. Yu Miyahara (JPN), 4-3
Semifinal – Sumiya ERDENECHIMEG (MGL) df. CHIU Hsin Ju (TPE) by Fall, 5:18 (4-1)
57kg (10 entries)
Gold - Sara NATAMI (JPN) v PEI Xingru (CHN)
Bronze –  KIM Yeseul (KOR) v Thi Huong DAO (VIE)
Bronze – Baltsetseg ALTANTSETSEG (MGL) v JONG In Sun (PRK)
Semifinal – Sara NATAMI (JPN) df. Thi Huong DAO (VIE) by TF, 10-0, 3:15
Semifinal – PEI Xingru (CHN) df. JONG In Sun (PRK) by Fall, 4:11 (2-2)
62kg (10 entries)
Gold - Orkhon PUREVDORJ (MGL) v LUO Xiaojuan (CHN)
Bronze –  Khalbazar NARBAEVA (UZB) vs Yurika ITO (JPN)
Bronze – Sakshi MALIK (IND) v Ayaulym KASSYMOVA (KAZ)
Semifinal – Orkhon PUREVDORJ (MGL) df. Yurika ITO (JPN), 9-1
Semifinal – LUO Xiaojuan (CHN) df . Ayaulym KASSYMOVA (KAZ), 5-1
65kg (6 entries)
Gold - Miya IMAI (JPN) v Kaur NAVJOT (IND)
Bronze –  LEE Hanbit (KOR) v Tsevegmed ENKHBAYAR (MGL)
Semifinal – Miya IMAI (JPN) df. LEE Hanbit (KOR), by TF, 10-0, 1:52
Semifinal – Kaur NAVJOT (IND) df. Tsevegmed ENKHBAYAR (MGL), 2-1
72kg (6 entries)
Gold - Nasanburmaa OCHIRBAT (MGL) v HAN Yue (CHN)
Bronze –  Zhamila BAKBERGENOVA (KAZ) v Masako FURUICHI (JPN)
Semifinal – Nasanburmaa OCHIRBAT (MGL) df. Zhamila BAKBERGENOVA (KAZ) by Fall, 2:11 (9-4)
Semifinal – HAN Yue (CHN) df. Masako FURUICHI (JPN) by TF, 10-0, 5:18