Dake, Cox Add to USA's Gold-Medal Haul in Budapest
Monday, October 22, 2018 - 19:26 By Andrew Hipps
BUDAPEST, Hungary (October 22) -- A day after the United States of America captured its first gold medal in Budapest, Kyle DAKE and J'den COX added to the gold-medal haul for USA by winning world titles.
Dake won the gold medal at 79kg and did so without surrendering a point throughout the competition. The 27-year-old American outscored his opponents 37-0. 
"I definitely put the work in to get to where I needed to be," said Dake. "I've always been pretty stingy with points. Giving up points is not something I like to do."
In the gold-medal match, Dake won 2-0 over 2016 Olympic bronze medalist Jabrayil HASANOV (AZE). 
He scored his first point off the shot clock in the first period before adding another point off a step out in the second period. 
Like his USA teammate David TAYLOR who won gold on Sunday at 86kg, Dake claimed a gold medal in his first Senior World Championships.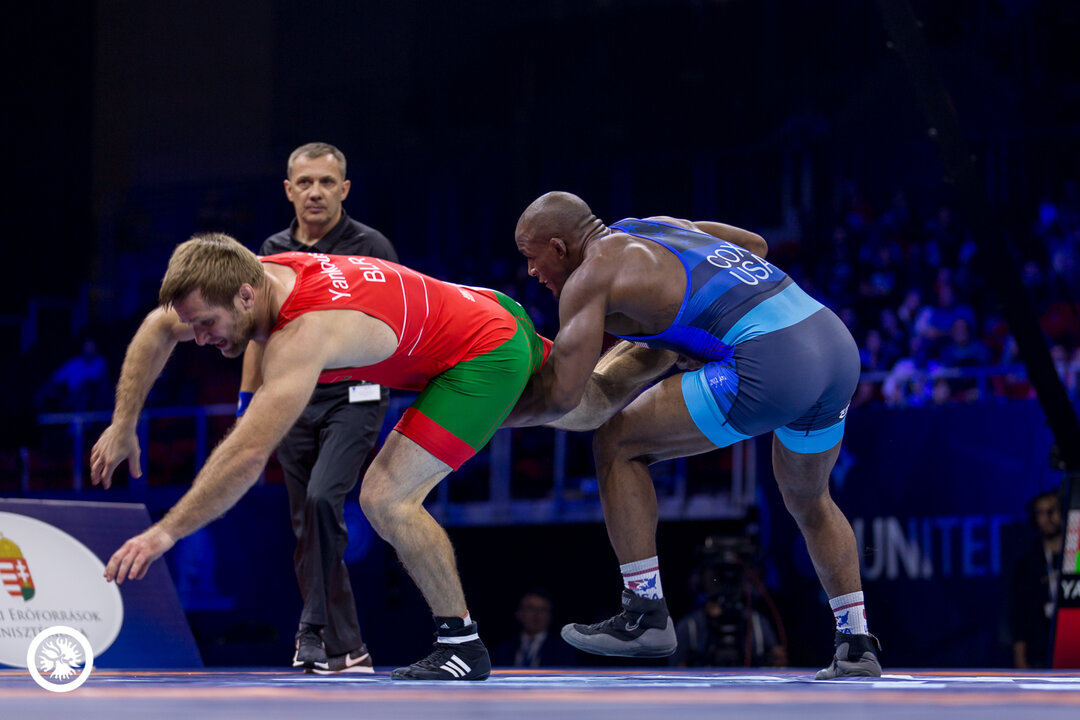 Cox, a bronze medalist at the Rio Olympics and Paris World Championships while competing at 86kg, topped Ivan YANKOUSKI (BLR) 4-1 in the gold-medal match at 92kg. 
Cox scored two of his points off step outs in each of the two periods. Holding a 2-1 lead late in the match, Cox shot a single leg and secured a takedown in the closing seconds to clinch the victory.
"I wish I could have scored more points, but it seemed like my opponent didn't really want to wrestle that much," Cox said. 
Russia claimed a gold medal at 57kg as Zavur UGUEV (RUS) edged Nurislam SANAYEV (KAZ) 4-3 in a back-and-forth match. The victory gave Russia its second gold medal in Budapest and clinched the freestyle team title. 
Uguev, a two-time cadet world champion, struck first with a takedown midway through the first period, but Sanayev responded a short time later with a takedown off a leg attack to grab the lead. 
In the second period, Uguev retook the lead off a step out, but like in the first period, Sanayev responded, taking the lead off a step out of his own. With Sanayev leading on criteria late in the match, he was hit with a caution and one for grabbing the singlet, giving the match to Ugaev, 4-3.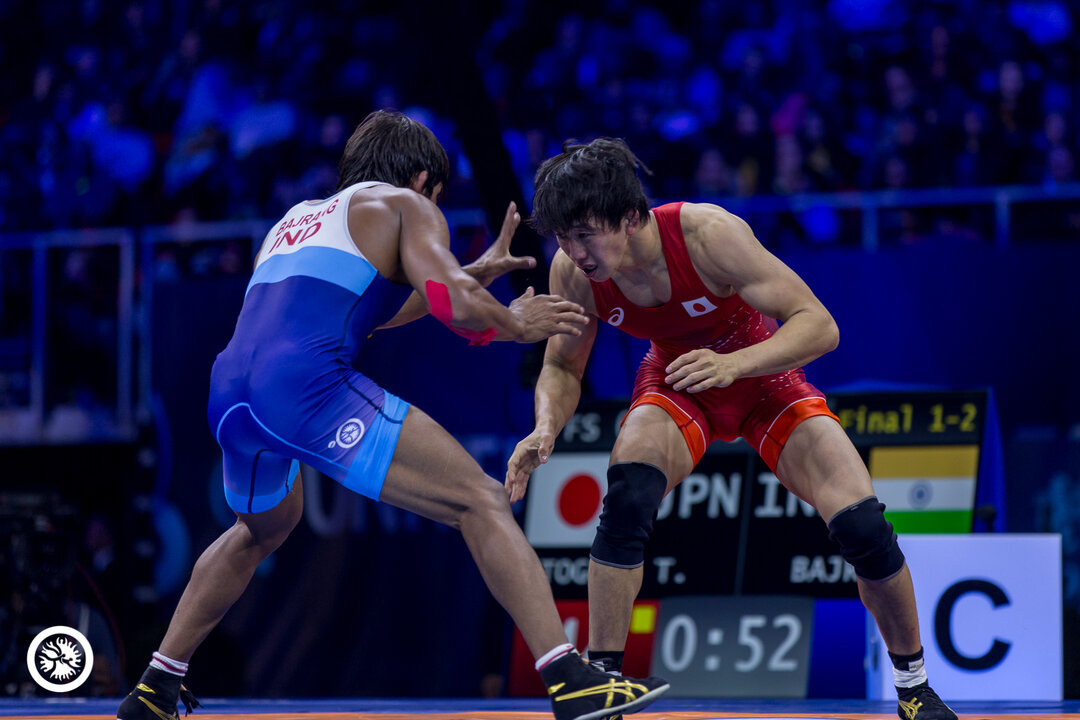 In an action-filled, high-scoring match, 19-year-old Takuto OTOGURO (JPN) won the gold medal at 65kg with a 16-9 victory over Bajrang BAJRANG (IND). 
Otoguro, a 2015 cadet world champion, jumped out to a 5-0 lead early on the strength of a four-point takedown. But Bajrang came back with two takedowns to cut the deficit to 5-4. The two traded two-point takedowns again, and the first period ended 7-6 in favor of Otoguro. 
Otoguro built his lead to 12-6 in the second period, but Bajrang continued to battle. He climbed back his back into the match with a takedown and points off cautions, but Orogoru was able to score when he needed to and claim a seven-point victory.  
2017 world champion Yuki TAKAHASHI (JPN) rebounded from a semifinal loss to Uguev to win a bronze medal at 57kg with a 5-4 win over Reineri ANDREU ORTEGA (CUB). The other bronze medal at 57kg went to Suleyman ATLI (TUR), who topped 2017 world silver medalist Thomas GILMAN (USA) 5-4.
Alejandro VALDES TOBIER (CUB) earned a world bronze medal at 65kg for the second consecutive year. He cruised to a 10-0 technical fall over Seungchul LEE (KOR) in the bronze-medal match. Akhmed CHAKAEV (RUS) won his second bronze medal in three years with a 9-4 win over George BUCUR (ROU).
The bronze medals at 79kg were won by Ali SHABANAU (BLR) and Akhmed GADZHIMAGOMEDOV (RUS). For Shabanau, it was his fourth world bronze medal.
At 92kg, Alireza KARIMIMACHIANI (IRI) won his second world bronze medal. The other bronze at 92kg was won by Atsushi MATSUMOTO (JPN), who edged Turtogtokh LUVSANDORJ (MGL) 6-5. 
Finals Results
Freestyle
57kg
GOLD: Zavur UGUEV (RUS) df. Nurislam SANAYEV (KAZ) by VPO1, 4-3
BRONZE: Suleyman ATLI (TUR) df. Thomas GILMAN (USA) by VPO1, 5-4
BRONZE: Yuki TAKAHASHI (JPN) df. Reineri ANDREU ORTEGA (CUB) by VPO1, 5-4
65kg
GOLD: Takuto OTOGURO (JPN) df. Bajrang BAJRANG (IND) by VPO1, 16-9
BRONZE: Alejandro VALDES TOBIER (CUB) df. Seungchul LEE (KOR) by VSU, 10-0
BRONZE: Akhmed CHAKAEV (RUS) df. George BUCUR (ROU) by VPO1, 9-4
79kg
GOLD: Kyle DAKE (USA) df. Jabrayil HASANOV (AZE) by VPO, 2-0
BRONZE: Ali SHABANAU (BLR) df. Ezzatollah Abbas AKBARIZARINKOLAEI (IRI) by VPO1, 8-8
BRONZE: Akhmed GADZHIMAGOMEDOV (RUS) df. Davit KHUTSISHVILI (GEO) by VSU, 10-0
92kg
GOLD: J'den COX (USA) df. Ivan YANKOUSKI (BLR) by VPO1, 4-1
BRONZE: Alireza KARIMIMACHIANI (IRI) df. Dato MARSAGISHVILI (GEO) by VSU1, 12-1
BRONZE: Atsushi MATSUMOTO (JPN) df. Turtogtokh LUVSANDORJ (MGL) by VPO1, 6-5