Dilmukhamedov Thrills Home Crowd, Takes Down Titans to Make Greco 77kg Semis
Monday, September 16, 2019 - 10:25 By Ken Marantz
NUR-SULTAN, Kazakhstan (Sept. 16)--- Ashkat DILMUKHAMEDOV (KAZ) got the crowd roaring by knocking off a two-time Olympic champion. For an encore, he topped a former world champion to earn a place in the semifinals and earn his country a place at the Tokyo 2020 Olympics.
Dilmukhamedov defeated Roman VLASOV (RUS) and Viktor NEMES (SRB) in succession to make the semifinals of 77kg and highlight the qualifying rounds of the three remaining weight classes in Greco-Roman at the World Championships.
The Barys Arena crowd went crazy as Dilmukhamedov defeated double Olympic gold medalist Vlasov 3-0, then managed to get even louder when he held on for a 4-3 win over Nemes. That puts him into the semifinals against Tamas LORINCZ (HUN), the silver medalist a year ago in Budapest.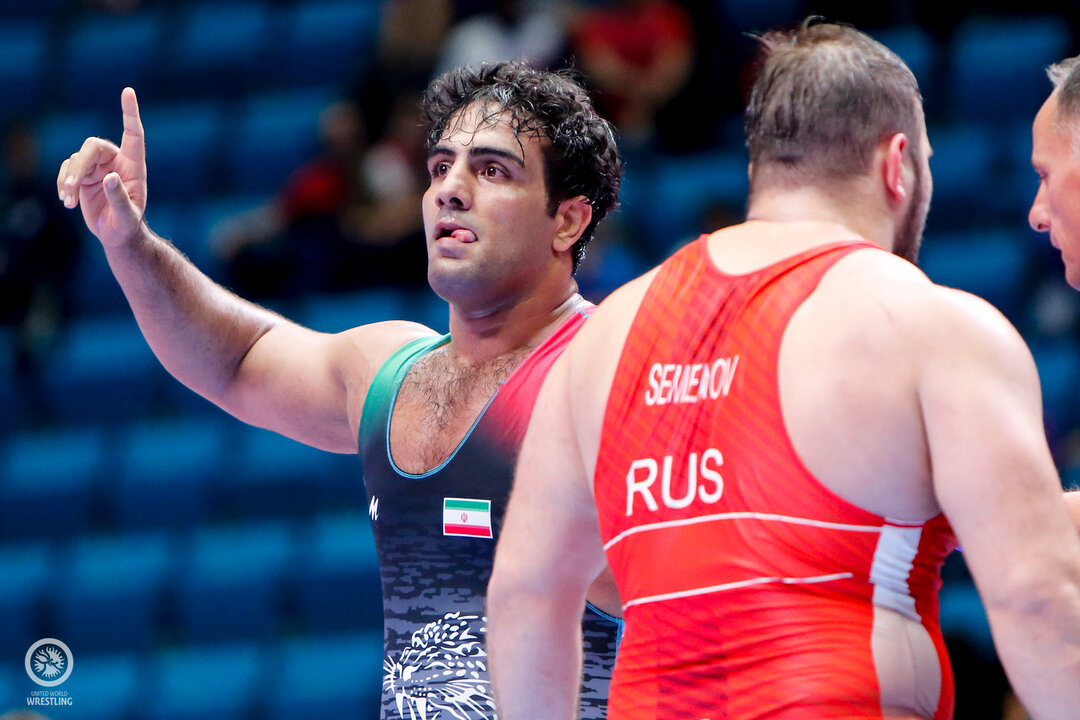 Amir GHASEMI (IRI) knocked off reigning world champion on his way to the 130kg semifinals. (Photo: Gabor Martin)
For Iran, after coming away empty-handed from the first two days of action, the tournament finally started going its way when two of its wrestlers advanced to the semifinals and all three knocked off top seeds.
Alireza NEJATI (IRI) and Amir GHASEMI (IRI) made it to the semifinals at 60kg and 130kg, respectively, to also clinch spots for their country at the Tokyo 2020 Olympics. The top six finishers in each weight class earn tickets for their nation. 
The young Nejati, a world junior bronze medalist last year, topped second seed KIM Seunghak (KOR) 7-0 in the third round, then earned a spot in the final four against 2017 world champion Kenichiro FUMITA (JPN) by edging Ivo ANGELOV (BUL) 3-1.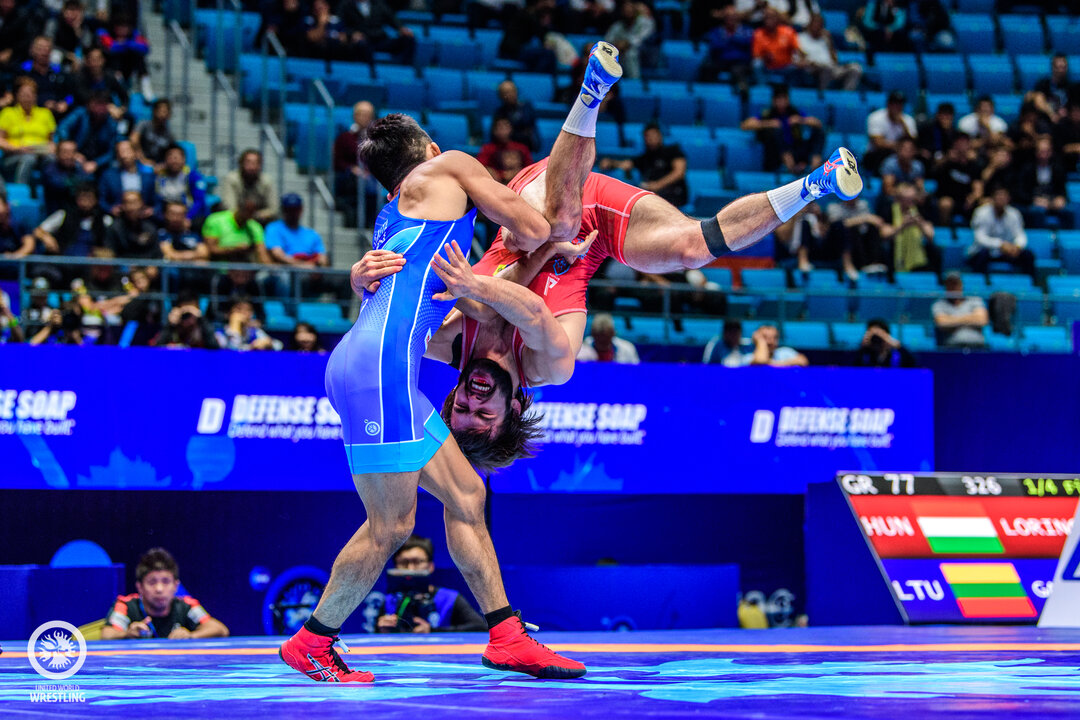 Kenichiro FUMITA (JPN) took down returning world silver medalist Victor CIOBANU (MDA), 12-5 en route to the semifinals. (Photo: Tony Rotundo) 
Fumita advanced with a hard-fought 12-5 win over 2018 silver medalist Victor CIOBANU (MDA). Earlier, Fumita won a third-round showdown with Elmurat TASMURADOV (UZB), the 2018 world silver medalist at 63kg, winning by 9-1 technical fall.
The other semifinal will be a clash between defending champion Sergey EMELIN (RUS), who stormed his way through with three technical-fall victories without surrendering a point, and local star Mirambek AINAGULOV (KAZ). 
At 77kg, Mohammedali GERAEI (IRI) whipped top seed and 2018 silver medalist KIM Hyeonwoo (KOR) by 8-0 technical fall en route to the quarterfinals, but his run to gold was ended by Alex KESSIDIS (SWE), who won by technical fall and will face Karapet CHALYAN (ARM) in the semifinals.
Asian 130kg champion Ghasemi made his mark by beating defending champion and top seed Sergey SEMENOV (RUS) 6-4 in the second round, then advanced to the semifinals with a 3-1 win over Muminjon ABDULLAEV (UZB) in a rematch of the final from the Asian Championships.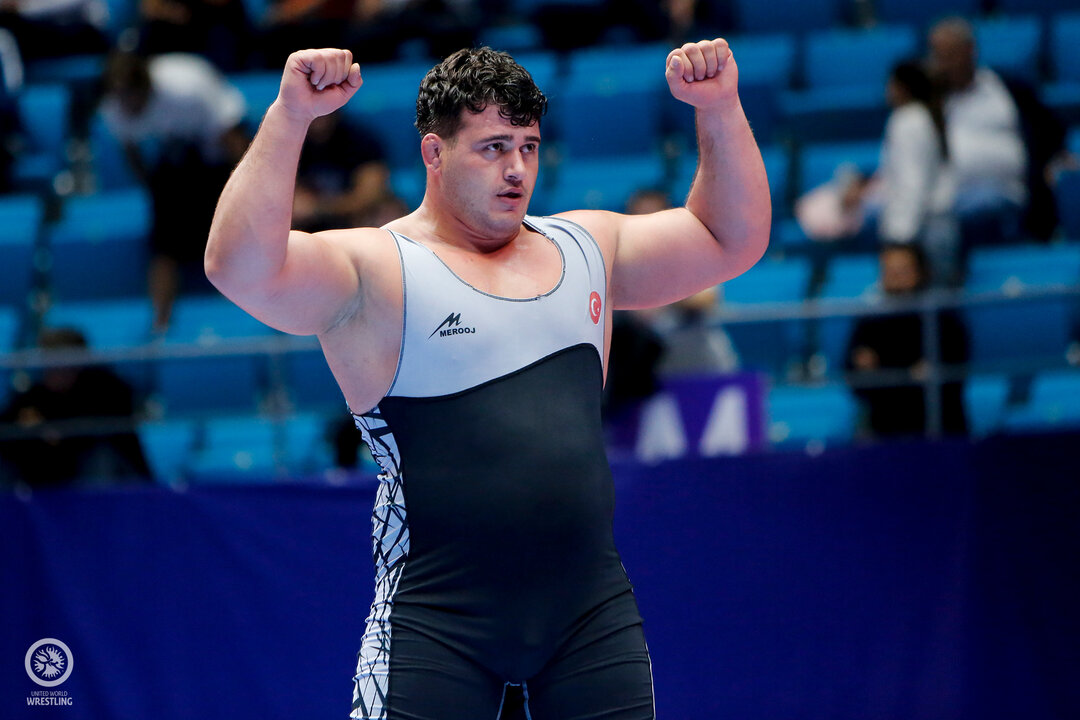 Riza KAYAALP (TUR) has outscored his three opponents 13-1 on his way to making the world semifinals. (Photo: Gabor Martin) 
He will next face Oscar PINO HINDS (CUB), while the other semifinal pits European champion Riza KAYAALP (TUR) against Eduard POPP (GER).  
The day session also included the repechage for places in the bronze-medal matches in the three weight classes that went through the qualifying phase on Sunday. Six more wrestlers secured berths for their country at Tokyo 2020 by advancing to the third-place playoffs.
The feature repechage match came at 67kg, where three-time world champion Frank STAEBLER (GER) forged out a 2-1 victory over two-time world champion RYU Hansu (KOR), with the decisive point coming on a stepout.
Both Staebler and Ryu had lost to Olympic champion Ismael BORREO (CUB) in one of the most stacked brackets of the tournament. Staebler will face Mohamed ELSAYED (EGY) for the bronze.
In the night session, the semifinals will be followed by the medal matches at 67kg, 87kg and 97kg.   
Day 3 results
Greco-Roman Pairings
60kg (39 entries)
Semifinal – Sergey EMELIN (RUS) vs Mirambek AINAGULOV (KAZ)
Semifinal – Kenichiro FUMITA (JPN) vs Alireza NEJATI (IRI)
67kg (41 entries)
Gold – Artem SURKOV (RUS) vs Ismael BORREO (CUB) 
Bronze –Mate NEMES (SRB) vs Fredrik BJERREHUUS (DEN)
Bronze – Frank STAEBLER (GER) vs Mohamed ELSAYED (EGY)
77kg (38 entries)
Semifinal – Alex KESSIDIS (SWE) vs Karapet CHALYAN (ARM)
Semifinal – Tamas LORINCZ (HUN) vs Ashkat DILMUKHAMEDOV (KAZ)
87kg (39 entries)
Gold – Zhan BELENIUK (UKR) vs Viktor LORINCZ (HUN) 
Bronze – Mikalai STADUB (BLR) vs Denis KUDLA (GER)
Bronze – Atabek AZISBEKOV (KGZ) vs Rustam ASSAKALOV (UZB)
97kg (37 entries)
Gold – Musa EVLOEV (RUS) vs Artur ALEKSANYAN (ARM) 
Bronze – Tadeuz MICHALIK (POL) vs Mihail KAJAIA (SRB)
Bronze – Cenk ILDEM (TUR) vs Giorgi MELIA (GEO)
130kg (31 entries)
Semifinal – Amir GHASEMI (IRI) vs Oscar PINO HINDS (CUB)
Semifinal – Eduard POPP (GER) vs Riza KAYAALP (TUR)