Eight Reigning World Medalists Competing This Weekends at Hungarian Grand Prix
Thursday, February 21, 2019 - 15:13 By Eric Olanowski
GYOR, Hungary (February 21) – The Hungary Grand Prix returns in 2019 as one of United World Wrestling four Greco-Roman Ranking Series events. The two day tounrament, which begins on Saturday, features over 175 wrestlers from 25 different nations.
Azerbaijan's reigning world champion Eldaniz AZIZLI headlines the entry list which includes a total of eight returning world medalists. 
Every weight except 55kg will have at least one world or Olympic medalist entered, with 130kg leading the charge with eight combined world and Olympic medalists. 
Budapest World Medalists
Gold
60kg - Eldaniz AZIZLI (AZE) 
Bronze 
60kg - WALIHAN Sailike (CHN) 
72kg - Rasul CHUNAYEV (AZE) 
77kg - KIM Hyeonwoo (KOR) 
77kg - Viktor NEMES (SRB) 
82kg - Viktar SASUNOUSKI (BLR) 
97kg - Mihail KAJALA (SRB) 
130kg - KIM Minseok (KOR)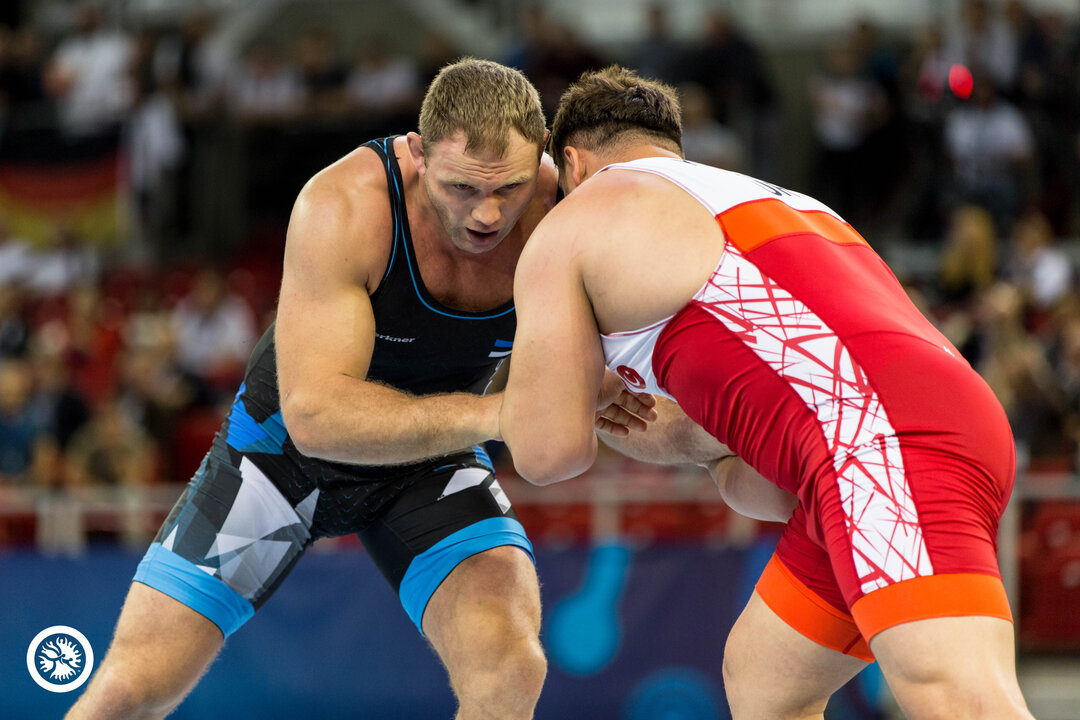 The Deepest Weight: 130kg (Sunday Night) 
Super-Heavyweight (130kg) features four wrestlers who've combined for a total of six world medals and two Olympic top-three finishes. 
The two Olympic medalists entered at 130kg are London runner-up Heiki NABI (EST) and Rio bronze medalist Sabah SHARIATI (AZE). 
In addition to Nabi's Olympic silver medal in 2012, he also medaled at four world championships, including a gold at the 2006 and 2013 world championships and a bronze in 2014. Most recently, Nabi fell short in the 2017 world finals, departing Paris with a silver. 
Nabi, who finished in fifth at the 2018 world championships, brings 20 Ranking Series points (20rsp) and is the eighth-ranked wrestler in the world coming into the Hungary Grand Prix. 
Outside of the Olympic medal winners, world bronze medalists KIM Minseok (KOR) and Yasmani ACOSTA FERNANDEZ (CHI) are also wrestling at 130kg. 
Kim wrapped up last year's Budapest world championships with a bronze, while Acosta Fernandez completed his 2017 season with a third-place finish. 
Acosta (28rsp) is coming off a third-place finish at the Zagreb Open and jumped up to the third spot in the latest rankings, and Kim (25rsp) lost in the opening round of Zagreb Open but is still ranked No. 5 in the world.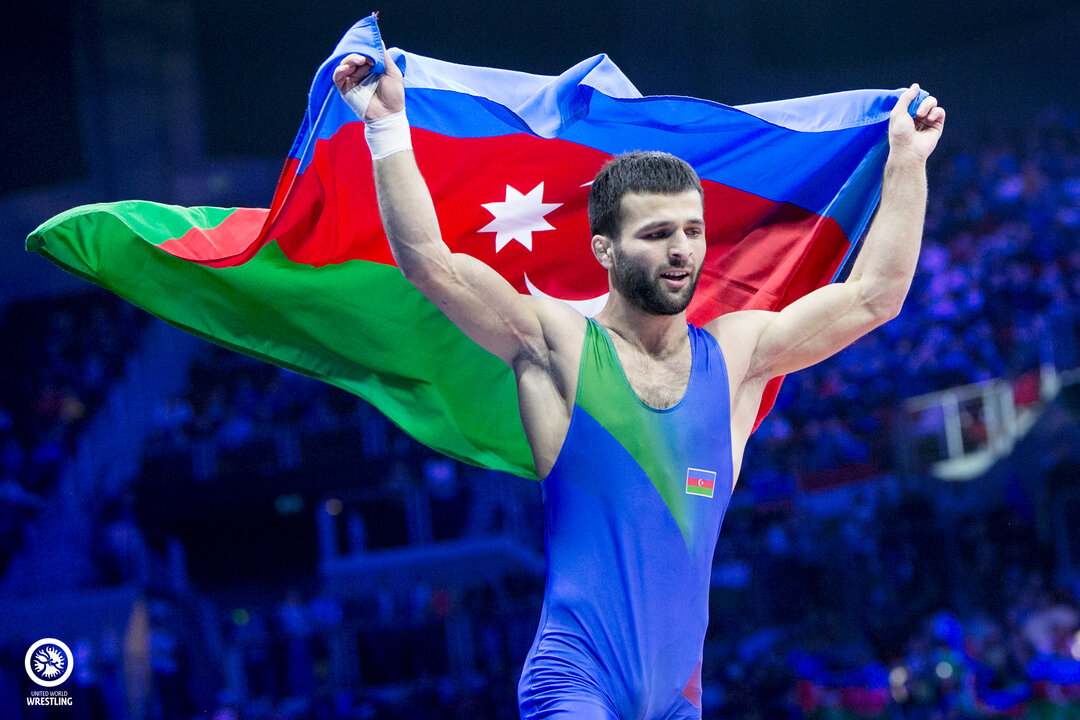 Reigning world champion Eldaniz AZIZLI (AZE) will be wrestling up a weight at 60kg for the third time in his career. (Photo: Martin Gábor)
World Champion Azizli Moves Up to 60kg  (Sunday Night) 
Eldaniz Azizli, KIM Seunghak (KOR), and WALIHAN Sailike (CHN) lead a tight pack of competitors at 60kg. 
Azerbaijan's reigning 55kg world champion Eldaniz Azizli could be the safest bet to take top billing, but the Azeri has struggled in his two previous outings at 60kg. 
Before his run to the top of the podium in Budapest, Azizli wrestled up at 60kg at the Oleg Karavaev Memorial and Vehbi Emre & Hamit Kaplan Tournament in 2018, failing to medal at both tournaments, finishing in fifth and tenth place respectively. 
Kim Seunghak (12rsp) and Walihan Sailike (25rsp), the pair of 60kg world bronze medalists, are the other two wrestlers who have a shot at earning the eight first-place points. 
Walihan won the 2018 world bronze medal and is ranked third in the world coming into the Hungarian GP, while Kim, the 2017 world bronze medalist, finished in fifth place at the Zagreb Open and No.16 in the world. 
Kim and Nemes to Rekindle Rivalry (Sunday Night) 
Without a doubt, the two favorites to reach Sunday's 77kg finals are Korea's Olympic champion KIM Hyeonwoo and 2017 world champion Viktor NEMES (SRB). The pair, who have reached the top of the world podium, are looking to rekindle their rivalry from 2015 where Kim knocked off Nemes 3-2 in the second round of the World Championships. 
Both guys won bronze medals at the 2018 world championships and sit inside the top-five of the latest world rankings. 
Kim (25rsp) finished in third place at the Zagreb Open and is ranked No. 3 in the world, while Nemes (25rsp) is making his 2019 Ranking Series debut and is ranked No. 4 in the world.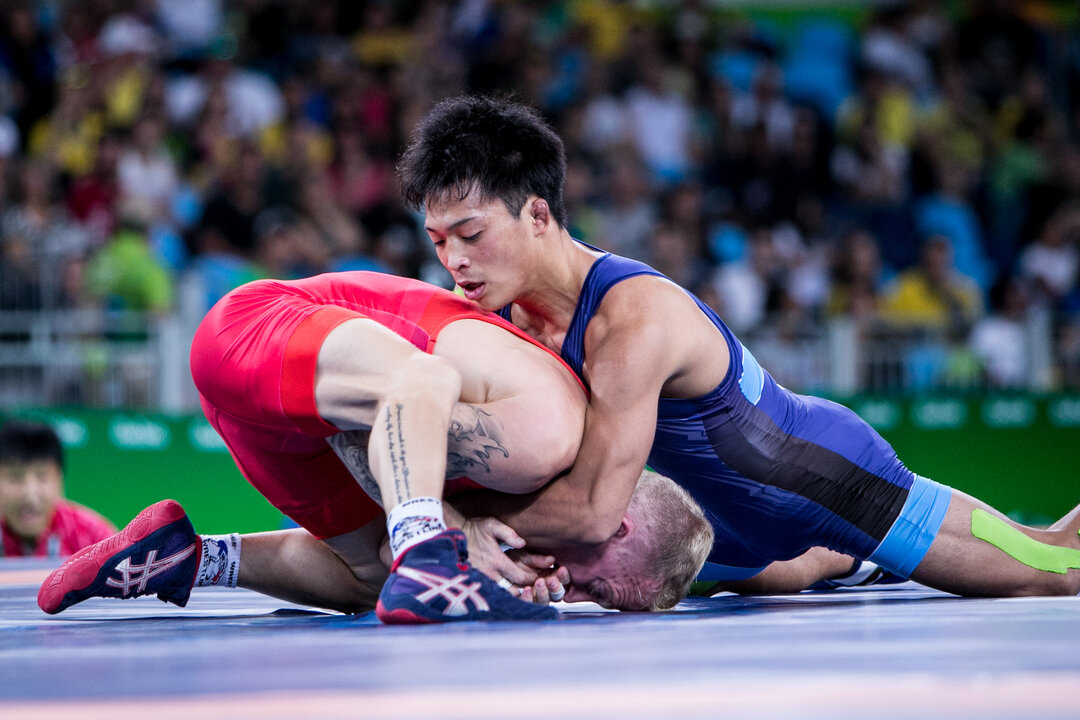 Rio Olympic runner-up Shinobu OTA (JPN) won the last meeting with Stig-Andre BERGE (NOR). The two can meet again in Saturday night's finals. (Photo: Martin Gábor)
The Clash of Rio Olympic Medalists at 63kg (Saturday Night) 
At 63kg, Stig-Andre BERGE (NOR) and Shinobu OTA (JPN) could meet in what would be a rematch of their quarterfinal round match at the 2016 Olympic Games in Rio de Janeiro.
The last time the pair met, the Japanese wrestler grabbed the 4-0 victory, using a head pinch and a high-level shot, which put him into the Olympic semifinals. 
Ota went on to finish with silver, and Berge fought back, winning a pair of matches to capture the bronze medal. 
Olympic Bronze Medalist Chunayev Makes Ranking Series Debut (Saturday Night)
Rasul CHUNAYEV (AZE), one of Greco-Roman's most consistent wrestlers over the past five years, will wrestle in the first Ranking Series event of his career. 
Chunayev, who is entered at 72kg, has wrestled in four world championships and the Rio Olympic Games since 2014, and won a title in 2015, and a pair of world and Olympic bronze medals. The only year he did not medal was in 2017 when he finished in seventh place.
Possible Collision of World Champs at 67kg (Sunday Night) 
World champions Katsuaki ENDO (JPN) and RYU Hansu (KOR) are favored to meet in the 67kg finals, and it could mean a turn in tides for weight class supremacy for the pair of Asian stars.
Korea's two-time world champion Ryu Hansu has been one of Asia's top-men at this weight since winning his first world title in 2013. He earned his second world title in 2017.
Ryu also has three Asian titles on his resume. Most recently, Ryu won the 2018 Asian Games last season in Jakarta. 
Endo is making his second Ranking Series appearance. Last year, he competed at the Vehbi Emre, where he finished in tenth place. 
U23 Talent Litters 82kg (Saturday Night)
The 82kg weight class is littered with U23 world-level talent and features three guys who have at least reached the finals at the U23 world championships. 
Gela BOLKVADZE (GEO) won the U23 world title in 2018, while Rajbek BISULTANOV (DEN) and Lasha GOBADZE (GEO) each fell short in the finals. 
Bisultanov dropped the 2018 finals, and Gobadze lost in 2017 finals. 
Belarus' two-time world medalist Viktar SASUNOUSKI (BLR) will also wrestle at 82kg. He's the only wrestler who has reached the podium on the senior level. Sasunouski fell in the 2015 finals and won the bronze medal last year in Budapest. The Belarusian is the fourth-ranked wrestler in the world at 82kg and has 25 Ranking Series points (25rsp). 
Reigning World Bronze Medalist Kajala Favored at 97kg (Saturday Night)
Reigning world bronze medalist Mihail KAJALA (SRB) is the clear favorite at 97kg coming into the Hungarian Grand Prix.  The Serbian is looking to continue his 2018 hot streak, where he claimed at least a bronze medal in every competition he entered. 
Kajala reached the finals of the 2018 Dan Kolov - Nikola Petrov Tournament and the European Championships and grabbed bronze medals at the World Championship, Mediterranean Games, and the Grand Prix of Zagreb. 
Kajala enters the Hungarian Grand Prix with 25 Ranking Series points and is the fourth-ranked wrestler in the world at 97kg.
Ghanderian Standing Alone at 87kg (Sunday Night)
Iran's Yousef Ahmad GHADERIAN is the lone senior-level medalist entered at 87kg. He represents Iran at three consecutive world championships beginning in 2015, where he defeated Kazakhstan's Askhat DILMUKHAMEDOV (KAZ) 4-0 to win the bronze medal. 
Wide Open Weight: 55kg (Saturday Night)
Alexandru Vasile BOTEZ (ROU) and Reza Kheirollah KHEDRI (IRI) are only two wrestlers who have won world medals, and they've both come at the age-group level. 
Iran's Reza Kheirollah Khedri captured the 2011 cadet world title and the 2015 junior world title, and Romania's Alexandru Botez grabbed the 2013 cadet world bronze medal. 
Friday (February 22) 
Till 12:00 - Final entries for GR cat. 55, 63, 72, 82, 97 kg
16:00 - Technical conference – all teams 
17:00 - Draw – GR cat. 55, 63, 72, 82, 97 kg
Saturday (February 23) 
08:00 - Medical examination & Weigh-in for GR cat. 55, 63, 72, 82, 97kg
10:00 - Qualification rounds and repechage for GR cat. 55, 63, 72, 82, 97kg
Till 12:00 - Final entries for GR cat. 60, 67, 77, 87, 130kg
16:30 - Draw – GR cat. 60, 67, 77, 87, 130kg
17:00 - Opening Ceremony 
18:00 - Finals for GR cat. 55, 63, 72, 82, 97kg Award ceremonies 
Sunday (February 24) 
8.30 - Medical examination & Weigh-in for GR cat. 60, 67, 77, 87, 130kg
10.00 - Qualification rounds and repechage for GR cat. 60, 67, 77, 87, 130kg
16.00 - Finals for GR cat. 60, 67, 77, 87, 130kg and Award ceremonies