Gray Dominates 2017 Champ Adar to Capture 4th World Title
Wednesday, October 24, 2018 - 19:16 By Andrew Hipps
BUDAPEST, Hungary (October 24) -- After not competing in 2017, Adeline GRAY (USA) left no doubt that she is back. 
A day after beating 2016 Olympic champion Erica WIEBE (CAN) to reach the gold-medal match, Gray claimed her fourth gold medal at the World Championships with a dominant 13-1 technical fall victory over 2017 world champion Yasemin ADAR (TUR) in the gold-medal match at 76kg on Wednesday night in Budapest, Hungary. 
Adar scored first off the shot clock to take a 1-0 lead. But Gray came back with a takedown late in the first period before locking up her leg lace and turning Adar five times for the technical fall.
"I feel great," Gray said after her finals victory. "I can't believe it. I did such a good job mentally today. I'm so proud of myself, proud of my body, proud of my team. I'm so proud of everything that happened. This has been a wonderful two days."
Gray's previous world titles came in 2015, 2014 and 2012. 
Wiebe came back to win a bronze medal at 76kg, beating Epp MAE (EST) 4-0. Hiroe MINAGAWA SUZUKI (JPN) took the other bronze medal by forfeit.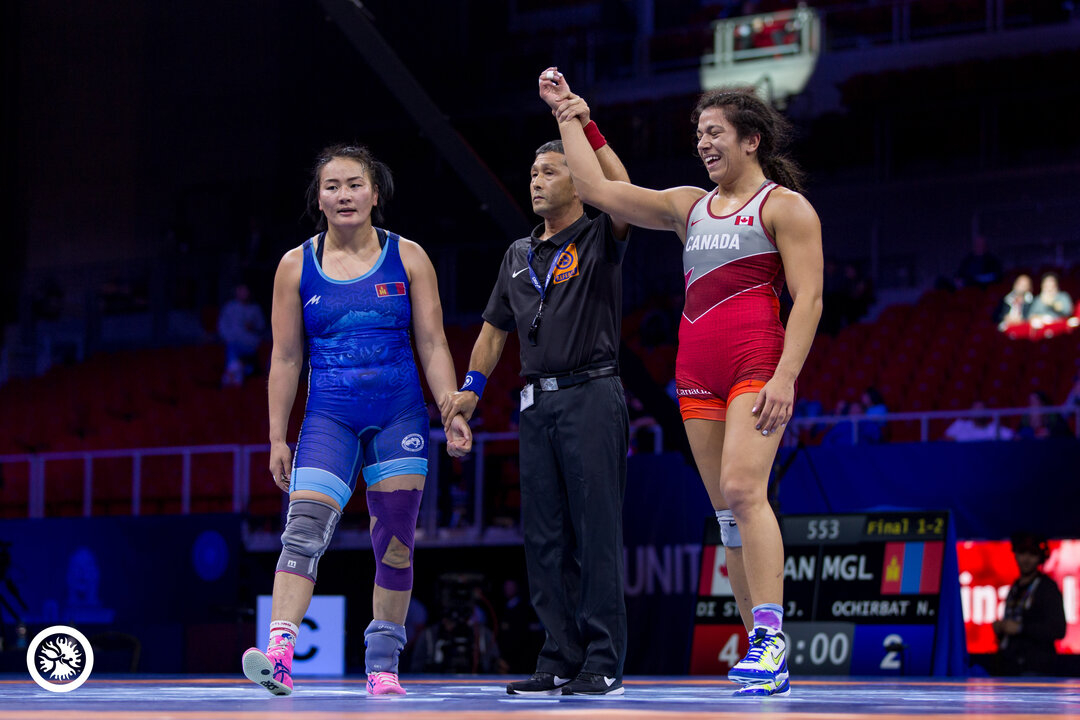 Canada crowned a world champion as Justina DI STASIO topped Nasanburmaa OCHIRBAT (MGL) 4-2 in the gold-medal match 72kg. It comes a year after Di Stasio won her first world medal (bronze) in Paris at 75kg. She moved down a weight class to make room for Wiebe. 
Di Stasio never trailed in the gold-medal match. She scored a takedown in the first minute and added another in the second period to go up 4-0. Ochirbat responded with a takedown of her own but was unable to score again.
Di Stasio was overcome with emotion after the victory. 
"I have dreamed about this day so many times," Di Stasio said.
The bronze medals at 72kg went to Buse TOSUN (TUR) and Martina KUENZ (AUT). Tosun used a late takedown to defeat WANG Juan (CHN) 5-2. Kuenz, a 2011 cadet world bronze medalist, edged Samar Amer HAMZA (EGY) 2-1.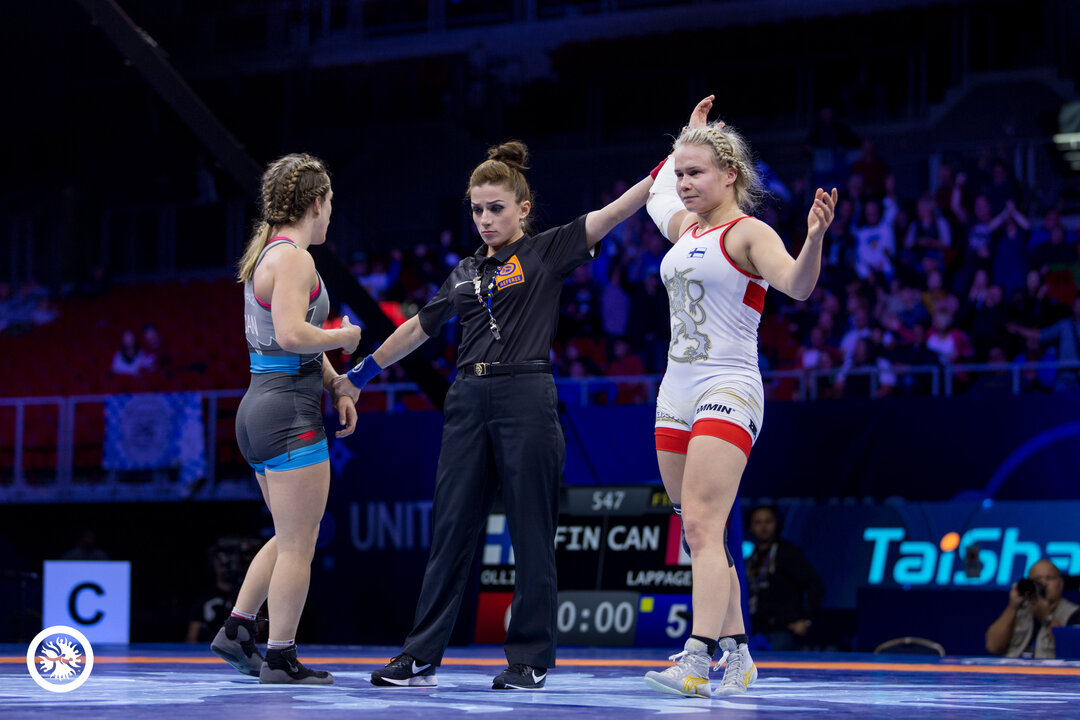 In the gold-medal match at 65kg, Petra OLLI (FIN) held on to defeat Danielle LAPPAGE (CAN) 6-5 and claim her first world title after winning a bronze medal in 2015. Lappage, a 2010 junior world champion, looked strong early, scoring first off the shot clock and adding a takedown to go up 3-0. Olli inched closer with a takedown late in the first period and then grabbed the lead on criteria less than a minute into the second period after scoring a point off a caution. 
Olli extended her lead to 5-3 midway through the second period with a takedown off a duckunder. Trailing by two with 10 seconds left, Lappage shot a single leg and secured a last-second takedown to make the score 5-5. However, a finger caution broke the tie and gave Olli a 6-5 victory.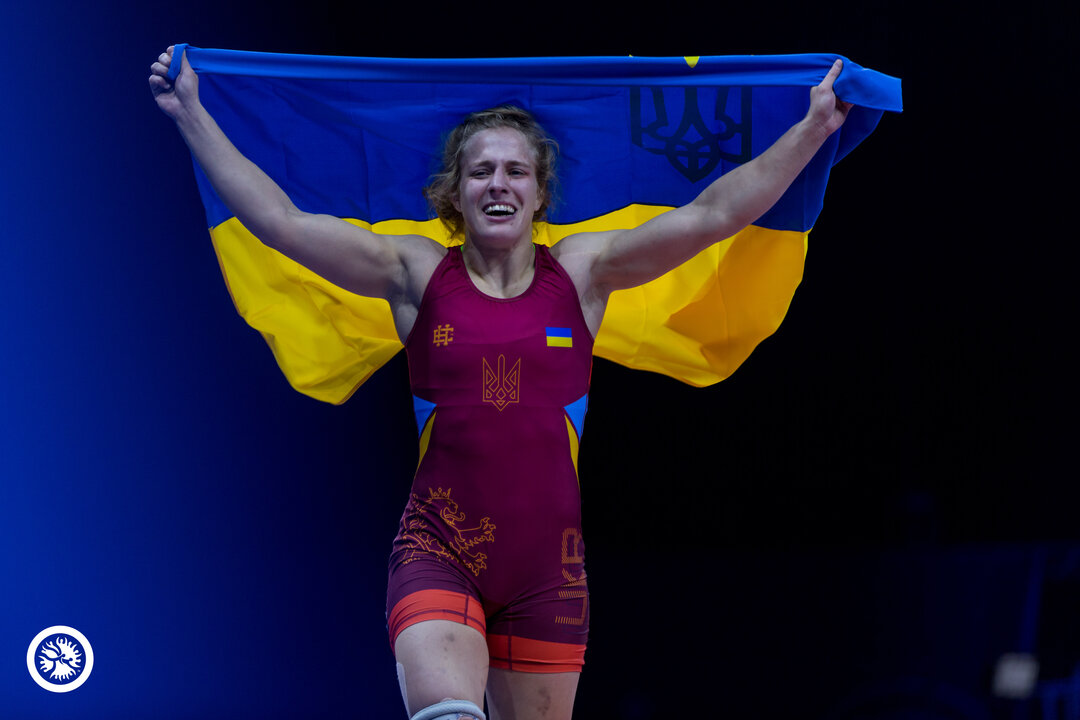 Alla CHERKASOVA (UKR) came from behind in the final period to defeat Koumba LARROQUE (FRA) 15-10 in the gold-medal match at 68kg.
The 29-year-old Ukrainian adds a world gold to a bronze she won in 2010. Larroque was in search of her first senior world gold medal after winning world gold medals at the U23, junior and cadet championships. 
Cherkasova trailed 4-0 at the break after giving up two first-period takedowns. After a flurry early in the second, Larroque led 6-3. But Cherkasova locked up a leg lace and turned Larroque six times to take a commanding 15-6 lead. Larroque would mount a late comeback and cut the deficit to five points, but Cherkasova held on for the win.
The bronze medals at 65kg were won by Ayana GEMPEI (JPN) and Iryna NETREBA (AZE). Gempei, a junior and U23 world champion, defeated Ritu RITU (IND) for her first senior world medal. Netreba, a world fifth-place finisher in 2015, snuck past Forrest MOLINARI (USA) 1-1 by virtue of scoring the final point off the shot clock. 
Tamyra MENSAH (USA) earned her first world medal by defeating Olivia DI BACCO (CAN) 7-4 in a bronze-medal match at 68kg. She built a 6-0 and held on for the victory. The other bronze medal at 68kg was won by Feng ZHOU (CHN), who dominated Maryia MAMASHUK (BLR) 12-1. It's Zhou's second world medal and first since 2015. 
Finals Results
Women's Wrestling
65kg
GOLD: Petra OLLI (FIN) df. Danielle LAPPAGE (CAN) by VPO1, 6-5
BRONZE: Iryna NETREBA (AZE) df. Forrest MOLINARI (USA) by VPO1, 1-1
BRONZE: Ayana GEMPEI (JPN) df. Ritu RITU (IND) by VPO1, 7-3
68kg
GOLD: Alla CHERKASOVA (UKR) df. Koumba LARROQUE (FRA) by VPO1, 15-10
BRONZE: Tamyra MENSAH (USA) df. Olivia DI BACCO (CAN) by VPO1, 7-4
BRONZE: Feng ZHOU (CHN) df. Maryia MAMASHUK (BLR) by VSU1, 12-1
72kg
GOLD: Justina DI STASIO (CAN) df. Nasanburmaa OCHIRBAT (MGL) by VPO1, 4-2
BRONZE: Buse TOSUN (TUR) df. Juan WANG (CHN) by VPO1, 5-2
BRONZE: Martina KUENZ (AUT) df. Samar HAMZA (EGY) by VPO1, 2-1
76kg
GOLD: Adeline GRAY (USA) df. Yasemin ADAR (TUR) by VSU1, 13-1
BRONZE: Epp MAE (EST) df. Erica WIEBE (CAN) by VPO, 4-0
BRONZE: Hiroe MINAGAWA SUZUKI (JPN) df. Zsanett NEMETH (HUN) by VIN, 0-0