Gray Stays on Track for 5th World Gold at 76kg as Wiebe Falls by Wayside; Kawai advances
Wednesday, September 18, 2019 - 09:52 By Ken Marantz
NUR-SULTAN, Kazakhstan (Sept. 18)---Defending champion Adeline GRAY (USA) remained on track for a fifth world gold overall by making the semifinals at women's 76kg, but Rio 2016 Olympic champion Erica WIEBE (CAN) will not be around to challenge her following early action on Day 5 at the World Championships. 
Gray racked up a pair of technical falls, the second a 10-0 thrashing of CHANG Hui Tsz (TPE), to advance to the semifinals to be held at the start of the night session at Barys Arena. She will face Aline ROTTER FOCKEN (GER), a European bronze medalist and the 2014 world champion at 69kg.
All wrestlers who advanced to the semifinals in the Olympic weight classes of 57kg and 76kg also secured a berth for their country at the Tokyo 2020 Olympics.
In a weight class stacked with current and former world medalists, Epp MAEE (EST) and Hiroe MINAGAWA (JPN) survived in the other 76kg bracket and will meet in the other semifinal.
Maee, a 2015 world bronze medalist looking to avoid a third straight fifth-place finish, scored a takedown in the final seconds for a stunning 4-3 win over Wiebe, a bronze medalist a year ago in Budapest.
Trailing 3-1, Maee had shot in on a tackle, but was stopped by Wiebe, who locked on from above. But Maee twisted under and pressing backwards, forced the Canadian over at the edge with :01 on the clock. An unsuccessful challenge made it 4-3. 
Minagawa, who won her second world bronze a year ago in Budapest, scored a takedown with :33 left for a 3-1 win over ZHOU Qian (CHN), who had knocked off top seed and 2018 silver medalist Yasemin ADAR (TUR).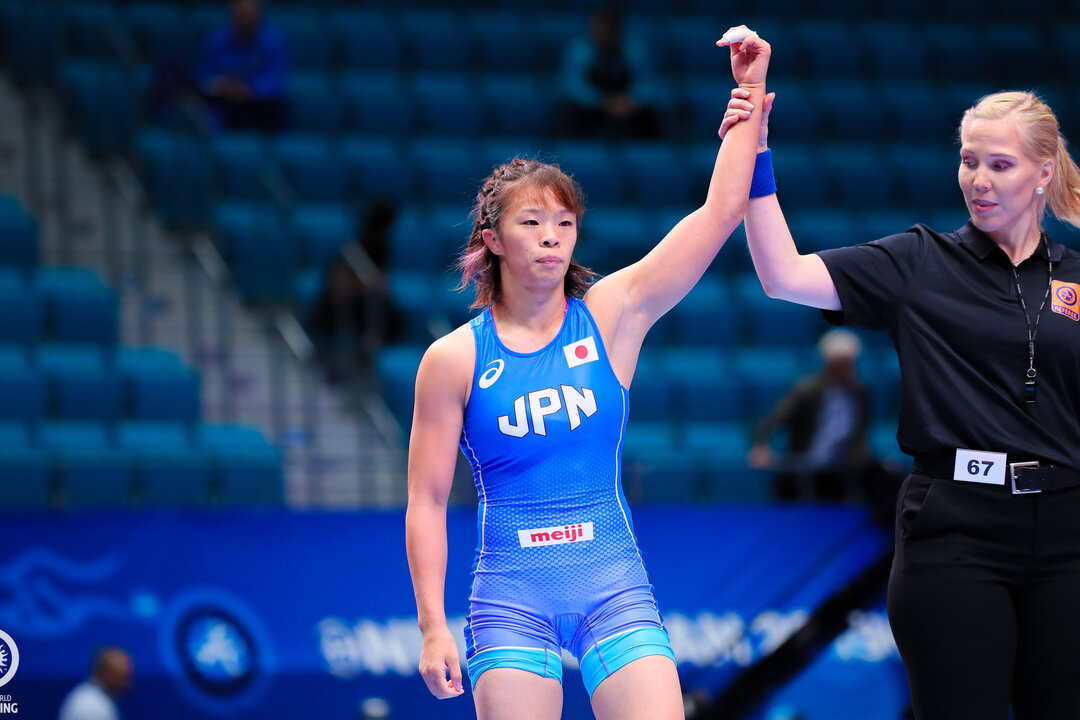 Olympic champion Risako KAWAI (JPN) will meet 2017 world finalist Odunayo ADEKUOROYE (NGR) in the 57kg semifinals. (Photo: Kadir Caliskan)
At 57kg, Rio 2016 and two-time world champion Risako KAWAI (JPN) and reigning champion RONG Ningning (CHN) remained on a possible collision course.
Kawai, the 2018 gold medalist at 59kg who has dropped down to the Olympic weight, will face two-time world medalist Odunayo ADEKUOROYE (NGR), while Rong is pitted against Jowita WRZESIEN (POL).
Adekuoroye earned her place in the final four with a 12-2 technical fall of JONG In Son (PRK), who finished second to Rong at the Asian Championships in April after stunning four-time Olympic champion Kaori ICHO (JPN) in the semifinals. 
Kawai dealt a major blow to Icho's bid for a fifth Olympic title by beating her for the place on the team to Nur-Sultan. She can clinch Japan's berth at Tokyo 2020 by winning a medal in the Kazakh capital.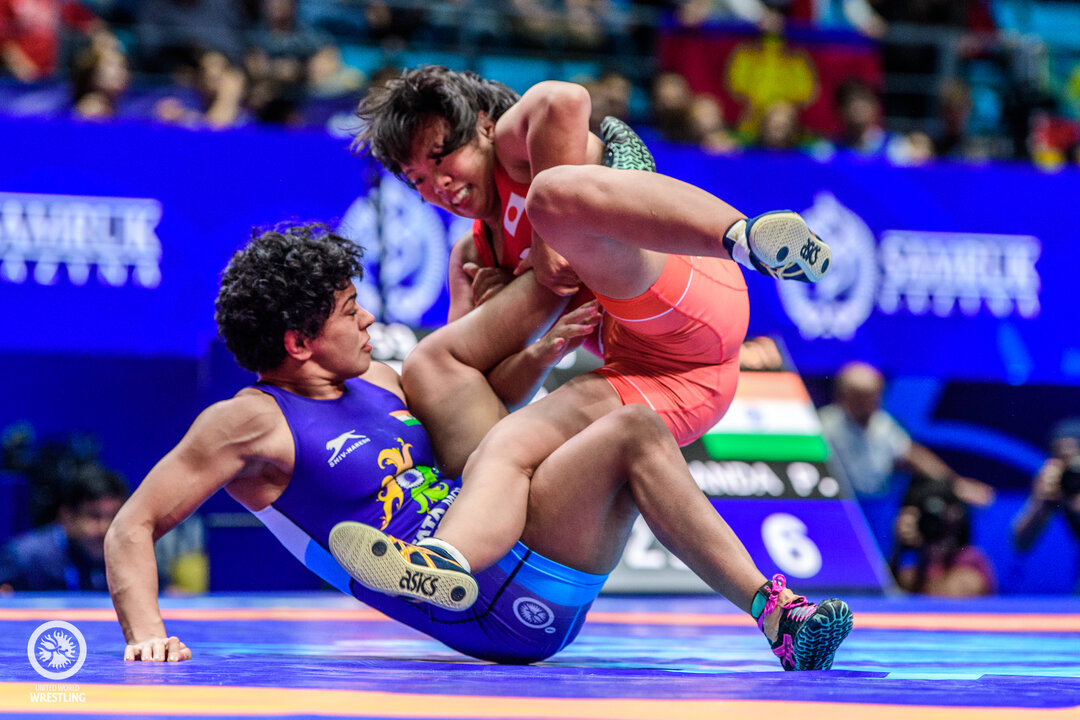 Pooja DHANDA (IND) uses a back trip to defeat Yuzuka INAGAKI (JPN), 11-8. (Photo: Tony Rotundo)
In the non-Olympic 59kg, Pooja DHANDA (IND) provided the highlight of the session with a slick backward trip for 4 points that gave her an 11-8 victory over newly crowned world junior champion Yuzuka INAGAKI (JPN). 
Dhanda, the 2018 world bronze medalist at 57kg who failed to make the Indian team at that weight, was trailing 7-6 in the waning seconds when Inagaki looked to pad her lead by getting a single leg and lifting it into the air.
But Dhanda, going to her bag of tricks as a kid wrestler, used her other leg to trip Inagaki backwards for 4 points. Inagaki got behind for a point, but her efforts to turn the Dhanda were in vain, and an unsuccessful challenge resulted in the final score.
"When I was a child, we were training very hard for this [move]," said Dhanda, adding she had not used it for "a very long time."
She will face 2017 European champion Luibov OVCHAROVA (RUS) for a place in the final. In the quarterfinals, Ocharova ended a close match with 2018 bronze medalist PEI Xingru with a victory by fall.
In the other semifinal, Shoovdor BAATARJAV (MGL), the other bronze medalist a year ago, will take on Linda MORAIS (CAN).
At 65kg, European champion Elis MANOLOVA (AZE) will face Inna TRAZHUKOVA (RUS) for a place in the final, while Forrest MOLINARI (USA) and Iryna KOLIADENKO (UKR) will meet in the other semifinal.
Following the semifinals, the night session will feature the medal matches at 50kg, 53kg, 55kg and 72kg. 
Day 5 Results
Women's Wrestling Pairings
50kg (29 entries)
Gold – Alina VUC (ROU) vs Mariya STADNIK (AZE) 
Bronze – Oksana LIVACH (UKR) vs Valentina ISLAMOVA BRIK (KAZ)
Bronze – Ekaterina POLESHCHUK (RUS) vs SUN Yanan (CHN)
53kg (30 entries)
Gold – Mayu MUKAIDA (JPN) vs PAK Yong Mi (PRK)
Bronze –Vinesh PHOGAT (IND) vs Maria PREVOLARAKI (GRE)
Bronze – Roksana ZASINA (POL) vs PANG Qianyu (CHN)
55kg (18 entries)
Gold – Nanami IRIE (JPN) vs Jacarra WINCHESTER (USA)
Bronze –Olga KHOROSHAVTSEVA (RUS) vs Marina SEDNEVA (KAZ)
Bronze – Bolortuya BAT OCHIR (MGL) vs Bediha GUN (TUR)
57kg (31 entries)
Semifinal – RONG Ningning (CHN) vs Jowita WRZESIEN (POL) 
Semifinal – Odunayo ADEKUOROYE (NGR) vs Risako KAWAI (JPN)
59kg (18 entries)
Semifinal – Pooja DHANDA (IND) vs Luibov OVCHAROVA (RUS)
Semifinal – Shoovdor BAATARJAV (MGL) vs Linda MORAIS (CAN)  
65kg (17 entries)
Semifinal – Forrest MOLINARI (USA) vs Iryna KOLIADENKO (UKR) 
Semifinal – Elis MANOLOVA (AZE) vs Inna TRAZHUKOVA (RUS) 
72kg (12 entries)
Gold – Natalia VOROBEVA (RUS) vs Alina MAKHYNIA (UKR)
Bronze –Masako FURUICHI (JPN) vs Zhamila BAKBERGENOVA (KAZ)
Bronze – Victoria FRANCIS (USA) vs Paliha PALIHA (CHN)
76kg (31 entries)
Semifinal – Hiroe MINAGAWA (JPN) vs Epp MAEE (EST) 
Semifinal – Aline ROTTER FOCKEN (GER) vs Adeline GRAY (USA)