Host India Takes 3 Golds on Opening Day of Women's Wrestling
Thursday, February 20, 2020 - 18:09 By Ken Marantz
NEW DELHI (Feb. 20)—Going into this year's Asian Championships, host India had had only one champion in women's wrestling in the history of the tournament. In the space of one glorious day, they suddenly now have four.
Pinki PINKI (IND) and Sarita SARITA (IND) joined Divya KAKRAN (IND), who clinched her title in the afternoon session, as gold medalists with victories in the finals on the day three of the tournament Thursday in New Delhi.
Pinki won her first senior Asian title on the third try with a tense 2-1 victory over Dulguun BOLORMAA (MGL) in the 55kg final. A short time later, Sarita walked off with the 59kg crown with an equally close 3-2 win over Battsetseng ALTANTSETSEG (MGL), who was relegated to the silver medal for a second straight year.
"I feel fantastic," Pinki said of the host nation's success, albeit it came with powerhouses China and the DPR Korea absent due to circumstances related to the new coronavirus outbreak.
Earlier, Kakran clinched the 68kg gold by winning all four of her matches—all by fall—in the five-woman round-robin during the afternoon session, making her India's first female Asian champion since Navjout KAUR (IND) won the 65kg title two years in Bishkek.
Japan won the other two golds at stake, as Miho IGARASHI (JPN) prevented India from gaining another title when she held on for a 3-2 victory over Devi NIRMALA (IND) in the 50kg final. 
World silver medalist Hiroe MINAGAWA (JPN) capped the night with a 4-1 victory in the 76kg final over world U-23 bronze medalist Aiperi MEDET KYZY (KGZ) to pick up her third Asian gold and first since 2015.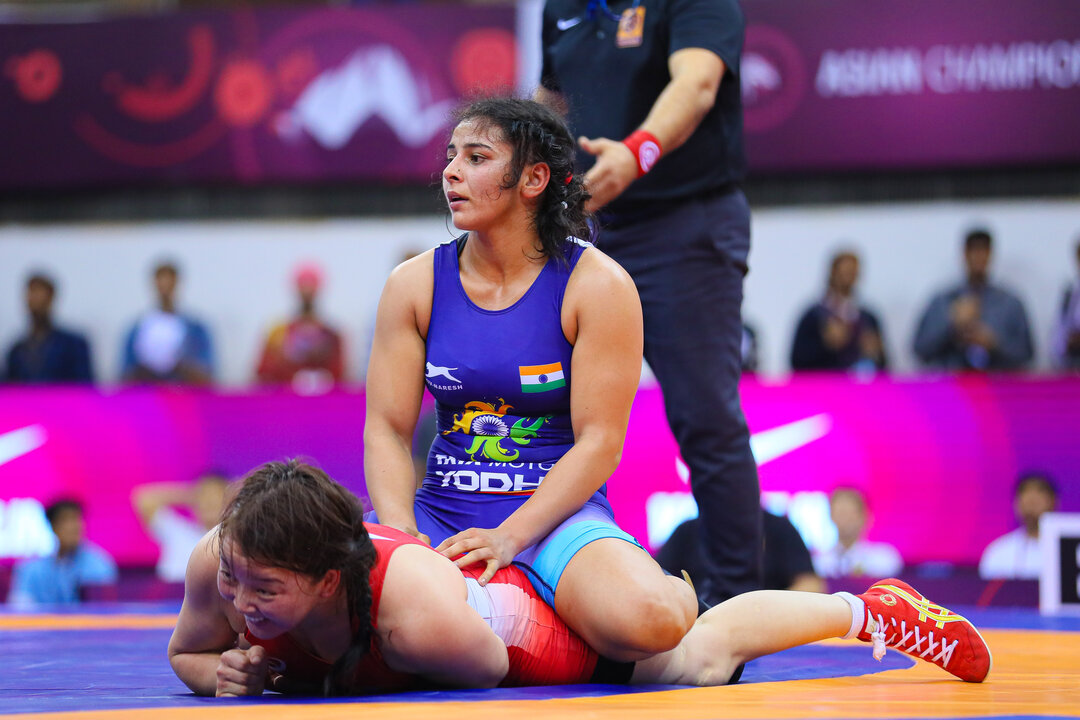 Sarita SARITA (IND) edged Battsetseng ALTANTSETSEG (MGL), 3-2, and claimed her first Asian title. (Photo: Kadir Caliskan)
Sarita had joined the long list of Indians with Asian silver medals when she finished second at the 2017 tournament in New Delhi. 
"In 2017, I had a silver, so I knew the silver was not important," said Sarita, who has also been on the Indian team to the senior World Championships five times, with a career-high finish of seventh in 2018. 
"From the first bout, I considered each one the final, because I can't win if I don't win every bout. There was no motivation for a silver, I just wanted to win the gold."
Sarita said she didn't feel pressure of performing in front of the home crowd at K.D. Jadrav Wrestling Stadium. "I just had to do what I have always learned on the mat, and this is what I did today and won the gold medal."
In the final, Altantsetseg took the lead with a stepout, but Sarita came back with a takedown to take a 2-1 lead into the third period. With :21 left, Altantsetseg gained another stepout, meaning one more would give her the one. 
But Sarita was ready. As soon as Altantsetseg stepped forward, the Indian dipped down and shot for her legs. She ended up behind and gained a stepout herself with :11 to make it 3-2.
"I had watched some of her bouts before, I was just hoping to not give up a point," Sarita said. "The moment she jumped, I thought I should flip her over, but I couldn't get the hold and so it was like, let's finish this with a one and win the match."  
In the 55kg final, all of the points came on the activity clock, with Pinki going ahead 2-1 with :47 left. A late flurry of action at the end yielded no points, giving Pinki her first major senior title.
"I wasn't feeling any kind of pressure, I was confident was I was going to win the match in the end," she said.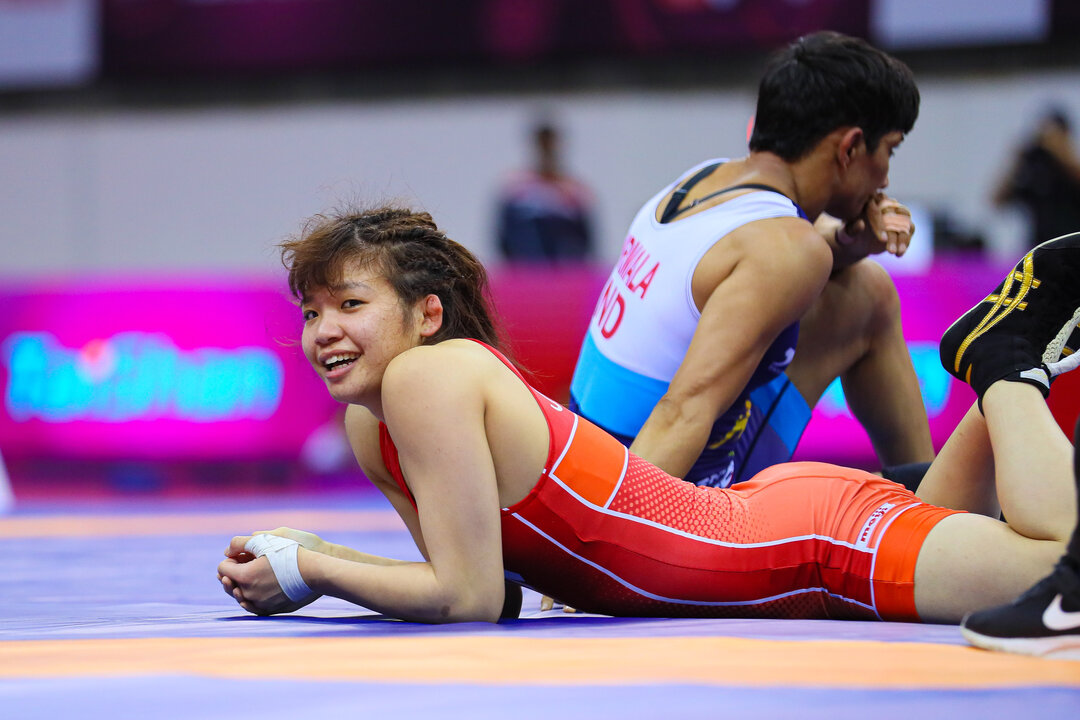 Miho IGARASHI (JPN) stopped Indian from winning a fourth gold medal with a 3-2 win over Devi NIRMALA (IND) in the 50kg finals. (Photo: Kadir Caliskan)
Igarashi, a two-time world champion at both the U-23 and junior levels, capped her senior national team debut by matching the exploit of her younger sister Saki, the 2018 Asian champion at 55kg.  
In the final, Igarashi scored with a double-leg takedown in the first period, to which a penalty point was added. In the second period, she continued to attack, but Nirmala was able to fend her off, nearly turning her over with a three-quarter nelson. 
With the seconds ticking down, Nirmala grabbed a foot and reeled in Igarashi for a 2-point takedown, but it was too little, too late. 
"She was really strong," Igarashi said. "I didn't really think about a strategy, but I thought to go on the attack first. It was good that I got points off that.
"After that I got a bit scared and I didn't stay aggressive. But I really wanted to win the championship, I was obsessed, so I think I took the title by emotions."
Igarashi came to New Delhi coming off a disappointing showing at the Ivan Yarygin Grand Prix in January, where she lost in the quarterfinals.
"I was really disappointed by my performance at last month's tournament," she said. "With only one month before a big tournament, I had to regroup. But my desire to win was so strong,"
Igarashi felt a sense of responsibility after being handed the place on the national team in a weight class in which Japan has so much depth. She placed third at the Japan Championships, but with winner Yui SUSAKI (JPN) heading to the Asian Olympic qualifying tournament and runner-up Yuki IRIE (JPN) opting out, she was next in line for the assignment.
"I thought, I can't wrestle poorly or lose easily," she said. "There was some pressure, but in the end, I had a good result."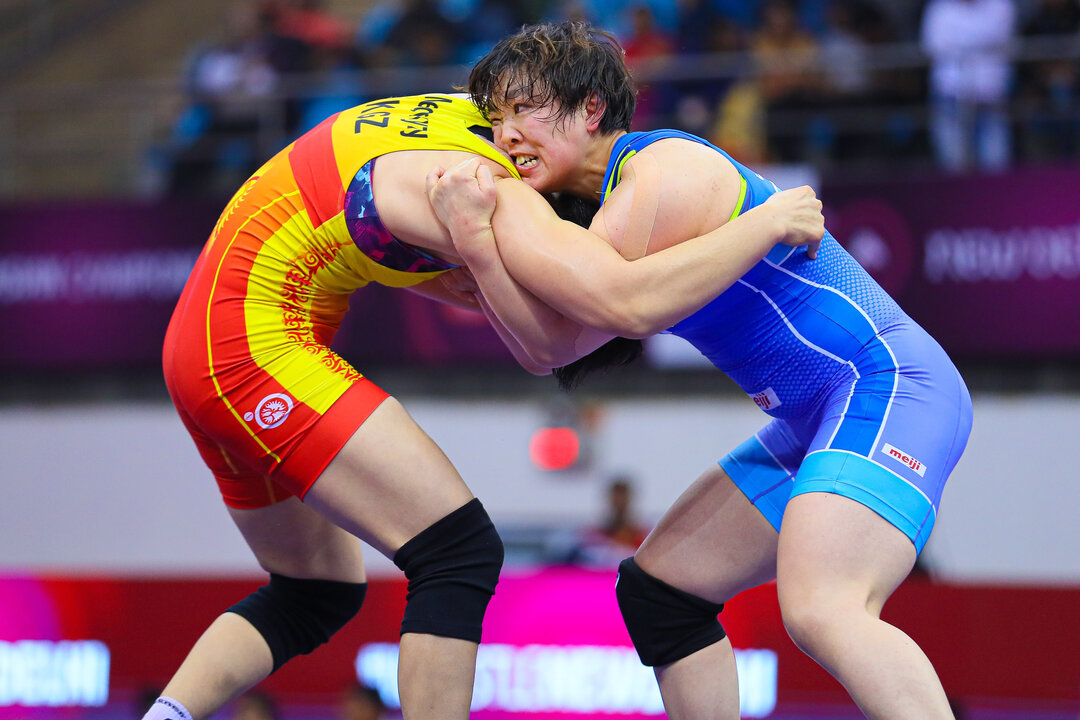 Hiroe MINAGAWA (JPN) downed Aiperi MEDET KYZY (KGZ) and won her third Asian gold medal, but first since 2015. (Photo: Kadir Caliskan)
Minagawa's win over Medet Kyzy was her second of the day. The two had met in their preliminary group, with the Japanese winning 3-0 before both won their semifinal matches to advance to a rematch in the final.
As she did earlier, Minagawa scored with stepouts, although this time she added in a 2-point title off a counter, from which Medet Kyzy gained a reversal to account for her point.
Minagawa said she was helped by recently training with sumo wrestlers on working in the arms to more effectively lock up in the standing position, a technique which is vital in Japan's national sport.
"I think what I learned there was effective," she said. 
In the final round of matches at 68kg, world junior champion Naruha MATSUYUKI (JPN) defeated Delgermaa ENKHSAIKHAN (MGL) by 11-0 technical fall in a bout that decided the silver and bronze medals. Both had lost to Kakran in the afternoon session and went into their clash with 2-1 records.
Kazakhstan, shut out of the finals, came away with four bronze medals from Valentina ISLAMOVA BRIK (KAZ) at 50kg, Marina ZUYEVA (KAZ) at 55kg, Madina BAKBERGENOVA (KAZ) at 59kg and Elmira SYZDYKOVA (KAZ) at 76kg. 
Syzdykova, a 2016 Rio Olympic bronze medalist, won her fifth career Asian medal. She qualified for the 2020 Tokyo Olympics by placing fifth at last year's World Championships.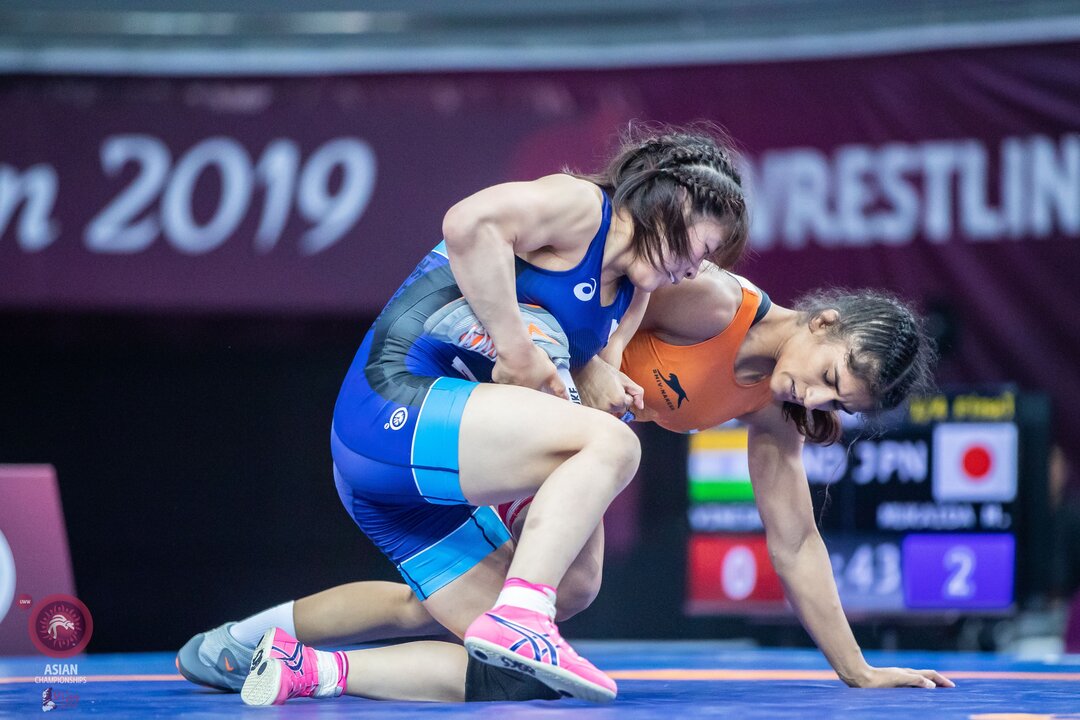 Mayu MUKAIDA (JPN) will square off with Vinesh PHOGAT (IND) in an opening-round top-three matchup. (Photo: Sachiko Hotaka)
4th day to renew 2 major rivalries
The fireworks will start early on the fourth day of action Friday, as high-profile rivals in two weight classes were drawn to face each other in their opening bouts  as women's wrestling finishes up. In both cases, it will be the third time the foes will face each other at a major tournament.
At 53kg, world silver medalist Mayu MUKAIDA (JPN) was drawn to face local star Vinesh PHOGAT (IND) as they begin their quest for gold at the quarterfinal stage.
Last May at the Asian Championships in Xi'an, China, Mukaida also faced Phogat in the round of 8, winning by 10-0 technical fall before going on to take the silver medal. Then, at the World Championships in Nur-Sultan, Mukaida ousted Phogat in the second round with a 7-0 win.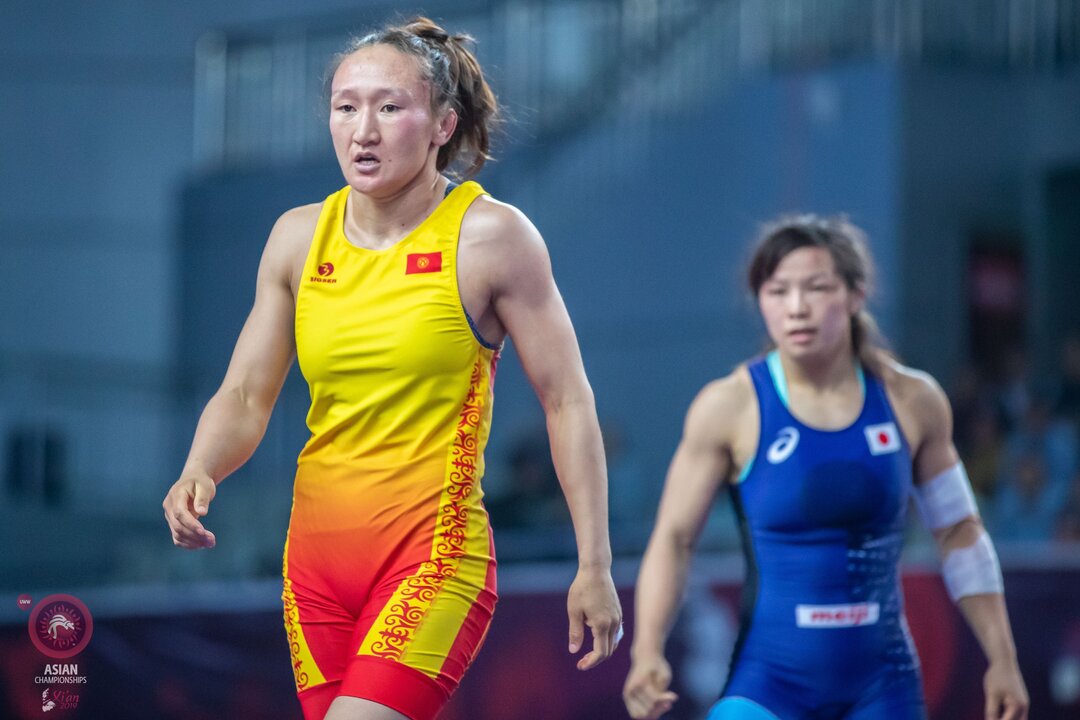 Aisuluu TYNYBEKOVA (KGZ) will wrestle Yukako KAWAI (JPN) on Friday morning in a rematch of last year's Asian finals. (Photo: Sachiko Hotaka)
The quarterfinals at 62kg will see the latest clash between world champion Aisuluu TYNYBEKOVA (KGZ) and world bronze medalist Yukako KAWAI (JPN). Like the other two, they also met at both the World and Asian Championships, with Tynybekova winning both.
Tynybekova took the Asian gold with an 8-6 win over Kawai in the final, then beat her again by fall in the second round at Nur-Sultan.  
Day 3 Results
Women's Wrestling
50kg (8 entries)
GOLD – Miho IGARASHI (JPN) df. Devi NIRMALA (IND), 3-2
BRONZE - Valentina ISLAMOVA BRIK (KAZ) df. Thi Xuan NGUYEN (VIE) by TF, 10-0, :39
BRONZE - Dauletbike YAKHSHIMURATOVA (UZB) df. Munkhnar BYAMBASUREN (MGL), 8-3
55kg (6 entries)
GOLD – Pinki PINKI (IND) df. Dulguun BOLORMAA (MGL), 2-1
BRONZE - Marina ZUYEVA (KAZ) df. Kana Higashikawa (JPN) by Fall, :52 (8-0)
59kg (7 entries)
GOLD – Sarita SARITA (IND) df. Battsetseng ALTANTSETSEG (MGL), 3-2
BRONZE - Madina BAKBERGENOVA (KAZ) df. Yuumi KON (JPN) by Fall, 1:58 (2-0)
68kg (5 entries)
Final Group Standings 
GOLD – Divya KAKRAN (IND), 4-0
SILVER - Naruha MATSUYUKI (JPN), 3-1
BRONZE - Delgermaa ENKHSAIKHAN (MGL), 2-2
Key Match: Divya KAKRAN (IND) df. Naruha MATSUYUKI (JPN) by Fall, 4:21 (6-4) in Round 4
76kg (7 entries)
GOLD – Hiroe MINAGAWA (JPN) df. Aiperi MEDET KYZY (KGZ), 4-1
BRONZE - Elmira SYZDYKOVA (KAZ) df. Arlunjargal GANBAT (MGL) by Fall, 1:58 (7-0)