Host Japan Rides Close Early Wins to Top China, Gain Place in Final Against U.S.
Saturday, November 16, 2019 - 14:25 By Ken Marantz
NARITA, Japan (Nov. 16)---The two former world champions got the ball rolling with knife-edge victories, starting a run of six straight that propelled host Japan over rival China and into the final of the Women's World Cup. 
Yui SUSAKI (JPN) and Haruna OKUNO (JPN), who had to settle for age-group titles this year after failing to make Japan's team to the senior World Championships, came through in tight matches as Japan defeated China 6-4 in the final session to win its three-team group.
In the championship match on Sunday at Nakadai Sports Park Gym in Narita, east of Tokyo, Japan will aim for a fifth straight title and 11th overall when it faces the United States, who will get a shot at adding to the lone crown it won back in 2003.
China and Mongolia will clash for the bronze medal, while Russia and Ukraine will face off in the fifth-place playoff. 
The United States, which handily beat Russia 8-2 in the early session, clinched the other group by topping Mongolia by the same 6-4 score, getting victories by fall from two of its three reigning world champions, while overcoming a loss by fall from the other. 
Japan showed its vulnerability in the upper weights when it lost the final four matches to China, although it is difficult to say if the outcome of any of those matches would have different had victory been on the line.
But in retrospect, it made Susaki's 3-2 victory over Rio 2016 Olympic bronze medalist SUN Yanan (CHN) at 50kg and Okuno's last-second 4-3 win over PANG Qiangyu (CHN) all the more vital. 
Susaki is still feeling the pangs of the missing out on a chance for a third straight senior world title after losing a playoff for the Japan team spot to Yuki IRIE (JPN)---which at the time, she believed, as did most, ended her chances to compete at the Tokyo 2020 Olympics.
But when Irie failed to finish in the top six at the Nur-Sultan World Championships, it reopened the door for Susaki, who will get a second chance by triumphing at the All-Japan Championships in December.
"I was really down, and it was the first time I felt I was at rock bottom," said Susaki, who won a second straight world junior gold in August in Tallinn. "But it was not over yet, and as long as there was still a 0.01 percent chance, I would believe in the possibility, and I kept working hard with the encouragement of others."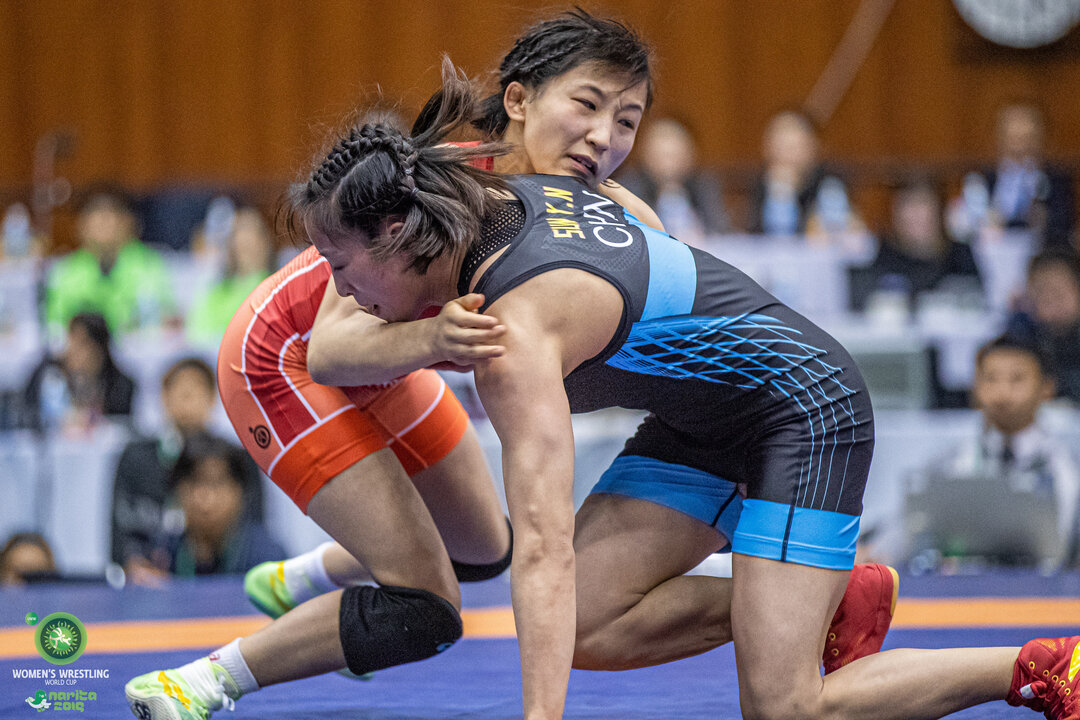 Yui SUSAKI (JPN) works on finishing a shot against world champ and Rio Olympic bronze medalist, SUN Yanan (CHN). Susaki won the match, 3-2. (Photo: Sachiko Hotaka)
Susaki last faced Sun in 2017, when she beat her twice. And while their match was ostensibly one of 10 in a team event, it seemed there was more at stake, that this would reaffirm where Susaki stood against the world's best. 
"I've long wanted to face Sun, and beating her gives me confidence and momentum," Susaki said.
Against the lankier Sun, Susaki found it difficult to finish off her takedowns, and trailed 2-1 after the Chinese scored on a counter crotch lift. Early in the second period, Susaki finally broke through the defenses for a takedown and a 3-2 lead. 
"I found many points that I need to work on," Susaki said. "Like finishing off my tackles, adding variation and creating more openings for attacks, and coming up with more moves that I can rely on. I want to fix this going into the All-Japan Championships." 
With a half-minute to go, Sun seemed on the way to scoring with a single-leg takedown, but the effort went in vain when the action was stopped because a hold on Susaki's leg was in a dangerous position.
"I'm really puzzled," Sun said. "I did not do any illegal action on purpose. I just continued the action and the referee stopped it. It's a pity."
Okuno, who added this year's world junior and U-23 titles in lieu of getting a shot at third career senior gold, cut it as close as possible in beating Pang, a bronze medalist in Nur-Sultan.
Pang held a 3-2 lead in the final seconds when Okuno went on the attack and got behind in the standing position. Just as the clock was about to tick zero, Okuno forced Pang to the mat for the winning points.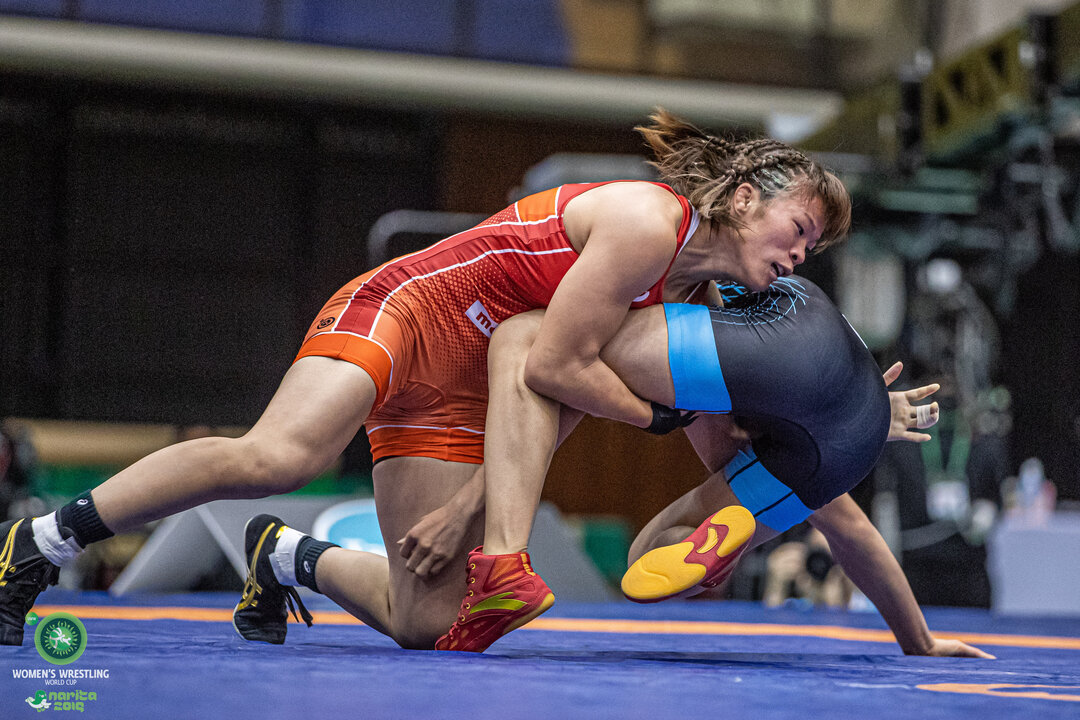 Three-time world champion Risako KAWAI (JPN) picked up a 6-0 win over FENG Yongxin (CHN) in Japan's win over China. (Photo: Sachiko Hotaka)
Japan followed with a pair of 6-0 victories from Akie HANAI (JPN) at 55kg and three-time world champion Risako KAWAI (JPN) at 57kg.
"Looking at it as individual match, part of me felt I was a bit too tight," Kawai said of her win over FENG Yongxin (CHN) in which she scored four of her points in the second period. 
"But the World Cup is a team event and the most important thing is to win and not lose the momentum for the next match, so that was good."  
The hosts then got another big win when stocky high schooler and world junior champion Yuzuka INAGAKI (JPN) held world 57kg silver medalist RONG Ningning (CHN) at bay, winning their 59kg bout 2-0, with both points coming with the Chinese on the activity clock.
World silver medalist Yukako KAWAI (JPN) ended the suspense when she scored a victory by fall at 62kg over KANG Juan (CHN) to give Japan an unassailable 6-0 lead. 
The Chinese finished up with consolation victories from WU Yaru (CHN) at 65kg, ZHOU Feng (CHN) at 68kg, WANG Juan (CHN) at 72kg and ZHOU Qian (CHN) at 76kg. The latter's win was a one-sided 7-0 affair over world silver medalist Hiroe MINAGAWA (JPN) that avenged a loss in the quarterfinals at Nur-Sultan.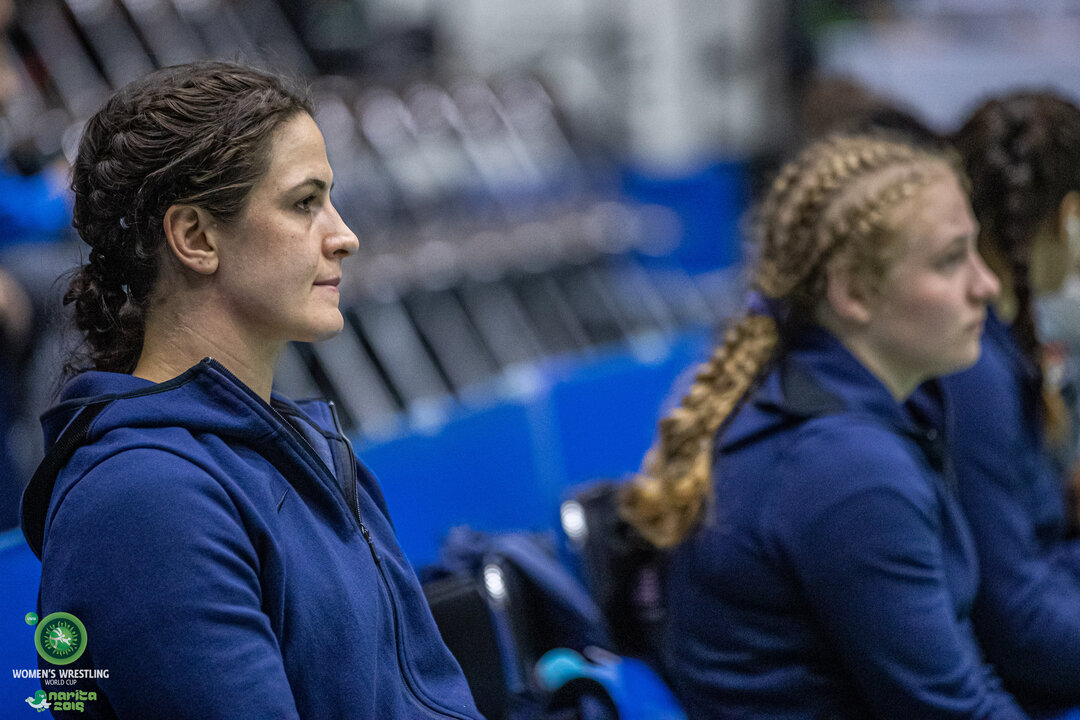 America's five-time world champion Adeline GRAY (USA) scored a pair of wins on the opening day of wrestling at the Women's World Cup, including an 11-6 victory over Ekaterina BUKINA (RUS). (Photo: Sachiko Hotaka)
In the other group, Adeline GRAY (USA), who captured a national-record fifth world gold in Nur-Sultan, only to needed to avoid losing by a technical fall in the final bout at 76kg to clinch the victory over Mongolia.
She did that and more, scoring a victory by fall in 2:40 over Ariunjargal GANBAT (MGL). Gray had built up a 10-0 lead and could have settled for a technical fall herself, but she had an underlying reason for going for the pin.
"We actually lost to Mongolia a few years ago in the same position; I won the match by a couple of points, [but] I needed the pin," Gray said. "This was more of a revenge, that I wanted that pin from last time. I'm happy we got it."
Whitney CONDOR (USA) at 50kg and 2018 world silver medalist Sarah HIDEBRANDT (USA) at 53kg staked the U.S. to a 2-0 lead, but Mongolia came back with three straight wins, starting with Bolortuya BAT OCHIR (MGL) decking newly crowned world champion Jacarra WINCHESTER (USA) at 55kg.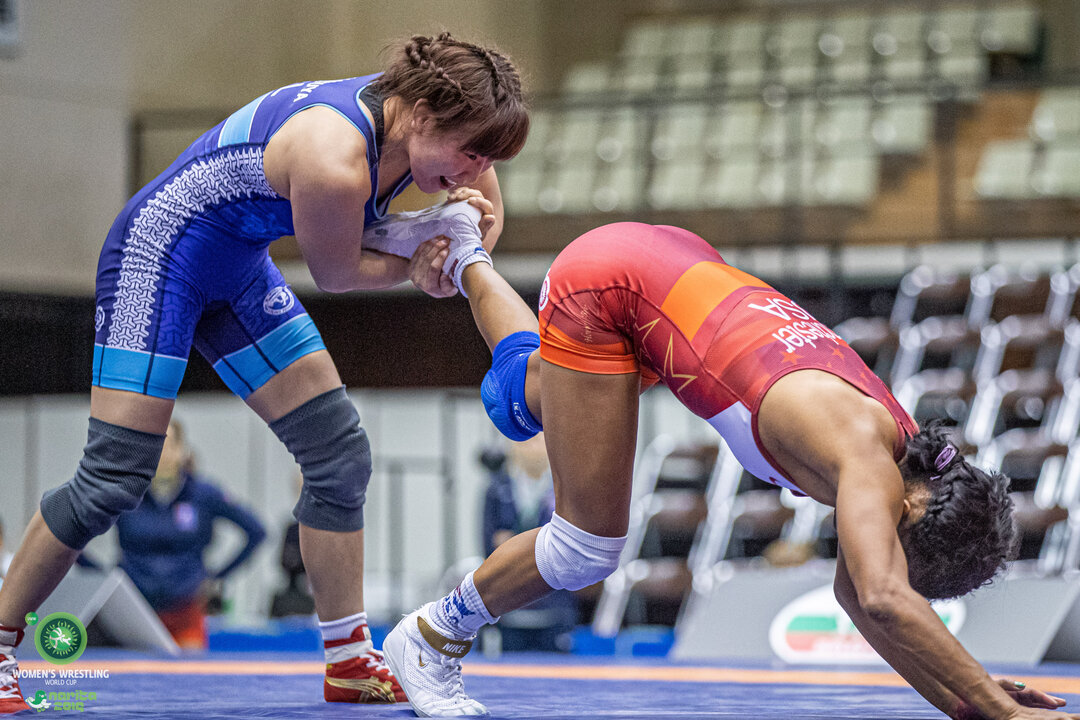 BAT OCHIR Bolortuya (MGL) scored a fall over reigning world champion Jacarra Gwenisha WINCHESTER (USA). (Photo: Sachiko Hotaka)
Bat Ochir, who lost to Winchester in the quarterfinals at Nur-Sultan before battling back for a bronze medal, gave up an early takedown before scoring two stepouts to make it 2-2 going into the second period.
Winchester scored another takedown with a trip off a single-leg, and looked on the way to another when she lost her balance while on the attack. Bat Ochir pounced on the miscue, catching the American in a headlock and securing the fall in 4:18.
Macey KILTY (USA) ended Mongolia's win streak with a victory at 62kg, and Forrest MOLINARI (USA) followed suit at 65kg. World champion Tamyra MENSAH-STOCK (USA) showed her dominance at 68kg with a victory by fall after building up a 10-0 lead.
When Davaanasan ENKH AMAR (MGL) defeated Victoria FRANCIS (USA) 13-7 at 72kg to cut the Americans' lead to 5-4, that placed the outcome on the final bout at 76kg, where Gray lived up to her billing.  
"I'm really proud of my team, they stepped up in the middle there," Gray said. "We had a few athletes who just got done with some World Championships, coming off they were supposed to be on vacation, and we had some injuries last minute. 
"For those athletes to step up and win matches, that turned the door right there, that made it possible for Tamyra and I to come out and get our jobs done. It takes a team for us to really be able to compete in this event. And it's fun to do it when the pressure's off a little bit."
Looking ahead to the clash with Japan in the final, Gray said that while the Americans match up well in the upper weights, the team is going to need some mighty efforts early on to have a chance.
"I think especially in the upper weight classes, we're going to do really well," she said. "It's just going to be those key matches early on.
"They have so much depth, and medals, just real talent down at those lower weight classes. But we've got that depth, too. We've got talent. It's just going to be about bringing that heart at the right moment and winning those key points, and I think we can do that.
"But Japan is the best, and has been the best. I think it's a good thing to let them know that we're coming. Winning this World Cup would be definitely a great thing headed into Tokyo 2020.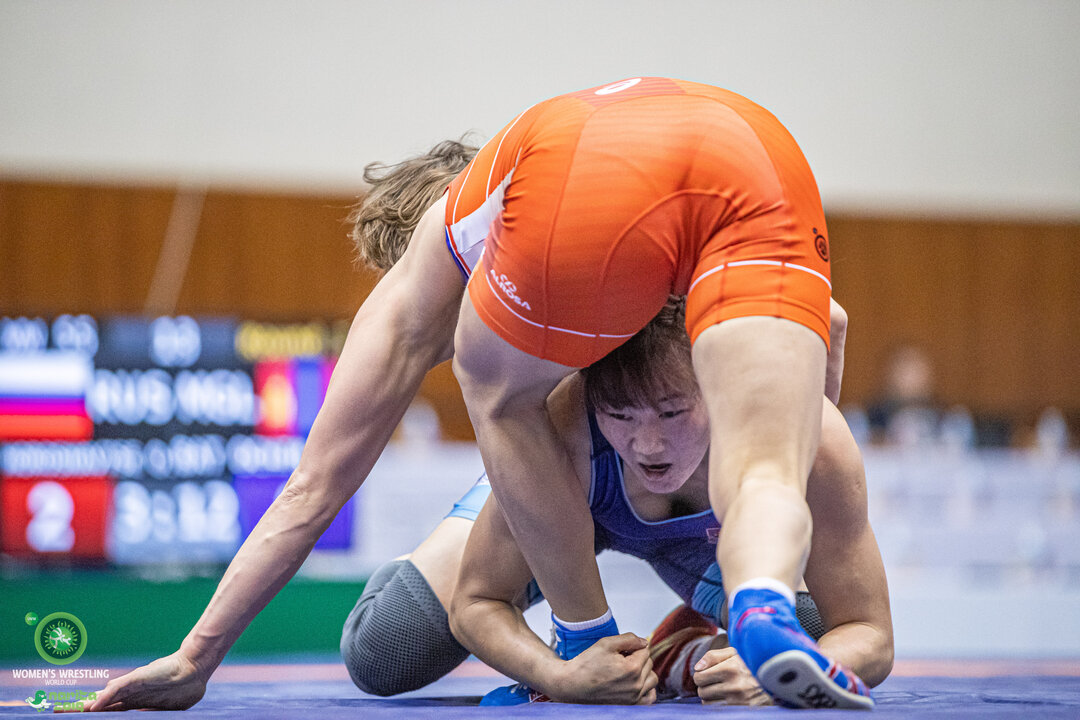 BAT OCHIR Bolortuya (MGL) helped Mongolia earn the 6-4 win over Russia after defeating fellow world bronze medalist Olga KHOROSHAVTSEVA (RUS), 4-4. (Photo: Sachiko Hotaka)
In the early sessions, Mongolia's Bat Ochir came out on top in the Battle of World Bronze Medalists over Olga KHOROSHAVTSEVA (RUS), providing the key victory in Mongolia's well-earned 6-4 win over Russia. 
"It was a match between bronze medalists, and I planned all my tactics and concentrated on this match," Bat Ochir said. "I watched her videos last night and talked to my coach about strategy." 
Bat Ochir trailed Khoroshavtseva 4-2 late in the match when she tried to come out through the back door, but the Russian fought to avoid conceding control. 
As the final seconds ticked down, Bat Ochir freed a trapped leg and locked up a cradle at the buzzer, which by itself gave her a 2-point takedown, although it took a challenge to receive the points that gave her the 4-4 victory on last-point criteria.
"When I got the hold with the head and leg, then I thought I got the points," Bat Ochir said, adding she was surprised by the non-call and "worried" when it went to the challenge. 
That victory proved crucial, as Russia would have prevailed on classification points had the team score ended up 5-5.  
The young Ukraine squad, overwhelmed 9-1 by the two Asian giants China and Japan, had one bright spot in Alla BELINSKA (UKR), who gave the European nation its only win in both matches. 
She scored a victory by fall over world U-23 bronze medalist Mei SHINDO (JPN), then topped WANG Juan (CHN) by slamming her down for 4 points in the final seconds for a 9-6 win. 
Day 1 Results
1st Session
JAPAN 9, UKRAINE 1
50kg: Kika KAGATA (JPN) df. Mariia VYNNYK (UKR), 2-1
53kg: Ibuki TAMURA (JPN) df. Solomiia VYNNYK (UKR), 14-5
55kg: Saki IGARASHI (JPN) df. Anastasiya KRAVCHENKO (UKR) by TF, 13-3, 3:35
57kg: Sae NANJO (JPN) df. Olena KREMZER (UKR) by TF, 10-0, 2:55
59kg: Yumeka TANABE (JPN) df. Sofiia BODNAR (UKR) by TF, 10-0, 4:25
62kg: Miwa MORIKAWA (JPN) df. Tetiana RIZHKO (UKR) by Fall, 5:46 (10-2)
65kg: Naomi RUIKE (JPN) df. Oksana CHUDYK (UKR), 5-2
68kg: Naruha MATUYUKI (JPN) df. Alina RUDNYSTSKA LEVYTSKA (UKR), 6-0
72kg: Alla BELINSKA (UKR) df. Mei SHINDO (JPN) by Fall, 1:50 (6-1) 
76kg: Yasuha MATSUYUKI (JPN) df. Romana VOVCHAK (UKR) by TF, 10-0, 2:40
MONGOLIA 6, RUSSIA 4
50kg: Chimgee BUYANDALAI (MGL) df. Daria LEKSINA (RUS) by Fall, 4:41 (10-2) 
53kg: Milana DADASHEVA (RUS) df. Anudari NANDINTSETSEG (MGL), 10-1
55kg: Bolortuya BAT OCHIR (MGL) df. Olga KHOROSHAVTSEVA (RUS), 4-4
57kg: Battsetseg ALTANTSETSEG (MGL) df. Marina SIMONYAN (RUS), 12-5
59kg: Liubov OVCHAROVA (RUS) df. Shoovdor BAATARJAV (MGL) by TF, 14-1, 6:00
62kg: Gantuya ENKHBAT (MGL) df. Uliana TUKURENOVA (RUS), 8-2
65kg: Natalia FEDOSEEVA (RUS) df. Purevsuren ULZIISAIKHAN (MGL), 7-3
68kg: Delgermaa ENKHSAIKHAN (MGL) df. Anastasiia BRATCHIKOVA (RUS), 5-0 
72kg: Davaanasan ENKH AMAR (MGL) df. Evgeniia ZAKHARCHENKO (RUS), 2-1
76kg: Ekaterina BUKINA (RUS) df. Ariunjargal GANBAT (MGL) by TF, 10-0, 2:59
2nd Session
CHINA 9, UKRAINE 1
50kg: SUN Yanan (CHN) df. Mariia VYNNYK (UKR) by Fall, 1:57 (8-0)
53kg: LUO Lannuan (CHN) df. Solomiia VYNNYK (UKR), 8-0
55kg: XIE Mengyu (CHN) df. Anastasiya KRAVCHENKO (UKR) by TF, 15-4, 3:02 
57kg: FENG Yongxin (CHN) df. Olena KREMZER (UKR), 6-4
59kg: RONG Ningning (CHN) df. Sofiia BODNAR (UKR) by TF, 13-0, 3:38
62kg: KANG Juan (CHN) df. Tetiana RIZHKO (UKR) by DEF. 
65kg: WU Yaru (CHN) df. Oksana CHUDYK (UKR) by TF, 10-0, 2:10
68kg: ZHOU Feng (CHN) df. Alina RUDNYSTSKA LEVYTSKA (UKR) by Fall, :51 (8-0)
72kg: Alla BELINSKA (UKR) df. WANG Juan (CHN), 9-6
76kg: ZHOU Qian (CHN) df. Romana VOVCHAK (UKR) by Fall, 1:09 (4-0) 
UNITED STATES 8, RUSSIA 2
50kg: Whitney CONDER (USA) df. Daria LEKSINA (RUS), 7-0 
53kg: Sarah HILDEBRANDT (USA) df. Milana DADASHEVA (RUS), 10-7
55kg: Jacarra WINCHESTER (USA) df. Olga KHOROSHAVTSEVA (RUS), 5-4
57kg: Marina SIMONYAN (RUS) df. Kelsey CAMPBELL (USA) by TF, 10-0, 5:26 
59kg: Liubov OVCHAROVA (RUS) df. Desiree ZAVALA (USA) by TF, 10-0, 2:12 
62kg: Macey KILTY (USA) df. Uliana TUKURENOVA (RUS) by Inj. Def., :35
65kg: Forrest MOLINARI (USA) df. Natalia FEDOSEEVA (RUS) by Fall, 4:49 (3-2)
68kg: Tamyra MENSAH-STOCK (USA) df. Anastasiia BRATCHIKOVA (RUS), 8-0
72kg: Victoria FRANCIS (USA) df. Evgeniia ZAKHARCHENKO (RUS) by Fall, 4:26 (8-5) 
76kg: Adeline GRAY (USA) df. Ekaterina BUKINA (RUS), 11-6 
3rd Session
JAPAN 6, CHINA 4
50kg: Yui SUSAKI (JPN) df. SUN Yanan (CHN), 3-2
53kg: Haruna OKUNO (JPN) df. PANG Qianyu (CHN), 4-3
55kg: Akie HANAI (JPN) df. CHEN Jiawei (CHN), 6-0 
57kg: Risako KAWAI (JPN) df. FENG Yongxin (CHN), 6-0
59kg: Yuzuka INAGAKI (JPN) df. RONG Ningning (CHN), 2-0
62kg: Yukako KAWAI (JPN) df. KANG Juan (CHN) by Fall, 4:46 (8-0) 
65kg: WU Yaru (CHN) df. Misuzu ENOMOTO (JPN), 4-2
68kg: ZHOU Feng (CHN) df. Naruha MATSUYUKI (JPN), 2-0
72kg: WANG Juan (CHN) df. Yuka KAGAMI (JPN), 7-1
76kg: ZHOU Qian (CHN) df. Hiroe MINAGAWA (JPN), 7-0
UNITED STATES 6, MONGOLIA 4
50kg: Whitney CONDER (USA) df. Namuuntsetseg TSOGT OCHIR (MGL), 4-3
53kg: Sarah HILDEBRANDT (USA) df. Anudari NANDINTSETSEG (MGL) by Fall, 1:32 (5-0)
55kg: Bolortuya BAT OCHIR (MGL) df. Jacarra WINCHESTER (USA) by Fall, 3:18 (4-4) 
57kg: Battsetseg ALTANTSETSEG (MGL) df. Kelsey CAMPBELL (USA), 8-0 
59kg: Shoovdor BAATARJAV (MGL) df. Desiree ZAVALA (USA) by TF, 12-2, 3:00 
62kg: Macey KILTY (USA) df. Gantuya ENKHBAT (MGL), 4-2
65kg: Forrest MOLINARI (USA) df. Purevsuren ULZIISAIKHAN (MGL) 6-2
68kg: Tamyra MENSAH-STOCK (USA) df. Delgermaa ENKHSAIKHAN (MGL) by Fall, 4:51 (10-0)
72kg: Davaanasan ENKH AMAR (MGL) df. Victoria FRANCIS (USA) 13-7 
76kg: Adeline GRAY (USA) df. Ariunjargal GANBAT (MGL) by Fall, 2:40 (10-0)