Host Kazakhstan among 6 Nations with 2 Semifinalists each as Greco Gets Underway
Saturday, September 14, 2019 - 10:01 By Ken Marantz
NUR-SULTAN, Kazakhstan (Sept. 14) --- Almat KEBISPAYEV (KAZ) gave the opening session of the world championships the perfect closing act, thrilling the hometown crowd in the Barys Arena by grabbing the final semifinal spot on tap as Greco-Roman kicked off the competition.
Kebispayev, with a thrilling 7-4 win in the 63kg quarterfinals over Rahman BILICI (TUR), became one of two wrestlers in four weight classes from the host nation to earn places in the semifinals, to be held later in the day.
Kebispayev's path to the final is blocked by Shinobu OTA (JPN), a Rio 2016 Olympic silver medalist aiming for his first world medal. The other semifinal pits European champion and top seed Stepan MARYANYAN (RUS) against Slavik GALSTYAN (ARM).
In the second round, Kebispayev forged out a close 2-2 win over Asian champion TUO Erbatu (CHN).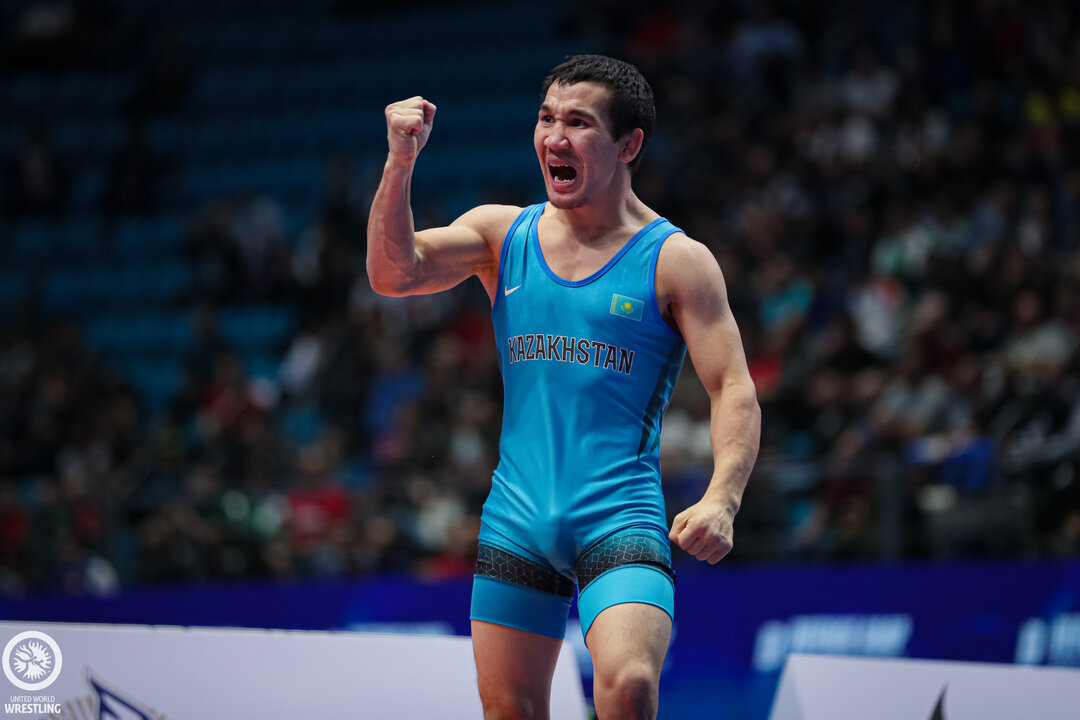 Khorlan ZHAKANSHA (KAZ) was one of two wrestlers from the host nation of Kazakhstan to make the opening day semifinals at the World Championships. (Photo: Kadir Caliskan)
Khorlan ZHAKANSHA (KAZ) also made the last four from the host nation, but faces a tough task ahead when he takes on defending world champion Eldaniz AZIZLI (AZE) for a place in the 55kg final.
In the other bracket, Nugzari TSURTSUMIA (GEO) will take on Shota OGAWA (JPN), a fifth-place finisher a year ago in the U23 World Championships who knocked off Asian champion Ilkhom BAKHRAMOV (UZB) in the quarterfinals.
It was tough day all around for the Bakhramov family, as older brother Islomjon, the Asian gold medalist at 60kg who moved up to 63kg, lost minutes later in the quarterfinals to lanky Galstyan, who scored a takedown with :25 left and held on for a 3-3 win.
The medals, to be awarded after the finals on Sunday, will be well spread around, as no country put more than two wrestlers into the semifinals. Azerbaijan, Georgia, Japan, Russia and Uzbekistan joined Kazahstan with two wrestlers each still in the running for gold.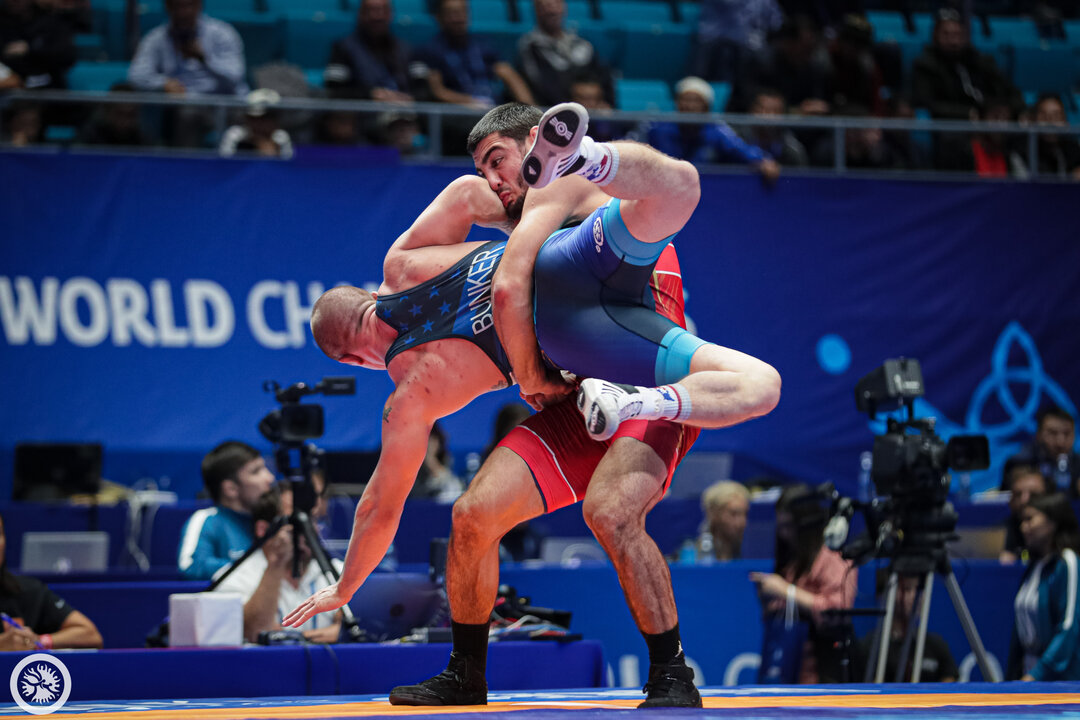 Aik MNATSAKANIAN (BUL) defeated Raymond  BUNKER III (USA), 6-2 in the quarterfinals, and will wrestle Aram VARDANYAN (UZB) for a spot in Sunday night's finals. (Photo: Kadir Caliskan) 
Bulgaria and Hungary both have one semifinalist each, and they are in the same weight class, 72kg, and both returning medalists. 
Top seed Aik MNATSAKANIAN (BUL), a bronze medalist a year ago in Budapest, will meet Aram VARDANYAN (UZB) for a place in the final, while veteran Balint KORPASI (HUN), a former world champion and 2018 silver medalist, has a semifinal date with European champion Abulazid MANTSIGOV (RUS).
Mantsigov advanced with a 4-0 victory over up-and-coming world junior champion Malkhas AMOYAN (ARM). 
The big upset of the session came at 82kg, when QIAN Haitao (CHN) threw down 2018 world silver medalist and top seed Emrah KUS (TUR) with a headlock and held on for a fall in 2:00. 
That was a harbinger of things to come in a weight class that threw away the form book and saw only one of the four seeds make it to the semifinals. 
Unheralded Nurbek KHASHIMBEKOV (UZB) knocked off European champion and fourth seed Rajbek BISULTANOV (DEN), lifting him from the par terre and dumping him onto his back before securing a fall at 1:43. 
Khashimbekov will next face European silver medalist Lasha GOBADZE (GEO), who had little trouble ousting Qian by technical fall. 
In the other semifinal, Asian champion Saied ABDVALI (IRI) will face Rafig HUSEYNOV (AZE). Abvali defeated Adlan AKIEV (RUS), who had ousted 2018 bronze medalist Maksim MANUKYAN (ARM) by fall in a thrilling second-round match.
Huseynov quieted the home crowd momentarily when he threw down Maxat YEREZHEPOV (KAZ), who suffered an apparent rib injury and was forced to default. Earlier, Yerezhepov had ousted 2018 world bronze medalist and No. 2 seed Viktor SASUNOVSKI (BLR).  
Greco-Roman - Semifinal Pairings
55kg (20 entries)
Eldaniz AZIZLI (AZE) v Khorlan ZHAKANSHA (KAZ)
Nugzari TSURTSUMIA (GEO) v Shota OGAWA (JPN)
63kg (18 entries)
Stepan MARYANYAN (RUS) v Slavik GALSTYAN (ARM)
Shinobu OTA (JPN) v Almat KEBISPAYEV (KAZ)
72kg (25 entries)
Aik MNATSAKANIAN (BUL) v Aram VARDANYAN (UZB)
Abulazid MANTSIGOV (RUS) v Balint KORPASI (HUN)
82kg (23 entries)
Lasha GOBADZE (GEO) v Nurbek KHASHIMBEKOV (UZB)
Saied ABDVALI (IRI) v Rafig HUSEYNOV (AZE)