Icho Cruises to Gold, Credits Love of Sport for Return
Sunday, October 14, 2018 - 13:40 By Ken Marantz
MISHIMA, Japan (October 14)---Four-time Olympic champion Kaori ICHO cleared the first hurdle on the track to a possible fifth gold medal at Tokyo 2020. At this point, however, her sights are set on a more immediate goal.

Icho, returning to the mat for the first time since winning the gold at Rio 2016, had a few blips but otherwise was back to her dominant self in capturing the 57kg title at the All-Japan Women's Open on Sunday in Mishima, Shizuoka Prefecture.

The 34-year-old Icho scored a 38-second technical fall in her opening match, then won both of her next two by falls to take the title in the second-tier tournament that serves as a qualifier for the national championships in December.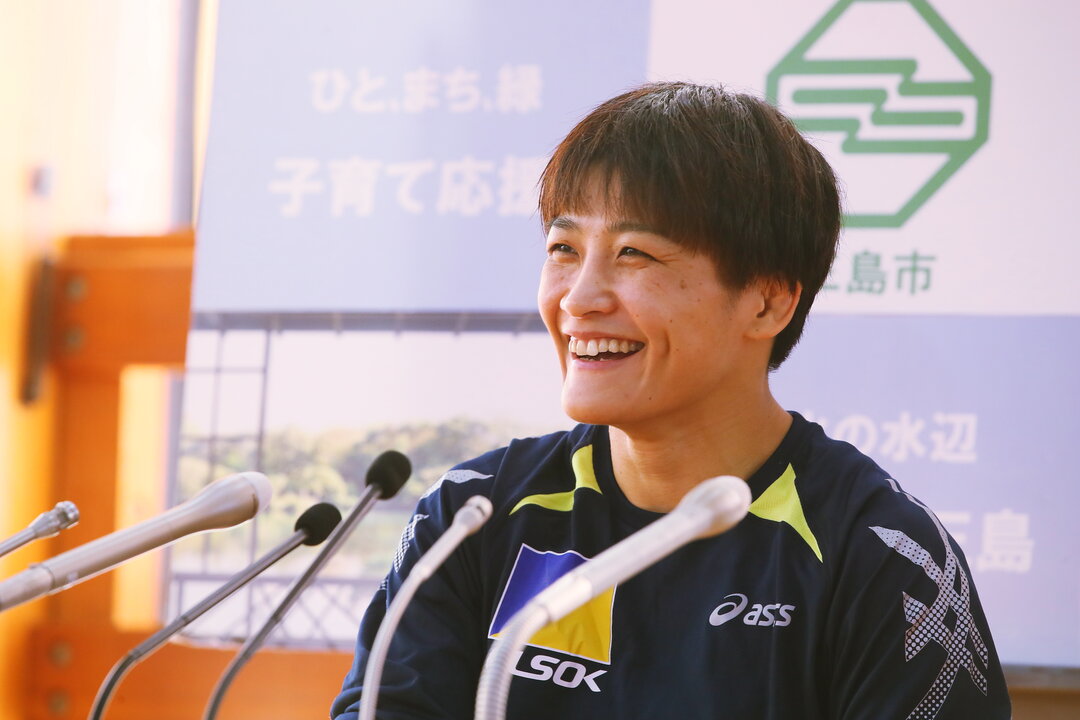 Kaori ICHO (JPN) sits for questions during her post-tournament interview session after winning the All-Japan Women's Open (Photo: Sachiko Hotaka)

"The one thing I gained by entering this tournament and getting back into the sport was that I feel the joy of wrestling again," Icho said at a 30-minute post-tournament press conference. 

"I felt that many people were supporting me, so I wanted to do it again for them. They were telling me that it was most important to do it for myself, so I didn't want to let them down."

Two years and two months had passed since Icho defeated Valeria ZHOLOBOVA  (RUS) in the 58kg final at Rio. Much had since happened in Icho's life, both highs and lows---from the whirlwind of national accolades and attention that came with becoming the first female to win gold medals at four straight Olympics, to a dark four-month period when her charges of power harrassment against star coach Kazuhito SAKAE plunged the sport into scandal and led to his banishment.  

It also led Icho to ponder her future and look deep into herself, where she found her affection for the sport had not diminished. "In the end, the feeling of 'I want to do it' is what pushed me," she said.

"It was a struggle," Icho said. "It kept going back and forth between anguish and wanting [to wrestle] again. I asked myself, if your honest feeling is that you want to do it, wouldn't you be defeating yourself if there is a challenge you can make and you decide not to?"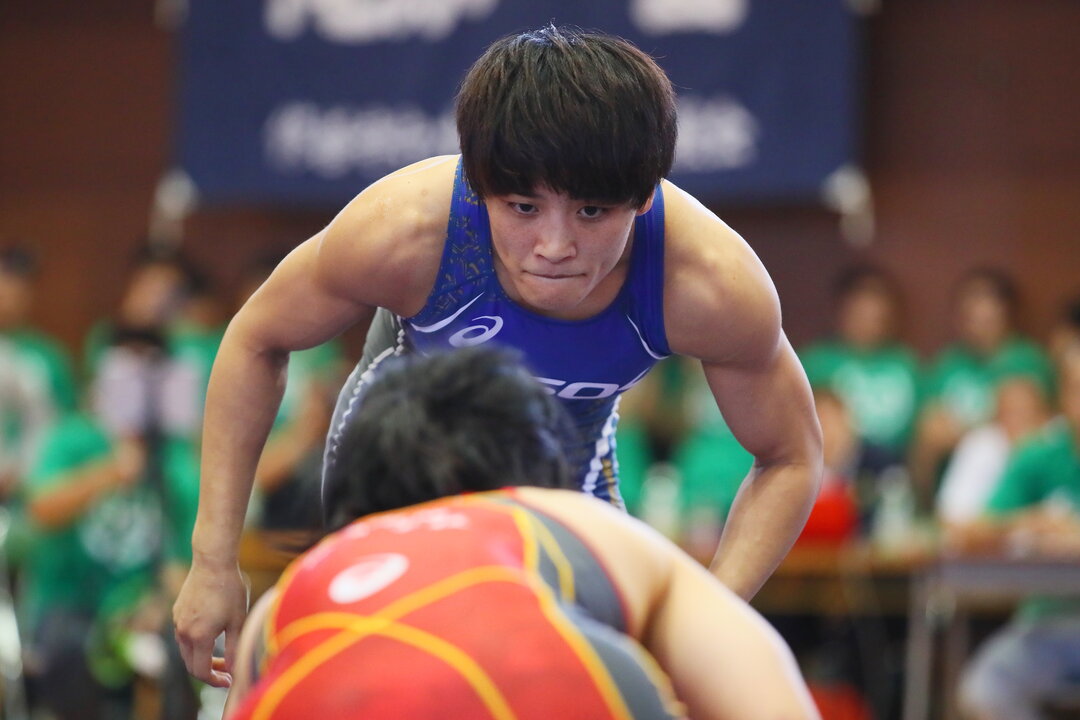 Kaori ICHO (JPN) stares down her opponent during early action at the All-Japan Women's Open (Photo: Sachiko Hotaka)

Icho started training in earnest in April under coach and Athens 2004 bronze medalist Chikara TANABE, practicing with the women's team at Nippon Sport Science University. Without going into details, Tanabe said the arrangement isn't perfect, and hopes that it can be improved as Icho prepares for stiffer competition.

"It was her first match in two years, and we needed to know how much her body has returned [to its former level]," Tanabe said. "It hasn't. From now, we have to create an ideal training environment. Then she will make progress."

Judging from her performance in Mishima, 100 kilometers southwest of Tokyo, she might not have that far to go. While Icho assessed herself at "about 60-70 percent" (while adding "I don't know what 100 percent is for me"), she never looked in a danger. The biggest surprise was a takedown she gave up in her semifinal match, but which she quickly offset with a reversal.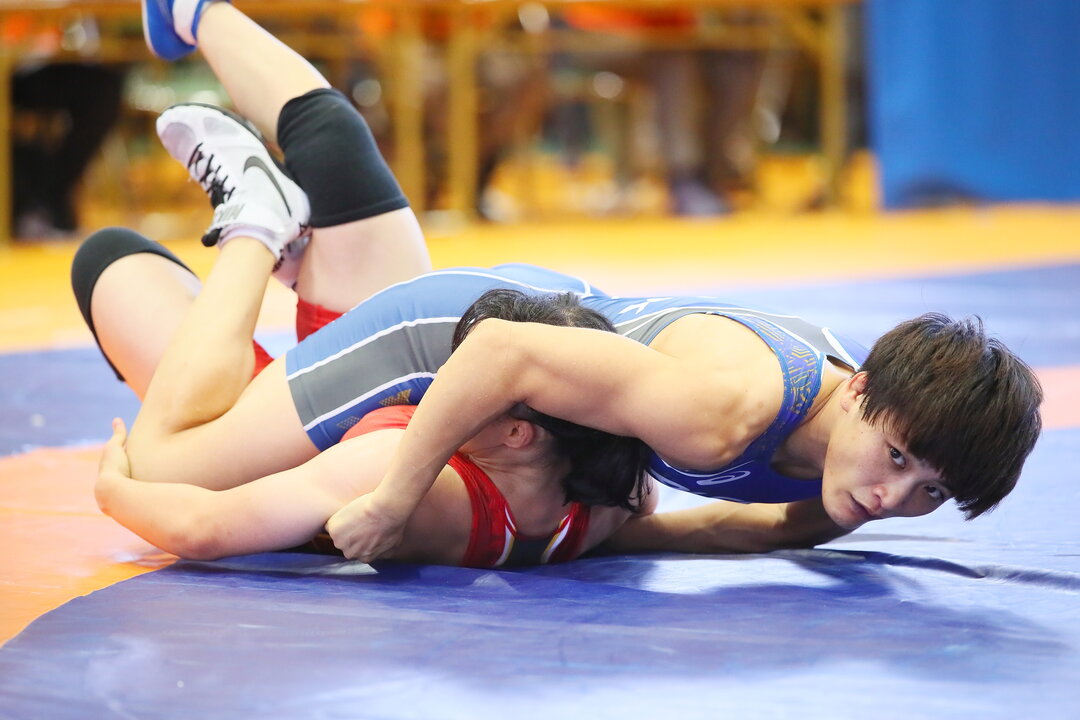 Kaori ICHO (JPN) showed flashes of brilliance in her first action back on the mats in two years (Photo: Sachiko Hotaka)

"As a whole, from the first match to the final, the three matches, my hips were too high, and I didn't move forward in attack," Icho said. "This is the biggest thing I need to reflect on. From now, I have to set up the moves and string together attacks."

With a large contingent of national media on hand, Icho began her comeback by overwhelming collegian Ayako SHIMANAKA. Icho scored a single-leg takedown 15 seconds into the match, locked onto an ankle hold and rolled her opponent four times for a lightning-quick 10-0 technical fall. 

She encountered stiffer competition in the semifinals against newly crowned world junior champion Hanako SAWA of Shigakkan University, which the now deposed Sakae built into a national powerhouse. 

Sawa boldly went on the attack and shocked Icho down with a double-leg tackle, only for Icho to immediately react and score a reversal with a switch. The first period ended 2-2 with Sawa fighting off a front headlock attack.


Kaori ICHO (JPN) worked her leg lace against 2018 Junior world champion Hanaka SAWA (JPN) (Photo: Sachiko Hotaka)

In the second period, Icho again secured a front headlock, using it to go behind for two points. Two rolls off an ankle lock made it 8-2. Icho then again got a front headlock, from which she locked up Sawa in a reverse cradle, rolled over and pinned her at 4:35. 

"I didn't think about who my opponent was," Sawa said. "Just doing what I can is what I always think about at a tournament."

The final pitted Icho against Fusano MOCHIZUKI, a winner at the Dave Schultz Memorial last November. After scoring a takedown on a counter to Mochizuki's single-leg attempt, and another on a go-behind off a front headlock, Icho launched a textbook-perfect double-leg in the final seconds of the first period for a 6-0 lead.

"At the end of the first period, I felt her speed, power and timing with that tackle," Mochizuki said. "She may have had a [two-year] blank, but it didn't seem like it."

Icho would finish up the win and her day with another counter in the second period. As Mochizuki came in on single-leg, they bumped heads and Icho stumbled back slightly. But she quickly recovered, pressed Mochizuki backward, then stepped over and locked her up for a fall at 3:34.

 "I thought it would get better as I went along, but it didn't happen," said Icho, who was named the tournament's most outstanding wrestler. "I still need more practice. Mentally, physically, if I don't become more confident, it will be difficult to be competitive at the All-Japan [Championships] or on the global level."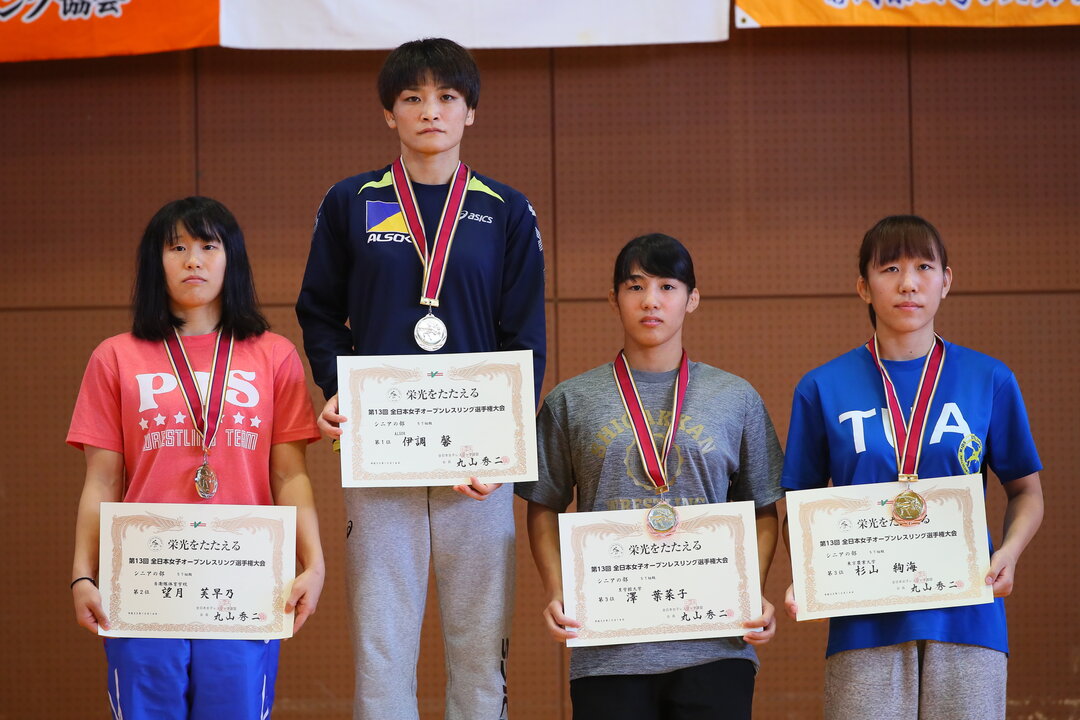 Medal stand following the 57kg finals at the All-Japan Women's Open (Photo: Sachiko Hotaka)

The top two finishers in the senior division of the tournament earned places in the All-Japan Championships, also known as the Emperor's Cup, which serves as the first of two qualifying tournaments for world championships, Olympics and other top competitions. 

A Japan federation official said that even if Icho had not entered the tournament in Mishima, she would have been proferred a special invitation to the Emperor's Cup in lieu of her amazing accomplishments. Still, he added, it was better that she entered.

For Icho, there was also a practical side. It was the first time she had been subjected to the new rule in which weigh-ins are held on the morning of the competition, instead of the previous day.

"Last night, all I had to eat was a rice ball," she said. "What do the night before, and what to eat after the weigh-in, it was a good experience. This was the first time. So I want to use what I learned to be better prepared for the All Japan."

With two months to go, the Emperor's Cup is foremost on Icho's mind, although the media cannot help but press her about going for an unprecedented fifth Olympic gold at Tokyo 2020.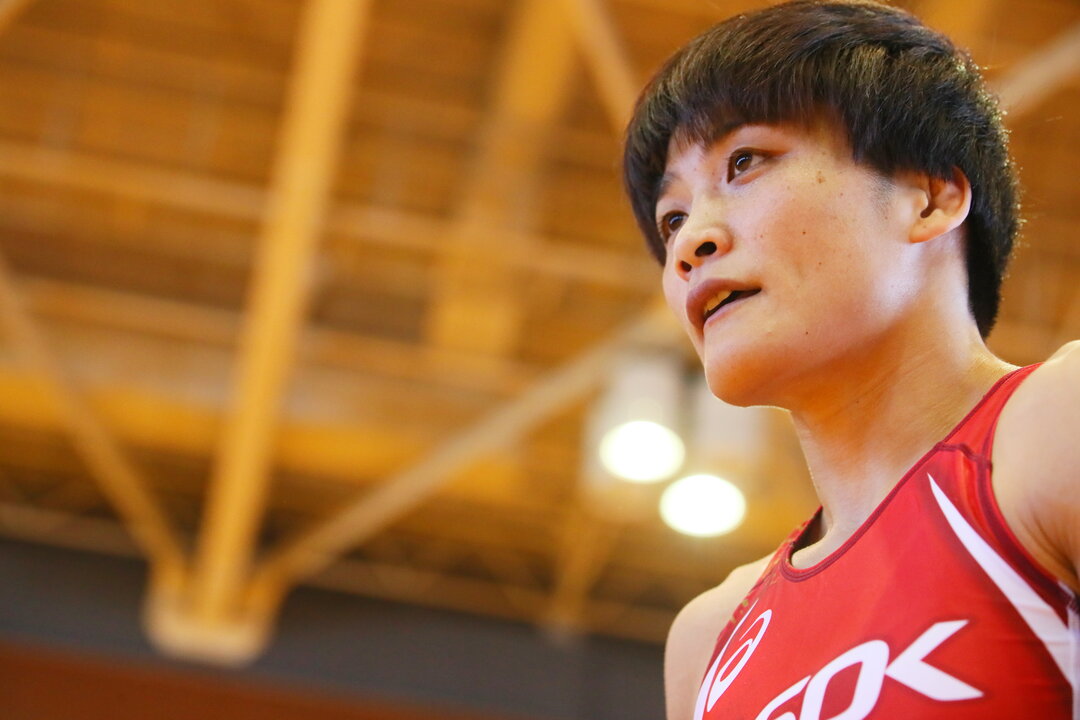 Icho says she's focused on creating a better training environment to help her improve before the Emperor's Cup in December (Photo: Sachiko Hotaka)

"At this point, there's been so much going on that I'm not mentally prepared to think about [Tokyo]," she said. "Today I earned a place in the All-Japan, so I have to focus first on that. Right now, my training environment is not 100 percent. For the next two months, I have to create the right environment."

To help her prepare, Icho will be invited to a national training camp in November, which will give her a chance to see who has emerged as the competition in her absence. Speculation has already begun that fellow Rio 2016 champion Risako KAWAI, who won the gold at 63kg, might drop down to 57kg after making the Japan team to the upcoming world championships at 59kg. 

Golden day for world junior champion sisters

In addition to Sawa, two others from among Japan's six gold medalists at the world junior championships in Trnava in September were in action---and sisters Umi and Miyu IMAI both came away with titles.

Umi Imai, who attends Kaiyo High School in Kyoto, eschewed the high school division to take on the seniors, and swept aside four college opponents to capture the 53kg gold.

She capped the performance with victory by fall in 1:49 over Shigakkan's Katsura KONISHI. 

"I've been gradually facing the seniors at 53kg and it's giving me an idea of where I stand," Imai said.

Imai, who has worked out with the national senior team, will next see how she can fare at the Emperor's Cup in a weight class led by world champion Haruna OKUNO, but which should become more stacked as an Olympic division. 

"I don't think I'm on that level yet," Imai said. "When I sparred with Okuno, she never let me get close to her legs. I couldn't do my style of wrestling."

Older sister Miyu, who finished third at last year's Emperor's Cup, chalked up three wins to take the 65kg title, capped with a 10-0 technical fall in just over a minute in the final over Miki KAWAUCHI.