India Impresses to the Tune of Three Friday Night Yasar Dogu Golds
Friday, July 12, 2019 - 18:28 By Eric Olanowski
ISTANBUL, TURKEY (July 12) --- India had quite an impressive showing on Friday night at the Yasar Dogu -- going undefeated in their finals matches and winning a trio of gold medals. Rahul AWARE (IND) reached the top of the podium in freestyle, while Seema SEEMA (IND) and Kumari MANJU (IND) won golds in women's wrestling. 
Aware, an Asian bronze medalist, ascended to his first career Ranking Series title with a tactical 4-1 victory over Munir AKTAS (TUR) in the 61kg finals and improved on his City of Sassari Tournament bronze medal. The Indian wrestler's slow-paced strategic match was highlighted by a lightning-quick four-point foot sweep that left his Turkish opponent lying flat on his back. 
Aware, who came into the Yasar Dogu as the sixth-ranked wrestler in the world, added 14 Ranking Series points to his previous total of 26 and will be the second-seeded wrestler at the September's Nur-Sultan World Championships. 
The Indian wrestler, who now has 40 Ranking Series points, would be the fourth seed at the World Championships, but second-ranked Joe COLON (USA) did not make the United States' world team and third-ranked Gadzhimurad RASHIDOV (RUS) bumped up to the Olympic weight of 65kg. For these reasons, Aware is the beneficiary and moves up two spots behind top-ranked reigning world champion Yowlys BONNE RODRIGUEZ (CUB).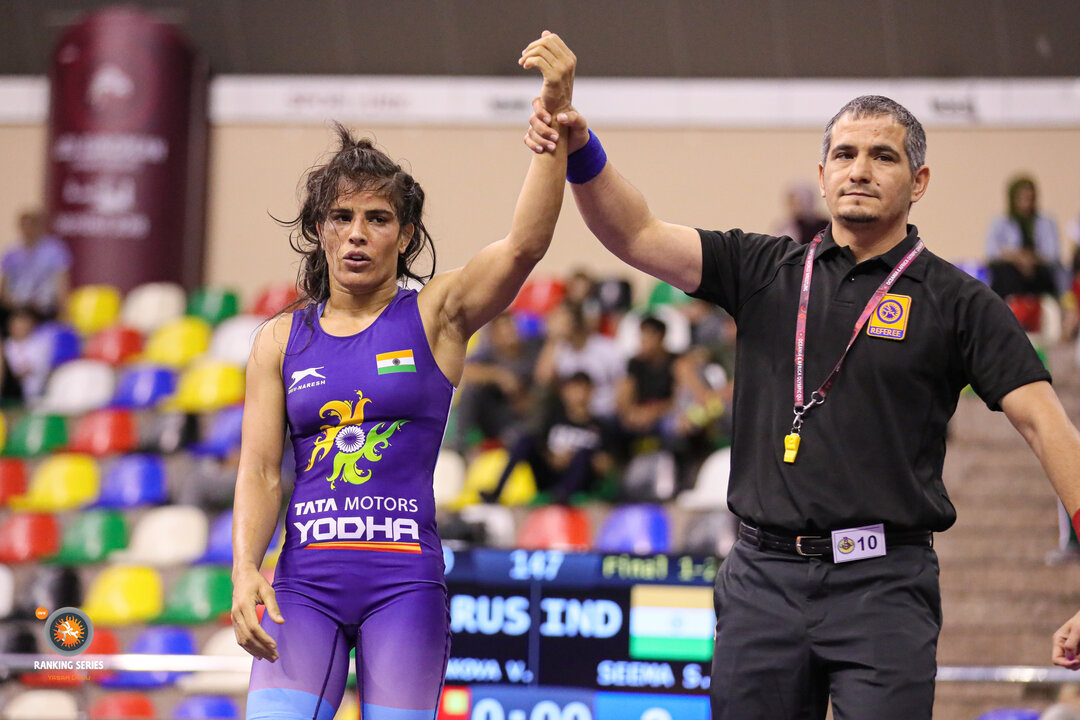 Seema SEEMA (IND) won her second consecutive Ranking Series title and will be the 50kg second seed at the World Championships. (Photo: Kadir Caliskan) 
India also collected a pair of women's wrestling golds from Seema Seema and Kumari Manju, who won the 50kg and 59kg titles, respectively. 
In the 50kg finals, Seema only controlled the lead for a little over a minute but scored a late inactivity point and stopped Valeriya CHEPSARAKOVA (RUS) from winning her second career Ranking Series title, 3-2. Seema's win on Friday night gives her a second straight Ranking Series gold medal after she won May's City of Sassari Tournament on the Italian island of Sardinia. 
With Seema's Friday night victory, she cemented her spot as the second-seeded wrestler at 50kg at September's World Championships. She came into the Yasar Dogu as the eighth-ranked wrestler in the world but added 14 Ranking Series points to her previous total of 28 and sits one point behind European champion Oksana LIVACH (UKR). Though the rankings show Livach as No. 2 in the world at 50kg, she'll be the top-seeded wrestler in Nur-Sultan because two-time reigning world champion and No. 1-ranked Yui SUSAKI (JPN) lost her starting spot last weekend to Yuki IRIE (JPN). 
Also of note at 50kg, Yasar Dogu bronze medalist Evin DEMIRHAN (TUR) also jumped into the top-four of the rankings with her bronze-medal finish.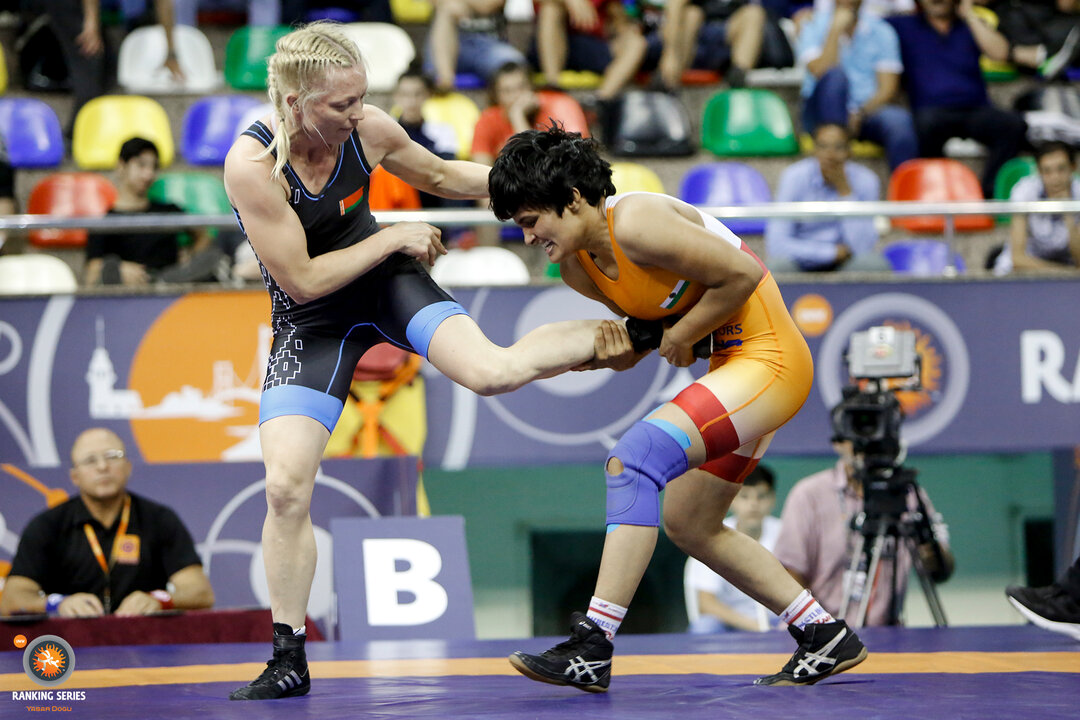 Kumari MANJU (IND) defeated Katsiaryna HANCHAR YANUSHKEVICH (BLR), 13-2 in the 59kg finals. (Photo: Gabor Martin) 
The third Indian wrestler to claim Friday night gold was Kumari Manju. She mauled Katsiaryna HANCHAR YANUSHKEVICH (BLR), 13-2 in the 59kg finals. 
The match was fairly close after the first period, but Manju opened the match up in the second period -- ending the match early with a technical superiority victory. 
In the first period, Manju was in front 3-0 after scoring a stepout and a double leg attempt turned into a single leg takedown. Then, in the second period, Manju extended her lead to 5-0 after coming through the middle on a shot – scoring her second takedown on the bout. The Indian wrestler conceded a takedown before hip tossing Hanchar Yanushkevich to her back for four points. Manju allowed the Belarusian wrestler to fight off her back then seamlessly transitioned to three leg laces -- closing out the match, 13-2. 
The Indian (50 points) women enter Saturday trailing first-place Turkey (60 points) by ten points. Russia (48 points) rounds out the top three of the women's wrestling team standings two points behind India. 
On the freestyle side of the competition, Turkey (55 points) has a 15-point advantage over Azerbaijan (40 points), and a 19-point lead over third place Bulgaria (36 points). 
Wrestling resumes Saturday morning at 11:00 (local time) and will be broadcasted live on www.unitedworldwrestling.org.
Freestyle 
57kg 
GOLD - Givi DAVIDOVI (ITA) df. Baris KAYA (TUR), 16-5
BRONZE - Giorgi EDISHERASHVILI (AZE) df. Mikyay Salim NAIM (BUL), 7 - 2
BRONZE - Abdelhak KHERBACHE (ALG) df. Minir REDJEPI (MKD), 3-1 
61kg 
GOLD - Rahul Balasaheb AWARE (IND) df. Munir Recep AKTAS (TUR)
BRONZE - Utkarsh Pandharinath KALE (IND) df. David MISHEV (MKD), via forfeit 
BRONZE - Emrah ORMANOGLU (TUR) df. Cabbar DUYUM (TUR), 2-2 
70kg 
GOLD - Murtazali Raxmatullayevic MUSLIMOV (AZE) df. Mihail Iliev GEORGIEV (BUL), via fall
BRONZE - Ilyas ZHUMAY (KAZ) df. Rajnesh RAJNEESH (IND), 6 - 3
BRONZE - Haydar YAVUZ (TUR) df. Daniel ANTAL (HUN), 11-0 
Women's Wrestling
50kg 
GOLD - Seema SEEMA (IND) df. Valeriya CHEPSARAKOVA (RUS), 3-2
BRONZE - Nadezhda SOKOLOVA (RUS) df. Sarra HAMDI (TUN), 4 - 2
BRONZE - Evin DEMIRHAN (TUR) df. Veronika GURSKAYA (RUS), 10-0 
53kg 
GOLD - Bediha GUN (TUR) df. Zulfiya YAKHYAROVA (KAZ), via fall 
BRONZE - Samantha Leigh STEWART (CAN) df. Zalina SIDAKOVA (BLR), via injury default 
BRONZE - Marina SEDNEVA (KAZ) df. Sinem KOROGLU (TUR), 10-0 
59kg
GOLD - Kumari MANJU (IND) df. Katsiaryna HANCHAR YANUSHKEVICH (BLR), 13-2 
BRONZE - Sara Johanna LINDBORG (SWE) df. Elif YANIK (TUR), via fall 
BRONZE - Emma JOHANSSON (SWE) df. Gulnora TOSHPULATOVA (UZB), via fall 
65kg
GOLD - Forrest Ann MOLINARI (USA) df. Natalia FEDOSEEVA (RUS), 5-2 
BRONZE - Aina TEMIRTASSOVA (KAZ) df. Rimma RYSSAYEVA (KAZ), via injury default 
BRONZE - Anna SHCHERBAKOVA (RUS) df. Sule KABAK (TUR), 10-0