Iran, Japan Prepped to Reign in Bishkek
Monday, February 26, 2018 - 16:06 By Ken Marantz
At last year's Asian Senior Championships in New Delhi, Iran swept the titles in the four heaviest Greco-Roman weight classes. Three of those wrestlers will aim for back-to-back crowns in this year's tournament in Bishkek as Iran looks again to dominate the men's competitions.
Hossein NOURI (87kg), Seyedmostafa SALEHIZADEH (97kg) and Behnam MEHDIZADEH (130kg) are among the seven gold medalists from New Delhi 2017 who are listed among the entries for the 2018 edition, although with the adjustments of weight classes in line with expansion from eight to 10, not all with be "defending" their titles.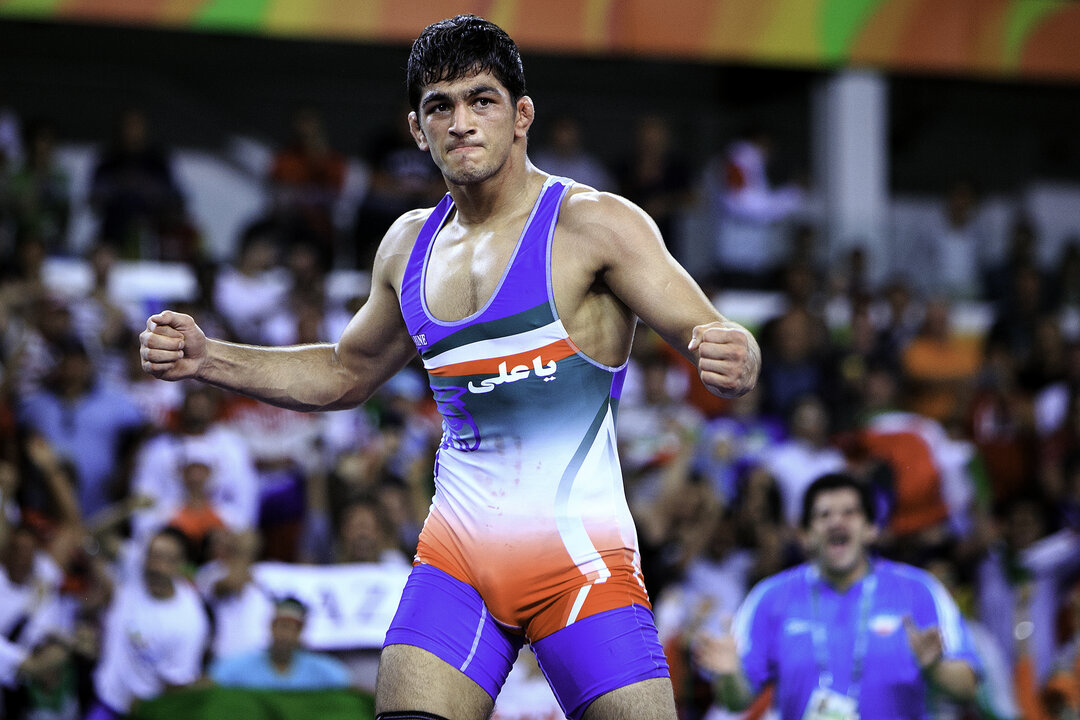 In men's freestyle, Paris 2017 world and Rio 2016 Olympic champion Hassan YAZDANI CHARATI (92kg) will lead a vastly different Iranian lineup from the team that took three golds and seven medals overall a year ago. 
Iran's lone returning freestyle medalist is Reza ATRINAGHARCHI (57kg), who finished third in New Delhi. But the Asian powerhouse will still present a formidable force, as it includes 2014 Asian champion and two-time world medalist Seyed Ahmad MOHAMMADI (70kg), and Mostafa HOSSEINKHANI (74kg), an Asian champion and world bronze medalist in 2016.
Others looking to strike gold for the second straight year are: in freestyle, the Uzbekistan pair of Bekzod ABDURAKHMANOV (74kg) and Magomed IBRAGIMOV (97kg), and India's Bajrang BAJRANG (65kg); Kazakhstan's Maxat YEREZHEPOV (77kg) in Greco-Roman; and Paris 2017 bronze medalist Aisuluu TYNYBEKOVA (57kg) of host Krygyzstan in women's wrestling.
In women's wrestling, Japan, which took home five golds from New Delhi, will send none of those winners, nor any of its reigning world and Olympic champions for that matter, opting instead to give their understudies more international experience. Part of the reason is the proximity of the tournament to the Women's World Cup, to be hosted by Japan in mid-March.  
"This tournament is a bit early, as the last Asian [Championships] was in May," Japan Wrestling Federation managing director Hideaki TOMIYAMA said. "There is the factor of the season. Of course [the Women's World Cup] is the main thing."
The spotlight will be on Yuki IRIE (50kg), who won her first national title with an amazing run that included a stunning semifinal victory over Paris 2017 champion Yui SUSAKI. Irie won the 2015 Asian gold, and will head to Bishkek coming off a victory at the Ivan Yaryguin Grand Prix.
While most of the Japan team is filled with runners-up from the Japan championships--including world junior champion Yuzuru KUMANO (59kg)--Irie became a rare case and opted to join the Asian squad.  "I want to enter various international tournaments and gain experience," said Irie, a member of the Japan Self-Defense Forces' Physical Training School.
Tomiyama agreed that Irie made the right decision, giving the fierce competition among Japanese women in the lightest weight class that includes Rio 2016 Olympic champion Eri TOSAKA. "She herself decided," he said. "The others at 48 [kg] have had success, and internationally, she has to keep up." 
Meanwhile, the tournament lost the chance to see the return to continental competition of Indian legend Sushil KUMAR, a two-time Olympic freestyle medalist. He had been entered at 74kg, but Indian media reported that the 34-year-old had withdrawn to avoid aggravating a knee injury ahead of the Commonwealth Games in April. 
Kumar had come out of retirement and earned a place on India's team to Bishkek, where 11 years ago he won the second of his three Asian medals. 
In total, 33 medalists from New Delhi will be looking to add to their collection in the Krygyzstan capital for the tournament, which has been extended from five days to six to accomodate the additional weight classes.
Here's a look at some weight classes of particular interest:
Greco-Roman, Feb. 27-28
Maxat YEREZHEPOV (KAZ) will be looking for a second straight Asian gold and fifth medal overall when he takes the mat in the new weight class of 77kg. Standing in his way will be Paris 2017 bronze medalist Mohammadali GERAEI (IRI), who warmed up for frigid Bishkek with a victory at the Takhti Cup. YANG Bin (CHN), a New Delhi 2017 bronze medalist, will also aim to be in the medal mix. 
For Japan's Rio 2016 Olympic silver medalist Shinobu OTA (60kg), just getting to Bishkek was a major challenge---he had to beat world and Asian champion Keniichiro FUMITA at the national championships to make the team. Still, he can expect stiff competition from Paris 2017 silver medalist KIM Seunghak (KOR) and Takhti Cup winner Kanybek ZHOLCHUBEKOV (KGZ).
At 63kg, Paris 2017 silver medalist Mirambek AINAGULOV (KAZ) will attempt to improve on his runner-up finish from New Delhi, where he lost in the 59kg final to Fumita. Look for challenges from Rio 2016 bronze medalist Elmurat TASMURADOV (UZB), world junior champion Keramat ABDEVALI (IRI) and Takhti Cup winner Kaly SULAIMANOV (KGZ).
Women's Wrestling, March 1-2
The absence of the top Japanese leaves the fields a bit more open, while providing a good test of the depth of the Far East powerhouse. That's not to say it's a completely inexperienced team. Yu MIYAHARA, a 2014 Asian champion and winner at the Ivan Yaryguin Grand Prix in January, can certainly be considered among the favorites at 53kg, in which Zhuldyz ESHIMOVA (KAZ) will look to improve on her runner-up finish from 2017.
Paris 2017 champion PUREVDORJ Orkhon (MGL) will make her senior continental debut at 62kg, having gone unbeaten in individual events in 2017 and opening this year with a victory at the Ivan Yaryguin Grand Prix. Tasked with stopping her will be 2014 Asian and former world junior champion Yurika ITO (JPN) and New Delhi 2017 bronze medalist Ayaulym KASSYMOVA (KAZ).
In the upper weights, Paris 2017 bronze medalist HAN Yue (CHN) heads the field at 72kg that includesz New Delhi 2017 silver medalist Masako FURUICHI (JPN), while at 76kg, Rio 2016 Olympic bronze medalist Elmira SYZDYKOVA (KAZ) and world bronze medalist Hiroe MINAGAWA (JPN) look to be the ones to beat. Minagawa will be looking to give herself a wedding present--she formerly competed at Hiroe SUZUKI.
Freestyle, March 3-4
Only two of the 30 weight classes could feature a rematch of a final from New Delhi 2017, and both are in freestyle. 
Last year, Bajrang BAJRANG (IND) thrilled the hometown crowd when he defeated LEE Seungchul (KOR) for the 65kg gold, but the two will be on neutral ground if they set up a rematch in Bishkek. Look for Daulet NIYAZBEKOV (KAZ), a New Delhi 2017 bronze medalist at 61kg, to try to crash the party.
At 74kg, Muslim EVLOEV (KGZ) will have the home mat advantage if he earns another shot at Bekzod ABDURAKHMANOV (UZB), who defeated him in the final a year ago. Also challenging for the gold will be Mostafa HOSSEINKHANI (IRI), a two-time world medalist and 2014 Asian champion. 
Rio 2016 Olympic bronze medalist Ikhtiyor NAVRUZOV (UZB) will look to improve on his silver medal from New Delhi at 70kg, with opposition from double world medalist Seyed Ahmad MOHAMMADI (IRI), who will aim to add to his Asian gold from 2014. 
Schedule 
Monday, Feb. 26
16:30 - Draw: GR 55, 63, 77, 87 & 130kg 
Tuesday, Feb. 27
8:30-9:00 - Medical Examination and Weigh-In: GR 55, 63, 77, 87 & 130kg 
10:30-13:30 - Qualification Rounds & Repechage: GR 55, 63, 77, 87 & 130kg 
13:30 -  Draw: GR 60, 67, 72, 82 & 97kg 
17:30-18:00 - Opening Ceremony 
18:00-20:00 - Finals and Award Ceremonies: GR 55, 63, 77, 87 & 130kg 
Wednesday, Feb. 28
8:30-9:00 - Medical Examination and Weigh-In: GR 60, 67, 72, 82 & 97kg 
10:30-13:30 - Qualification Rounds & Repechage: GR 60, 67, 72, 82 & 97kg 
13:30 - Draw: WW 50, 55, 59, 68 & 76kg 
18:00-20:00 - Finals and Award Ceremonies: GR 60, 67, 72, 82 & 97kg 
Thursday, March 1 
8:30-9:00 - Medical Examination and Weigh-In: WW 50, 55, 59, 68 & 76kg 
10:30-13:30 - Qualification Rounds & Repechage: WW 50, 55, 59, 68 & 76kg 
13:30 - Draw: WW 53, 57, 62, 65 & 72kg 
18:00-20:00 - Finals and Award Ceremonies: WW 50, 55, 59, 68 & 76kg 
Friday, March 2 
8:30-9:00 - Medical Examination and Weigh-In: WW 53, 57, 62, 65 & 72kg 
10:30-13:30 - Qualification Rounds & Repechage: WW 53, 57, 62, 65 & 72kg 
13:30 - Draw: FS 57, 65, 70, 79 & 97kg 
18:00-20:00 - Finals and Award Ceremonies: WW 53, 57, 62, 65 & 72kg 
Saturday, March 3 
8:30-9:00 - Medical Examination and Weigh-In: FS 57, 65, 70, 79 & 97kg 
10:30-13:30 - Qualification Rounds & Repechage: FS 57, 65, 70, 79 & 97kg 
13:30 - Draw: FS 61, 74, 86, 92 & 125kg 
18:00-20:00 - Finals and Award Ceremonies: FS 57, 65, 70, 79 & 97kg 
Sunday, March 4 
8:30-9:00 - Medical Examination and Weigh-In: FS 61, 74, 86, 92 & 125kg 
10:30-13:30 - Qualification Rounds & Repechage: FS 61, 74, 86, 92 & 125kg 
18:00-20:00 - Finals and Award Ceremonies: FS 61, 74, 86, 92 & 125kg 
20:30 - Official Banquet