Japan Notches 5th Straight Title as Lesser Knowns Also Step up in Final Against U.S.
Sunday, November 17, 2019 - 14:55 By Ken Marantz
NARITA, Japan (Nov. 17)---Leading up to the final, Japan seemed to show a sign of vulnerability in the upper weights that the United States was hoping to exploit. But with the title on the line, the hosts pretty much plugged the holes. 
Unheralded Naomi RUIKE (JPN) came up big at 65kg, chalking up the victory that clinched a fifth straight title for Japan at the Women's World Cup with a 7-3 win over the United States at Nakadai Sports Park Gym in Narita.
A day after the Japanese suffered losses in the last four weight classes in a 6-4 win over China, Ruike halted the trend by scoring two late takedowns in a 5-1 win over Forrest MOLINARI (USA).
"I really felt [the pressure], but I could hear the support from everyone on my team," Ruike said. "That made me fight harder."
As expected, the Japanese stormed out with five wins in the first six matches--- including four by technical falls to enhance their chances in a possible tiebreaking situation---but any hopes of a late American comeback ended with Ruike's win.
Ruike was trailing 1-1 in the second period on last-point criteria with Molinari, who finished fifth at the World Championships, but went ahead when she caught a heel and reeled it in for a takedown. In the waning seconds, she added 2 more points when she fought off a counter crotch lift and sent Molinari to her back.
"I thought I had no choice but to attack," said Ruike, whose father was a doctor in the American military stationed in Japan and mother is Japanese (she uses her mother's family name). "Without even thinking, I went for it. My desire to win was strong and that led to getting the points."
Ruike, the silver medalist at the Asian Championships, was among the many collegians on a relatively young Japanese squad, which also included two high schoolers---both of whom won matches in the final.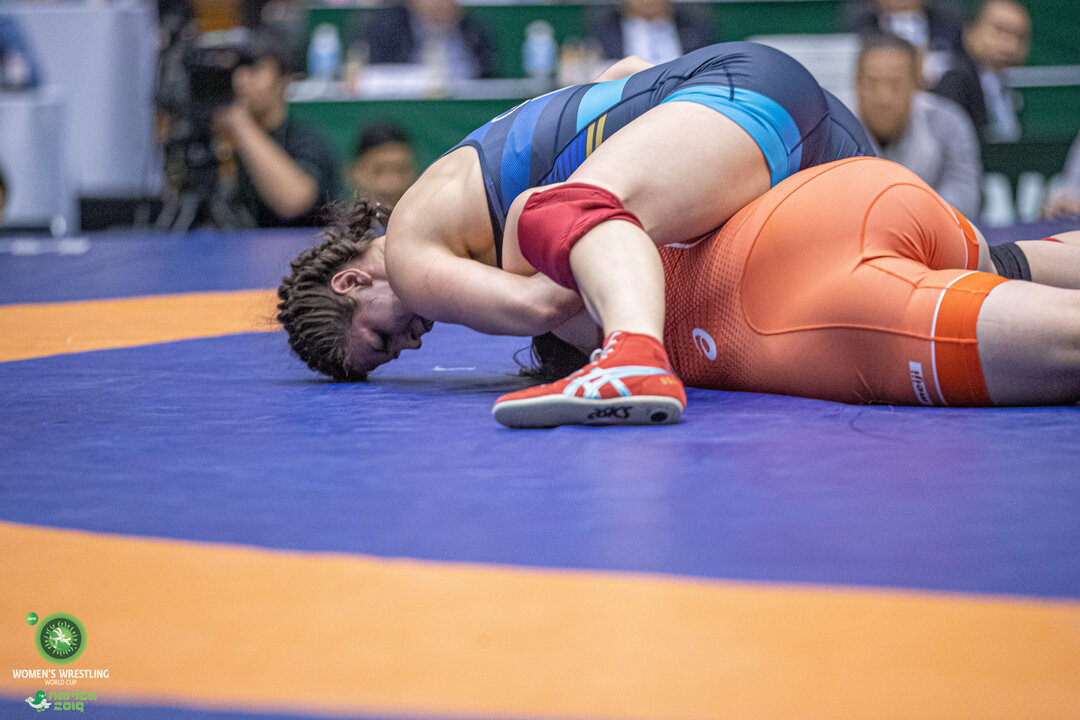 Adeline GRAY (USA) stuck Hiroe MINAGAWA (JPN) in a rematch of the 76kg world finals from Nur-Sultan. (Photo: Sachiko Hotaka)
All three American wins came from their reigning world champions, which was no surprise, including a victory by fall by Adeline GRAY (USA) in a rematch of the 76kg final at Nur-Sultan, where she set an American record by winning a fifth world gold.
That their teammates couldn't break through in any of the other weight classes only further confirmed that Japan could never be taken lightly, Gray said.
 "I really felt that going into this final that we had a chance to win," Gray said. "It's about momentum in these dual matches. You start to lose a couple of matches, you start to have a couple of moments and points go the wrong way. Japan's great, and it's hard to compete with greatness."
For the Americans, it marks another year since they won their lone World Cup title in 2003.  
"It was a bummer, that's how I feel about it," Gray said. "It's been a long time since we've been on the top of that podium, and I've almost memorized the Japanese national anthem by now."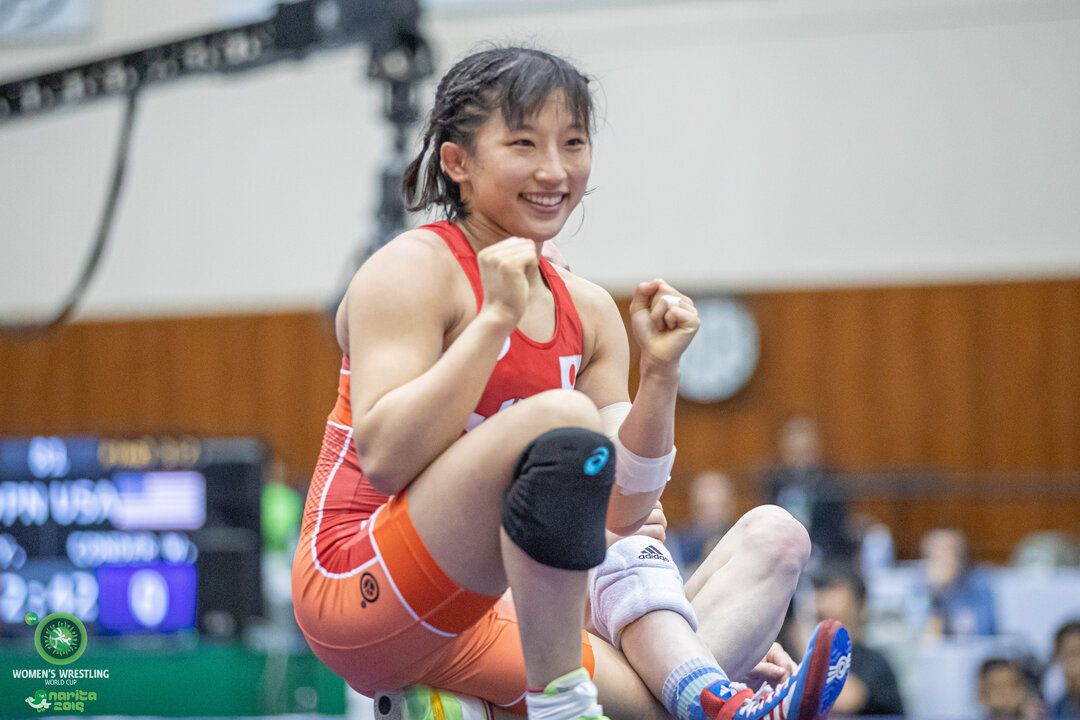 Yui SUSAKI (JPN) smiles after kicking off the gold-medal dual with a 10-0 win over Whitney CONDER (USA). (Photo: Sachiko Hotaka)
Former world champion Yui SUSAKI (JPN), who is preparing for the All Japan Championships in December to start a run at making the Tokyo 2020 Olympics, got the juggernaut going with a 10-0 technical fall at 50kg over Whitney CONDER (USA).
Haruna OKUNO (JPN) followed suit with her own 10-0 technical fall over Sarah HILDEBRANDT (USA) in a replay of the 2018 final at the World Championships in Budapest. 
World champion Jacarra WINCHESTER (USA) shrugged off her shocking loss the day before in the U.S. victory over Mongolia by forging out a 5-1 win over Akie HANAI (JPN) at 55kg.
That was just a bump in the road for Japan, which then got back-to-back technical falls from three-time world champion and Rio 2016 gold medalist Risako KAWAI (JPN) and high schooler and world junior champion Yuzuka INAGAKI (JPN).
Kawai took 4:20 to finish up an 11-0 win over Kelsey CAMPBELL (USA) at 57kg, while Inagaki needed two seconds less for her 10-0 rout of Desiree ZAVALA (USA) at 59kg.
"Everyone came together as one," said Kawai, who served as team captain. "With this being the last match, teammates who had a match would cheer on the ones after them, and we could really hear the voices of those who didn't have matches."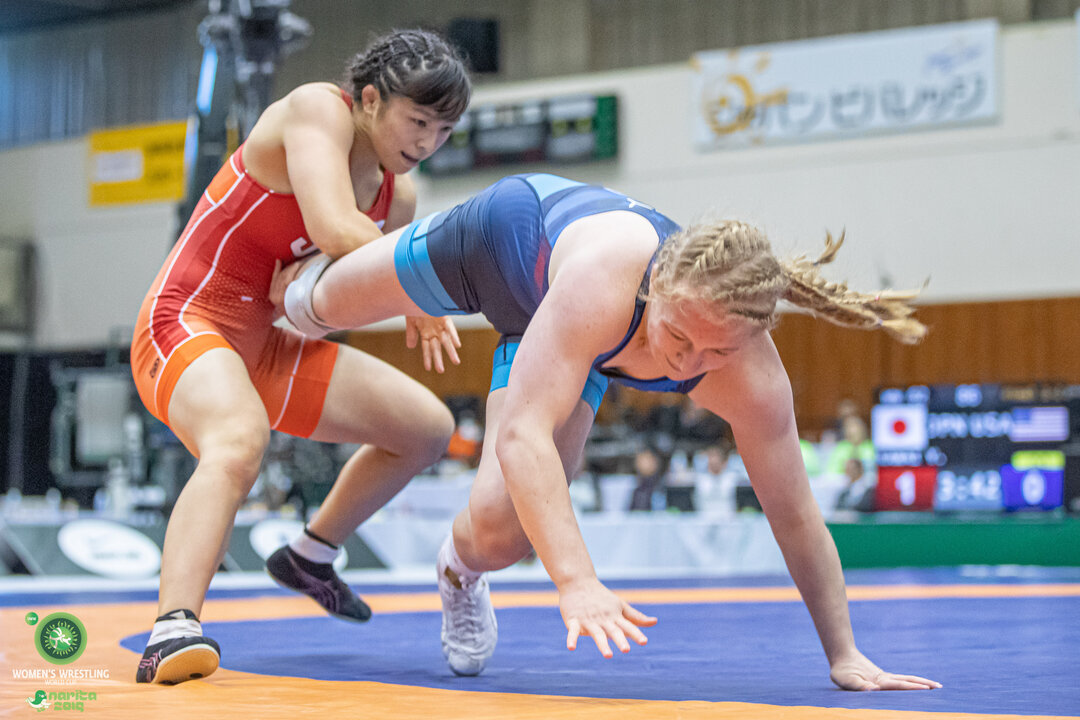 Yukako KAWAI (JPN) looks to finish a single leg on junior and U23 world silver medalist, Macey KILTY (USA). Kawai won the match, 7-0. (Photo: Sachiko Hotaka)
Kawai's younger sister Yukako, the world silver medalist at 62kg, was hardly challenged in posting a 7-0 win over Macey KILTY (USA), setting the stage for Ruike, a teammate at powerhouse Shigakkan University, to seal Japan's 11th title in the 18-year history of the event.
With the team title decided, newly crowned world champion Tamyra MENSAH-STOCK (USA) took the opportunity to put on an exhibition of solid wrestling fundamentals in beating Naruha MATSUYUKI (JPN), 8-1, at 68kg.
At 72kg, world junior champion and U-23 silver medalist Yuka KAGAMI (JPN), who said she took personal the talk of Japan being understrength in the heavier weights, scored a late 2-point exposure off a single-leg attempt to beat Victoria FRANCIS (USA), 3-1.
Gray then capped the tournament with a late fall of Hiroe MINAGAWA (JPN), although it was touch-and-go for most of the match between the Nur-Sultan finalists. 
Gray scored on a stepout in the first period, but fell behind on criteria when she was forced out by Minagawa midway through the second.
"She keeps it close," Gray said of Minagawa, who won her third career world medal in Nur-Sultan. "That's one of the talents that Japan has, is that they're always keeping matches close.
The five-time world champion then got the opening she needed, applying a whizzer and stepping over to put the Japanese on her back for a fall in 5:04.
"I'm just a little bigger and stronger than her, so once I get into the right position, she really can't hang with me in those 'Big Mama' moves," she said. 
"It's about her ability to keep that distance and keep attacking and keep me at bay. It makes it so that I have to kick it into that next gear and force her to make a mistake, and it's hard to make Japan make a mistake."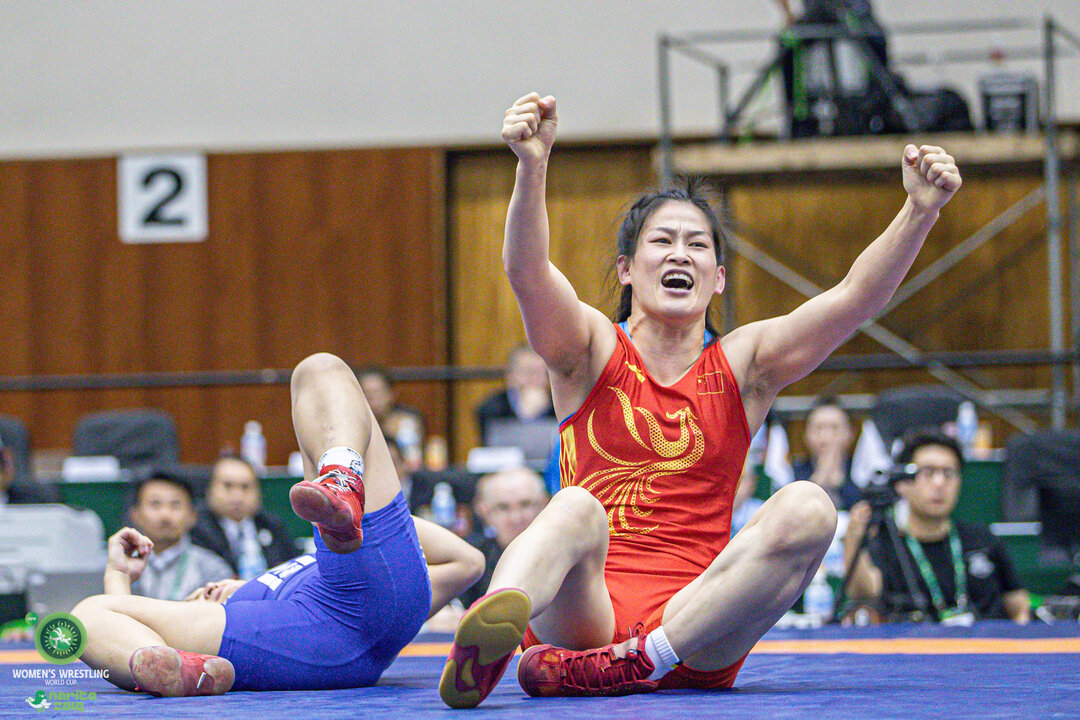 FENG Zhou (CHN) celebrates after pinning ENKHSAIKHAN Delgermaa (MGL) in their battle at 68kg. (Photo: Sachiko Hotaka)
China makes quick work of Mongolia for bronze medal
China, the runner-up the past two years, denied Mongolia a fourth straight bronze medal by storming to a 7-3 victory in the third-place playoff, in which seven of the 10 matches were decided by fall or technical fall.
After FENG Zhou (CHN) put the Chinese ahead 5-3 with a victory by fall at 68kg, WANG Juan (CHN) clinched the deal by topping Davaanasan ENKH AMAR (MGL), 9-2, at 72kg.
"I didn't feel so much pressure," Wang said. "My teammates before me wrestled well, which brought me so much confidence."
Wang, who finished fifth at the 2018 World Championships, took a proactive approach as she held a 5-2 lead going into the final minute. Instead of protecting the advantage, she added to it with a takedown and gut wrench.
"When I have a chance, I continue to try for points," Wang said.
LEI Chun (CHN), winner of the recent Tokyo 2020 test event who was making her first appearance of the tournament, started China off with a 10-0 technical fall at 50kg, which world bronze medalist PANG Qianyu (CHN) matched by the same score at 53kg.
At 55kg, Bolortuya BAT OCHIR (MGL), who knocked off both Winchester and her fellow world bronze medalist in the group matches, chalked up a third win by outlasting CHEN Jiawei (CHN), 12-10
FENG Yongxin (CHN) gave the Chinese another technical fall victory at 57kg, and ZHANG Qi (CHN) followed with an 8-2 win over world bronze medalist Shoovdor BAATARJAV (MGL).
A technical fall by Gantuya ENKHBAT (MGL) at 62kg and a fall by Purevsuren ULZIISAIKHAN (MGL) at 65kg keep Mongolia's hopes alive, but Zhou put the pressure on with her victory by fall. 
After Wang's victory, QIANDEGENCHAGAN Qiandegenchagan (CHN) capped the dual in her lone match of the tournament by taking just 23 seconds to win by fall over Ariunjargal GANBAT (MGL) at 76kg.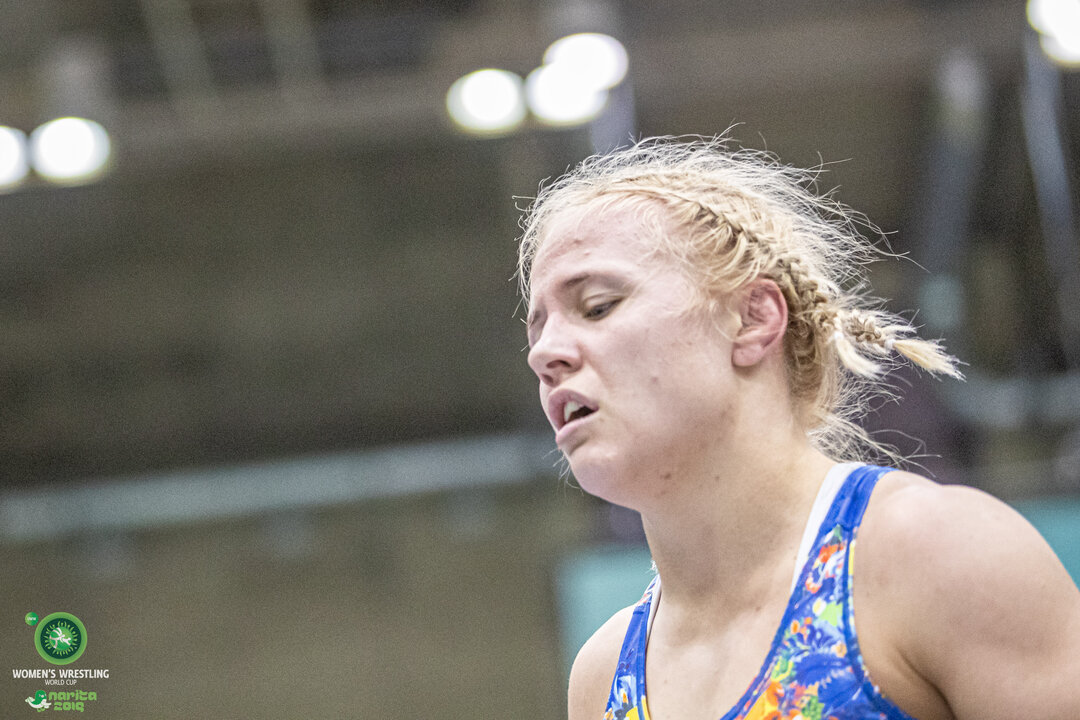 Alla BELINSKA (UKR) clinched the dual for Ukraine with a fall over Russia's Evgeniia ZAKHARCHENKO. (Photo: Sachiko Hotaka)
Ukraine pulls surprise, overcomes Russia for 5th place
In an entertaining clash for fifth place, Ukraine pulled off a surprising victory over Russia, defeating its giant neighbor on classification points after the match ended tied 5-5.
It seemed fitting that Alla BELINSKA (UKR), who had been Ukraine's lone shining star in the competition, clinched the victory for her side when she scored a victory by fall over Evgeniia ZAKHARCHENKO (RUS) at 72kg.
Belinska, the only Ukrainian to post a win against Japan and China in the group matches on Saturday, ended the tournament undefeated when, with her leg being held in the air, she back-tripped Zakharchenko to the mat, applied a headlock and finished her off at 1:34. 
That gave Ukraine a 5-4 lead, but with a fall and a injury forfeit already on the board, her pin assured that Ukraine could not be overcome, regardless of the outcome of the 76kg bout. 
Rio 2016 bronze medalist Ektarina BUKINA (RUS) won the final match by technical fall, but that still left Russia on the short end of a 25-19 score on classification points.
"The coach said there must be a fall, and I have to do what the coach says," Belinska said with a smile, adding it was satisfying to defeat the powerful Russians. "On our continent, this is a fight on principle. Russia is a very good team. We are a young team, but we wanted to win."
Earlier, Solomiia VYNNYK (UKR) added to the Ukraine tally at 53kg with one of the wilder victories of the tournament, prevailing in a 16-14 shootout with Milana DADASHEVA (RUS).
The Russian was leading 11-10 when Vynnyk went ahead with a 4-point throw, then added a 2-point roll. Dadasheva cut the gap over the final minute, but came up short in the 30-point match.
Final
JAPAN 7, UNITED STATES 3
50kg: Yui SUSAKI (JPN) df. Whitney CONDER (USA) by TF, 10-0, 3:17
53kg: Haruna OKUNO (JPN) df. Sarah HILDEBRANDT (USA) by TF, 10-0, 5:32
55kg: Jacarra WINCHESTER (USA) df. Akie HANAI (JPN), 5-1
57kg: Risako KAWAI (JPN) df. Kelsey CAMPBELL (USA) by TF, 11-0, 4:10
59kg: Yuzuka INAGAKI (JPN) df. Desiree ZAVALA (USA) by TF, 10-0, 4:12
62kg: Yukako KAWAI (JPN) df. Macey KILTY (USA), 7-0
65kg: Naomi RUIKE (JPN) df. Forrest MOLINARI (USA), 5-1
68kg: Tamyra MENSAH-STOCK (USA) df. Naruha MATSUYUKI (JPN), 8-1
72kg: Yuka KAGAMI (JPN) df. Victoria FRANCIS (USA), 3-1
76kg: Adeline GRAY (USA) df. Hiroe MINAGAWA (JPN) by Fall, 5:04 (3-1) 
3rd-Place Playoff
CHINA 7, MONGOLIA 3
50kg: LEI Chun (CHN) df. Namuuntsetseg TSOGT OCHIR (MGL) by TF, 10-0, 1:41
53kg: PANG Qianyu (CHN) df. Anudari NANDINTSETSEG (MGL) by TF, 10-0, 5:52
55kg: Bolortuya BAT OCHIR (MGL) df. CHEN Jiawei (CHN), 12-10
57kg: FENG Yongxin (CHN) df. Battsetseg ALTANTSETSEG (MGL) by TF, 10-0, :55
59kg: ZHANG Qi (CHN) df. Shoovdor BAATARJAV (MGL), 8-2
62kg: Gantuya ENKHBAT (MGL) df. KANG Juan (CHN) by TF, 12-2, 2:15 
65kg: Purevsuren ULZIISAIKHAN (MGL) df. WU Yaru (CHN) by Fall, 2:03 (10-4) 
68kg: ZHOU Feng (CHN) df. Delgermaa ENKHSAIKHAN (MGL) by Fall, 1:15 (8-0)
72kg: WANG Juan (CHN) df. Davaanasan ENKH AMAR (MGL), 9-2
76kg: QIANDEGENCHAGAN Qiandegenchagan (CHN) df. Ariunjargal GANBAT (MGL) by Fall, :23 (4-0)
5th-Place Playoff
UKRAINE 5, RUSSIA 5 
(Ukraine wins on classification points, 25-19)
50kg: Mariia VYNNYK (UKR) df. Daria LEKSINA (RUS), 8-7
53kg: Solomiia VYNNYK (UKR) df. Milana DADASHEVA (RUS), 16-14
55kg: Olga KHOROSHAVTSEVA (RUS) df. Anastasiya KRAVCHENKO (UKR) by TF, 13-2, 2:36 
57kg: Olena KREMZER (UKR) df. Marina SIMONYAN (RUS) by Fall, 2:43 (6-3)
59kg: Liubov OVCHAROVA (RUS) df. Sofiia BODNAR (UKR), 6-1 
62kg: Tetiana RIZHKO (UKR) df. Uliana TUKURENOVA (RUS) by Forf.
65kg: Natalia FEDOSEEVA (RUS) df. Oksana CHUDYK (UKR), 5-3 
68kg: Anastasiia BRATCHIKOVA (RUS) df. Alina RUDNYSTSKA LEVYTSKA (UKR), 4-1 
72kg: Alla BELINSKA (UKR) df. Evgeniia ZAKHARCHENKO (RUS) by Fall, 1:34 (4-0)
76kg: Ekaterina BUKINA (RUS) df. Romana VOVCHAK (UKR) by TF, 10-0, 3:55