Japan's Ota Dethrones Maryanyan for 1st World Title; Georgians Grab 2 Golds
Sunday, September 15, 2019 - 18:04 By Ken Marantz
NUR-SULTAN, Kazakhstan (Sept. 15)---As consolation prizes go, Shinobu OTA (JPN) could do worse than a first world gold medal, even in a non-Olympic weight class. That doesn't mean he's given up on his ultimate dream of a gold at the Tokyo 2020 Olympics.
Ota, a Rio 2016 Olympic silver medalist, swept aside defending champion Stepan MARYANYAN (RUS) 10-4 in the final of Greco-Roman 63kg as the first gold medals of the World Championships were awarded Sunday in four non-Olympic weight classes.
The excitement that started when UWW President Nenad LALOVIC officially opened the tournament in a gala ceremony earlier in the night continued as Georgia had two world champions crowned and Russia won the other gold at stake.
Ota's victory not only avenged a loss to Maryanyan in the final at the Dan Kolov-Nikola Petrov tournament in February, it justified his decision to compete in the non-Olympic weight after failing to make Japan's team at 60kg.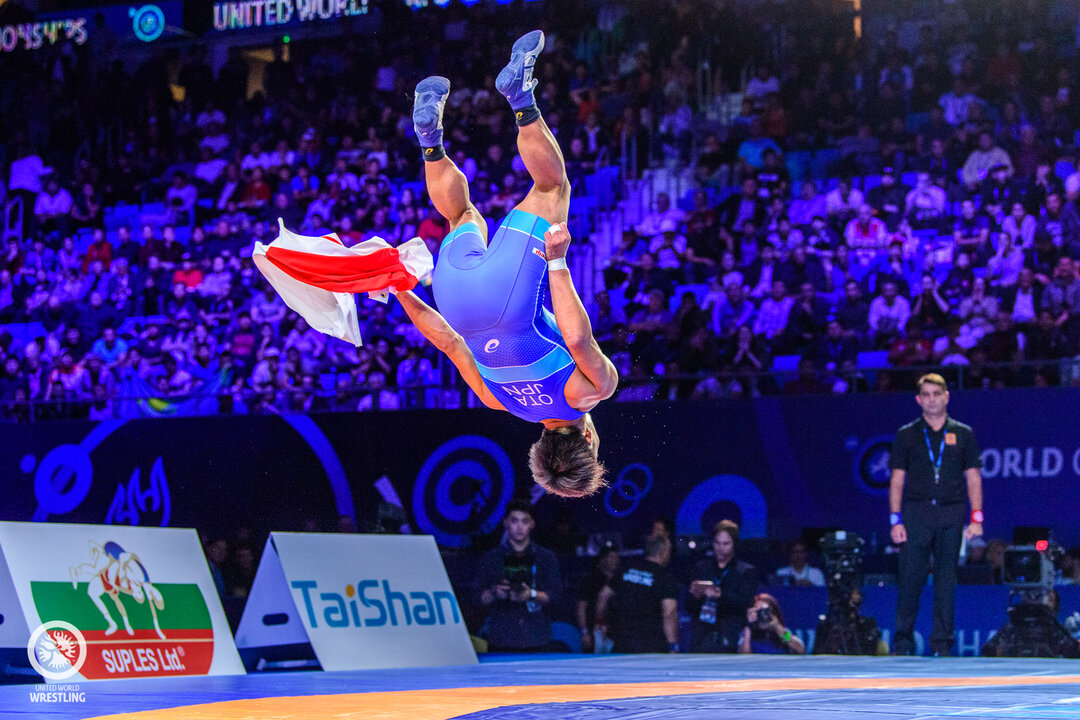 Shinobu OTA (JPN) celebrates winning his first world gold. (Photo: Tony Rotundo) 
"It was something that I was aiming for, so I feel honored," Ota said of winning a gold in his senior world debut. "But from the standpoint of my dream of a gold medal at the Tokyo Olympics, it doesn't mean anything."
Ota's fate in making it to Tokyo 2020 at 60kg is dependent on how Kenichiro FUMITA (JPN) fares in Nur-Sultan. If Fumita, the 2017 world champion, wins a medal, he will lock up the 60kg spot at Tokyo 2020. If he doesn't, the door reopens for Ota. Another option for Ota would be to move up to 67kg and try to qualify Japan in that division.
"Today, we didn't get a berth at 67kg, and we don't yet know what's going to happen at 60kg," the 25-year-old Ota said. "When that's decided, I'll start thinking about what I'll do."  
In Nur-Sultan, Ota focused on the task at hand and it paid off in gold. 
"I trained with the goal of becoming world champion, and I think this was the result of that training," he said. "I was prepared. Compared to the harsh training, the match might have been a bit easier."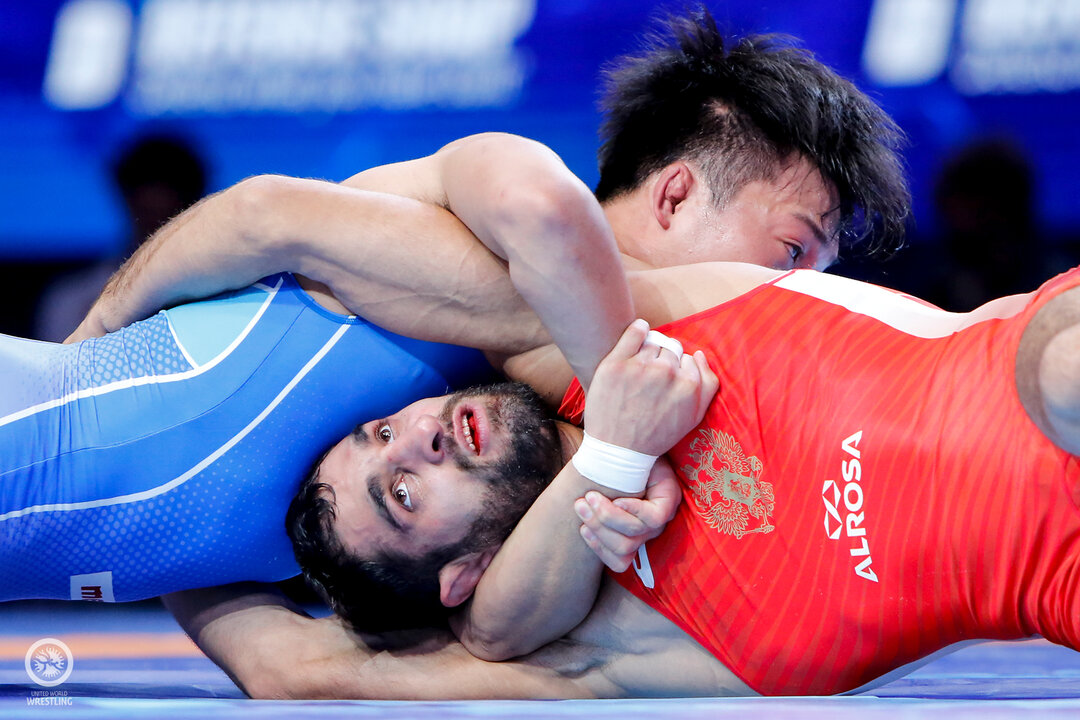 Shinobu OTA (JPN) turns Stepan MARYANYAN (RUS) with his trademark front headlock roll. (Photo: Gabor Martin)
In the final, Ota gained the first point when Maryanyan was called for passivity. But the Russian deftly avoided Ota's trademark front headlock, and the first period ended with Ota ahead 1-0. 
In the second period, Ota went in for a duck under, but the Russian locked onto his arm and twisted, whipping him to his back for 4 points. But Ota kept his poise and, when the opening came, latched onto a front headlock with 1:30 left.
He used that to twist down Maryanyan, then levered him over two more times. Originally, Ota was given 4 points for the initial move, but that was downgraded by challenge to 2. During the review, it was seen that Maryanyan grabbed Ota's singlet, so a 2-point penalty was assessed, making the score 10-4, which is how it ended.
"I gave up 4 points, but that was from a counter to my attack," Ota said. "I didn't give up any points from his moves, so that was a good point. From here, I'll work on minimizing my risks."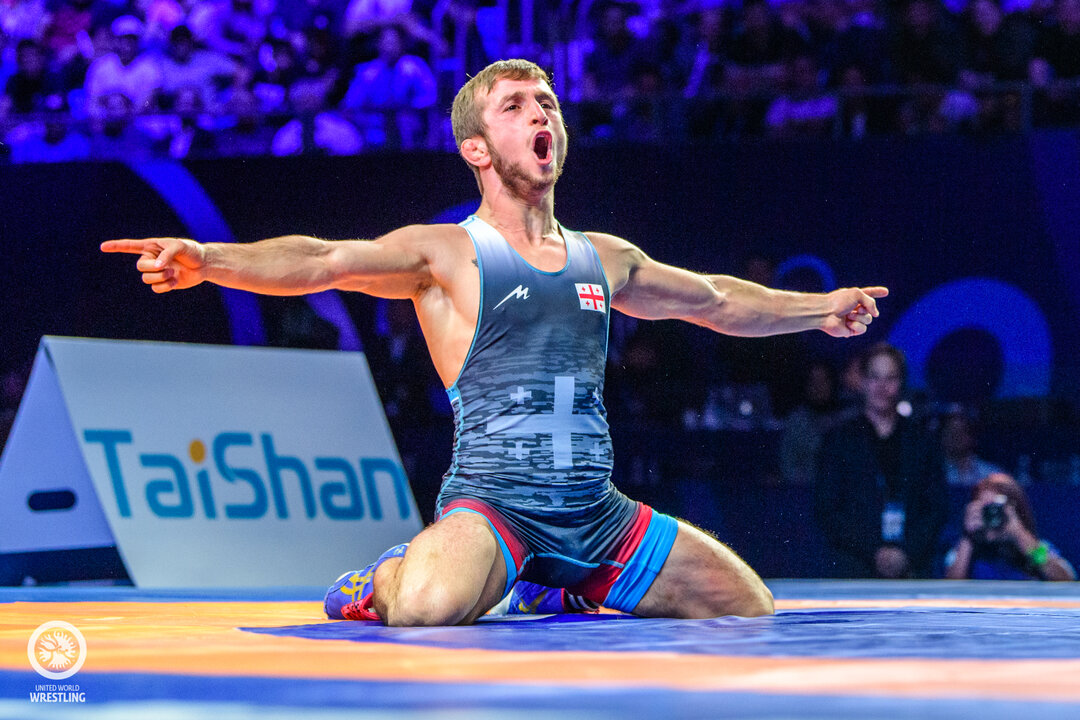 Nugzari TSURTSUMIA (GEO) celebrates after winning the 55kg world gold. The Georgian defeated Khorlan ZHAKANSHA (KAZ), 9-0 in the gold-medal bout. (Photo: Tony Rotundo) 
Meanwhile, Nugzari TSURTSUMIA (GEO), a bronze medalist a year ago in Budapest, moved up to the top of podium for the first time when he overwhelmed Khorlan ZHAKANSHA (KAZ) in the 55kg final, silencing the Barys Arena crowd with a 9-0 tcchnical fall that took just under a minute. 
"After getting a bronze medal in Budapest, I was working, working, working," Tsurtsumia said. "I'm happy today with my concentration and becoming world champion. This will be motivation for children. Next, maybe Olympic champion."
Tsurtsumia said that training with top wrestlers from other countries allowed him to expand his range of techniques, which he used in the final.
 "I was sparring with Iran, Azerbaijan, and I came up with a new attack. I went to right and left sides. Before the competition, I only went to left side. My concentration was good."
Georgia picked up a second gold with a victory in the final match of the night, as 2015 world bronze medalist Lasha GOBADZE (GEO) scored a 4-point throw in the first period and held on for a 5-3 win in the 82kg final over Rafig HUSEYNOV (AZE).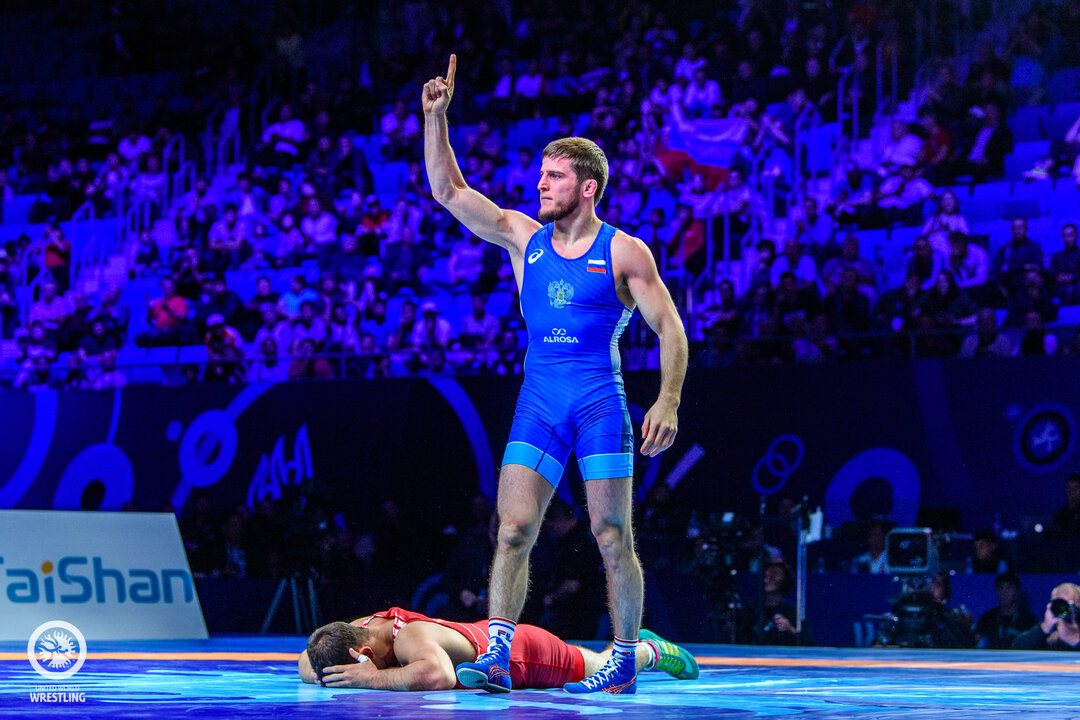 A victorious Abulazid MANTSIGOV (RUS) stands over a dejected Aram VARDANYAN (UZB). (Photo: Tony Rotundo)
Russia, which captured six of the 10 Greco golds in Budapest, picked up its first in the Kazakh capital when European champion Abulazid MANTSIGOV (RUS) crushed Aram VARDANYAN (UZB) in the 72kg final by 9-0 technical fall in 54 seconds. 
"Usually, the first match and the final match are the hardest ones, but the final match you can see was very easy for me," Mantsigov said. 
"I was ready 100 percent. In the last world championships in Budapest, I lost and took fifth place and it was very big motivation for me. So I was ready for today."
The bronze medals were well spread out, with wrestlers from eight different countries taking home the hardware.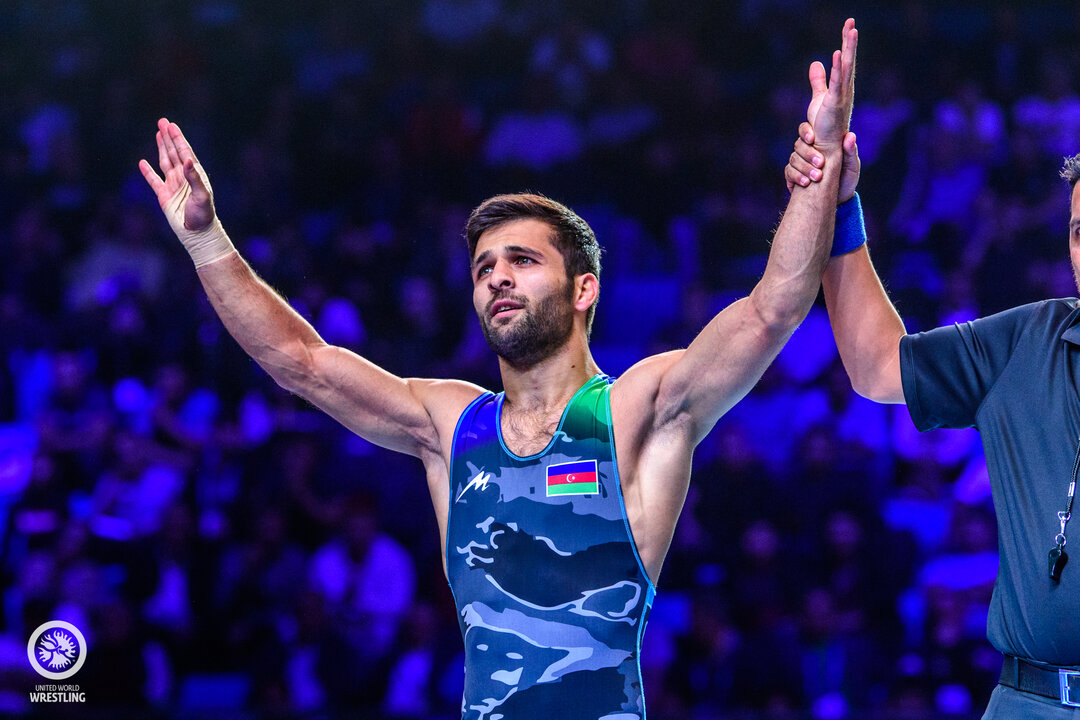 Budapest world champion Eldaniz AZIZLI (AZE) salvaged his tournament with an 8-0 technical fall over Max NOWRY (USA) in the 55kg bronze-medal bout. (Photo: Tony Rotundo)
At 55kg, world champion Eldaniz AZIZLI (AZE) needed just 39 seconds to score an 8-0 technical fall over Max NOWRY (USA), while Shota OGAWA (JPN) whipped fellow Asian CAO Liguo (CHN) by 11-2 technical fall in 2:34.
Almat KEBISPAYEV (KAZ) gave the host country a second medal with a 9-0 technical fall of Tynar SHARSHENBEKOV (KGZ) at 63kg. The other bronze went to Slavik GALSTYAN (ARM), a 7-5 winner over Meysam DALKHANI (IRI).
At 72kg, Aik MNATSAKANIAN (BUL) won his second straight world bronze by scoring late to edge Michael WIDMAYER (GER), 3-3, while 2018 silver medalist Balint KORPASI (HUN) rolled to a 9-0 technical fall of LEE Jiyeon (KOR).
Both bronzes at 82kg went to Asians, as QIAN Haitao (CHN) stunned Nurbek KHASHIMBEKOV (UZB) with a headlock throw to secure a fall in 51 seconds, and Saied ABDVALI (IRI) added to his Rio 2016 Olympic and 2017 world bronzes by defeating Iurii SCKRUIBA (UKR), 7-0.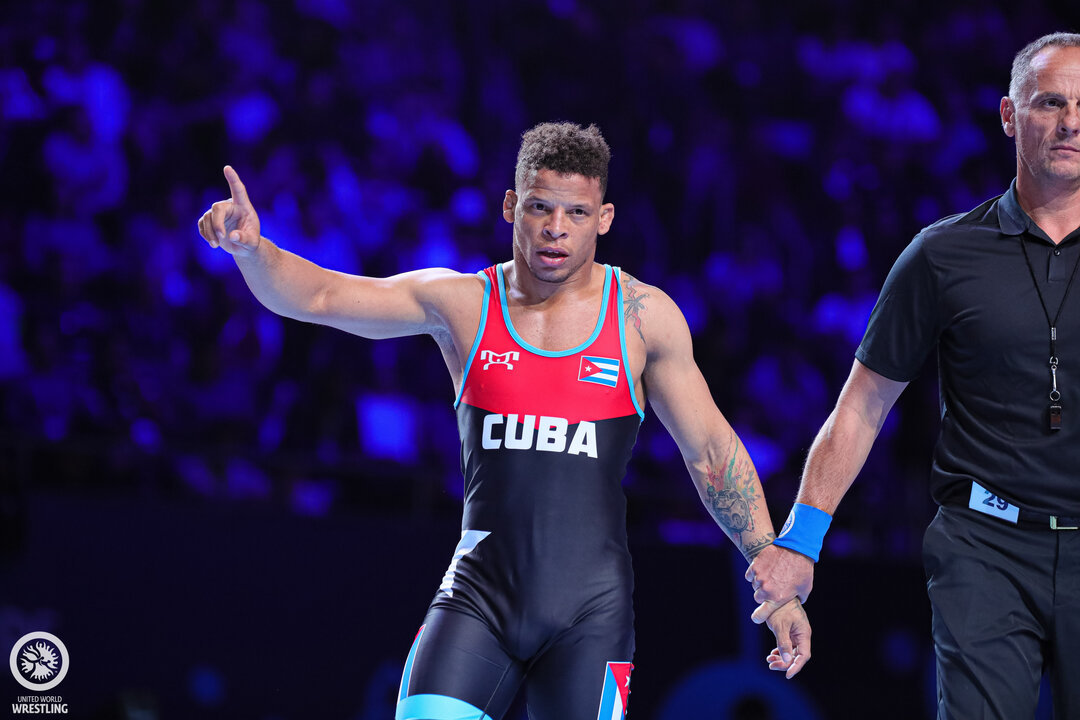 Another win for Ismael BORREO (CUB). (Photo: Kadir Caliskan)
Borrero-Surkov final on tap at 67kg; Evloev gets shot a 2nd straight gold
In the semifinals in three Greco weight classes held earlier in the night session, Olympic champion Ismael BORREO (CUB) won his showdown with Mohamed ELSAYED (EGY), 6-2, to advance to the 67kg final. 
In Monday night's final, Borrero, aiming to win his first world gold since 2015, will face defending champion Artem SURKOV (RUS), who easily put away Fredrik BJERREHUUS (DEN) by fall in 2:24
Another defending champion, Musa EVLOEV (RUS), advanced to the 97kg final with a 9-0 technical fall over Mihail KAJAIA (SRB), which he capped with a 4-point throw. 
The final hurdle on Evloev's path to consecutive golds will be former Olympic and three-time world champion Artur ALEKSANYAN (ARM), who scored all of his points in the second period of a 3-1 victory over Giorgi MELIA (GEO).   
The 87kg semifinals, held concurrently on adjacent mats, were virtual mirror images of inactivity, with all four wrestlers each gaining a passivity point, and only one technical point scored over the combined 12 minutes. 
 In the end, the final will be a match-up of silver medalists from 2018 between Zhan BELENIUK (UKR) and Viktor LORINCZ (HUN). The two previously met in the third round of the 2015 World Championships in Las Vegas, with Beleniuk winning en route to the gold. 
Beleniuk, the European champion and Rio 2016 Olympic silver medalist, managed to score a step-out point from the par terre position to edge Denis KUDLA (GER), 2-1. Lorincz, the runner-up at 77kg in Budapest, got a 1-1 victory on criteria over Rustam ASSAKALOV (UZB) when his opponent was the latter of the two flagged for passivity.
Greco-Roman
55kg (20 entries)
Gold – Nugzari TSURTSUMIA (GEO) df. Khorlan ZHAKANSHA (KAZ) by TF, 9-0, :58 
Bronze – Eldaniz AZIZLI (AZE) df. Max NOWRY (USA) by TF, 8-0, :38
Bronze – Shota OGAWA (JPN) df. CAO Liguo (CHN) by TF, 11-2, 2:34 
63kg (18 entries)
Gold – Shinobu OTA (JPN) df. Stepan MARYANYAN (RUS), 10-4
Bronze – Slavik GALSTYAN (ARM) df. Meysam DALKHANI (IRI), 7-5
Bronze – Almat KEBISPAYEV (KAZ) df. Tynar SHARSHENBEKOV (KGZ) by TF, 9-0, 2;32 
67kg (41 entries)
Semifinal – Artem SURKOV (RUS) df. Fredrik BJERREHUUS (DEN) by Fall, 2:24 (5-0)
Semifinal – Ismael BORREO (CUB) df. Mohamed ELSAYED (EGY), 6-2 
72kg (25 entries)
Gold – Abulazid MANTSIGOV (RUS) df. Aram VARDANYAN (UZB) by TF, 9-0, :54
Bronze – Aik MNATSAKANIAN (BUL) df. Michael WIDMAYER (GER), 3-3
Bronze – Balint KORPASI (HUN) df. LEE Jiyeon (KOR) by TF, 9-0, 4:43
82kg (23 entries)
Gold – Lasha GOBADZE (GEO) df. Rafig HUSEYNOV (AZE), 5-3
Bronze – QIAN Haitao (CHN) df. Nurbek KHASHIMBEKOV (UZB) by Fall, :51 (4-4)
Bronze – Saied ABDVALI (IRI) df. Iurii SCKRUIBA (UKR), 7-0 
87kg (39 entries)
Semifinal – Zhan BELENIUK (UKR) df. Denis KUDLA (GER), 2-1
Semifinal – Viktor LORINCZ (HUN) df. Rustam ASSAKALOV (UZB), 1-1
97kg (37 entries)
Semifinal – Musa EVLOEV (RUS) df. Mihail KAJAIA (SRB) by TF, 9-0, 2:26
Semifinal – Artur ALEKSANYAN (ARM) df. Giorgi MELIA (GEO), 3-1