Junior World Preview
Friday, August 9, 2019 - 15:48 By Eric Olanowski
TALLINN, Estonia (August 9) --- With the lineup Japan has inserted into the Junior World Championships, you'd think they were gearing up to make a run at a team title in Nur-Sultan, Kazakhstan, at the Senior World Championships. They are led by a pair of young guns who have not only been exposed to veteran competition -- but surpassed expectations when it comes to competing with those greats.  The Japanese women's team will follow the lead of Haruna OKUNO (JPN) and Yui SUSAKI (JPN), who are both two-time reigning senior world champions that fell in their wrestle-off and won't compete in September at the Nur-Sultan World Championships. 
Okuno wrestled twice at the Cadet World Championships but skipped the junior level on her way to capturing a pair of world titles on the senior circuit. Japan's second two-time reigning world champion Yui Susaki returns to the Junior Worlds for the second consecutive year with hopes of striking her seventh overall world title since stepping onto the international scene just five short years ago.
Last year, Susaki, who was months shy from defending her Paris world title, shocked the wrestling world by using the Junior World Championships as a tune-up tournament for the Budapest World Championships. The Japanese superstar didn't break a sweat at junior worlds, then bulldozed the competition in Hungary and won her second consecutive senior world title -- bringing her grand total to six world golds. In total, through the junior and senior World Championships, Susaki won all eight of her matches and outscored the opposition 78-0 en route to her pair of 2018 world titles. 
But this year is much different for Susaki, who failed to make Japan's senior-level world team for the first time since she took over the weight class from 2016 Rio Olympic champion Erie TOSAKA (JPN) at the Paris World Championships. The queen of the 50kg weight class lost her starting spot in early June to her arch-nemesis Yuki IRIE (JPN) and won't make the trip to Nur-Sultan, Kazakhstan, for the senior World Championships. 
Though she won't be heading to Kazakhstan, Susaki comes to Estonia heavily favored to win a 50kg weight class that lacks a returning junior world medalist but does have a pair of 2018 cadet world podium finishers in Shahana NAZAROVA (AZE) and Natallia VARAKINA (BLR). Nazarova finished in second place and Varakina finished in third place at the 2018 Cadet World Championships.
Okuno, who has four world titles on her resume, lost her 53kg starting spot to Mayu MUKAIDA (JPN) who was a two-time 55kg world champion but dropped down to the Olympic weight of 53kg with hopes of making a gold-medal run at the Tokyo 2020 Olympic Games.  
Okuno doesn't have much to worry about in the 53kg weight class as the weight lacks any returning cadet or junior world medalists.
Velieva on the Verge of Winning Fifth World Title 
Khanum VELIEVA (RUS) is on the verge of winning her fifth age-group world title. The two-time defending junior world champion and United World Wrestling's 2018 Junior Female Wrestler of the Year enters the World Championships riding an undefeated streak that spans over three years. She hasn't lost a match at the junior level since the 2016 European Championships where she finished in third place. 
At her most recent Junior World Championships, Velieva bolstered her resume with a second consecutive junior world title. Her two biggest tests were expected to come in the opening round against Miwa MORIKAWA (JPN) and in the finals against Macey KILTY (USA) – but she passed both of those tests with flying colors. 
The Russian wrestler scored a convincing 6-2 win against Morikawa, Japan's three-time age-group world medalist in the opening round. Then, she added a 10-0 win over Rihem AYARI (TUN) and a fall against PARK Hyeonyeong (KOR) to set up an all-star finals matchup against the then reigning cadet world champion Macey Kilty. In the finals, Velieva throttled the American, shutting her down offensively en route to an easy 7-0 shutout victory. 
Velieva will again compete at 68kg, but Kilty and Morikawa have since dropped down to 65kg. Although the weight loses those two returning world medalists, it'll be replenished with a pair other returning world medalists in ENKHSAIKHAN Delgermaa (MGL) and Naruha MATSUYUKI (JPN). Enkhsaikhan was a 2018 junior world runner-up at 65kg and Matsuyuki was last year's junior world bronze medalist at 72kg. 
Two Others Looking to Defend 2018 Women's World Titles
Susaki and Velieva will be joined by Saki IGARASHI (JPN) and Anastasia NICHITA (MDA), who are also trying their hand at winning at least a second consecutive junior world title. 
Igarashi is set to compete at 55kg where she's the defending world champion. Last year in Trnava, the Japanese wrestler had four matches and finished all of them in dominant fashion. She wrapped up her first run to a world title outscoring her opponents 28-0 – which included a fall and two wins via technical superiority. Two months after winning her junior world gold, Igarashi added a U23 world title to her resume with a gold-medal performance in Bucharest, Romania.  
At this year's Junior World Championships, Igarashi's toughest tests are expected to be BATBAATAR Enkhtsetseg (MGL) and Anna SZEL (HUN). Both are returning world bronze medalist, but Batbaatar's bronze came at the junior level, while Szel won hers at the cadet level. 
Anastasia Nichita is the fourth returning world gold medalist who'll be looking to claim at least her second consecutive world title. Nichita, last year's 59kg world champion, comes into Tallinn riding a 10 tournament stretch where she's finished on the podium. And that streak doesn't pertain to just the junior level. Nichita made her senior-level debut earlier this year in Bucharest, Romania, at the European Championships where she finished in third place. Then, she tacked on another continental bronze medal at the European Games in Minsk, Belarus.
Nichita will be joined by Sae NANJO (JPN) and Anshu ANSHU (IND) at 59kg. Nanjo is a returning junior world finalist and Anshu was last year's cadet world bronze medalist. 
Trio of World Champs Headline Freestyle Competition. 
On the freestyle side of the competition, the entry list is littered with world-level talent, but it's headlined by Abbas Ali FOROUTANRAMI (IRI), Khadzhimurad GADZHIYEV (AZE) and Akhmed IDRISOV (RUS) – all of which are returning world champs. 
This'll be Foroutanrami's first competition back down at the junior level since he won the 92kg world title a year ago. Since winning that world title, he's made the jump up to the U23 and senior level where he's continued to find success.
At the U23 level, Foroutanrami went 4-0 and captured an Asian title. This was his first time reaching the top of the continental podium. And at the senior level, he finished in second place at the final Ranking Series event of the year, the Sassari City Tournament. His only loss on the Italian island of Sardinia came from age-group world and continental champion Hamed Talebizarrinkamar (IRI). 
Foroutanrami will wrestle at 97kg where he's the lone returning world medalist from the cadet or junior level. 
Gadzhiyev, last year's 70kg junior world champ, will also be making his first appearance back down at the junior level since claiming gold in 2018. Since grabbing his Trnava world title, Gadzhiyev has been representing Azerbaijan at 74kg and is expected to be their world team representative at the Nur-Sultan World Championships. That is, if he's able to defeat London Olympic champion Togurl ASGAROV (AZE) for the spot. 
This season, the Azeri won the Takhti Cup and has a pair of continental top-five finishes on the senior circuit. He finished in fifth place at the European Championships but improved to a third-place finish at the European Games. 
Akhmed Idrisov is the third freestyle world champion that'll compete in Tallinn next week. Idrisov will wrestle at 57kg where he be joined by Giorgi GEGELASHVILI (GEO) and Vitali ARUJAU (USA). Gegelashvili was last year's cadet world bronze medalist while Arujau was a 2016 cadet world finalist. 
Kamal Chasing Third Junior World Title 
The Turkish highlight reelKerem KAMAL (TUR) will be looking to throw his way to a third junior world title. Kamal, who frequents the U23 and senior scene, will be stepping back down to the junior level for the first time since winning a second consecutive junior world title last year in Slovakia. While at the junior level, Kamal has only faced defeat once and has stacked up an impressive resume filled with a Balkans and European title and a pair of world gold medals. 
In addition to his success at the junior level, Kamal has also been a fixture on the U23 and senior level for Turkey's Greco-Roman squad for the past few years. He's ranked seventh in the world at 60kg thanks to his title-winning effort at the first Ranking Series event of the year, the Grand Prix of Zagreb, and a bronze-medal finish at the European Championships. Kamal's only loss came in Bucharest at the European Championships which was against defending world champion Sergey EMELIN (RUS). 
Earlier this year, Kamal, who is the reigning U23 European champion, said that he expects to represent Turkey at the Junior, U23 and Senior World Championships. 
Japan's Kazuki YABE is Kamal's biggest threat at stopping a three-peat. Last year, Yabe finished with a bronze medal at the Junior World Championships.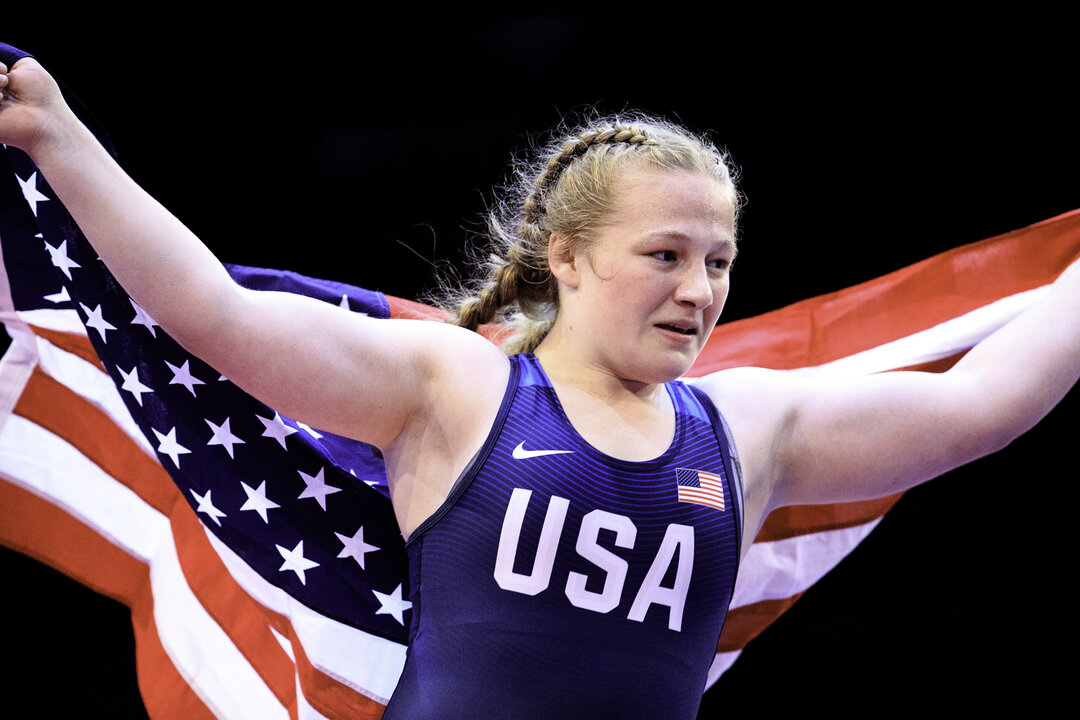 Macey KILTY (USA) is one of eight 2018 cadet world champions looking to add a junior world title to their resume. (Photo: Gabor Martin)
Eight Cadet World Champions Make Leap to Junior Level
The seven reigning junior world champions will be outnumbered by 2018 cadet world champions in Estonia. There are eight cadets who won a world title last year that are competing next week. Freestyle houses four of those worlds champions, while Greco-Roman and women's wrestling reach have a pair of reigning cadet world gold medalists.
Here are the eight cadets looking to add a junior world title to their resume:
Freestyle
65kg - Turan BAYRAMOV (AZE)
79kg - Bagrati GAGNIDZE (GEO)
92kg - Ali ABDOLLAHI(IRI)
125kg - Amir ZARE (IRI)
Greco-Roman 
82kg - Karen KHACHATRYAN (ARM)
130kg - Muhammet Hamza BAKIR (TUR)
Women's Wrestling 
65kg - Macey KILTY (USA)
72kg - Yuka KAGAMI (JPN)
SCHEDULE
Sunday (August 11)
17.00 - Draw FS – 57-65-70-79-97kg 
Monday (August 12) 
8.30 –Medical examination & Weigh-in FS – 57-65-70-79-97kg
10.30 – Qualification rounds FS – 57-65-70-79-97kg
14.15 – Draw FS – 61-74-86-92-125kg
18.00 – Final FS – 57-65-70-79-97kg 
Tuesday (August 13) 
8.30 – Weigh-in FS – 57-65-70-79-97kg
8.45 – Medical examination & Weigh-in FS – 61-74-86-92-125kg​​​​​​​
10.30 – Qualification rounds FS – 61-74-86-92-125kg
10.30 – Repechage FS – 57-65-70-79-97kg
14.15 – Draw WW – 50-55-59-68-76kg
16.45 – Opening Ceremony
17.15 – Semi Final FS – 61-74-86-92-125kg
18.00 – Finals FS – 57-65-70-79-97kg
Wednesday (August 14) 
8.30 – Weigh-in FS – 61-74-86-92-125kg
8. 45 – Medical examination & Weigh-in WW – 50-55-59-68-76kg
10.30 – Qualification rounds WW – 50-55-59-68-76kg
10.30 – Repechage FS – 61-74-86-92-125kg
13.45 – Draw WW – 53-57-62-65-72kg
17.15 – Semi Final WW – 50-55-59-68-76kg
18.00 – Finals FS – 61-74-86-92-125kg
Thursday (August 15) 
8.30 – Weigh-in WW – 50-55-59-68-76kg
8.45 – Medical examination & Weigh-in WW – 53-57-62-65-72kg
10.30 – Qualification rounds WW – 53-57-62-65-72kg
10.30 – Repechage WW – 50-55-59-68-76kg
13.45 – Draw GR – 55-63-77-87-130kg
17.15 – Semi Final WW – 53-57-62-65-72kg
18.00 – Finals WW – 50-55-59-68-76kg
Friday (August 16) 
8.30 – Weigh-in WW – 53-57-62-65-72kg
8.45 – Medical examination & Weigh-in GR – 55-63-77-87-130kg
10.30 – Qualification rounds GR – 55-63-77-87-130kg
10.30 – Repechage WW – 53-57-62-65-72kg
15.15 – Draw GR – 60-67-72-82-97kg
17.15 – Semi Final GR – 55-63-77-87-130kg
18.00 – Finals WW – 53-57-62-65-72kg
Saturday (August 17) 
8.30 – Weigh-in GR – 55-63-77-87-130kg
8.45 – Medical Examination & Weigh-in GR – 60-67-72-82-97kg 
10.30 – Qualification rounds GR – 60-67-72-82-97kg
10.30 – Repechage GR – 55-63-77-87-130kg
16.00 – Entertainment for the audience
17.15 – Semi Final GR – 60-67-72-82-97kg
18.00 – Finals GR – 55-63-77-87-130kg
Sunday (August 18) 
8.30 – Weigh-in GR – 60-67-72-82-97kg
16.00 – Repechage GR – 60-67-72-82-97kg
18.00 – Finals GR – 60-67-72-82-97kg
21.00 – Final banquet