Kawai Gets Best of Icho, but Faces Quick Rematch with More at Stake
Saturday, December 22, 2018 - 15:04 By Ken Marantz
TOKYO---In a match that left something to be desired considering the hype, Risako KAWAI got the best of fellow Olympic champion Kaori ICHO. She'll have to show tomorrow she can do it again for much higher stakes.
Kawai defeated Icho in the highly anticipated clash between the titans of women's wrestling, scoring a dull 2-1 victory in the opening match of their 57kg round-robin group at the All-Japan Championships in Tokyo.
The two both then beat Sae NANJO, the third wrestler in their group, to advance to the semifinals. They both won, setting up an instant rematch on the final day of the four-day tournament that is also serving as the first stage in Japan's qualifying process for the Tokyo 2020 Olympics.
"This is the first tournament that has Olympic implications, so no matter who you have to face, this is a weight class that has drawn those who want to go to the Olympics," Kawai said. "I have the title of Olympic gold medalist, but I can think about that. If I don't win here, it doesn't mean anything."
Kawai, coming off winning a second straight world title at Budapest in October and third overall, hardly outwrestled the four-time Olympic gold medalist per se; it's more like she just did a better job of showing she was trying.
The match had no technical points, as all scoring came with the opponent on the activity clock----Kawai had the fortune of seeing Icho flagged twice, despite the fact that Kawai herself initiated zero attacks.
It's one thing to play it safe against a four-time Olympic champion. But Kawai repeated that performance against world junior silver medalist Nanjo, winning by the same score, with the same points, and without a takedown attempt. Icho defeated Nanjo 6-2 in a much more active match.
Kawai finally showed some life in the semifinals, where she used a takedown-ankle roll combination for a 4-0 win over world junior champion Hanako SAWA, while Icho advanced with a 3-0 victory over Akie HANAI.
"I'm sure this is drawing a lot of attention, but the fact is, it is Kaori and I who are the ones who have to perform," Kawai said. "I'd like it to be exciting if possible."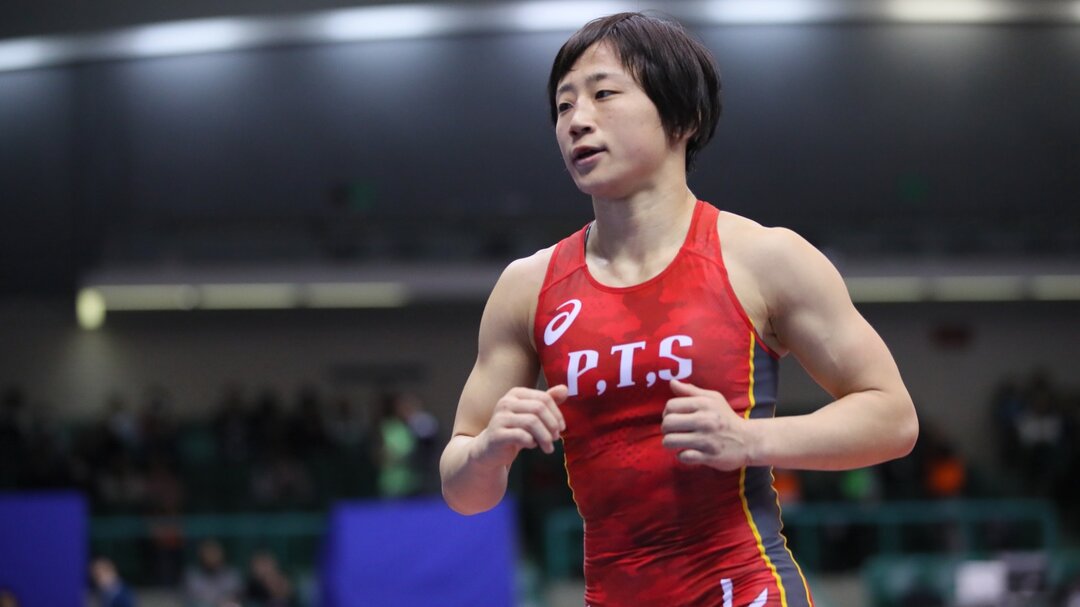 Yuki IRIE defeated Rio Olympic champion Eri TOSAKA, 4-4, putting her in the 50kg gold-medal bout. (Photo: Sachiko Hotaka)
In the other match of global interest, Yuki IRIE repeated her victory from last spring over Rio 2016 champion Eri TOSAKA, winning 4-4 on big-point criteria to advance to the final of the women's 50kg division, which had lost world champion Yui SUSAKI to an elbow injury.
Irie twice followed giving up a point on the activity clock by scoring a takedown, when Tosaka scored a takedown with :15 left. But it wasn't enough for the former world champion, who underwent foot surgery after the Rio Olympics.   
Tosaka will now need to win the All-Japan Invitational Championships in June to force a playoff with Irie for the ticket to the 2019 world championships, where winning a medal will earn an automatic berth on Japan's team to the Tokyo 2020.
"The next six months will go fast," she said. "If I don't win there, I can't go to the Tokyo Olympics. First of all, I have to win in June and get into the playoff."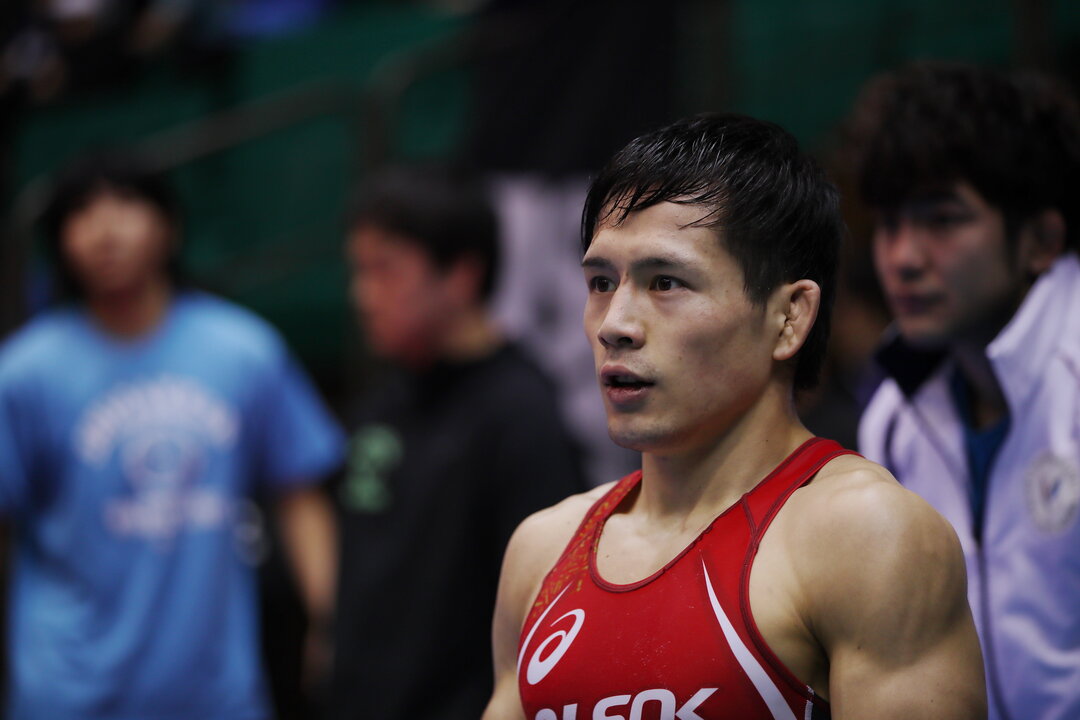 Yuki TAKAHASHI, 2017 world champion and 2018 world bronze medalist won his third straight Emperor's Cup title. (Photo: Sachiko Hotaka) 
Meanwhile, Budapest 2018 bronze medalist Yuki TAKAHASHI barely came away with his third straight title at freestyle 57kg.
Takahashi, the Paris 2017 world gold medalist, was trailing 4-4 on criteria when teenaged opponent Kaiki YAMAGUCHI, trying desperately to fend him off, was assessed a 1-point penalty with :02 left. An unsuccessful challenge left Takahashi the winner by a final score of 6-4.
"To have the final finish like that, it makes me wonder how I would do at the worlds," Takahashi said. "This tournament has links to the Olympics, so I think that brought out some extra nerves and I didn't move like I wanted, and my matches were sloppy."
Takahashi was acquainted with Yamaguchi, having beaten him 4-0 in a tough semifinal battle last year when he was still in high school.
"The fact that I could still win even without wrestling at my best gives me a confidence boost," Takahashi said.
On the heels of Susaki's shocking withdrawal, the tournament lost another marquee match-up when women's 53kg world champion Haruna OKUNO pulled out prior to her match due to a stomach virus. 
Okuno had been due for a clash with fellow world champion Mayu MUKAIDA, who dropped down from 55kg to the Olympic weight class. Had they met, it would have been only the 11thtime in Japan wrestling history that two reigning world champions faced each other in a domestic tournament.
Mukaida launched her bid for a third straight national title---she won at 53kg in 2016---with a 12-2 technical fall victory over world junior champion Umi IMAI, then overcome a tough challenge from Momoka KADOYA, winning 3-0. In the final, she will face Nanami IRIE, Yuki's younger sister.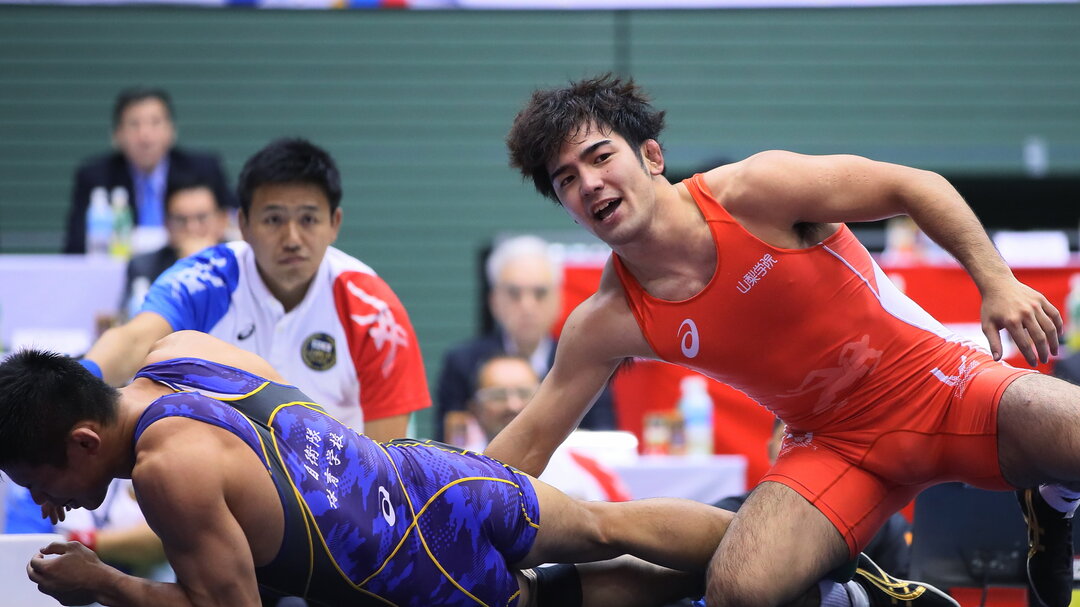 Yuhi FUJINAMI, 2017 world bronze medalist, won back-to-back Emperor's Cup titles with a fall over Ken HOSAKA in the 74kg finals. (Photo: Sachiko Hotaka) 
Yuhi FUJINAMI, a 2017 world bronze medalist who finished out of the medals this year, successfully defended his freestyle 74kg title with a victory by fall over Ken HOSAKA in the final. 
Hosaka surprised the defending champion with an early takedown, but Fujinami quickly evened the score. He then clamped a headlock on Hosaka and, while his opponent looked close at one time to escaping the predicament, Fujinami reapplied the pressure and ended the match in 1:44.
The other freestyle title at stake went to world university champion Yudai FUJITA, who defeated last year's runner-up Shingo ARIMOTO, 6-0, in the 61kg final for his first national crown.
The day's Greco golds went to Hiromu KATAGIRI (55kg), Shogo TAKAHASHI (67kg) and Naotsugu SHOJI (77kg). It was the first for Katagiri and Shoji, while Takahashi previously won at 66kg in 2016.   
Meanwhile, the tournament, also known as the Emperor's Cup, saw the return of Rio 2018 champion Sara Dosho in her first competition since suffering a shoulder injury at the Women's World Cup in March. 
Dosho, who underwent surgery and had her shoulder heavily taped, won both of her matches on the day in the women's 68kg class, which has just five entries and is using a round-robin format. 
Dosho beat Umi FUKUSHIMA, 6-1, and Chiaki SEKI, 2-1, and will finish up the competition Sunday by facing fellow Rio Olympian Rio WATARI in her final match, which will likely decide the gold medal. Watari also won twice. 
Hiroe MINAGAWA, who won a second straight world bronze in Budapest, maintained her dominance of the women's heaviest weight class by beating Yasuha MATSUYUKI, 3-0, in what was essentially the 76kg gold-medal match.
Minagawa's victory gave her a 4-0 record in the five-women round-robin group for her third straight national title and fifth overall. Matsuyuki, a world junior bronze medalist, finished as runner-up at 3-1.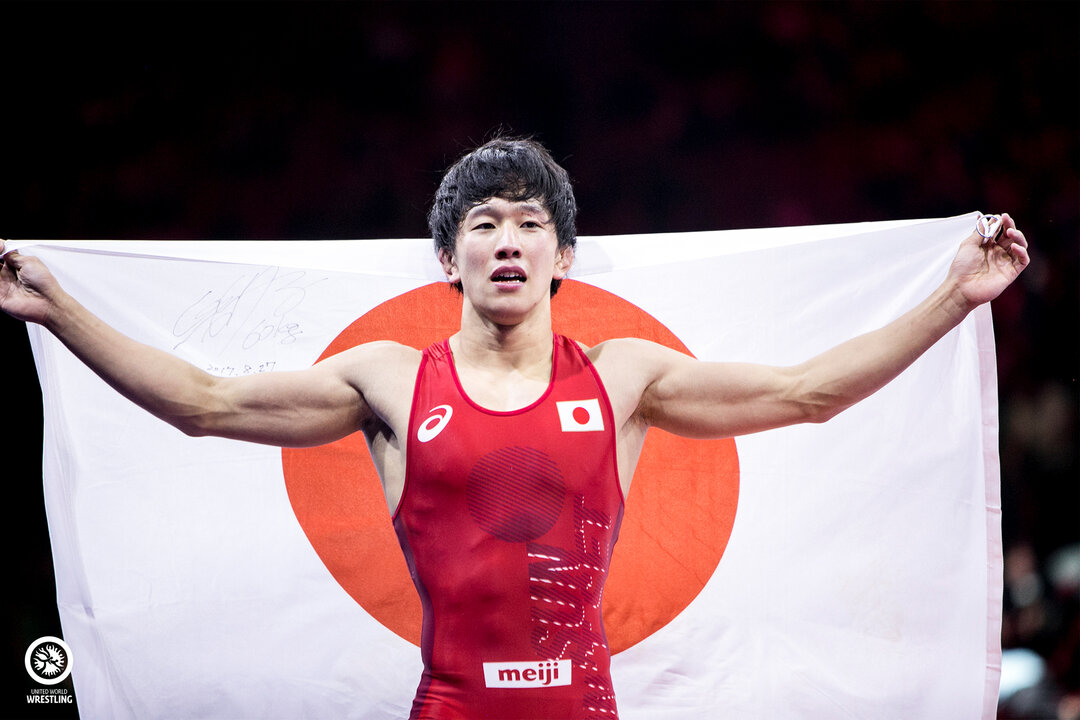 Takuto OTOGURO, the reigning world champion, will wrestle Daichi TAKATANI for the 65kg Emperor's Cup title. 
Japan's lone reigning male world champion, Takuto OTOGURO, advanced to the freestyle 65kg final with a solid 8-3 victory in the semifinals over world U23 champion Rei HIGUCHI, the Rio 2016 silver medalist at 57kg.
Standing in OTOGURO's path to a first national title is defending champion Daichi TAKATANI, who lost to Otoguro in a playoff last July for the place on Japan's team to Budapest and will be looking for revenge. 
Sunday will also see the latest installment of the Great Greco Rivalry at 60kg between Rio 2016 silver medalist Shinobu OTA and Paris 2017 world champion Kenichiro FUMITA, who have split their last eight matches dating back to 2014. 
Ota advanced to the final with a pair of technical fall victories, while Fumita scored a technical fall, then came out on top of a wild bout with high schooler Kyotaro SOGABE, emerging as a 13-8 winner when the dust cleared. 
Day3Results
Freestyle
57kg (19 entries)
Final: Yuki TAKAHASHI df. Kaiki YAMAGUCHI, 6-4 
3rdPlace: Daiki ARAKI df. Kotaro KIYOOKA, 3-1 
3rdPlace: Kazuya KOYANAGI df. Toshihiro HASEGAWA, 4-3
61kg (18 entries)
Final: Yudai FUJITA df. Shingo ARIMOTO, 6-0 
3rdPlace: Joji NAGATA df. Yushi NAKAMURA, 2-1
3rdPlace: Yo NAKATA df. Takumi YOSHIMURA, 2-1 
65kg (27 entries)
Semifinals
Takuto OTOGURO df. Rei HIGUCHI, 8-3
Daichi TAKATANI df. Koki SHIMIZU, 8-7
70kg (14 entries)
Final: Kojiro SHIGA df. Haruki SEINO, 5-2 
3rdPlace: Keisuke OTOGURO df. Hidetaka SAKANO, 5-3
3rdPlace: Shin HARAGUCHI df. Ryo YONEZAWA, 4-3 
Semifinals
Seino df. Otoguro, 6-4
Shiga df. Yonezawa, 3-2
74kg (19 entries)
Final: Yuhi FUJINAMI df. Ken HOSAKA by Fall, 1:44 (4-2)
3rdPlace: Mao OKUI df. Ryuki YOSHIDA, 3-2
3rdPlace: Yuto MIWA df. Masato MIZUNO, 3-0
Greco-Roman

55kg (14 entries)
Final: Hiromu KATAGIRI df. Ken MATSUI, 5-0
3rdPlace: Shota OGAWA df. Kaito INABA, 4-3
3rdPlace: Ryota SAITO df. Kenta KOSAKA by Fall, 2:16 (6-0) 
Semifinals
Katagiri df. Ogawa, 8-1
Matsui df. Kosaka by TF, 8-0, 4:28
6o kg (13 entries)
Semifinals
Shinobu OTA df. Kazuki YABE by TF, 9-0, 5:27
Kenichiro FUMITA df. Kyotaro SOGABE, 13-8
67kg (21 entries)
Final: Shogo TAKAHASHI df. Tsuchika SHIMOYAMADA, 4-2 
3rdPlace: Takahiro YAMAMOTO df. Yusuke KITAOKA, 6-1
3rdPlace: Masuto KAWANA df. Yuji UEGAKI, 5-1 
77kg (16 entries)
Final: Naotsugu SHOJI df. Kodai SAKURABA, 4-0 
3rdPlace: Shohei YABIKU df. Amane SHIMOYAMADA by TF, 9-0, 2:08
3rdPlace: Yuya MAETA df. Yudai KOMURO by TF, 11-0, 2:06
Women's Wrestling

50kg (8 entries)
Semifinals
Yuki IRIE df. Eri TOSAKA, 4-4
Kika KAGATA df. Miho IGARASHI, 5-0
53kg (8 entries)
Semifinals
Nanami IRIE df. Katsura KONISHI by TF, 10-0, 1:02 
Mayu MUKAIDA df. Momoka KADOYA, 3-0
57kg (7 entries)
Semifinals
Kaori ICHO df. Akie HANAI, 3-0
Risako KAWAI df. Hanako SAWA, 6-0
65kg (4 entries)
Round-Robin (Final Standings)
1. Naomi RUIKE (3-0, 11 pts)
2. Misuzu ENOMOTO (2-1, 7)
3. Miki KAWAUCHI (1-2, 3) 
Key Match: Ruike df. Enomoto, 2-0 in 2ndround
68kg (5 entries)
Round-Robin (through 3 rounds)
1. Rio WATARI (2-0, 6 pts); 2. Sara DOSHO (2-0, 6); 3. Chiaki SEKI (1-2, 5); 4. Umi FUKUSHIMA (1-2, 5); 5. Rin MIYAJI (0-2, 2)
76kg (5 entries)
Round-Robin (Final Standings)
1. Hiroe MINAGAWA (4-0, 16 pts)
2. Yasuha MATSUYUKI (3-1, 10)
3. Masako FURUICHI (2-2, 8)
Key Match: Minagawa df. Matsuyuki, 3-0 in 5thround