Kayaalp Moves to No.1 in World Greco-Roman Rankings, 3 New No. 1s
Thursday, August 2, 2018 - 03:52 By United World Wrestling Press
CORSIER-SUR-VEVEY (Aug. 2) -- Three-time world champion Riza KAYAALP (TUR) moved to No.1 at 130kg after claiming a gold medal in the final Ranking Series event for Greco-Roman wrestling. 
Kayaalp, who climbed from No.5 in the rankings last month, won a gold medal at the Vehbi Emre with a 2-1 victory over Kiryl HRYSHCHANKA (BLR). It was Kayaalp's sixth Vehbi Emre title. Earlier this year he won his eighth European title.
Kayaalp was one of three new No. 1-ranked wrestlers in Greco-Roman. The other two wrestlers to move up to No. 1 in Greco-Roman were Kazbek KILOV (BLR) at 77kg and Islam ABBASOV (AZE) at 87kg.
Kilov is coming off a silver-medal performance at the Vehbi Emre. He was a gold medalist at the Grand Prix of Zagreb earlier this year. Abbasov, like Kilov, won a silver medal at the Vehbi Emre. He has had strong results this year, winning a bronze at the World Military Championships and a gold at the U23 European Championships. 
Hungary, Kyrgyzstan and Turkey have multiple top-ranked wrestlers.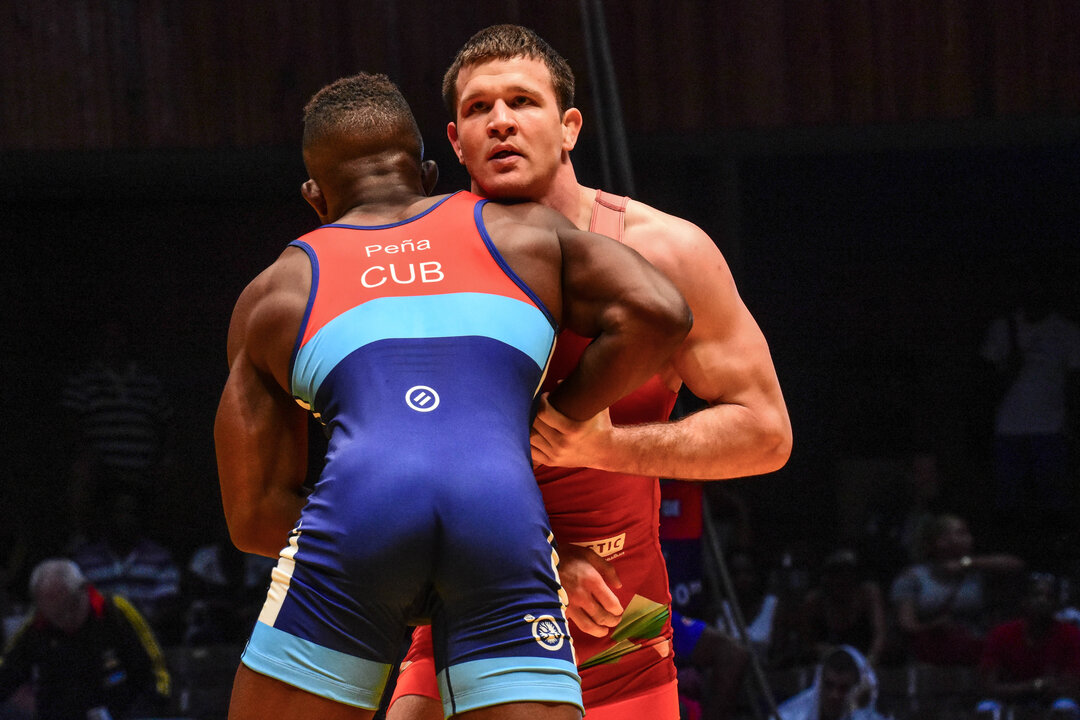 Balint KORPASI (Photo/Richard: Immel)

Hungary's No. 1-ranked wrestlers are Balint KORPASI (72kg) and Balazs KISS (97kg).
Korpasi, a 2016 world champion, won gold medals at the Grand Prix of Hungary and Cerro Pelado International, and a bronze medal at the European Championships. 
Kiss, a returning world bronze medalist, won a gold medal at the Grand Prix of Hungary after picking up a bronze at the European Championships in late April. 
Kyrgyzstan wrestlers K. ZHOLCHUBEKOV (60kg) and U. AMATOV (63kg) held their top ranking.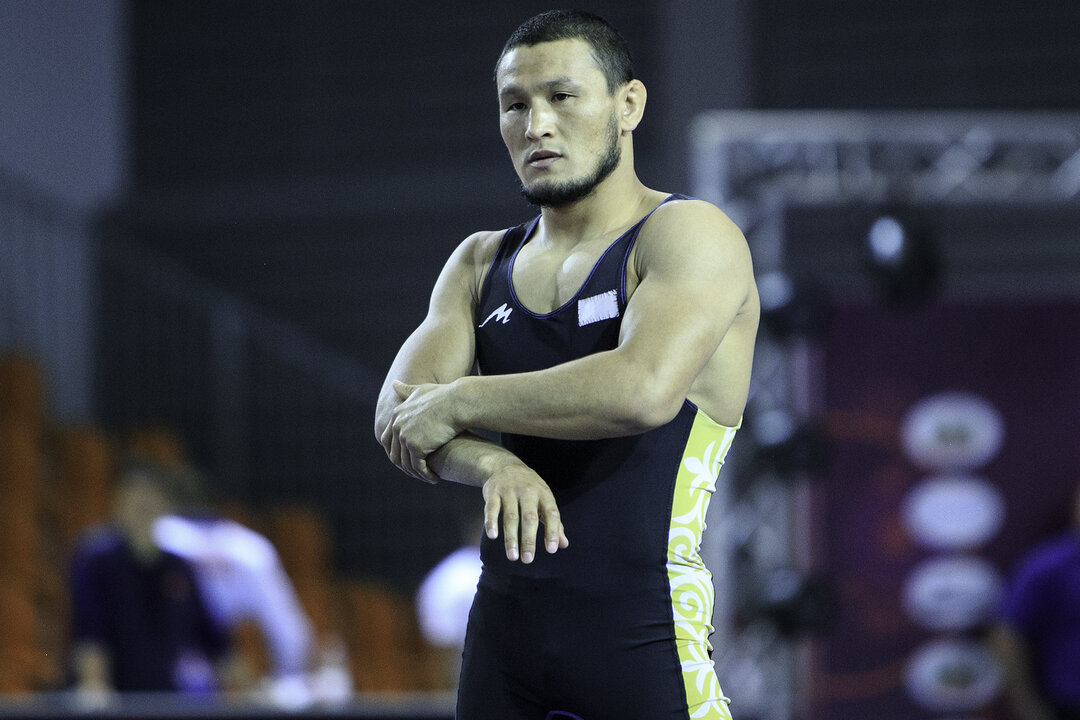 Kanybek ZHOLCHUBEKOV (Photo: Martin Gabor)

Zholchubekov won gold medals at the Grand Prix of Hungary and Takhti Cup, and finished as a bronze medalist at the Asian Championships. Amatov has earned medals at the Takhti Cup (bronze), Asian Championships (silver) and Grand Prix of Hungary (bronze).
Other wrestlers to hold their top ranking in Greco-Roman include Ekrem OZTURK (TUR) at 55kg, Almat KEBISPAYEV (KAZ) at 67kg and Daniel ALEKSANDROV (BUL) at 82kg.

For more on the Ranking Series format, be sure to check out this article. 
View all the rankings on United World Wrestling's homepage.
55kg
1. Ekrem OZTURK (TUR) // 43 Points
2. Khorlan ZHAKANSHA (KAZ) // 39 Points
3. Shota TANOKURA (JPN) // 33 Points
4. Abdelkarim FERGAT (ALG) // 27 Points
5. Reza Kheirollah KHEDRI (IRI) // 24 Points
60kg
1. Kanybek ZHOLCHUBEKOV (KGZ) // 50 Points
2. Luis Alberto ORTA SANCHEZ (CUB) // 35 Points
3. Aidos SULTANGALI (KAZ) // 29 Points
4. Sergey EMELIN (RUS) // 27 Points
5. Murad MAMMADOV (AZE) // 25 Points
63kg
1. Urmatbek AMATOV (KGZ) // 41 Points
2. Hassan Hassan Ahmed MOHAMED (EGY) // 29 Points
3. Kaly SULAIMANOV (KGZ) // 28 Points
4. Mihai Radu MIHUT (ROU) // 28 Points
5. Stig-Andre BERGE (NOR) // 26 Points
67kg
1. Almat KEBISPAYEV (KAZ) // 52 Points
2. Ismael BORRERO MOLINA (CUB) // 47 Points
3. Tsuchika SHIMOYAMADA (JPN) // 36 Points
4. Murat FIRAT (TUR) // 32 Points
5. Artem SURKOV (RUS) // 32 Points
72kg
1. Balint KORPASI (HUN) // 57 Points
2. Demeu ZHADRAYEV (KAZ) // 49 Points
3. Adam KURAK (RUS) // 33 Points
4. Rasul CHUNAYEV (AZE) // 31 Points
5. Murat DAG (TUR) // 30 Points
77kg
1. Kazbek KILOV (BLR) // 39 Points
2. Mohammadali Abdolhamid GERAEI (IRI) // 38 Points
3. Ariel FIS BATISTA (CUB) // 34 Points
4. Roman VLASOV (RUS) // 34 Points
5. Viktor NEMES (SRB) // 32 Points
82kg
1. Daniel ALEKSANDROV (BUL) // 51 Points
2. Atabek AZISBEKOV (KGZ) // 41 Points
3. Viktar SASUNOUSKI (BLR) // 40 Points
4. Emrah KUS (TUR) // 32 Points
5. Laszlo SZABO (HUN) // 31 Points
87kg
1. Islam ABBASOV (AZE) // 45 Points
2. Khussein MUTSOLGOV (KAZ) // 37 Points
3. Masato SUMI (JPN) // 36 Points
4. Roberti KOBLIASHVILI (GEO) // 33 Points
5. Bekkhan OZDOEV (RUS) // 31 Points
97kg
1. Balazs KISS (HUN) // 44 Points
2. Orkhan NURIYEV (AZE) // 42 Points
3. Cenk ILDEM (TUR) // 38 Points
4. Luillys Jose PEREZ MORA (VEN) // 34 Points
5. Artur ALEKSANYAN (ARM) // 33 Points
130kg
1. Riza KAYAALP (TUR) // 45 Points
2. Balint LAM (HUN) // 42 Points
3. Alin ALEXUC CIURARIU (ROU) // 40 Points
4. Oscar PINO HINDS (CUB) // 36 Points
5. Behnam Aliakbar MEHDIZADEH ARPATAPEH (IRI) // 34 Points