Kayaalp Wins Eighth Euro Gold, Vlasov Snags Third
Tuesday, May 1, 2018 - 20:07 By Eric Olanowski
KASPIYSK, Russia (May 1) - Three-time world champion and 2016 Olympic silver medalist Riza Kayaalp added to his record haul of European titles on Tuesday night in Dagestan, winning his eighth continental gold medal in front a packed house at the Palace of Sport and Youth in Kaspisk.
Kayaalp came into the 130kg finals bout outscoring his opponents 18-0 but ceded a point early in the first period against Vitalii SHCHUR's (RUS) when the Turk was hit with a one-point passivity. Kayaalp shook off the disappointment and stopped Shchur's gut wrench attempts from the top position.
The second period was all Kayaalp as he outpaced Shchur 2-0 to earn the 2-1 win and his record eighth European title, the most of any Turkish wrestler.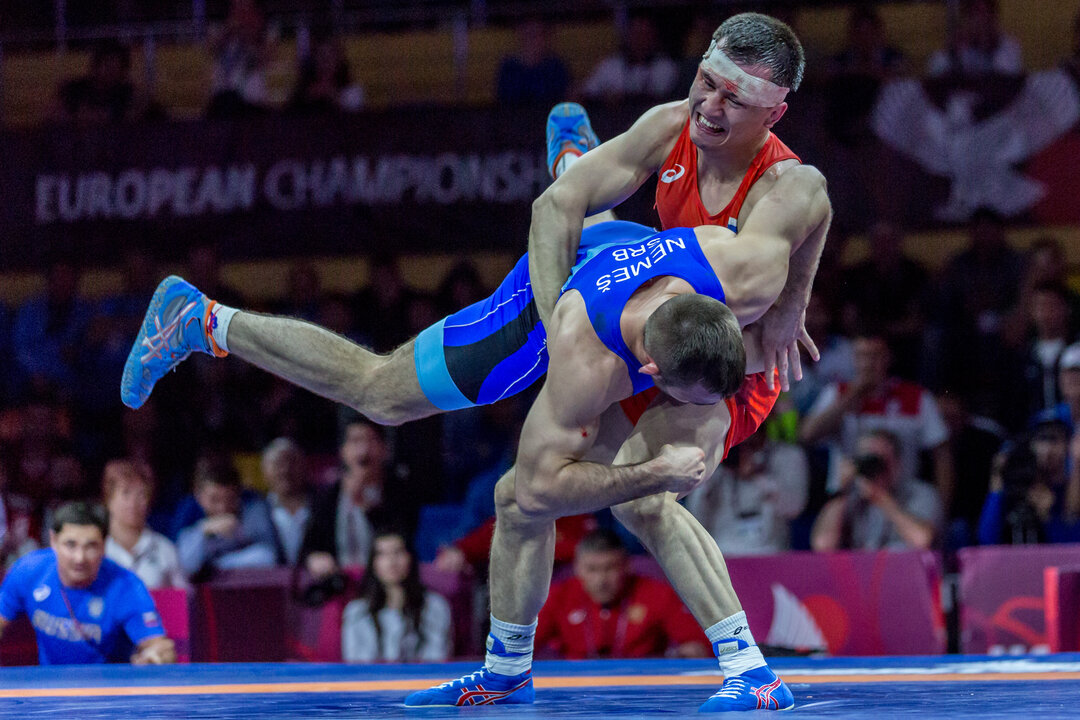 Roman VLASOV (RUS) uses a four-point throw to beat 2017 world champion Victor NEMES (SRB). (Photo by Max Rose-Fyne)
Not to be outshone at home, two-time Olympic champions Roman VLASOV (RUS), dominated in his finals match to capture a third European title. Vlasov went into the 77kg gold-medal on a tear, racking up 18 points in his first three matches, all without giving up a point. However, after an accidental head-butt in the first minute of his finals against 2017 world champion Viktor NEMES (SRB) opened up a gash above his left eye Vlasov ceded his first point.
Facing the Russian with his first deficit of the tournament. Up to that point, the two-time Olympic champion had outscored his first three opponents by a combined score of 18-0.
After increasing his pace in the second period, when the clock neared the two-minute mark, the two-time world champion got his opportunity to go in the par terre position. With the cheers of "Roman" throughout the Palace of Sport and Youth, the Russian locked up a highlight-reel belly-to-belly four-point throw on Nemes, giving him the 5-1 victory and returning himself to the top of the 77kg weight class.
 "When you win," Vlasov said after winning his match, "It always feels like it's the first time."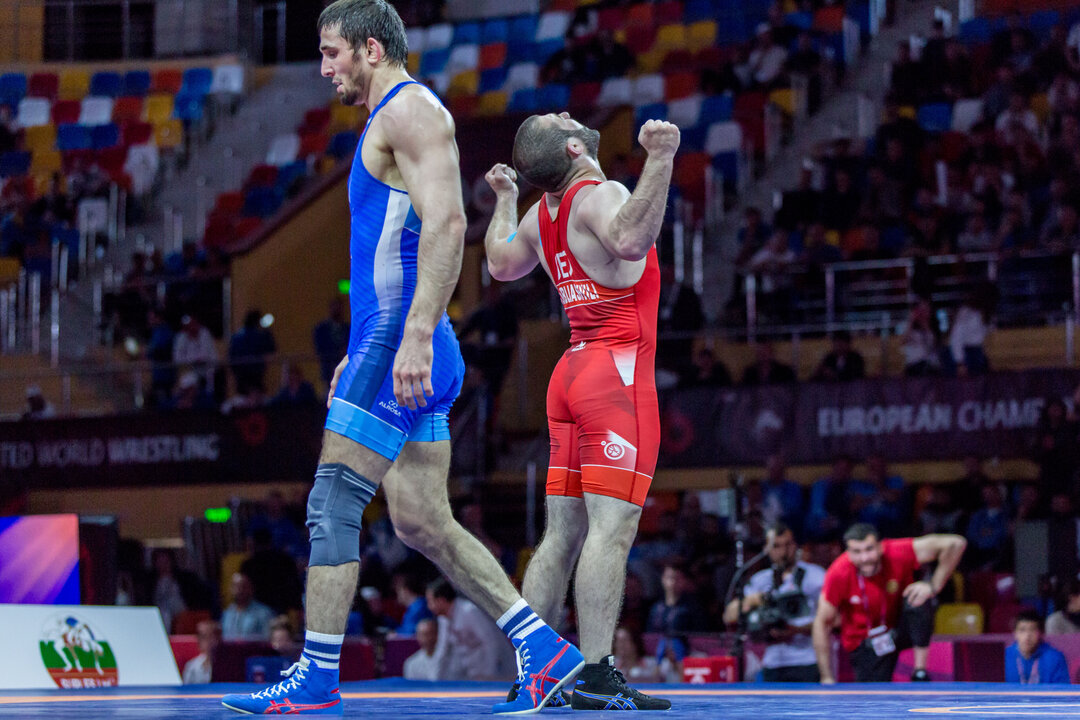 Roberti KOBLIASHVILI (GEO) celebrates after winning his first European title. (Photo by Max Rose-Fyne)
At 87kg, 2017 world bronze medalist Roberti KOBLIASHVILI (GEO) scored the first point of the bout by earning a passivity point. The Georgian picked up two additional points off a gut wrench, giving him the 3-0 lead. Bekkhan OZDOEV (RUS) finally got on the board after picking up a pushout. He would earn a one-point passivity call, bringing the score to 3-2 with just over a minute left.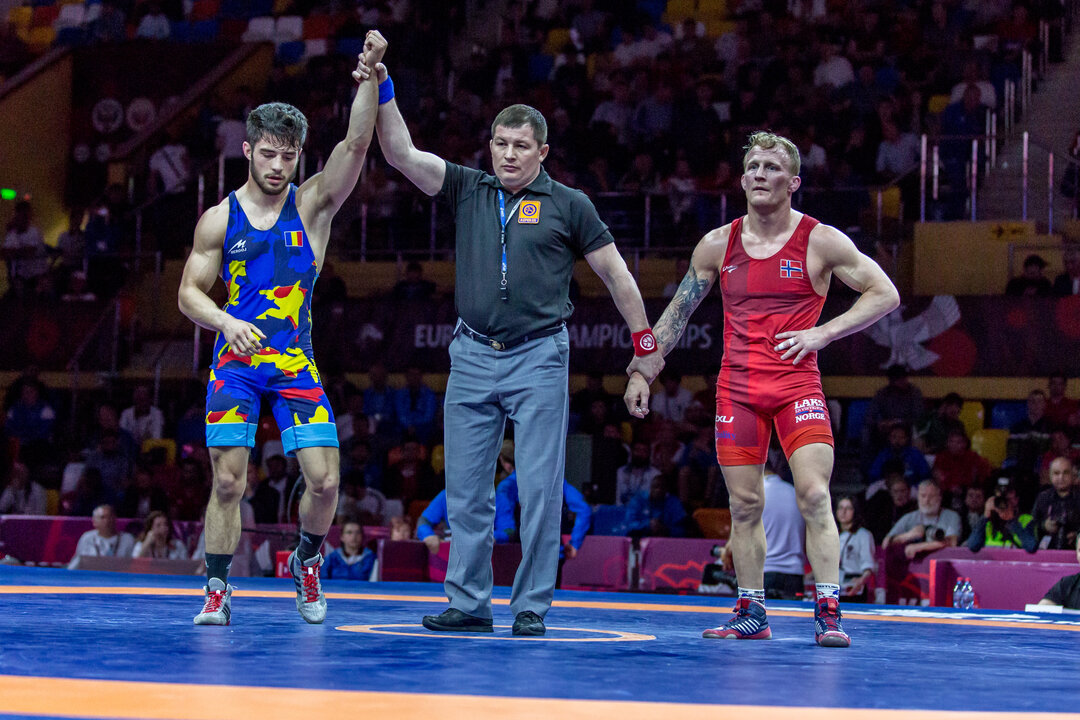 Mihai Radu MIHUT (ROU) gets his hands raised after beating 2016 Olympic bronze medalists, Stig Ande BERG (NOR), 3-2.
Mihai Radu MIHUT (ROU) kicked off the 63kg gold-medal bout with a pair of pushouts to take the 2-0 lead over 2016 Olympic bronze medalist, Stig Ande BERG (NOR) and never looked back, Mihut, who was competing in his second senior-level European championships, improved on his eighth-place finish from a year ago with the 3-2 win over Berge.
Eldaniz AZIZLI (AZE), the winner of the 55kg gold-medal bout picked up the 8-0 technical superiority victory over Estonia's Helary MAEGISALU. 
RESULTS
55kg
GOLD: Eldaniz AZIZLI (AZE) df. Helary MAEGISALU (EST), 8-0 
BRONZE: Ekrem OZTURK (TUR) df. Nedyalko Petrov PETROV (BUL), 12-4
BRONZE: Nugzari TSURTSUMIA (GEO) df. VasilII TOPOEV (RUS), 6-6
63kg
GOLD - Mihai Radu MIHUT (ROU) df. Stig-Andre BERGE (NOR), 3-2 
BRONZE - Zaur KABALOEV (RUS) df. Nikolay Ivanov VICHEV (BUL), 9-0
BRONZE - Donior ISLAMOV (MDA) df. Ivan LIZATOVIC (CRO), 2-1
77kg
GOLD - Roman VLASOV (RUS) df. Viktor NEMES (SRB), 5-1 
BRONZE -  Tamas LORINCZ (HUN) df. Alex BJURBERG KESSIDIS (SWE), 7-2
BRONZE - Elvin MURSALIYEV (AZE) df. Tornike DZAMASHVILI (GEO), 6-2
87kg
GOLD - Roberti KOBLIASHVILI (GEO) df. Bekkhan OZDOEV (RUS)
BRONZE - Denis KUDLA (GER) df. Islam ABBASOV (AZE), 3-1
BRONZE - Kristoffer BERG (SWE) df. Mikita KLIMOVICH (BLR), 9-0
130kg
GOLD -  Riza KAYAALP (TUR) df. Vitalii SHCHUR (RUS), 2-1
BRONZE – Iakobi KAJAIA (GEO) df. Miloslav Yuriev METODIEV (BUL), 5-0
BRONZE - Alin ALEXUC CIURARIU (ROU) df. Balint LAM (HUN), 3-1