Kuchmii Crushes Kayaalp's Quest for a Tenth European Title
Monday, February 10, 2020 - 15:08 By Eric Olanowski
ROME, Italy (February 10) --- Mykola KUCHMII (UKR) shocked Riza KAYAALP (TUR) in the quarterfinals and halted the Turkish big man's quest to win a tenth European title.
Kuchmii scored five unanswered points against Kayaalp, the four-time world champion, and handed the Turkish wrestler his first loss at the European Championships since 2009. He'll wrestle Alin ALEXUC CIURARIU (ROU) in tonight's 130kg semifinals.
Alexuc Ciurariu, a two-time European bronze medalist, defeated Zurabi GEDEKHAURI (RUS) and Rio Olympic bronze medalist Sabah SHARIATI (AZE) on his road to the semifinals.
The other 130kg semifinal will feature Arvi Martin SAVOLAINEN (FIN) and Levan ARABULI (GEO).
At 55kg, Nugzari TSURTSUMIA (GEO) will battle Vitalii KABALOEV (RUS) in a matchup of the reigning world champion and reigning European champion. Tsurtsumia, the top-ranked wrestler in the world at 55kg, won the pair's latest meeting, which came at the 2019 World Championships. The Georgian won that quarterfinals match in Nur-Sutlan, 8-3.
On the opposite side of the bracket, 2018 world champion Eldaniz AZIZLI (AZE) will square off against Edmond NAZARYAN (BUL). Nazaryan, a 2019 cadet world bronze medalist, is making his debut at the senior level. He has one appearance at the U15 level and seven showings at the cadet level but hasn't appeared at any junior or U23 events.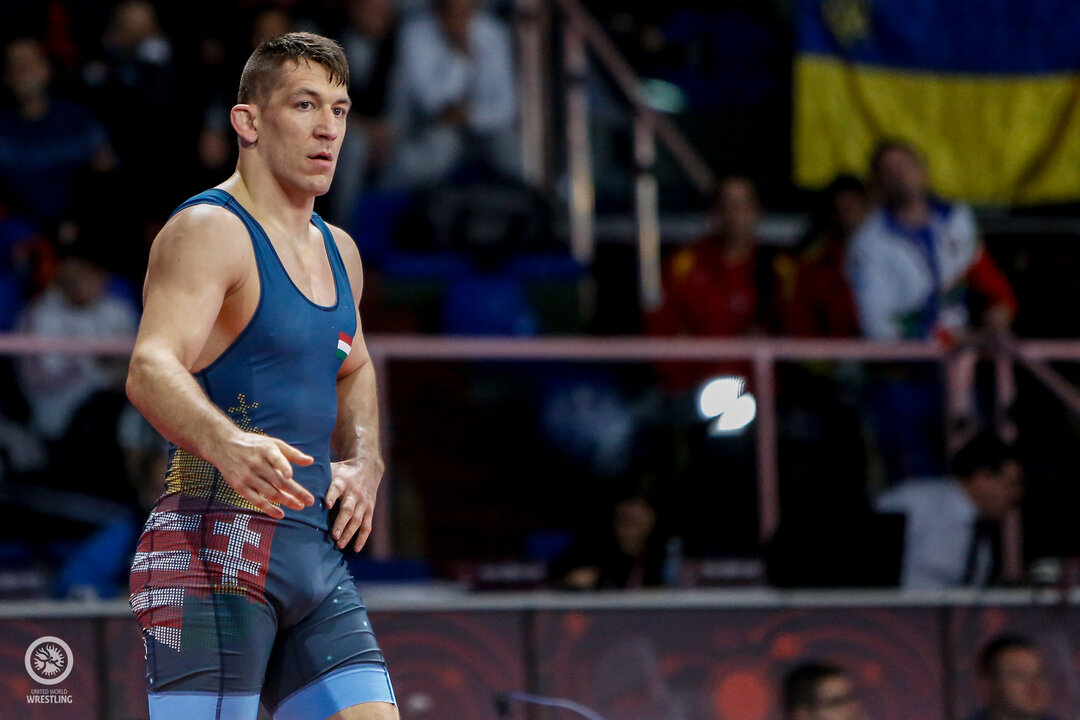 Viktor LORINCZ (HUN) will wrestle Islam ABBASOV (AZE) for a spot in the 87kg finals. (Photo: Gabor Martin)
Second-ranked Viktor LORINCZ (HUN) will go toe-to-toe with reigning European silver medalist Islam ABBASOV (AZE) in one of the 87kg semifinals.
Age-group stars Aleksandr KOMAROV (RUS) and Semen NOVIKOV (UKR) will wrestle in the second 87kg semifinal. Komarov is a four-time age-group world champion, and Novikov, who is replacing top-ranked Zhan BELENIUK (UKR), is the reigning two-time U23 world champion.
Stig-Andre BERGE (NOR) will wrestle the U23 world bronze medalist Maksim NEHODA (BLR) in the first semifinal at 63kg. Berge, a Rio Olympic bronze medalist, is trying to make it to his third consecutive European finals and fourth overall.
Mihai MIHUT (ROU) and Ibragim LABAZANOV (RUS) will tango in the second 63kg semifinal. Mihut is in the hunt to get back to his second European final and first since he won the 2018 title.
If Mihut and Berge win on Monday night, it'll set up a rematch of the 2018 European finals, which the Romanian won, 3-2.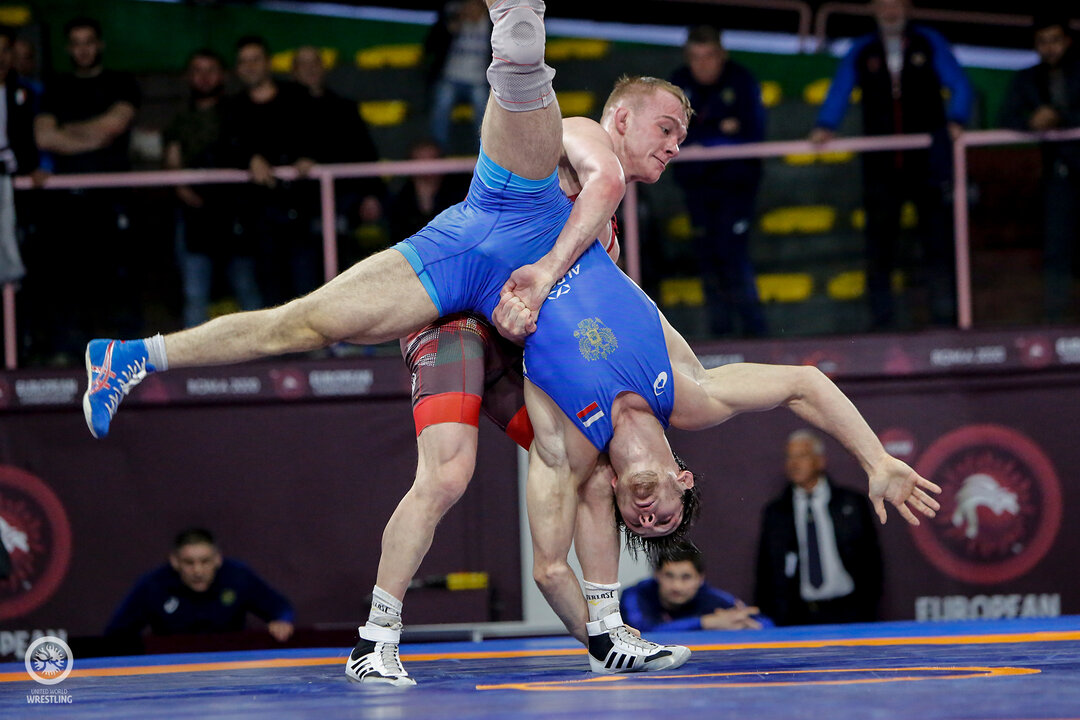 Zotlan LEVAI (HUN) will wrestle Volodymyr YAKOVLIEV (UKR) in the 77kg semifinals. (Photo: Gabor Martin)
At 77kg, Zotlan LEVAI (HUN) defeated 2019 world silver medalist Alex KESSIDIS (SWE) and two-time age-group world champion Islam OPIEV (RUS) on his way to the semifinals. He'll meet Volodymyr YAKOVLIEV (UKR) for a spot in the Tuesday night finals. 
Fifth-ranked Chalyan downed Nicolas Peter CHRISTEN (SUI), Pavel LIAKH (BLR) and 2017 world champion Viktor NEMES (SRB), and will see Sanan SULEYMANOV (AZE) in the other 77kg semifinal.
The Day One Greco-Roman semifinals kick-off at 16:00 (local time) and can be followed live on www.unitedworldwrestling.org.
 SEMIFINAL PAIRINGS
55kg
SEMIFINAL - Vitalii KABALOEV (RUS) vs. Nugzari TSURTSUMIA (GEO) 
SEMIFINAL - Eldaniz AZIZLI (AZE) vs. Edmond Armen NAZARYAN (BUL)
63kg
SEMIFINAL - Stig-Andre BERGE (NOR) vs. Maksim NEHODA (BLR) 
SEMIFINAL - Mihai Radu MIHUT (ROU) vs. Ibragim LABAZANOV (RUS)
77kg 
SEMIFINAL - Karapet CHALYAN (ARM) vs. Sanan SULEYMANOV (AZE)
SEMIFINAL - Volodymyr YAKOVLIEV (UKR) vs. Zotlan LEVAI (HUN)
87kg
SEMIFINAL - Viktor LORINCZ (HUN) vs. Islam ABBASOV (AZE) 
SEMIFINAL - Aleksandr KOMAROV (RUS) vs. Semen NOVIKOV (UKR)
130kg
SEMIFINAL - Arvi Martin SAVOLAINEN (FIN) vs. Levan ARABULI (GEO) 
SEMIFINAL - Alin ALEXUC CIURARIU (ROU) vs. Mykola KUCHMII (UKR)  
SCHEDULE 
Monday (February 10)
18:00 - Semifinal GR – 55-63-77-87-130kg
Tuesday (February 11)
8:30 - Weigh-in GR – 55-63-77-87-130kg
8:45 - Medical examination & Weigh-in GR – 60-67-72-72-82-97kg
11:30 - Qualification rounds GR – 60-67-72-82-97kg
11:30 - Repechage GR – 55-63-77-87-130kg
15:30 - Technical conference – all WW teams
15:30 -Draw WW – All weight categories
16:45 - Semi Final GR – 60-67-72-82-97kg
18: 00 - Finals GR – 55-63-77-87-130kg
18:00 - Award ceremonies
Wednesday (February 12)
8:30 - Weigh-in GR – 60-67-72-82-97kg
8:45 - Medical examination & Weigh-in WW – 50-55-59-68-76kg
11:30 - Qualification rounds WW – 50-55-59-68-76kg
11:30 - Repechage GR – 60-67-72-82-97kg 
16:45 - Semi Final WW – 50-55-59-68-76kg
18:00 - Finals GR – 60-67-72-82-97kg
18:00 - Award ceremonies
Thursday (February 13)
8:30 - Weigh-in WW – 50-55-59-68-76kg
8:45 - Medical examination & Weigh-in WW – 53-57-62-65-72kg
11:30 - Qualification rounds WW – 53-57-62-65-72kg
11:30 - Repechage WW – 50-55-59-68-76kg
14:00 - Technical conference – all FS teams
14:00 - Draw FS – All weight categories
16:45 - page4image515539072Semi Final WW – 53-57-62-65-72kg 
18:00 - Finals WW – 50-55-59-68-76kg
18:00 - Award ceremonies
Friday (February 14)
8:30 - Weigh-in WW – 53-57-62-65-72kg 
8:45 - Medical examination & Weigh-in FS – 57-65-70-79-97kg
11:30 - Qualification rounds FS – 57-65-70-79-97kg
11:30 - Repechage WW – 53-57-62-65-72kg 
16:45 - Semi Final FS – 57-65-70-79-97kg 
18:00 - Finals WW – 53-57-62-65-72kg
18:00 - Award ceremonies 
Saturday (February 15)
8:30 - Weigh-in FS – 57-65-70-79-97kg 
8:45 - Medical Examination & Weigh-in FS – 61-74-86-92-125kg
11:30 - Qualification rounds FS – 61-74-86-92-125kg 
11:30 - Repechage FS – 57-65-70-79-97kg 
16:45 - Semi Final FS – 61-74-86-92-125kg
18:00 - Finals FS – 57-65-70-79-97kg
18:00 -Award ceremonies 
Sunday (February 16)
8:30 - Weigh-in FS – 61-74-86-92-125kg
16:00 - Repechage FS – 61-74-86-92-125kg 
18:00 - Finals FS – 61-74-86-92-125kg
18:00 -Award ceremonies
21:30 - Final banquet