Makhmudov Sends Home Crowd into Frenzy with Victory over Zhadrayev in 72kg Greco Thriller
Wednesday, February 28, 2018 - 17:58 By Ken Marantz
With the crowd at fever pitch as the seconds ticked down, Akzhol MAKHMUDOV (KGZ) managed to preserve his slim lead and give the host country its much-awaited first gold medal of the Asian Championships.
One volunteer said it sparked "a national celebration."
Makhmudov, a world junior silver medalist a year ago, introduced himself to the senior level by forging an 8-6 win over Paris 2017 world silver medalist Demeu ZHADRAYEV (KAZ) in the 72kg final of Greco-Roman on the second day at the Kozhomkul Sports Palace.
"The biggest help for me was that the Kyrgyz people screamed for me to be strong and also to do better," Makhmudov told the Kyrgyz media of the thunderous roar from the crowd.
"When I heard it, I thought, 'I can die here on the floor but I will still win. This win will be for them.'"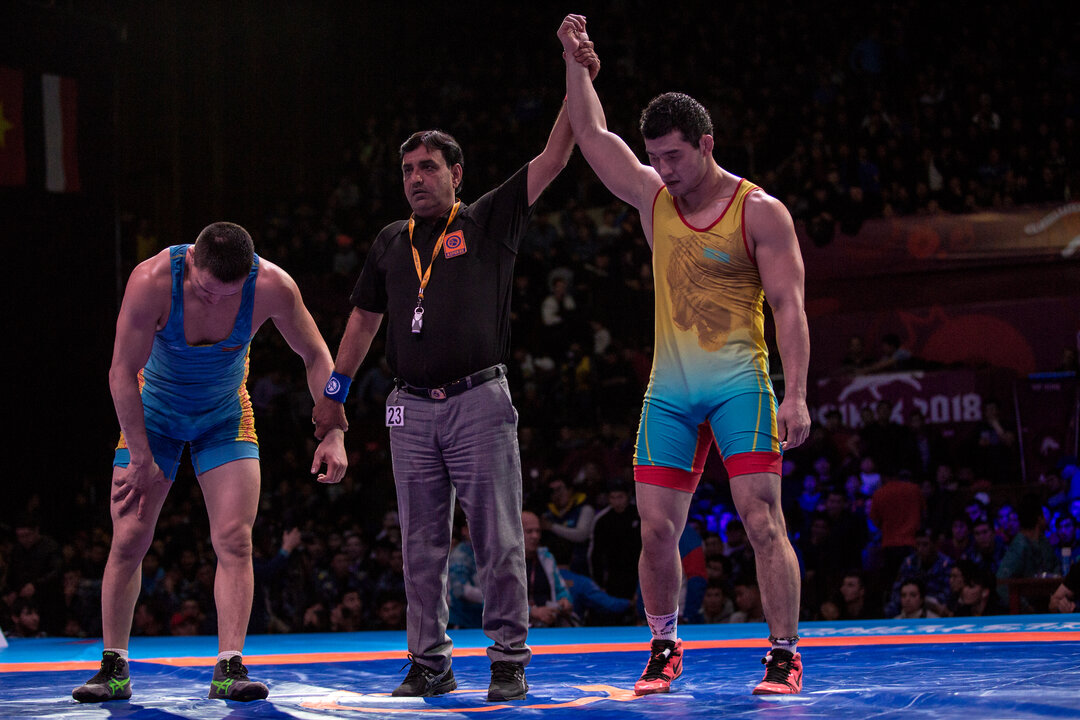 The other head-to-head clash in a final between the hosts and Kazakhstan was a more staid affair and ultimately went the latter's way, as Askhat DILMUKHAMEDOV (KAZ) edged Atabek AZISBEKOV (KGZ) 5-2 for the 82kg gold.
Kazakhstan earlier picked up the gold at 67kg when veteran Almat KEBISPAYEV, a three-time world medalist, captured his first Asian title since 2010 by outclassing Tsuchika SHIMOYAMADA (JPN) 5-1.
Even so, in the end, it was Kyrgyzstan's day to shine as the hosts claimed the team by title by a single point over neighbor Kazakhstan with 157. Uzbekistan finished third with 146, seven points ahead of Japan. Traditional powerhouse Iran won three golds but had little else to show for its efforts and placed fifth with 129.
Kyrgyzstan picked up two bronze medals on the night to one for Kazakhstan, but much of the credit for the team championship will surely go to Makhmudov.
In the final, Makhmudov bounced back after giving up an early 4-point throw by ripping off a spectacular 5-point hip throw of his own. He added a takedown just before the first-period buzzer to take a 7-4 lead into the break.
Zhadrayev bravely fought on as the decibel level of the crowd steadily rose. He scored two points from step-outs but then gave up a passivity point.
From the par terre position, Makhmudov had a chance to put the match away but failed to turn the Kazakh over, keeping the lead at 2 with a minute to go. In an intense finish, Makhmudov held on for a victory that drove the crowd into a frenzy.
"I couldn't make use of my chances," Zhadrayev said. "I made mistakes in tactics."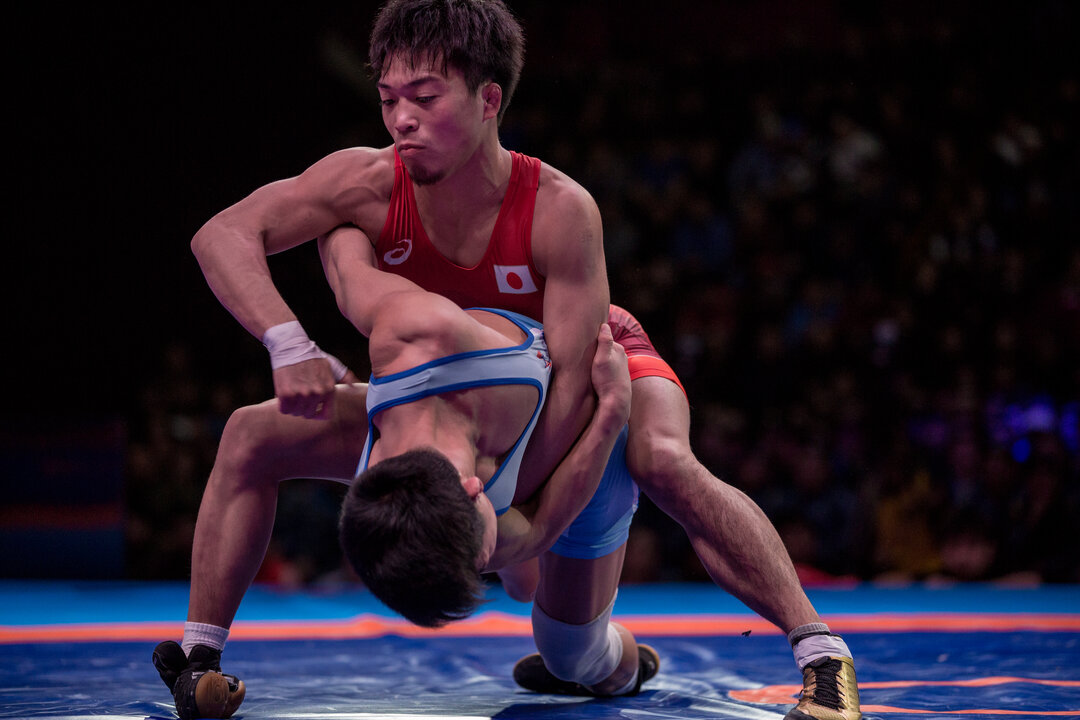 For Shinobu OTA (JPN), there was no way he was going to let the chance to win the only Asian medal missing from his collection get away--particularly since he had to beat the world champion just to get the opportunity.
Ota, a Rio 2016 Olympic silver medalist, captured the 60kg gold with a victory by technical fall over teen RI Se Ung (PRK). Ota ended the match 20 seconds into the second period with a highlight-reel---at least he wants it to be---4-point throw from a front head lock that made the score 11-2.
Ota added the gold in Bishkek to the silver he won in 2014 and bronze in 2015. He missed last year's tournament in New Delhi after losing out to Kenichiro FUMITA for the place on Japan's team. Fumita went on to win the world title.
"I beat last year's world champion Kenichiro Fumita to make the Japan team to these Asian Championships, so I came with the mindset that I couldn't lose," Ota said.
o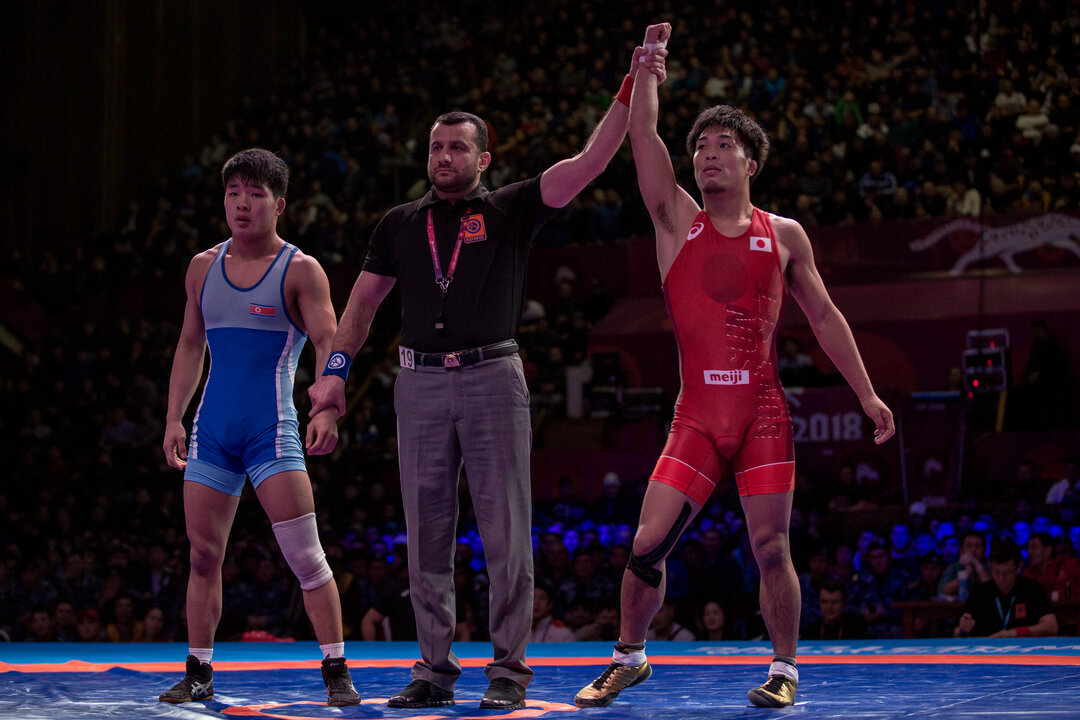 "Also, if I wrestled solidly, I was confident I wouldn't lose. I prepared well in training. If I get to the world championships and can continue like this, I can win the title."
After receiving a point for passivity and starting from the par terre position, Ota used his favored front head lock, only to be stopped midway through a roll to give Ri two points. But Ota continued to press on, and reeled off three rolls to take a 7-2 lead into the second period.
"I wanted to end it there but the opponent was strong," Ota said. "Even though I didn't put him away, it was good that I could use a move I worked on in practice. It's the move I have the most confidence in."
He used it once more, this time from a standing position. Latching on from the front again, Ota bridged backward to flip the North Korean over him and conclude the match.
"I was aiming to make it onto the 'Big Move'," Ota said half-jokingly, referring to UWW site's highlighted move. "I wanted to do it so the UWW would show it (around the world)."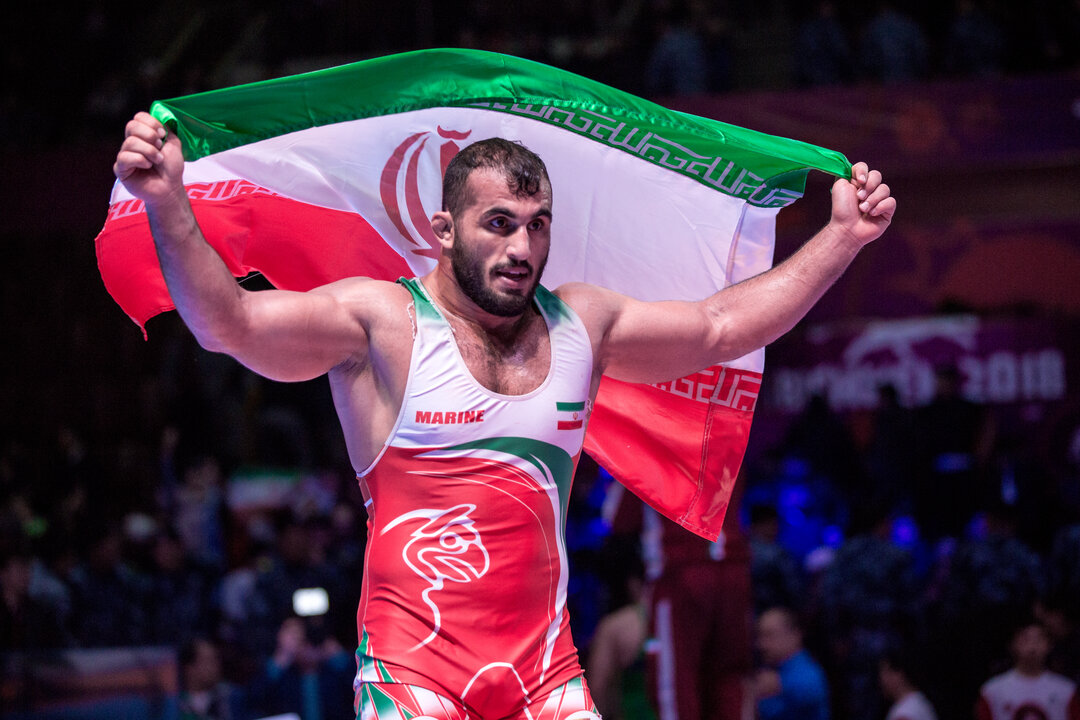 Meanwhile, Sayedmostafa SALEHIZADEH (IRI) salvaged some Iranian pride when he grinded out a 4-0 victory in the 97kg final over Rustam ASSAKALOV (UZB), giving him a second straight Asian gold.
Iran's only other shot at a medal on the day ended with Shirzad Ali BEHESHTITALA (IRI) losing by fall to Kanybek ZHOLCHUBEKOV (KGZ) in their 60kg bronze-medal match.
Uzbekistan came away with three bronze medals, while China, Japan, South Korea and India had one each.
Greco-Roman
60kg (11 entries)
Gold - Shinobu OTA (JPN) df. RI Se Ung (PRK) by TF, 11-2, 2:40
Bronze –  Kanybek ZHOLCHUBEKOV (KGZ) df. Shirzad Ali BEHESHTITALA (IRI) by Fall, 0:33 (10-3)
Bronze – Islomjon BAKHRAMOV (UZB) df. LIN Yu Hung (TPE) by TF, 8-0, 4:54
67kg (12 entries)
Gold - Almat KEBISPAYEV (KAZ) df. Tsuchika SHIMOYAMADA (JPN), 5-1
Bronze –  Mirzobek RAKHMATOV (UZB) df. Manish MANISH (IND), 6-4
Bronze – ZHANG Gaoquan (CHN) df. Seydylla TAZAYEV (TKM), 6-0
72kg (12 entries)
Gold - Akzhol MAKHMUDOV (KGZ) df. Demeu ZHADRAYEV (KAZ), 8-6
Bronze –  Aram VARDANYAN (UZB) df. JIANG Yuan (CHN) by TF, 9-0, 3:27.
Bronze – Tomohiro INOUE (JPN) df. Kuldeep MALIK (IND) by Fall, 0:59 (11-0)
82kg (10 entries)
Gold - Askhat DILMUKHAMEDOV (KAZ) df. Atabek AZISBEKOV (KGZ), 5-2
Bronze –  KIM Jinhyeok (KOR) df. Yuya MAETA (JPN), 5-1
Bronze – Singh HARPEET (IND) df. Nurbek KHASHIMBEKOV (UZB), by TF, 11-3, 1:48
97kg (10 entries)
Gold - Sayedmostafa SALEHIZADEH (IRI) df. Rustam ASSAKALOV (UZB), 4-0
Bronze –  Yerulan ISKAKOV (KAZ) df. Ali Majeed AL KAABI (IRQ), 6-0
Bronze – Uzur DZHUZUPBEKOV (KGZ) df. GU Hakbon (KOR), 6-4