Mukaida Earns Shot a World Redemption with Victory at Meiji Cup
Thursday, June 14, 2018 - 15:19 By Ken Marantz
TOKYO, Japan (June 14) - Mayu MUKAIDA earned a shot at redeeming herself at the world championships, while Atsushi MATSUMOTO moved closer to joining her on the plane to Budapest by making the remarkable switch back to freestyle.
Mukaida swept aside Shigakkan University teammate Saki IGARASHI, 9-0, in the final of the women's 55kg class to win the gold at the All-Japan Invitational Championships on Thursday in Tokyo and clinch her spot on Japan's team to the worlds in October.
"The issue for this tournament was to definitely win and earn a ticket to the world championships, so I'm happy I achieved that," said Mukaida, who won her third straight title at the tournament better known as the Meiji Cup.
Mukaida's victory over Igarashi was a repeat of the final at the All-Japan Championships in December. The results of that tournament, known as the Emperor's Cup, and the four-day Meiji Cup at Komazawa Gym in western Tokyo are used to determine Japan's team to Budapest.
Champions of both tournaments automatically earn tickets to Budapest; if the winners are different, they will face each other in a special playoff on July 7.
Mukaida was one of five wrestlers in the eight weight classes at stake on Thursday who completed the national double, thus securing their spots.
Mukaida, the 2016 world champion at 55kg, particularly wants to get back onto the world stage. For her, the sting still lingers from the 53kg final at the Paris 2017 world championships, in which she gave up a 4-point move at the buzzer to Vanesa KALADZINSKAYA (BLR) and lost 8-6.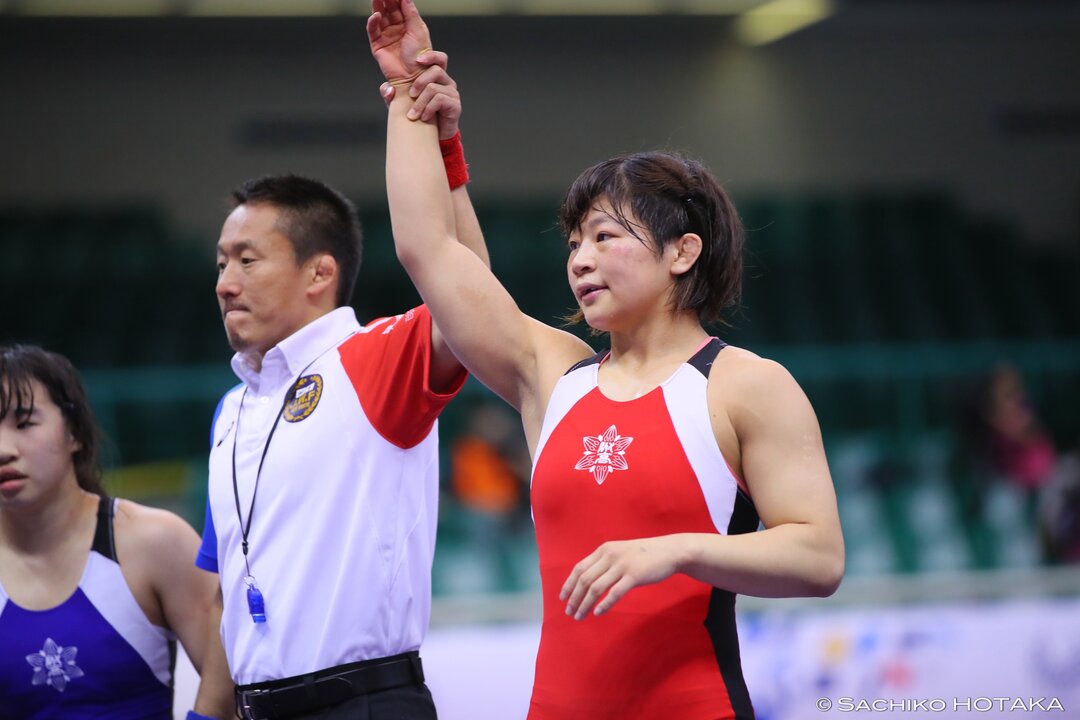 Mayu MUKAIDA defeated Saki IGARASHI, 9-0 to claim her #Budapest2018 spot. (Photo by Sachiko Hotaka) 
On Thursday, Mukaida chalked up two victories by 10-0 technical fall---both also against Shigakkan-linked opponents---to advance to the final against the 18-year-old Igarashi, the gold medalist at the Asian Championships in Bishkek in February.
But Mukaida easily handled her young foe, building up a 7-0 lead in the first period that included two 2-point rolls. The lone blemish on her performance was that she could only manage a single takedown in the second period to miss out on another technical fall.
"From the first round, I only faced Shigakkan opponents," she said. "As we're from the same school, we practice together all the time, so they know all my best moves. It was good that I was able to get points with my tackles and on the ground.
"Looking at the details, I won the last match 9-0, so I only needed one more point for a technical fall. I wasn't able to get it, so that's something I need to reflect on."
Matsumoto, returning to freestyle after spending a year in Greco, set up a playoff for the 92kg spot in Budapest by scoring a solid 7-1 victory in the final over Emperor's Cup champion Takashi ISHIGURO.
"I still have the playoff to go, so I can't get complacent," Matsumoto said. "After making finals [in Greco], I didn't produce good results, so it's a bit of a relief to win here today."
Matsumoto, who had won four straight Meiji Cup golds in freestyle at 84-86kg from 2013-16, switched over to Greco-Roman last year after failing to qualify for the Rio 2016 Olympics.
Relying on his exceptional upper-body strength, he was somewhat successful, winning a national title in Greco and taking a silver medal at the 2017 Asian Championships in New Delhi.
But recent rule changes in Greco that put more emphasis on ground wrestling, the weakest part of his game, scuttled his dreams of further glory. Japan used the new rules at the Emperor's Cup, and Matsumoto failed to make the final.
Now 30 and with the Tokyo 2020 Olympics around the corner, he determined his best chance of making that event was to go back to freestyle.
"My brother was always telling me that in Greco, you have to put in the time to learn the techniques," Matsumoto said. "There's not a lot of time until Tokyo 2020, so I went back to freestyle. That was one reason. I also wanted to show that the year I spent in Greco was not wasted."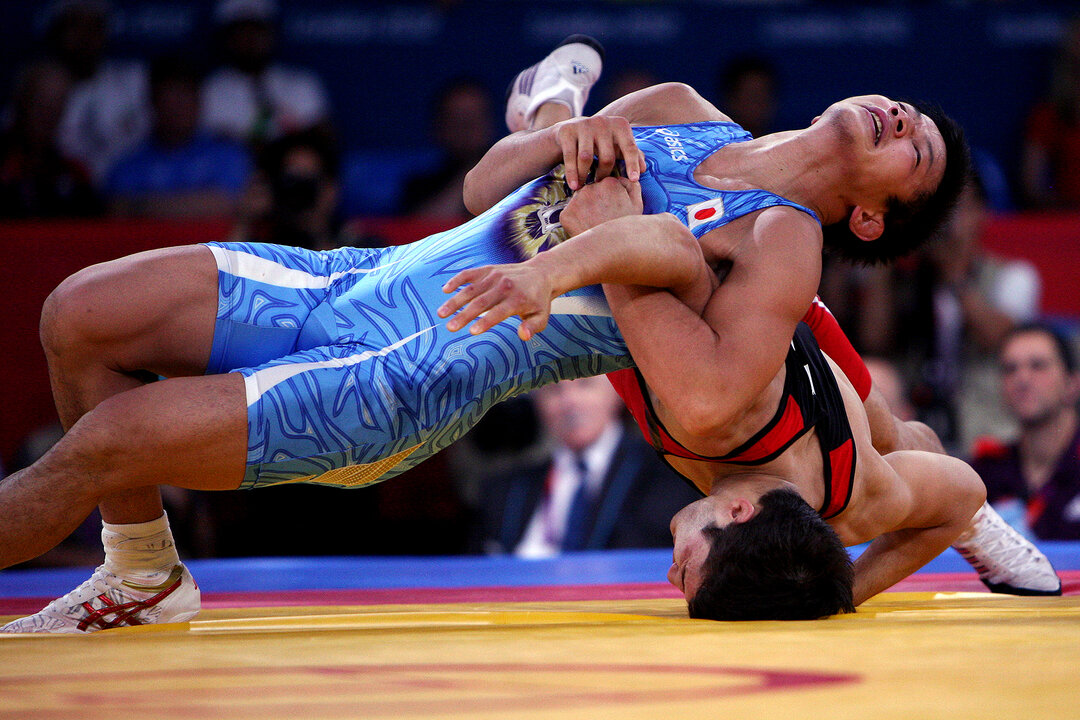 Matsumoto sought advice from his older brother Ryutaro MATSUMOTO, the 2012 Olympic bronze medalist. (Photo by Martin Gabor) 
Matsumoto sought advice on the switch from older brother Ryutaro MATSUMOTO, a Greco bronze medalist at 60kg at the London 2012 Olympics.
"He mentioned the rules adding ground wrestling to Greco, and how he lost under those rules that one time," Ryutaro said. "He realized himself that he couldn't win with just power. But if was going to change back to freestyle, the year he spent in Greco would have been in vain if he did not use what he learned."
In the final against Ishiguro, Matsumoto looked very much like a Greco wrestler competing in freestyle. He made few attacks, and relied on locking up his opponent,  pressuring him to the mat, then working his way around back. Going into the second period with a 1-0 lead, he scored three takedowns using that method.
"Even before I went to Greco, I was not the type to go after legs," Matsumoto said. "I think I bring the good parts of Greco to freestyle."
As for his brother abandoning the style in which he himself found success, Ryutaro Matsumoto had no qualms. "For me, it didn't matter either way. I thought he should do what he wants. It's his life."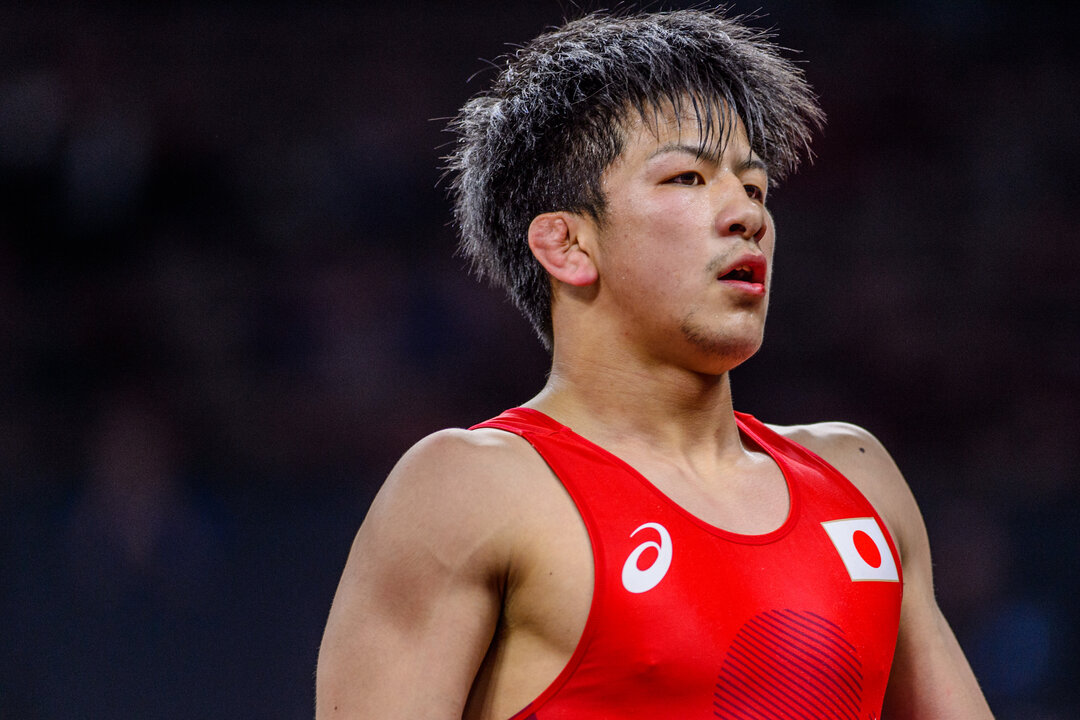 Kazuya KOYANAGI picked up the 12-8 win over Shingo ARIMOTO at 61kg. (Photo by Tony Rotundo) 
The match of the day came at 61kg in freestyle, in which Kazuya KOYANAGI uncorked an explosive 4-point front suplex in the last five seconds of the final to clinch a 12-8 win over Shingo ARIMOTO in a repeat of the Emperor's Cup gold-medal match.
Koyanagi led 5-2 after the first period, but Arimoto cut the gap to one point before going ahead 8-7 with 12 seconds left by exposing Koyanagi's back during a flurry. Koyanagi came right back and went ahead on criteria with a 1-point step-out.
But with the clock ticking down and Arimoto pressuring Koyanagi near the edge, the latter channeled his days as a Greco world cadet champion and sent Arimoto sailing onto his back to clinch the win.
"If I was pushed out, I would have lost," said Koyanagi , a silver medal at the Asian Championships in Bishkek. "So I thought, I have no choice but to give it a shot. Even if it fails, I just have to let it rip."
The result was far different than at the Emperor's Cup, when Koyanagi tore Arimoto apart for a 13-0 technical fall.
"They're onto my moves, so I have to make some changes to my wrestling," Koyanagi said. "I have to create a gap, or I'll have trouble."
For Koyanagi, a high school teammate of reigning world Greco champion Kenichiro FUMITA, there was equal satisfaction in the victories that got him into the final, 7-4 over Raimu MAEDA and 8-0 over Yudai FUJITA.
"From the first round, I faced opponents that I had never beaten during my college days. To beat them in the first and second rounds was a relief."
The other freestyle final, at 70kg, ended on a sad note, as teenager Jintaro MOTOYAMA was declared the winner by default when Emperor's Cup champion Keisuke OTOGURO suffered a possible concussion.
Motoyama was leading 6-0 when the bout was stopped with :49 left in the first period and Otoguro was removed on a stretcher.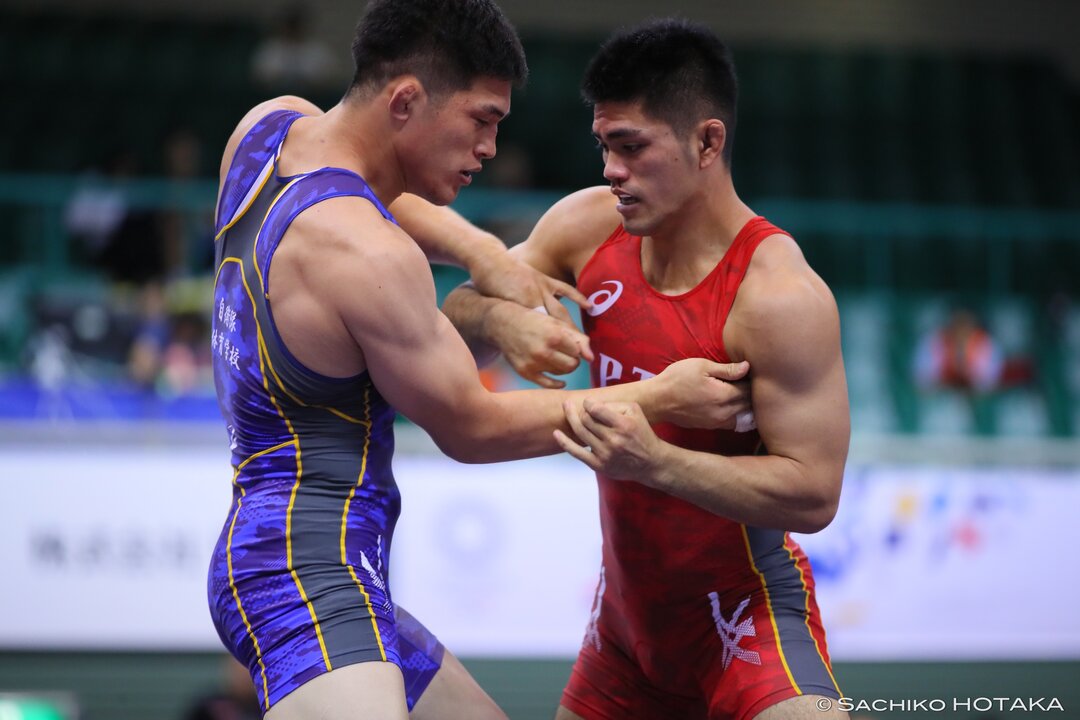 Masato SUMI defeated Taichi OKA 2-1, earning his spot for the 2018 World Championships in Budapest, Hungary. (Photo by Sachiko Hotaka) 
In Greco-Roman, two berths for Budapest were filled when Masato SUMI defeated Taichi OKA 2-1 for the 87kg gold and Arata SONODA maintained his domination of the heaviest weight with a 9-0 technical fall over Masahiro TANITA at 130kg.
Both repeated the outcome from the Emperor's Cup finals in their respective weights.
Katsuaki ENDO won the other Greco title at stake, beating Ryo MATSUI, 6-1, in the 63kg final. In the playoff, Endo will face Takayuki INOGUCHI, who was knocked off in the second round by Yusuke KITAOKA, who then fell to Endo in the semifinals.
Naruha MATSUYUKI earned her ticket to Budapest by defeating Mei ENDO 7-2 in the final of the women's 72kg class, which had just three entries. Endo prevented a rematch of the Emperor's Cup final when she scored an upset victory by fall over Masako FURUICHI in the lone semifinal.
Day One Results
Freestyle
61kg (12 entries)
Gold – Kazuya KOYANAGI df. Shingo ARIMOTO, 12-8
Bronze – Yudai FUJITA and Takuya FUNAKI
Semifinal -- Kazuya KOYANAGI df. Yudai FUJITA, 8-0
Semifinal -- Shingo ARIMOTO df. Takuya FUNAKI, 5-4
70kg (12 entries)
Gold – Jintaro MOTOYAMA df. Keisuke OTOGURO by DEF, 2:11 (6-0)
Bronze – Yuta NAKAMURA and Kirin KINOSHITA
Semifinal – Keisuke OTOGURO df. Yuta NAKAMURA by TF, 10-0, 1:19
Semifinal – Jintaro MOTOYAMA df. Kirin KINOSHITA, 9-4
92kg (8 entries)
Gold – Atsushi MATSUMOTO df. Takashi ISHIGURO, 7-1
Bronze – Keiwan YOSHIDA and Yura NAITO
Semifinal – Takashi ISHIGURO df. Keiwan YOSHIDA by TF, 11-0, 5:21
Semifinal – Atsushi MATSUMOTO df. Yura NAITO by TF, 10-0, 3:36
Greco-Roman
63kg (10 entries)
Gold – Katsuaki ENDO df. Ryo MATSUI, 6-1
Bronze – Yusuke KITAOKA and Yoshiki YAMADA
Semifinal – Katsuaki ENDO df. Yusuke KITAOKA, 7-3
Semifinal – Ryo MATSUI df. Yoshiki YAMADA by TF, 10-2, 3:41
87kg (11 entries)
Gold – Masato SUMI df. Taichi OKA, 2-1
Bronze – Tatsuki SHIMADA and Kanta SHIOKAWA
Semifinal – Masato SUMI df. Tatsuki SHIMADA by TF, 9-0, 1:41
Semifinal – Taichi OKA df. Kanta SHIOKAWA, 5-3
130kg (9 entries)
Gold – Arata SONODA df. Masahiro TANITA by TF, 9-0, 1:38
Bronze – Hirotake TSUDA and Tsuyoki HISAKA
Semifinal – Arata SONODA df. Hirotake TSUDA by fall, 2:54 (5-0)
Semifinal – Masahiro TANITA df. Tsuyoki HISAKA, 3-0
Women's Wrestling
55kg (11 entries)
Gold – Mayu MUKAIDA df. Saki IGARASHI, 9-0
Bronze – Sena NAGAMOTO and Umi IMAI
Semifinal – Mayu MUKAIDA df . Sena NAGAMOTO by TF, 10-0, 2:11
Semifinal – Saki IGARASHI df. Umi IMAI, 5-3
72kg (3 entries)
Gold – Naruha MATSUYUKI df. Mei ENDO, 7-2
Bronze – Masako FURUICHI
Semifinal – Mei ENDO df. Masako FURUICHI by Fall, 1:22 (2-4)