Nur-Sultan Mats Ready for Action as Worlds Kick Off with Greco Competition
Friday, September 13, 2019 - 13:30 By Ken Marantz
NUR-SULTAN, Kazakhstan (September 13) --- The road to the Tokyo 2020 Olympics makes its first stop in Nur-Sultan over the next nine days, where the first Olympic berths will be allotted in the Kazakh capital to the nations of the top six finishers in each weight class. 
The first whistle will be blown Saturday at the gleaming Barys Arena, when the tournament starts with competition in Greco-Roman. Russia will look to exceed its showing from a year ago in Budapest, when it took home six of the 10 golds.
From there, Greco-Roman keeps the stage through Tuesday (Sept. 17), when it will share it with the women, who get started with qualification rounds in four weight classes. How many of the powerful Japanese women can clinch berths for the Olympics in their home country will be the main focus of interest.
The women will continue through the seventh day, Friday (Sept. 20), when the freestylers take to the mat in two weight classes, then close the tournament with four each over the final two days. The final day on Sunday could see the highly anticipated clash at 97kg between titans Abdulrashid SADULAEV (RUS) and Kyle Snyder (USA).  
The opening day Saturday will see action in the four non-Olympic weight classes (55kg, 63kg, 72kg, and 82kg) in Greco-Roman. While Olympic berths will not be stake and the weight classes lost some top wrestlers who moved to Olympic divisions, that doesn't mean they will be any less competitive.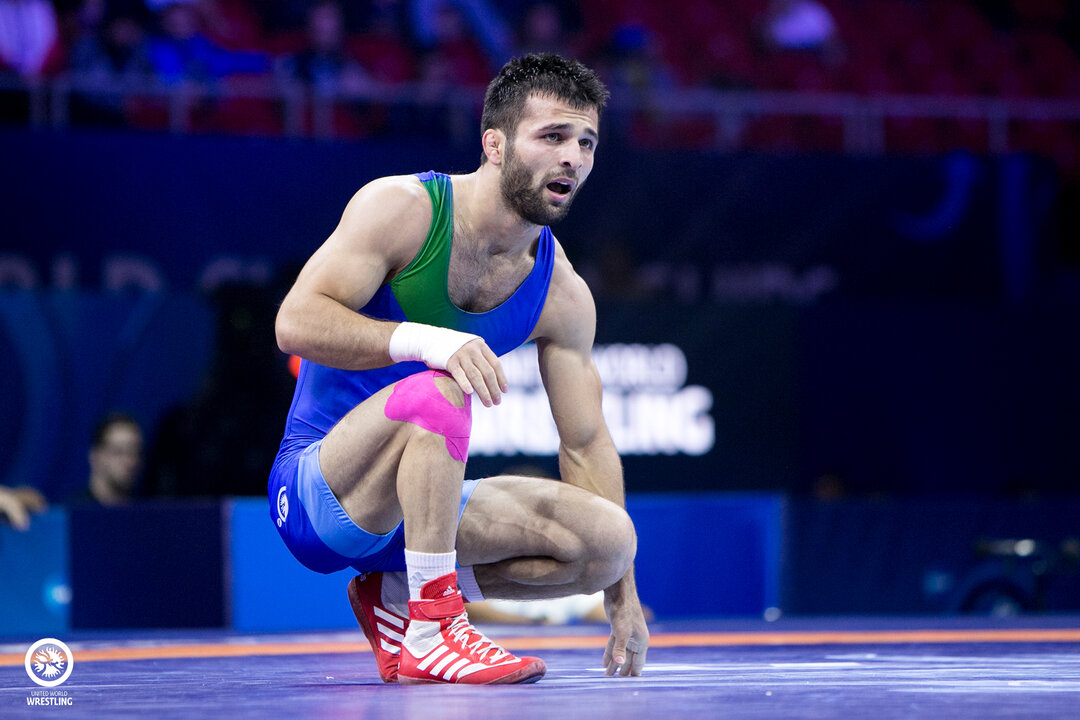 Eldaniz AZIZLI (AZE) is one of two returning world champions who kick off their day on Saturday morning. (Photo: Gabor Martin)
Eldaniz AZIZLI (AZE) and Stepan MARYANYAN (RUS) return to defend their world titles at 55kg and 63kg, respectively, while Maryanyan will be one of four European champions in action along with Vitali KABALOEV (RUS) at 55kg, Abuyazid MANTSIGOV (RUS) at 72kg and Rajbek BISULTANOV (DEN) at 82kg. 
Bilsutanov will have to contend with Budapest 2018 silver medalist Emrah KUS (TUR) and bronze medalists Viktor SASUNOVSKI (BLR) and Maksim MANUKYUAN (ARM). And that's not to discount Asian champion Saeid ABDVALI (IRI).
Advali is one of four Asian gold medalists in action Saturday. The brother combination of Ilkhom and Islomjon BAKHROMOV (UZB) took the 55kg and 60kg, respectively, at Xi'an 2019, but Islomjon has moved up to 63kg, so the two will be competing on the same day this time.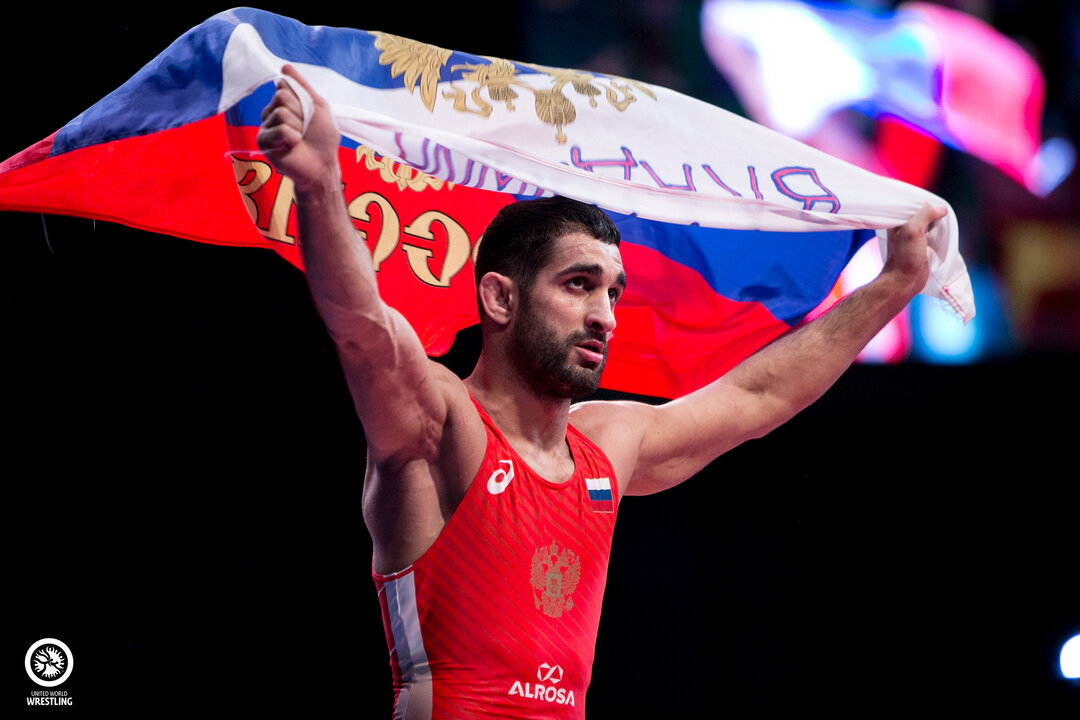 Stepan MARYANYAN (RUS) has remained unbeaten during his 2019 campaign after claiming world gold in a season ago. (Photo: Gabor Martin)
The 63kg field, led by Maryanyan, includes Asian champion Erbatu TUO (CHN) and bronze medalist JUNG Jinwoong (KOR). Also entered is Rio 2016 Olympic silver medalist Shinobu OTA (JPN), who moved up to 63kg when he failed to beat 2017 world champion Kenichiro FUMITA (JPN) for the place on Japan's team at 60kg.  
At 72kg, Budapest champion Frank STABLER (GER) has moved down to 67kg, but runner-up Balint KORPASI (HUN) and bronze medalist Aik MNATSAKANIAN (HUN) look to be the top contenders along with Mantsigov and Asian silver medalist ZHANG Hujun (CHN). 
Tournament Schedule   
Saturday, September 14
11:00-16:00 Qualification Rounds GR 55-63-72-82kg  
18:00-19:30 Semifinals GR 55-63-72-82kg
Sunday, September 15
11:00-16:00 Qualification Rounds GR 67-87-97kg
11:00-16:00 Repechage GR 55-63-72-82kg
16:45-17:30 Opening Ceremony
18:00-18:45 Semifinals GR 67-87-97kg
19:00-22:00 Finals GR 55-63-72-82kg
Monday, September 16
11:00-16:00 Qualification Rounds GR 60-77-130kg
11:00-16:00 Repechage GR 67-87-97kg
17:00-17:45 Semifinals GR 60-77-130kg
18:00-20:30 Finals GR 67-87-97kg
Tuesday, September 17
11:00-15:00 Qualification Rounds WW 50-53-55-72kg 
11:00-15:00 Repechage GR 60-77-130kg      
16:45-17:45 Semifinals WW 50-53-55-72kg
18:00-20:30 Finals GR 60-77-130kg
Wednesday, September 18
11:00-15:00 Qualification Rounds WW 57-59-65-76kg
11:00-15:00 Repechage WW 50-53-55-72kg
16:45-17:45 Semifinals WW 57-59-65-76kg
18:00-21:00 Finals WW 50-53-55-72kg
Thursday, September 19
11:00-16:00 Qualification Rounds WW 62-68; FS 57-65
11:00-16:00 Repechage WW 57-59-65-76kg
16:45-17:45 Semifinals WW 62-68; FS 57-65
18:00-21:00 Finals WW 57-59-65-76kg
Friday, September 20
11:00-16:00 Qualification Rounds FS 70-74-92-125kg
11:00-16:00 Repechage WW 62-68; FS 57-65
16:45-17:45 Semifinals FS 70-74-92-125kg
18:00-21:00 Finals WW 62-68; FS 57-65
Saturday, September 21
11:00-16:00 Qualification Rounds FS 61-79-86-97kg 
11:00-16:00 Repechage FS 70-74-92-125kg
16:45-17:45 Semifinals FS 61-79-86-97kg
18:00-21:00 Finals FS 70-74-92-125kg
Sunday, September 22
15:30-17:30 Repechage FS 61-79-86-97kg
18:00-21:00 Finals FS 61-79-86-97kg