Olympic Champ Aleksanyan and Pair of Olympic Medalists Headline Wednesday's Greco-Roman Finals
Wednesday, May 2, 2018 - 08:10 By Eric Olanowski
KASPIYSK, Russia (May 2) - Artur "The White Bear," Aleksanyan remained supreme on his quest to winning his fourth European title. The Armenian has suffered two defeats in the past five seasons, both coming at the European Championships. Aleksanyan last won a European title in 2014 but has won three world titles and an Olympic gold medal. 
The 2016 Olympic champion will get his opportunity to seize his first gold medal in four years when he takes on Mikheil KAJAIA (SRB) in the 97kg finals. Aleksanyan enters the European finals after scoring technical superiority victories over his first three opponents.
Serbia's Kajaia is wrestling in his third European Championships and has outperformed his eleventh-place finish from a year ago.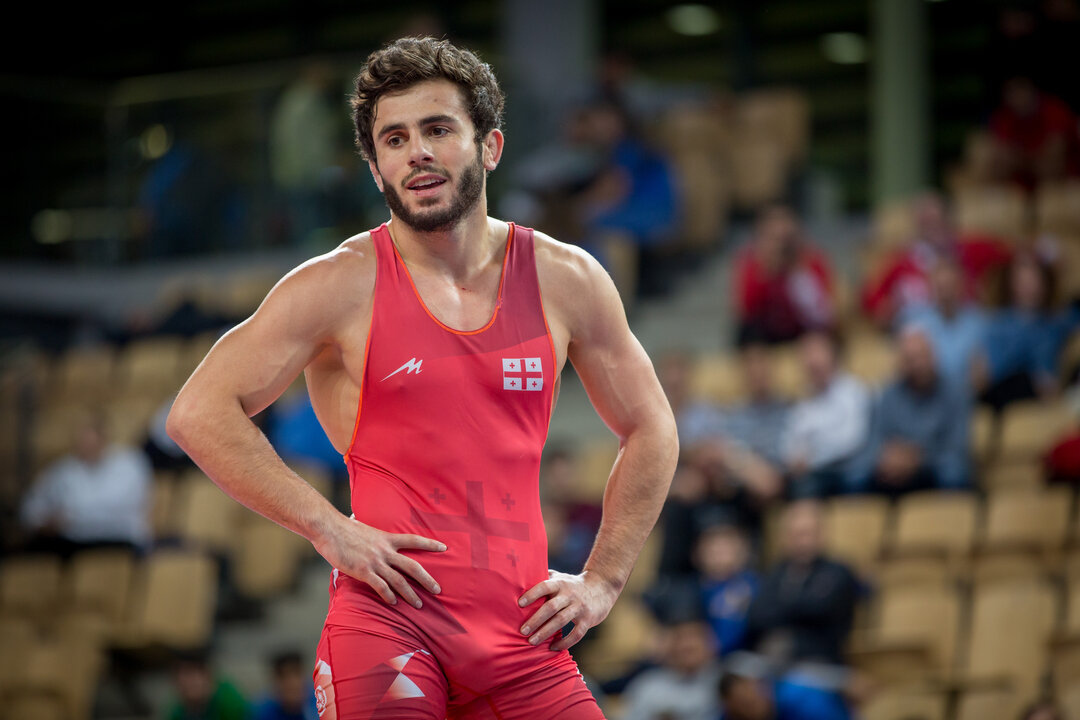 Shmagi BOLKVADZE (GEO) will look to add a European gold medal to his collection of Olympic and world medals. (Photo by Max Rose-Fyne)
Shmagi BOLKVADZE (GEO), the 24-year-old Olympic bronze medalist and U23 world champion shutout Denmark's Fredrik Holmquist BJERREHUUS (DEN), 5-0 in the first 67kg semifinal, This marked the third time in as many matches that Bolvadze blanked his opponent. 
He'll take on Artem SURKOV (RUS), the two-time European champion and two-time world bronze medalist in the gold-medal bout at 67kg. Surkov bested Poland's Dawid KARECINSKI to make his third trip to the European finals.
Rasul CHUNAYEV (AZE), 2016 Olympic bronze medalist will be looking for his first European gold medal since 2015. 
The finals at 72kg will feature two previous European champions in Rasul CHUNAYEV (AZE) and Adam KURAK (RUS). 
Chunayev, the 2016 Olympic bronze medalist and 2015 world and European champion fancied his way to the finals by capturing four wins on the day, including an 11-3 semifinal victory over Georgia's Luri LOMADZE (GEO). 
Kurak, the 2014 European champion picked up a trio of victories on the day. Most notably, the Russian avenged his loss from the bronze-medal bout of the 2017 World Championships, defeating Balint KORPASI (HUN), 3-3.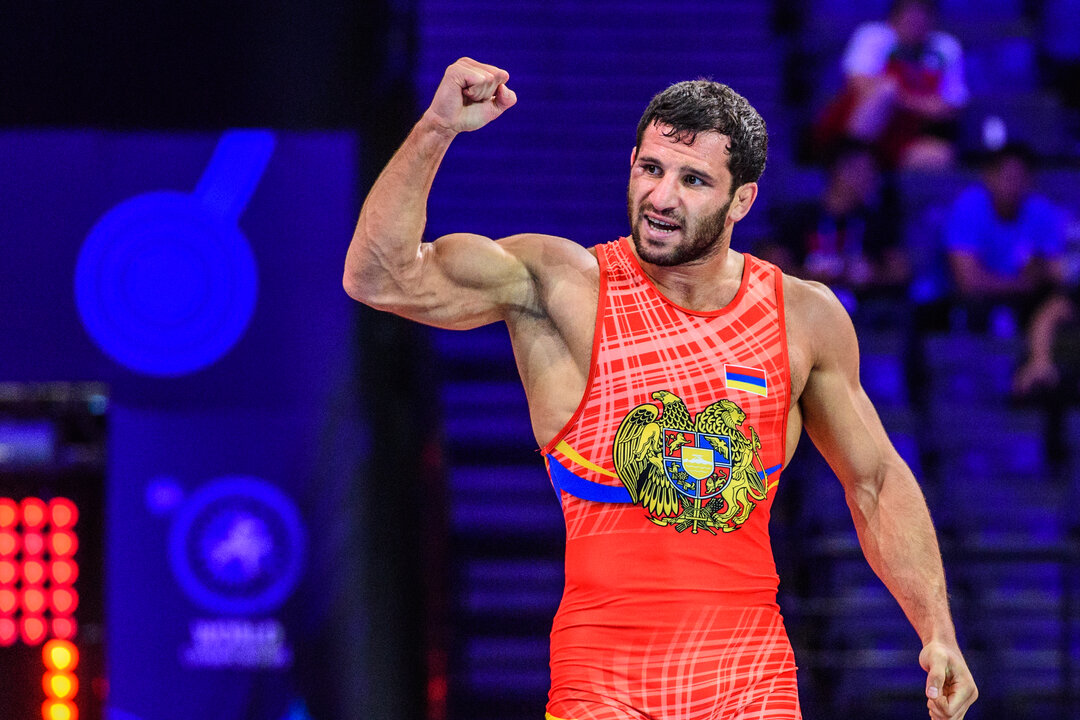 2017 world champion Maksim MANUKYAN (ARM) will wrestle tonight for his first European title. (Photo by Tony Rotundo)
The 82kg finals will feature a pair of first time European finalist in Maksim MANUKYAN (ARM) and Viktar SASUNOUSKI (BLR).
Manukyan, the 2017 world champion started his day by shutting out 2016 Olympian Bozo STARCEVIC (CRO), 6-0. He followed that up by picking up two additional wins, including a dominating 8-0 performance over Hungary's Laszlo SZABO (HUN) in the semifinals. 
Sasunouski squeaked out his first two wins before picking up the 9-0 technical superiority victory over 2015 European Games finalist, Rafig HUSEYNOV (AZE).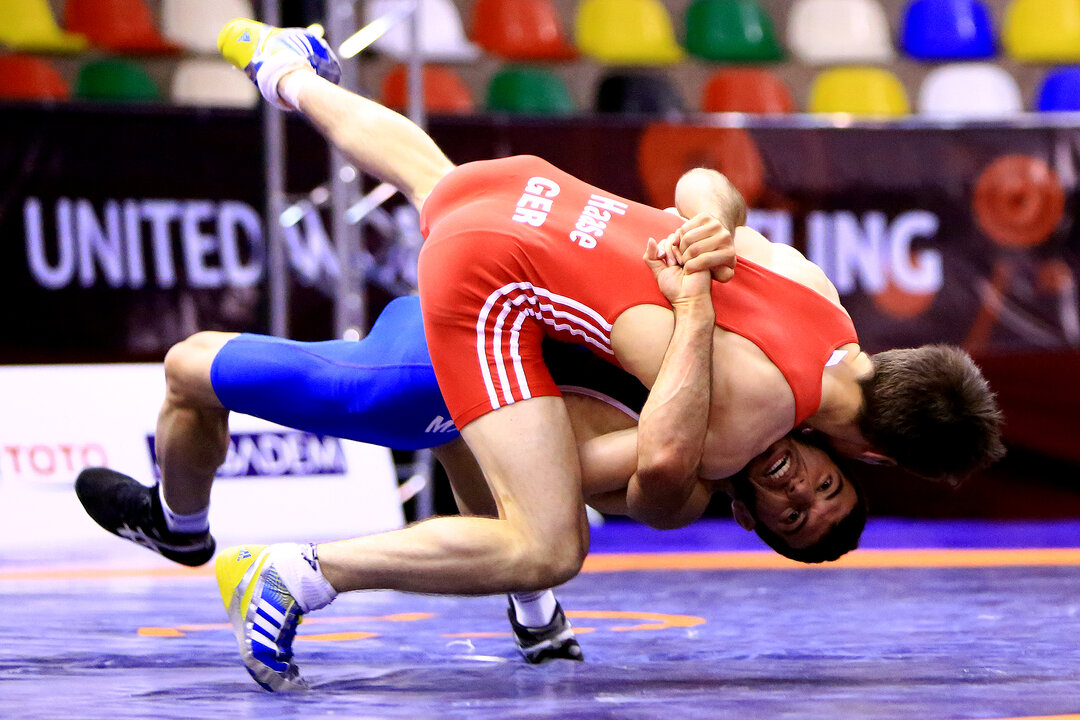 Murad MAMMADOV (AZE) picked up a 9-0 technical superiority victory to seal his spot in the 60kg finals.
Sergey EMELIN (RUS) and Murad MAMMADOV (AZE) both picked up 9-0 technical superiority victories in the semifinals and will wrestle for the 60kg gold on Wednesday night. 
Emelin used a set of four guts to go along with a passivity point to defeat Jacopo SANDRON (ITA), 9-0. 
Mammadov also scored eight points off gut wrenches, picking up his 9-0 technical superiority semifinal victory over Georgia's Dato CHKHARTISHVILI. 
RESULTS
60kg 
GOLD: Sergey EMELIN (RUS) vs. Murad MAMMADOV (AZE)
Semifinal: Murad MAMMADOV (AZE) df. Jacopo SANDRON (ITA), 9-0
Semifinal: Sergey EMELIN (RUS) df. Dato CHKHARTISHVILI (GEO), 9-0 
67kg
GOLD - Artem SURKOV (RUS) v. Shmagi BOLKVADZE (GEO)
Semifinal - Artem SURKOV (RUS) df. Dawid KARECINSKI (POL), 3-1
Semifinal - Shmagi BOLKVADZE (GEO) df. Fredrik BJERREHUUS (DEN), 5-0
72kg
GOLD – Rasul CHUNAYEV (AZE) v. Adam KURAK (RUS)
Semifinal – Rasul CHUNAYEV (AZE) df. Luri LOMADZE (GEO), 11-3
Semifinal – Adam KURAK (RUS) df. Gevorg SAHAKYAN (POL), 5-2 
82kg
GOLD: Viktar SASUNOUSKI (BLR) vs. Maksim MANUKYAN (ARM)
Semifinal: Viktar SASUNOUSKI (BLR) df. Rafig HUSEYNOV (AZE), 9-0
Semifinal: Maksim MANUKYAN (ARM) df. Laszlo SZABO (HUN), 8-0
97kg
GOLD: Artur ALEKSANYAN (ARM) vs. Mikheil KAJAIA (SRB)
Semifinal: Artur ALEKSANYAN (ARM) df. Matti Elias KUOSMANEN (FIN), 10-0 
Semifinal: Mikheil KAJAIA (SRB) df. Ramsin AZIZSIR (GER), 3-1