Riesterer's Road to Dethrone World Champ Susaki
Thursday, September 20, 2018 - 08:45 By Eric Olanowski
TRNAVA, Slovakia (September 20) - On Thursday night, Ellen RIESTERER will try to become the first German women to win a junior world gold medal since Anita Schaetzle reached the top of the podium back in 2001. 
To do so, she'll have to dethrone reigning senior-level world champion, Yui SUSAKI (JPN). Susaki, who is wrestling for the first time on the junior circuit is a three-time cadet world champion and last year's senior-level world champion. The Japanese superstar has never lost to a non-Japanese opponent.
"Yui Susaki is one of the best wrestlers in the world, but she's only 19-years-old, and I have to remember that," Riesterer said. "She doesn't make a lot of mistakes, but maybe she'll make one or two mistakes that I can use in my favor." 
Riesterer is trying to get Germany back to their winning ways after dropping four straight gold-medal matches at the junior world championships. For that to happen, Riesterer, the European bronze medalist has to focus on listening to her coaches in the 50kg gold-medal bout.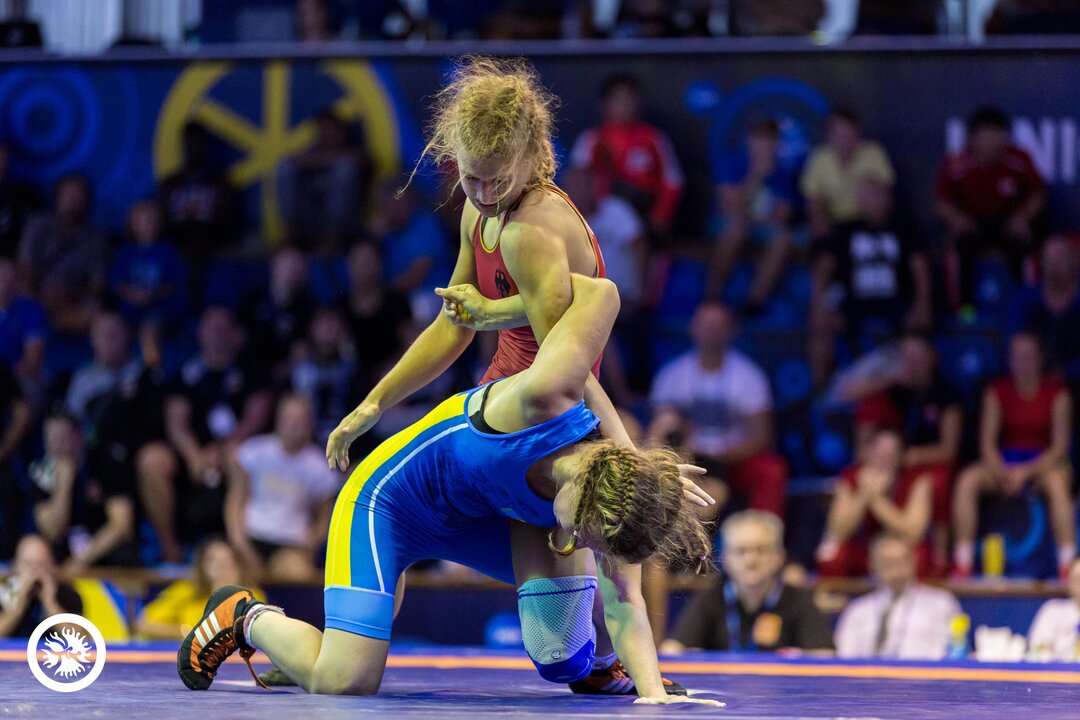 Ellen RIESTERER (GER) scores a 6-2 semifinals win over Marina ZAKSHEVSKAYA (KAZ). (Photo by Max Rose-Fyne) 
"At the junior European championships, I wrestled with my headgear on, and I couldn't understand my coaches well, so I was just doing my own thing." Since then, Riesterer has removed the headgear and placed more of an emphasis on listening to her coaches. 
"I've worked so hard on listening better to what the coaches say because I'm such a mental wrestler. I need my coaches. My coaches help calm my nerves, and that helps me mentally." 
Riesterer will have to check her nerves at the door of the City Sports Hall before the 50kg finals if she has hopes of stopping Susaki from reaching the top of the world podium for the fifth time. 
In a joking manner, Riesterer ended with, "I'm just glad I made the finals because my sister came all the way here to watch me wrestle. I told her that I wanted to get a medal because if I didn't, she would have traveled all this way to see me cry." 
The women's wrestling finals begin on Thursday night at 18:00. Riesterer and Susaki will be the second match up on Mat B.