Russia Goes 3-for-3 in Freestyle Finals on Day 2 of European Games
Wednesday, June 26, 2019 - 20:03 By United World Wrestling Press
MINSK, Belarus (June 26) - Russia shined on Day 2 of the European Games in Minsk, Belarus, going 3-for-3 in gold-medal finals matches in freestyle wrestling. 
Winning gold medals for Russia on Wednesday night were Zaurbek SIDAKOV (74kg), Dauren KURUGLIEV (86kg) and Anzor KHIZRIEV (125kg).
The other gold medal was won by Mahir AMIRASLANOV (AZE) at 57kg.
Sidakov, a returning world champion and world No.1, picked up a first-period fall in the 74kg final against Olympic and world medalist Soner DEMIRTAS (TUR). After scoring a takedown off a single leg, the 23-year-old Russian used a cradle to put Demirtas on his back. He secured the fall just over two minutes into the match.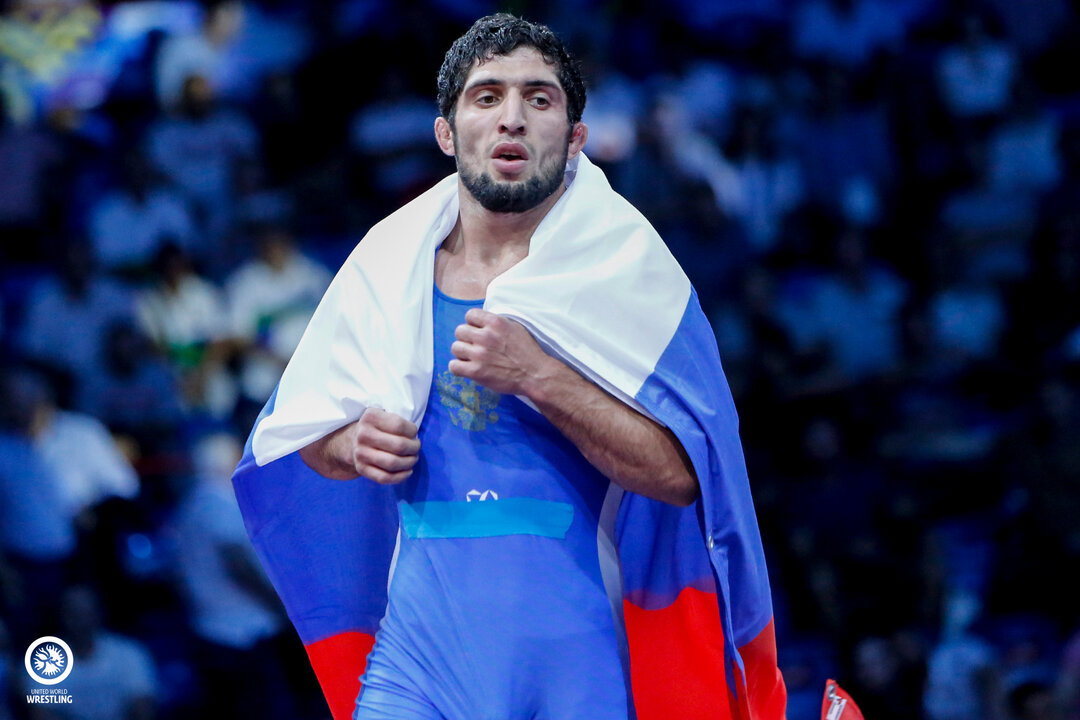 Kurugliev, a two-time Yarygin champion, edged four-time world medalist Ali SHABANAU (BLR) 3-2 for the gold medal at 86kg. Shabanau scored first off a passivity to take a 1-0 lead. In the second period, Kurugliev scored a passivity point of his own to take the lead on criteria. The two wrestlers continued to battle and with just under a minute remaining Kurugliev was placed on the activity clock. While on the activity clock, Kurugliev was able to secure a takedown with just over 30 seconds remaining to go up 3-1 and hold on for the victory.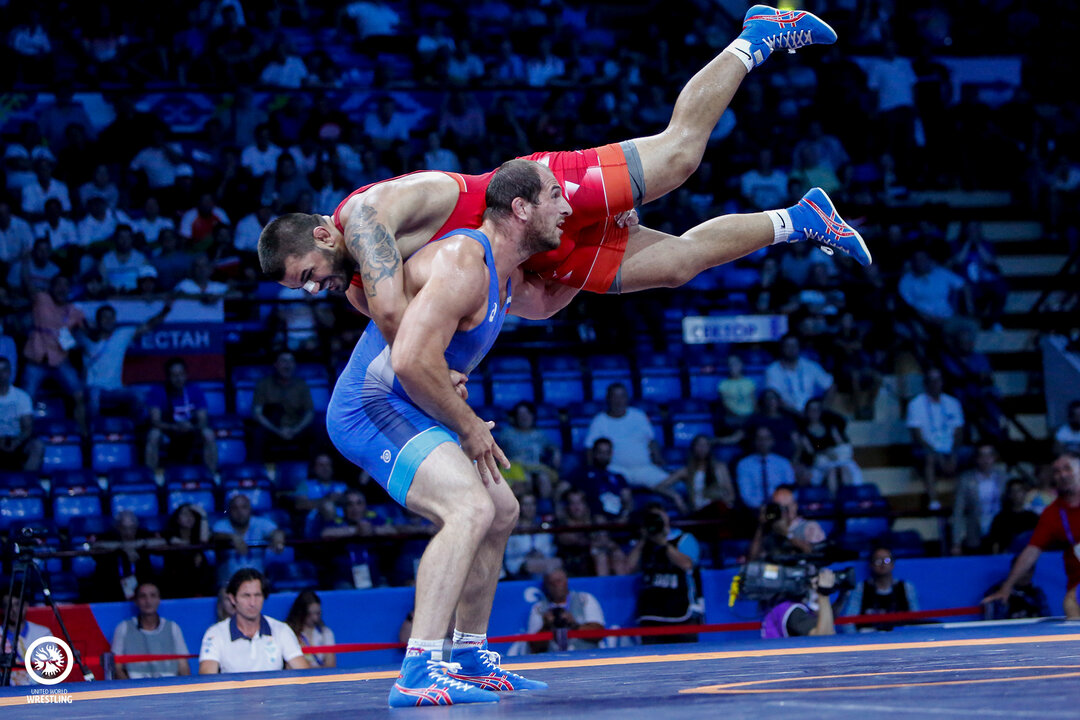 Khizriev claimed his gold medal at 125kg by defeating U23 world champion Givi MATCHARASHVILI (GEO) 8-2 in a hard-fought match until the end. After scoring first off a passivity, Khizriev scored a takedown in the second period to extend his lead to 3-0. With 1:15 remaining, the Georgian picked up a takedown of his own to cut the deficit to 3-2. In the last second of the match, Matcharashvili attempted a desperation move, which Khizriev countered and scored five additional points to win by six.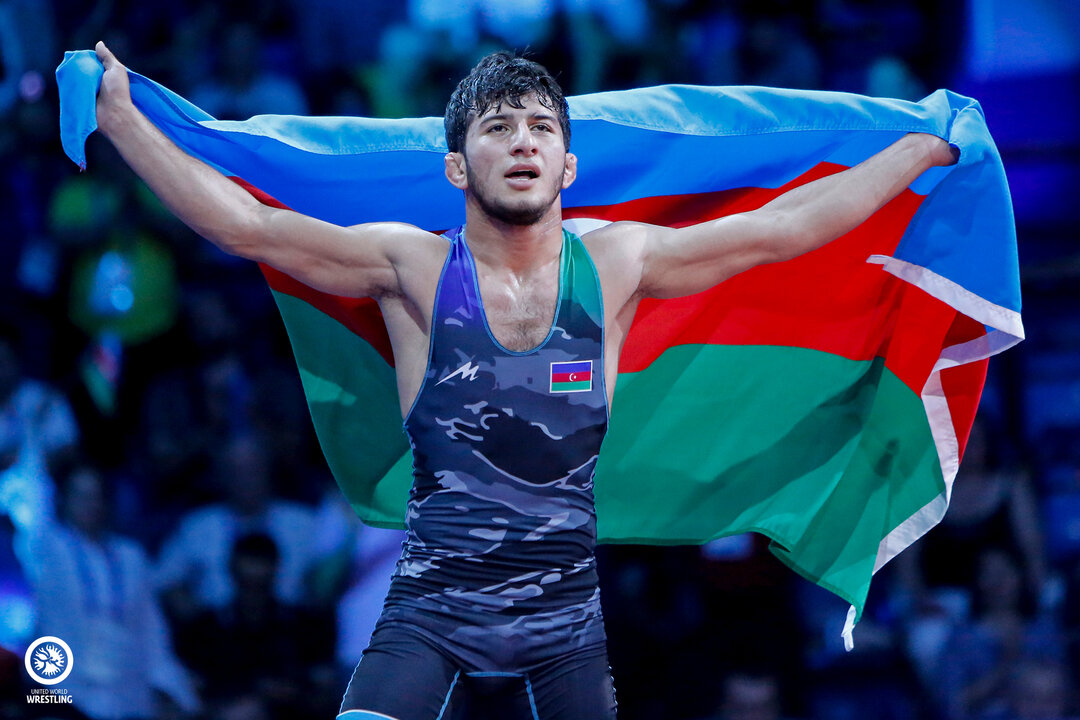 Amiraslanov, a European bronze medalist and 2015 junior world champion, opened the gold-medal matches with a convincing 9-1 victory over Stevan MICIC (SRB) at 57kg. Amiraslanov raced out to a 4-0 lead early in the match on the strength of a four-point, feed-to-back takedown. He added a step out and led 5-0 at the break. Amiraslanov was able to counter Micic's attacks in the second period and scored two more takedowns to pull away. 
World No.1 Suleyman ATLI (TUR) won a bronze medal at 57kg by defeating Taras MARKOVYCH (UKR) 12-9. The other bronze medal was won by returning world champion Zavur UGUEV (RUS), who cruised to a 10-2 win over Georgi VANGELOV (BUL).
Bronze medals at 74kg were won by Avtandil KENTCHADZE (GEO) and Khadzhimurad GADZHIYEV (AZE). Kentchadze, a world silver medalist, won 8-5 in the bronze-medal match against Azamat NURYKAU (BLR). Gadzhiyev rolled to a 9-1 win over Vasyl MYKHAILOV (UKR).
Myles AMINE (SMR) edged Alexander GOSTIYEV (AZE) 3-3 for bronze at 86kg, becoming San Marino's first-ever medalist at the European Games. Ahmed DUDAROV (GER) won the other medal at 86kg, beating world silver medalist Fatih ERDIN (TUR) 10-8.
Jammaladdin MAGOMEDOV (AZE) dominated Rares CHINTOAN (ROU) to claim a bronze at 125kg. The other bronze at 125kg was won by Oleksandr KHOTSIANIVSKYI (UKR) who defeated Faith YASARLI (TUR) 2-1. 
RESULTS
57kg
GOLD - Mahir AMIRASLANOV (AZE) df. Stevan MICIC (SRB), 9-1
BRONZE - Suleyman ATLI (TUR) df. Taras MARKOVYCH (UKR), 12-9
Bronze - Zavur UGUEV (RUS) df. Georgi VANGELOV (BUL), 10-2
74kg
GOLD - Zaurbek SIDAKOV (RUS) df. Soner DEMIRTAS (TUR) by fall at 2:04
BRONZE - Avtandil KENTCHADZE (GEO) df. Azamat NURYKAU (BLR), 8-5
BRONZE - Khadzhimurad GADZHIYEV (AZE) df. Vasyl MYKHAILOV (UKR), 9-1
86kg
GOLD - Dauren KURUGLIEV (RUS) df. Ali SHABANAU (BLR), 3-2
BRONZE - Ahmed DUDAROV (GER) df. Fatih ERDIN (TUR), 10-8
BRONZE - Myles AMINE (SMR) df. Alexander GOSTIYEV (AZE), 3-3 
125kg
GOLD - Anzor KHIZRIEV (RUS) df. Givi MATCHARASHVILI (GEO), 8-2
BRONZE - Jammaladdin MAGOMEDOV (AZE) df. Rares CHINTOAN (ROU), 12-2
BRONZE - Oleksandr KHOTSIANIVSKYI (UKR) df. Faith YASARLI (TUR), 2-1