Russia Goes 5-for-5 in Sunday's GR Semifinals
Sunday, December 13, 2020 - 19:41 By Andrew Hipps
BELGRADE, Serbia (December 13) -- Russia continued its dominance in Greco-Roman at the Individual World Cup, going 5-for-5 in Sunday's semifinals, a day after advancing four to the finals.
Russia's five semifinal winners Sunday were Stepan MARYANYAN (60kg), Zhambolat LOKYAEV (63kg), Milad ALIRZAEV (82kg), Musa EVLOEV (97kg) and Sergey SEMENOV (130kg).
Maryanyan, a two-time world champion at 63kg, has looked strong in his move down to the Olympic weight category of 60kg. He claimed an 8-3 victory in the semifinals over 2017 European champion Kristian FRIS (SRB). He used a step out and passivity to go up 2-0 before scoring with two gut wrenches to extend his lead to 6-0 at the break. He would add a takedown in the second period.
He will meet 2018 world silver medalist Zholaman SHARSHENBEKOV (KGZ) in the 60kg finals. Sharshenbekov overcame a slow start to earn a 5-1 victory over Ahmet UYAR (TUR).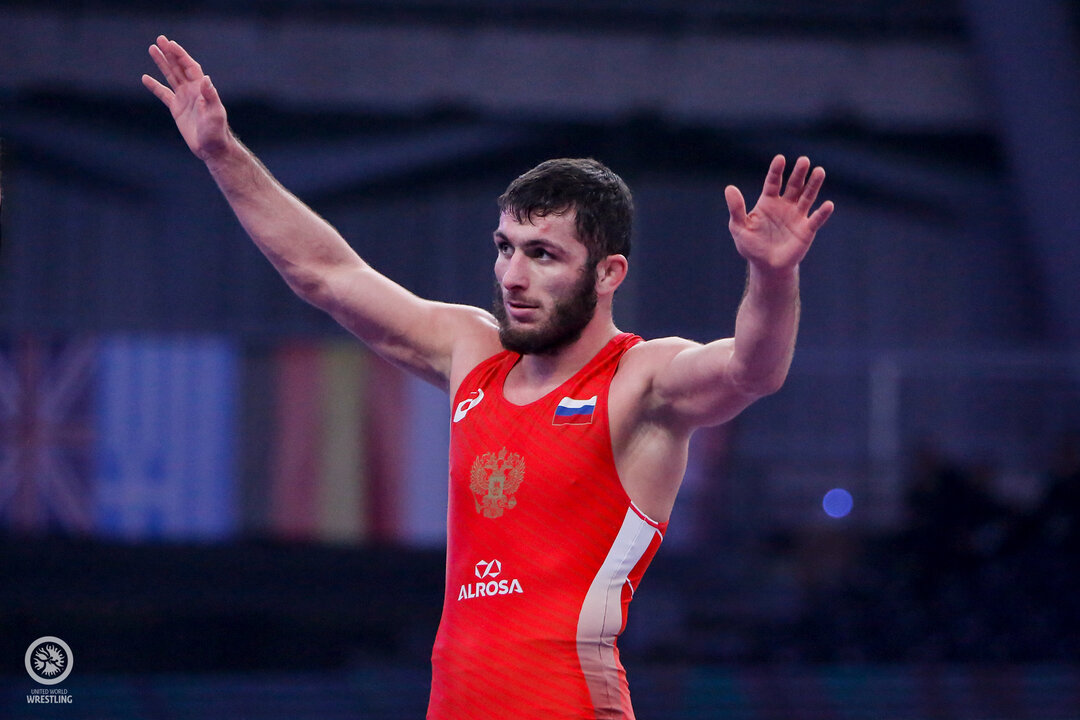 Zhambolat LOKYAEV (RUS) advanced to the finals at 63kg (Photo/Gabor MARTIN, UWW)

Lokyaev used a big first period to help him earn a 6-0 shutout over 2016 junior world champion Kaly SULAIMANOV (KGZ) in the 63kg semifinals. The Russian scored a takedown to go up 2-0 before scoring with a four-point throw. Neither wrestler scored in the final period and Lokyaev moved into the 63kg finals.
World No.5 Erik TORBA (HUN), a 2020 European bronze medalist, trailed 1-0 at the break in his 63kg semifinal match against Abdeldjebar DJEBBARI (ALG), but battled back in the second period, scoring a takedown and gut wrench to earn a 4-1 victory.
Alirzaev, a 2019 U23 world champion, claimed a 7-4 semifinal victory over Mihail BRADU (MDA) at 82kg. He led 5-0 at the break and added a takedown in the final period.

In the other 82kg semifinal, 23-year-old Salih AYDIN (TUR), a 2017 junior world bronze medalist, advanced to the finals with a 4-1 victory over Roland SCHWARZ (GER). 
At 97kg, the two-time world champion Evloev hung on to defeat world No. 4 Mohammadhadi SARAVI (IRI) 5-3 in the semifinals. The first period belonged to Evloev as he raced out to a 5-0 lead. Saravi battled back in the second period, getting on the scoreboard with a caution before locking up a gut wrench and turning Evloev to cut the deficit to 5-3.  The Russian star would hang on to win by two.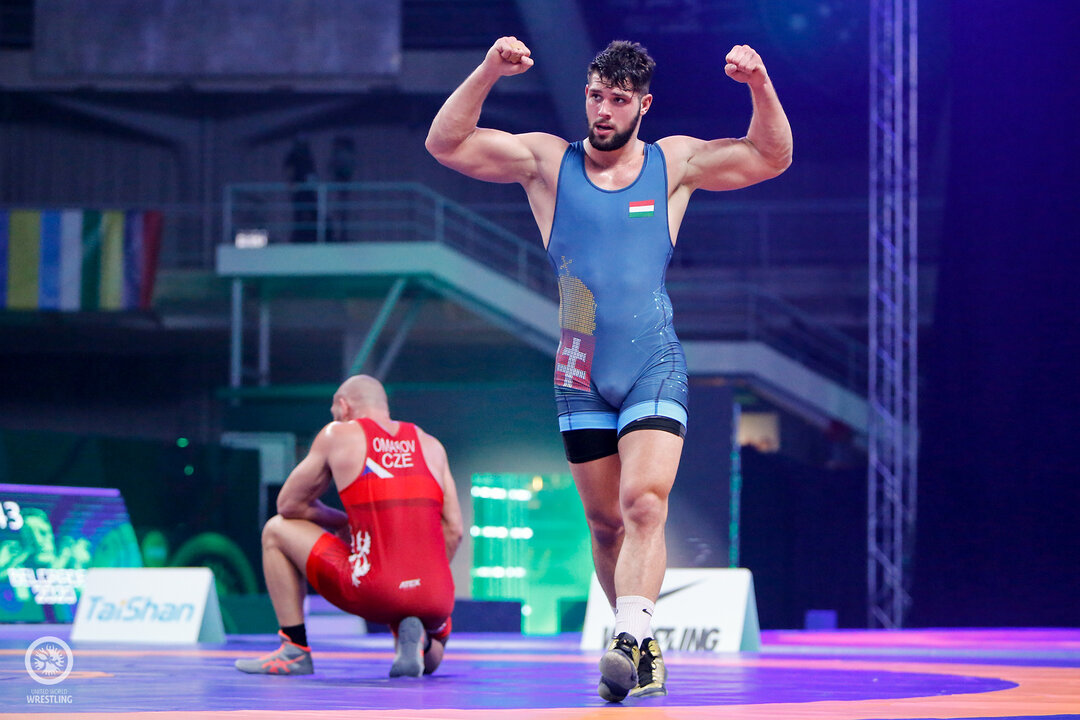 Alex SZOKE (HUN) was one of two Hungarian wrestlers to earn victories in the semifinals (Photo/Gabor MARTIN, UWW)

Alex SZOKE (HUN) gave Hungary another finalist in Greco-Roman when he shut out Artur OMAROV (CZE) in the other semifinal match at 97kg. Szoke built a 2-0 lead after scoring twice of passivity. He added a late two off a caution to win by four. 
Semenov, a 2018 world champion and 2016 Olympic bronze medalist, was dominant in his semifinal match at 130kg, earning a first-period 8-0 technical superiority over David OVASAPYAN (ARM). After Semenov scored with a step out and passivity, he showcased his strong par terre game, scoring with a gut wrench, which he followed up with a two-point throw and another gut wrench to end the match early.
The other semifinal winner at 130kg was Osman YILDIRIM (TUR), who rolled to a 9-1 technical superiority over Beka KANDELAKI (AZE). Kandelaki scored the first point of the match off passivity to take an early 1-0 lead. But the Turkish heavyweight came back with a takedown and three gut wrenches to go up 8-1. He then finished the match with a step out.

Greco-Roman Semifinal Results
60kg
Zholaman SHARSHENBEKOV (KGZ) df. Ahmet UYAR (TUR) by VPO1, 5-1
Stepan MARYANYAN (RUS) df. Kristian FRIS (SRB) by VPO1, 8-3
63kg
Erik TORBA (HUN) df. Abdeldjebar DJEBBARI (ALG) by VPO1, 4-1
Zhambolat LOKYAEV (RUS) df. Kaly SULAIMANOV (KGZ) by VPO, 6-0
82kg
Milad ALIRZAEV (RUS) df. Mihail BRADU (MDA) by VPO1, 7-4
Salih AYDIN (TUR) df. Roland SCHWARZ (GER) by VPO1, 4-1
97kg
Alex SZOKE (HUN) df. Artur OMAROV (CZE) by VPO, 4-0
Musa EVLOEV (RUS) df. Mohammadhadi Abdollah SARAVI (IRI) by VPO1, 5-3
130kg
Osman YILDIRIM (TUR) df. Beka KANDELAKI (AZE) by VSU1, 9-1
Sergey SEMENOV (RUS) df. David OVASAPYAN (ARM) by VSU, 8-0