Russia Qualifies Eight for Freestyle Finals, Wins Trio of Day Six Golds
Saturday, June 9, 2018 - 17:32 By Eric Olanowski
ISTANBUL, Turkey (June 9) – Russia inserted four wrestlers into the finals on the sixth day of competition at the 2018 U23 European Championships and walked away with three gold medals. 
Ibragim ILYASOV (RUS) gave Russia their first gold medal of the night with a 10-4 routing of 2016 junior world champion Afgan KHASHALOV (AZE) in the 57kg gold-medal bout. 
Ilyasov, the 2016 U23 European bronze medalist used two left-handed high crotches and a right side gut wrench to command the 6-0 heading into the break. 
The Russian wrestler closed out the final period with a counter exposure, a step out and a point for brutality after Khashalov was penalized for throwing a knee while having Ilyasov in a front headlock.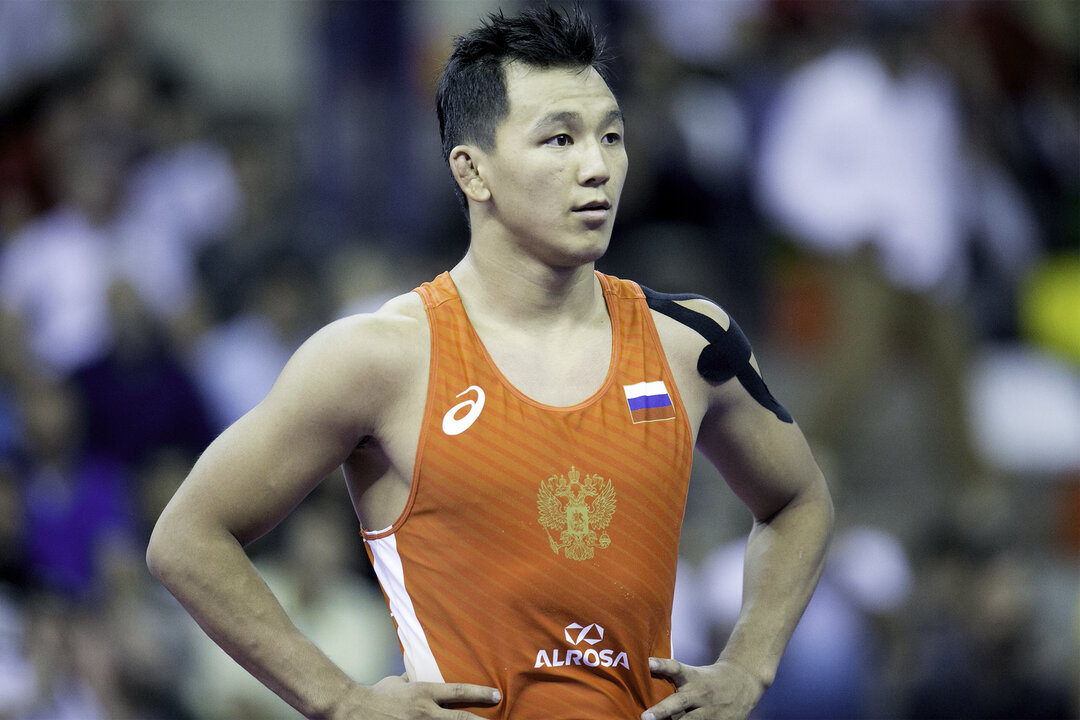 Nachyn KUULAR (RUS) gave Russia their second gold of the night with an 11-0 shutout victory in the 65kg finals. (Photo by Martin Gabor)
At 65kg, returning U23 world champion Nachyn KUULAR (RUS) secured Russia's second gold medal with an 11-0 shutout win over Anvarbek DALGATOV (AZE). 
Kuular, who won the World Military Championships last month scored four-points in the opening three minutes with a left-handed high crotch and a snap down spin behind. 
In the final period, Kuular locked up the win with a six-point sequence, transitioning from a low-level shot to two leg laces. 
Radik VALIEV (RUS) collected Russia's third gold medal in as many tries with a six-point first period, picking up the 6-3 victory over Johnny BUR (FRA) in the championship bout at 79kg.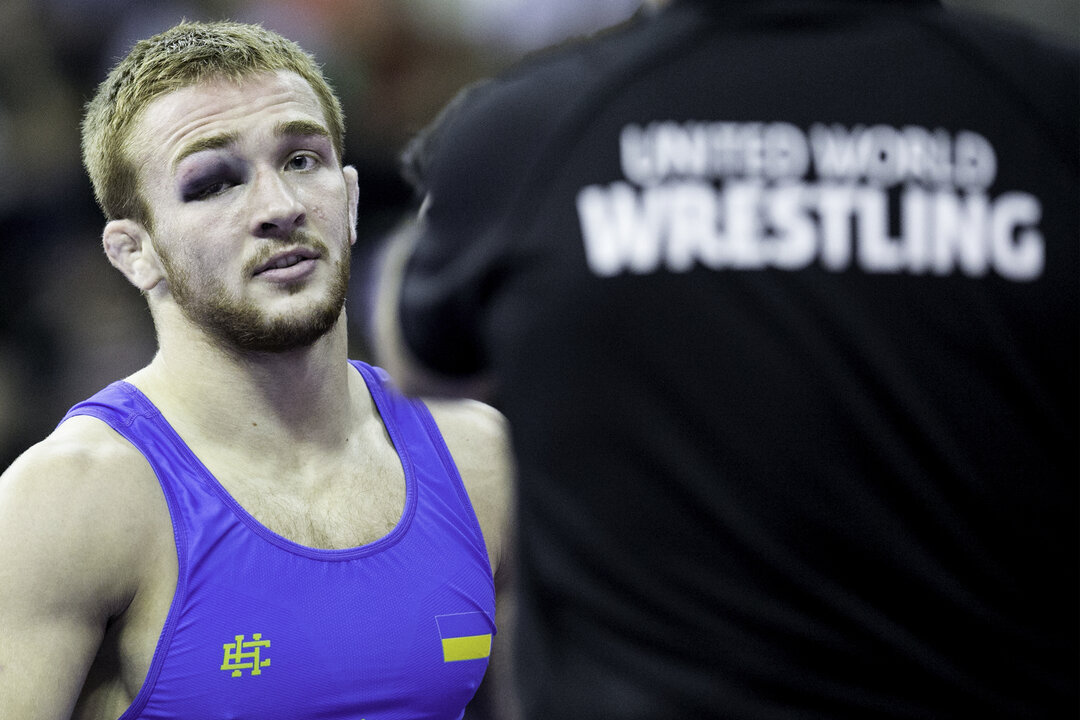 Oleksii BORUTA (UKR), 70kg U23 European Champion (Photo by Martin Gabor) 
Belarus and Ukraine were the two nations who claimed the remaining pair of gold medals on the sixth day of competition in Istanbul, Turkey. 
Ukraine's Oleksii BORUTA improved on his seventh-place finish from a year ago after snatching the 70kg gold medal with 4-0 shutout win over Enes USLU (TUR). 
Boruta struck first in the opening period with a counter double leg and grabbed the 2-0 lead. Boruta ended the period with a step out and headed into the break with a three-point lead. 
The Ukrainian wrestler closed out a quiet second period with an activity clock point and won the bout by four-points. 
Belarus' Dzianis KHRAMIANKOU (BLR) was awarded the 97kg gold medal after Russia's Rasul MAGOMEDOV (RUS) was unable to finish the match due to an apparent right ankle injury. 
RESULTS
57kg
GOLD - Ibragim ILYASOV (RUS) df. Afgan KHASHALOV (AZE), 10-4

BRONZE - Taras MARKOVYCH (UKR) df. Viktor Viktorowitsch LYZEN (GER), 7-1
BRONZE - Georgios PILIDIS (GRE) df. Bekir SAHIN (TUR), 7-6  
65kg
GOLD - Nachyn KUULAR (RUS) df. Anvarbek DALGATOV (AZE), 11-0

BRONZE - Andrii SVYRYD (UKR) df. Niklas Dietmar DORN (GER), 7-4
BRONZE - Ilman MUKHTAROV (FRA) df. Utku DOGAN (TUR), 7-4
70kg
GOLD - Oleksii BORUTA (UKR) df. Enes USLU (TUR), 4-0
BRONZE - Giorgi SULAVA (GEO) df. Ruslan BOGATYREV (RUS), 7-3
BRONZE - Gevorg MKHEYAN (ARM) df. Panah ILYASLI (AZE), 6-2
79kg
GOLD - Radik VALIEV (RUS) df. Johnny Just BUR (FRA), 6-3

BRONZE - Murad SULEYMANOV (AZE) df. Engin Rashid ISMAIL (BUL), 11-0
BRONZE - Nika KENTCHADZE (GEO) df. Muhammet Lutfi KUCUKYILDIRIM (TUR), 4-2
97kg 
GOLD - Dzianis KHRAMIANKOU (BLR) df. Rasul Magomedovitch MAGOMEDOV (RUS), via inj def 
BRONZE - Erik THIELE (GER) df. Feyzullah AKTURK (TUR), 2-1
BRONZE - Givi MATCHARASHVILI (GEO) df. Oleksandr BYKANOV (UKR)