Russia Rebounds with Trio of Greco-Roman Gold Medals
Wednesday, June 6, 2018 - 17:04 By Eric Olanowski
ISTANBUL, Turkey (June 6) - Russia rebounded and won three gold medals on the final day of Greco-Roman competition after failing to win a gold medal through the first two days of action at the 2018 U23 European Championships.
Alen MIRZOIAN (RUS) defeated last year's U23 world team member, Otto LOSONCZI (HUN), 7-3 in the final bout at 67kg. 
The Russian wrestler fired off three correct throws and was award a passivity point in the first period. After giving up a passivity point and a gut wrench in the closing period, Mirzoian cemented his feet in the middle of the mat and hung on to win by four points.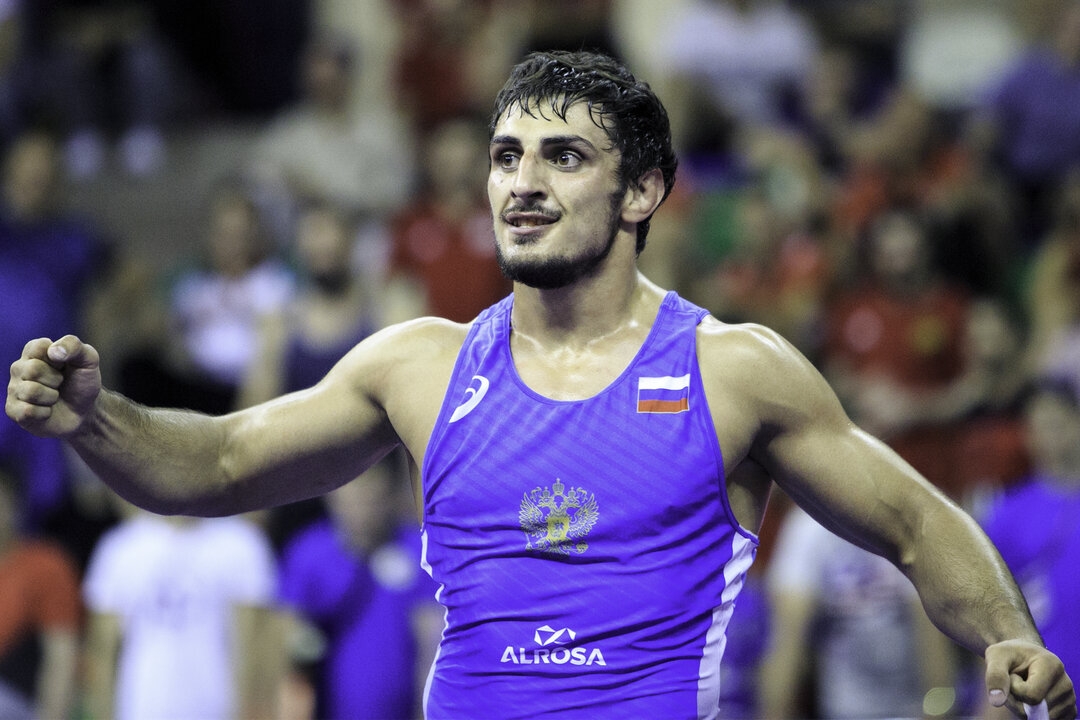 Vaag MARGARIAN (RUS) after winning the 82kg U23 European title. (Photo by Martin Gabor)
Vaag MARGARIAN (RUS) gave Russia their second gold medal of the day after collecting a passivity point and a caution-and-two over Yaroslav FILCHAKOV (UKR), winning the 82kg gold medal, 3-1. 
Aleksandr GOLOVIN (RUS) rolled past Vladen KOZLIUK (UKR), 10-1, giving Russia their third gold medal of the night. 
Golovin picked up the technical superiority victory by scoring ten unanswered points with two four-point throws and a takedown while trailing 1-0 in the final match at 97kg.   
Turkey along with Georgia also wrapped up the Greco-Roman portion of the U23 European championships by winning a gold medal on the third day of competition.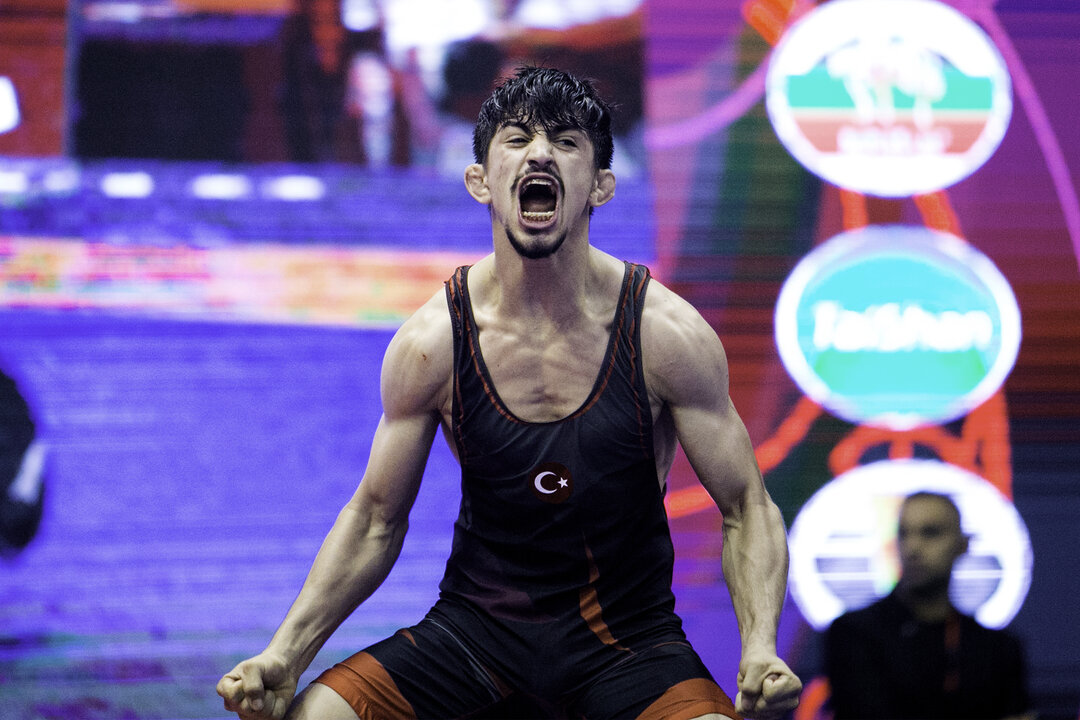 Kerem KAMAL (TUR) celebrates after winning the 60kg gold medal. (Photo by Martin Gabor)
Kerem KAMAL (TUR) carried the host nations flag around the mat for the first time after besting Russia's Artur PETROSIA, 6-3 to claim the 60kg gold medal. 
The 2017 junior world champion trailed 1-0 in the first period before picking up a four-point throw from the par terre position. Kamal snuck into the second period with the 5-3 lead after a failed Russian challenge and a Petrosia takedown.
After an eight-point first period, Kerem Kamal scored the only point of the closing period, taking the 60kg title with a 6-3 victory.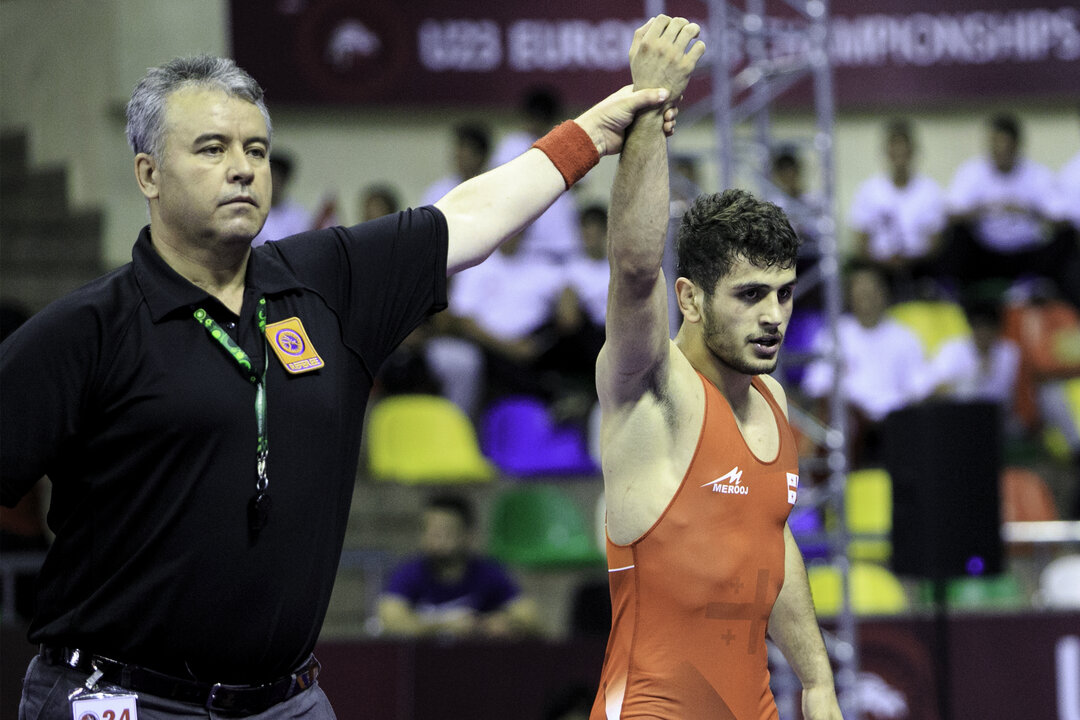 Ramaz ZOIDZE (GEO) gets his hand raised after winning the 72kg gold medal. (Photo by Martin Gabor)
At 72kg, Georgia's Ramaz ZOIDZE captured his second straight U23 European gold medal with 3-2 a win over 2018 Dan Kolov - Nikola Petrov Tournament bronze medalist Cengiz ARSLAN (TUR). 
Both wrestlers traded passivity points, but the defending champions right-sided gut wrench with just over 90-seconds remaining proved to be the difference in route to the gold medal. 
TEAM RESULTS
GOLD – Russia (161 points)
SILVER – Turkey (142 points)
BRONZE – Georgia (121 points)
Fourth – Hungary (95 points)
Fifth – Ukraine (89 points)
RESULTS
60kg
GOLD - Kerem KAMAL (TUR) df. Artur PETROSIAN (RUS), 6-3
BRONZE - Murad MAMMADOV (AZE) df. Teodor HORATAU (ROU), 8-3
BRONZE - Dato CHKHARTISHVILI (GEO) df. Viktor PETRYK (UKR), 3-3
67kg
GOLD -  Alen MIRZOIAN (RUS) df. Otto LOSONCZI (HUN), 7-3
BRONZE -  Roman PACURKOWSKI (POL) df. Karim JAFAROV (AZE), 4-2
BRONZE - Morten THORESEN (NOR) df. Sebastian NAD (SRB), 4-1
72kg
GOLD - Ramaz ZOIDZE (GEO) df. Cengiz ARSLAN (TUR), 3-2
BRONZE - Narek OGANIAN (RUS) df. Tamas LEVAI (HUN), 9-0
BRONZE - Arman BAGHDASARYAN (ARM) df. Toni Tapio OJALA (FIN), 6-3
82kg
GOLD -  Vaag MARGARIAN (RUS) df. Yaroslav FILCHAKOV (UKR), 3-1 
BRONZE - Eltun VAZIRZADE (AZE) df. David LOSONCZI (HUN), 8 - 0
BRONZE -Burhan AKBUDAK (TUR) df. Filip SACIC (CRO), 5-3 
97kg
GOLD -  Aleksandr GOLOVIN (RUS) df. Vladen KOZLIUK (UKR), 10-1 
BRONZE - Suleyman ERBAY (TUR) df. Zsolt TOEROEK (HUN), 9-2
BRONZE - Arvi Martin SAVOLAINEN (FIN) df. Jan ZIRN (GER), 9-0