Russia Sweeps Greco-Roman Gold Medals on Day 5 of European Games
Saturday, June 29, 2019 - 18:18 By United World Wrestling Press
MINSK, Belarus (June 29) - Russia swept the Greco-Roman gold medals on Day 5 of the wrestling competition at the European Games at the Minsk Sports Palace in Minsk, Belarus. 
The Russian trio of Stepan MARYANYAN (60kg), Zaur KABALOEV (67kg) and Aleksandr CHEKHIRKIN (77kg) earned finals victory on Saturday. 
Maryanyan, the returning world champion, claimed his second straight European Games gold medal. He capped off a dominating in Minsk with a 9-0 technical superiority over Erik TORBA (HUN) in the finals at 60kg. Maryanyan scored off a passivity and then showcased his strong par terre skills, using four consecutive gut wrenches to end the match in the first period. He outscored his opponents 32-3 at the European Games, which included three technical superiorities in four matches.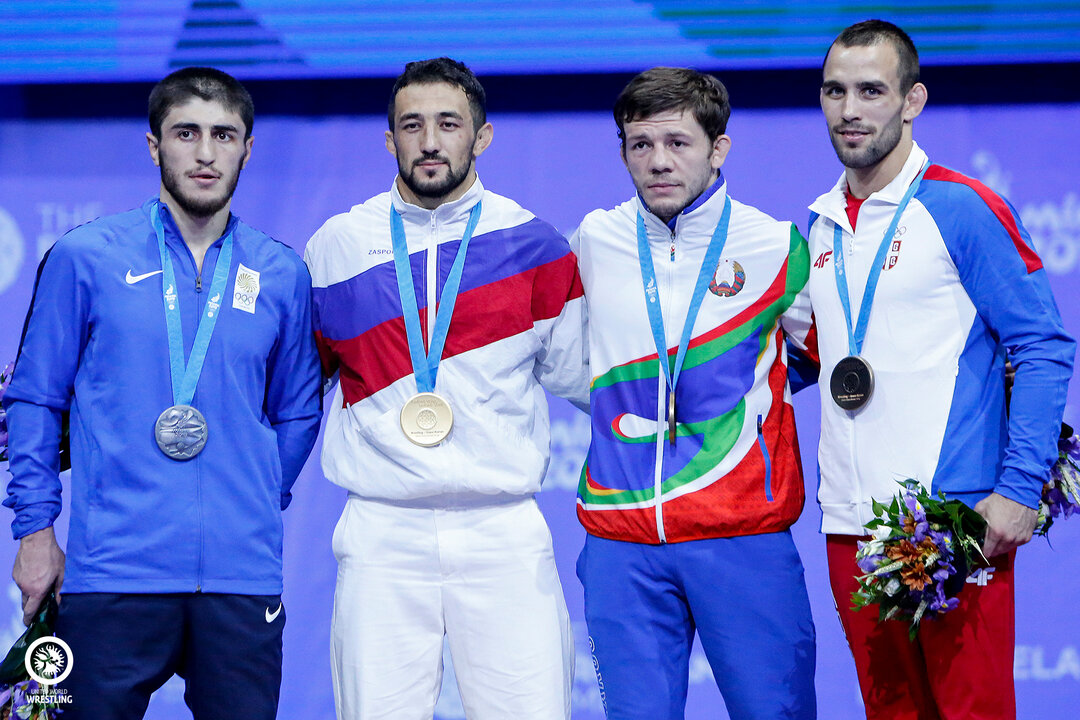 Kabaloev had to come from behind in his gold-medal match against Shmagi BOLKVADZE (GEO), a U23 and junior world champion. Bolkvadze led 1-0 at the break after scoring off a passivity. But Kabaloev battled back in the second period, scoring off a passivity with two minutes remaining before lifting Bolkvadze and scoring with a two-point throw to grab a 3-1 lead, which would be enough to get him the victory.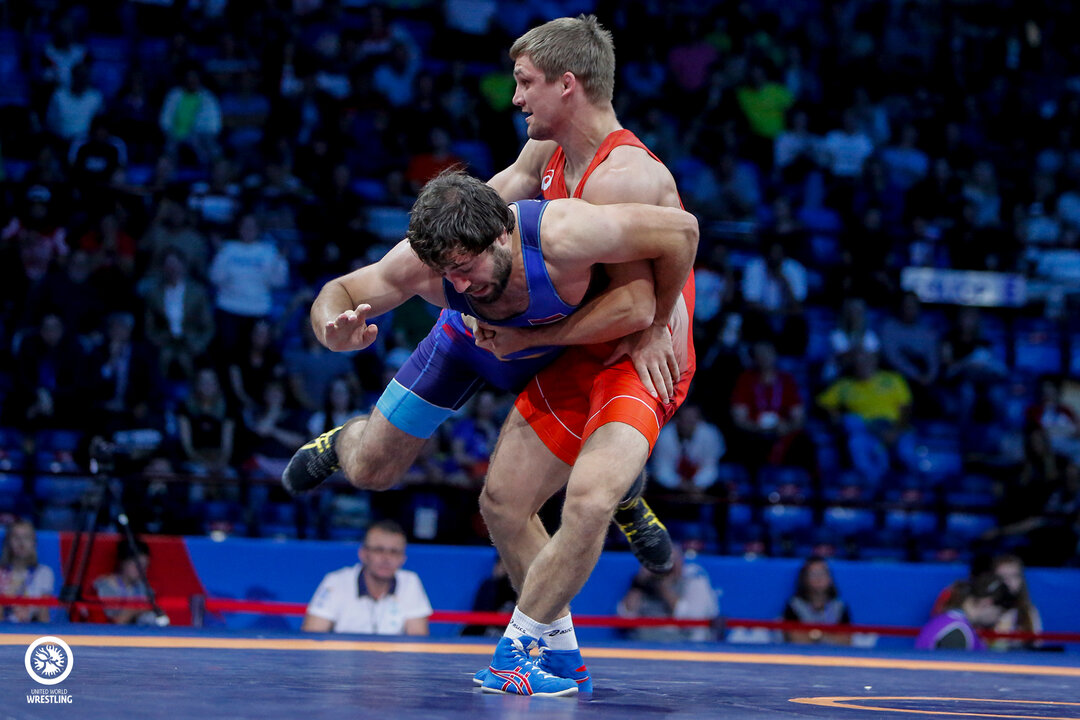 In the final match of the session, the returning world champion Chekhirkin hung on to edge Karapet CHALYAN (ARM) 7-6 in the gold-medal match at 77kg. Chekhirkin raced out to a 5-0 lead after a dominant first period. He picked up a takedown midway through the first period, added a point off a step out and then lifted Chalyan and scored two more points off a throw. But the Armenian battled back, scoring a takedown 20 seconds into the second period before adding another takedown a short time later to make the score 5-4 in favor of Chekhirkin. With just over a minute remaining, Chekhirkin extended his lead to 7-4 with a takedown. Chalyan would add a takedown with two seconds remaining, but Chekhirkin held on to win by a point. 
Victor CIOBANU (MDA) and Dato CHKHARTISHVILI (GEO) captured the bronze medals at 60kg. Ciobanu, ranked No.2 in the world, topped Zhora ABOVIAN (UKR) 3-1. Chkhartishvili edged Razvan ARNAUT (ROU) 3-3 on criteria. 
Soslan DAUROV (BLR) used a high dive to score a takedown with just over a minute remaining, which helped him defeat Oleksii KALINICHENKO (UKR) 3-2 in a bronze-medal match at 67kg. Mate NEMES (SRB) earned a 2-1 victory over Karen ASLANYAN (ARM) in the other bronze-medal match at 67kg.
Olympic silver medalist Tamas LORINCZ (HUN) earned a bronze medal at 77kg by beating Igor BESHLEAGA (MDA) 5-1. The other bronze medal at 77kg was claimed by Alex KESSIDIS (SWE), who won by fall over Yunus BASAR (TUR).
RESULTS
Greco-Roman
60kg
GOLD - Stepan MARYANYAN (RUS) df. Erik TORBA (HUN), 9-0
BRONZE - Victor CIOBANU (MDA) df. Zhora ABOVIAN (UKR), 3-1
BRONZE - Dato CHKHARTISHVILI (GEO) df. Razvan ARNAUT (ROU), 3-3
67kg
GOLD - Zaur KABALOEV (RUS) df. Shmagi BOLKVADZE (GEO), 3-1
BRONZE - Soslan DAUROV (BLR) df. Oleksii KALINICHENKO (UKR), 3-2
BRONZE - Mate NEMES (SRB) df. Karen ASLANYAN (ARM), 2-1
77kg
GOLD - Aleksandr CHEKHIRKIN (RUS) df. Karapet CHALYAN (ARM), 7-6
BRONZE - Alex KESSIDIS (SWE) df. Yunus BASAR (TUR), Fall (5:25)
BRONZE - Tamas LORINCZ (HUN) df. Igor BESHLEAGA (MDA), 5-1