Russia Wins Greco-Roman Team Title; Kamal Claims Third Junior World Gold
Sunday, August 18, 2019 - 20:31 By Eric Olanowski
TALLINN, Estonia (August 18) – The Russian Federation joined their fellow freestyle countrymen as junior world team champions, while Kerem KAMAL (TUR) gained ownership of his third consecutive junior world title.
Russia entered the final day of wrestling in Tallinn, Estonia, with the seven-point team lead over Iran, and ended with winning the team title by 37 points. They closed out the Junior World Championships with three additional medals – bringing their overall total to seven junior world medal winners. In total, Russia had four world champs, a pair of silver medalists, and a bronze-medal finisher. 
Sergei STEPANOV (RUS) joined Greco-Roman teammates Anvar ALLAKHIAROV (55kg), Abu AMAEV (63kg) and Ilia ERMOLENKO (87kg) as junior world champs. 
Stepanov, who said the plan coming into the final "was to be first," collected two points in the first period and one point in the second period and snatched his first world title with a gritty 3-1 victory over Ulvu GANIZADE (AZE). After his win, Stepanov said, "I can't say (how I feel), I'm just so emotional."
In the opening period of the finals, Stepanov scored two points from inactivity point and step-out point and carried the 2-0 lead into the closing period. The second period was scoreless until the 65-second mark when Stepanov was thrown down in par terre after being hit for inactivity. He escaped without surrendering a point and managed to tack on a point of his own after a failed leg-foul challenge from the Azerbaijani corner. Stepanov ultimately held on to win, 3-1 -- giving Russia their fourth Greco-Roman gold medal of the tournament, but more importantly, the team title. "Russia is so strong, and I am so happy to become team champions."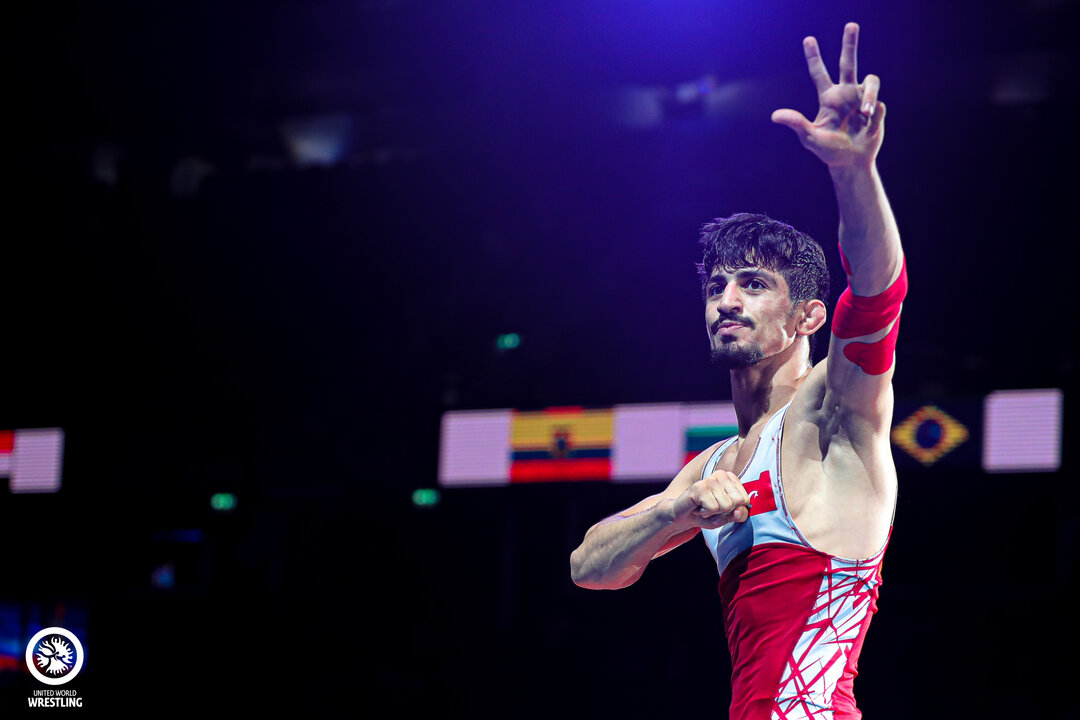 Kerem KAMAL (TUR) won his third junior world title with a 7-2 win over Sahak HOVHANNISYAN (ARM) in the 60kg finals. (Photo: Kadir Caliskan)
Meanwhile, Kerem Kamal held up three fingers to the crowd, signaling his possession of a third consecutive junior world title after he defeated Sahak HOVHANNISYAN (ARM), 7-2 in the 60kg gold-medal bout. "I'm very happy to win the third gold medal in the junior category. I was before in the cadet finals three times and I lost," said Kamal.  
In his finals match, the Turkish wrestler trailed after the first period, but he expected to be in that position. "The match plan was (to be) safe in the first (period)…Safety first." The second period was pivotal for Kamal in grasping his third junior world gold. After playing it safe in the first period, Kamal said, "In the second period, I go full power." And that's exactly what he did. In the final three minutes, Kamal earned an inactivity point and got to work quickly -- smothering Hovhannisyan with a right-side gut wrench follow by a four-point lift from the right side and commanded the 7-1 lead. He conceded a second-period point but ended up carrying the Turkish flag around the mat at a Junior World Championships for the third consecutive year with a 7-2 victory.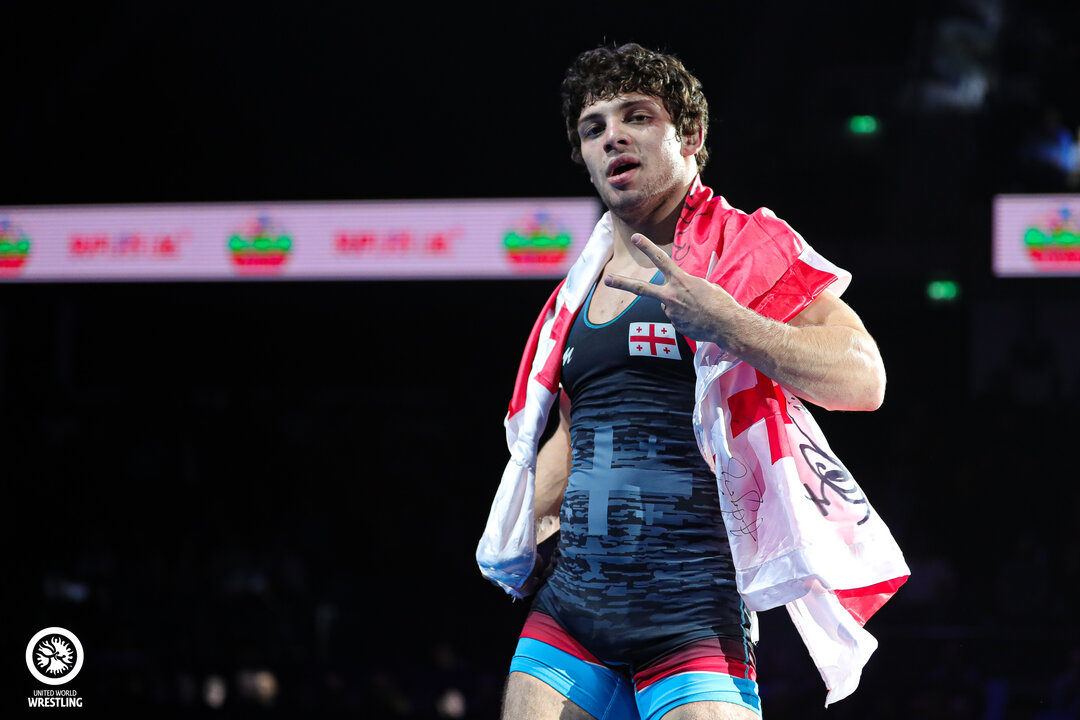 Giorgi SHOTADZE (GEO) defeated Shant KHACHATRYAN (ARM), 6-3 in the 67kg finals and captured his second age-group world title. His first came at the 2016 Cadet World Championships in Tbilisi, Georgia. 
Final Trio of Day Seven Champions
In the 67kg finals, Giorgi SHOTADZE (GEO) and Shant KHACHATRYAN (ARM) exchanged one-point sequences, but it was the Georgian who headed into the second period with the lead on criteria. A stepout 15 seconds into the second period, followed by a four-point throw with 25 seconds left gave the reigning European champion his second world title and first since winning the 2016 Cadet World Championship in Tbilisi, Georgia.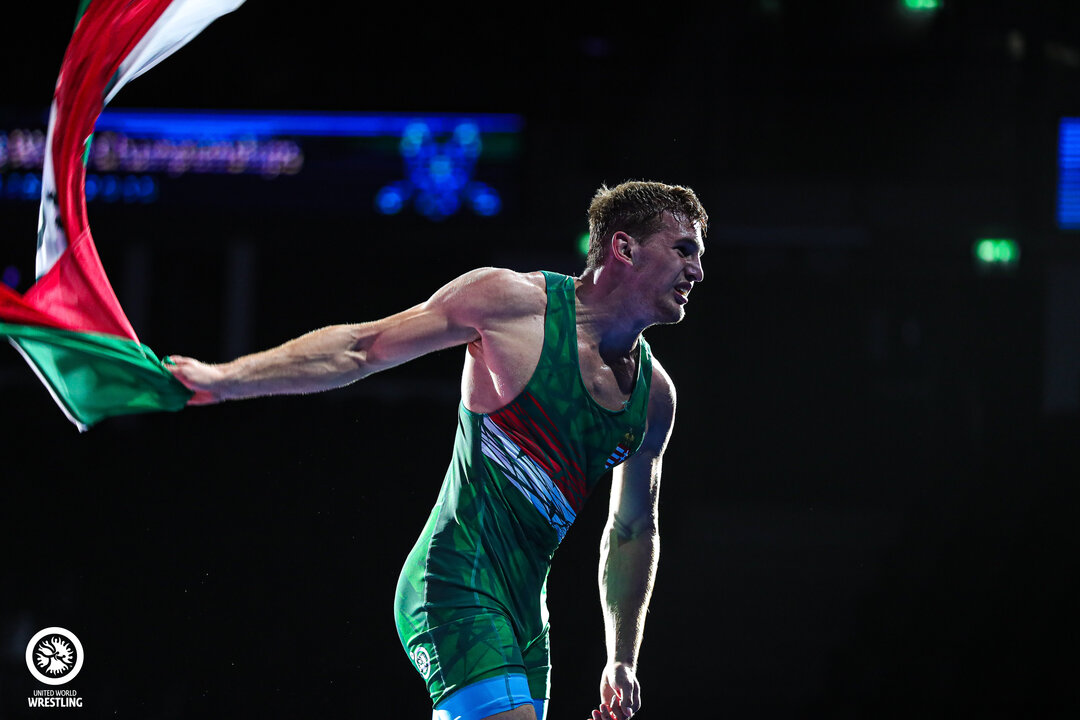 Istvan TAKACS (HUN) scored 48 offensive points on his way to the 82kg title. (Photo: Kadir Caliskan)
Istvan TAKACS (HUN) stopped Russia from winning their second gold medal of the night with a 7-1 statement win over Aues GONIBOV (RUS) in the 82kg finals. "I came for the gold, and I got it," Takacs said after the award ceremony.  
In the opening period, the Hungarian traded inactivity points with his Russian opponent but wasn't too worried because it was all a part of his initial game plan. "The plan was to defend the first par terre position, then pick up my points." He successfully defended the par terre, and when it was his turn, he capitalized on his opportunity -- scoring six points from a pair of two-point lifts and a leg foul.  
Takas closed out the Junior World Championships scoring 48 offensive points. When asked about his offensive efficiency, Takas said, "I thought about it before the matches. I wanted to win by one or two points, but in the matches, I felt good and the points just came... Everything clicked." 
With his win on Sunday night, Takas became Hungary's first junior world champion since 2012, when Baliant LAM won the 120kg title in Pattaya, Thailand.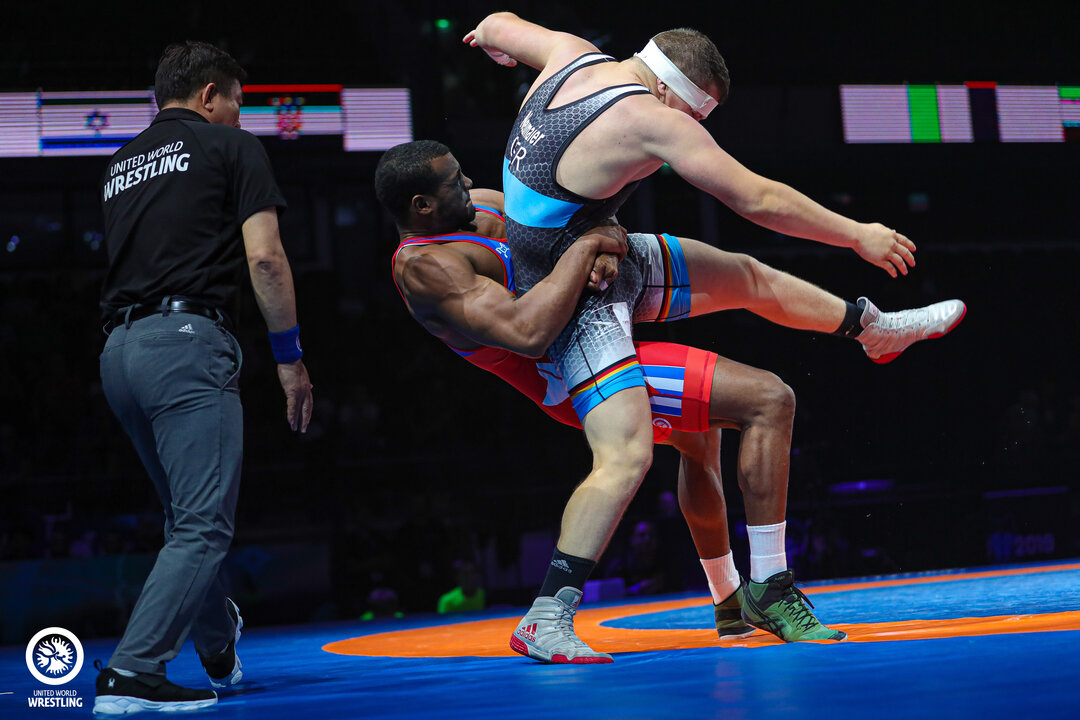 Gabriel ROSILLO KINDELAN (CUB) easily handled Patrick NEUMAIER (GER), 8-0 in the 97kg gold-medal bout. (Photo: Kadir Caliskan)
At 97kg, it only took 74 seconds for Cuba's Gabriel ROSILLO KINDELAN to impose his will on Patrick NEUMAIER (GER) and pick up the technical superiority victory. The Cuban suplexed his way to a four-point lead, then stacked on a takedown and a gut wrench -- giving Cuba their first junior Greco-Roman world title since Yasmany LUGO CABRERA'S (CUB) 2009 world title run in Ankara, Turkey.
Final Greco-Roman Team Scores
GOLD - Russia (157 points)
SILVER - Iran (121 points)
BRONZE - Turkey (117 points)
Fourth - Georgia (91 points)
Fifth - Hungary (62 points)

60kg
GOLD - Kerem KAMAL (TUR) df. Sahak HOVHANNISYAN (ARM), 7-2
BRONZE - Georgii TIBILOV (RUS) df. Diego CHKHIKVADZE (GEO), 5-2 
BRONZE - Asgar ALIZADA (AZE) df. Talastan KANZHARBEK UULU (KGZ), 11-2 
67kg
GOLD - Giorgi SHOTADZE (GEO) df. Shant KHACHATRYAN (ARM), 6-3 
BRONZE - Peyton Louis OMANIA (USA)  df. Xin HUANG (CHN), 6-5 
BRONZE - Valentin PETIC (MDA) df. Abdul Samet BASAR (TUR), 3-1
72kg
GOLD - Sergei STEPANOV (RUS) df. Ulvu GANIZADE (AZE), 3-1 
BRONZE - Ihor BYCHKOV (UKR)  df. Rasmus Lilleman AASTROEM (SWE), via fall 
BRONZE - Mohammadreza Mahmoud ROSTAMI (IRI) df. Ismail GUN (TUR), 6-5 
82kg
GOLD - Istvan TAKACS (HUN) df. Aues GONIBOV (RUS), 7-1 
BRONZE - Maksim BANDARENKA (BLR) df. Hosein FOROUZANDEH GHOJEHBEIGLOU (IRI), 5-4 
BRONZE - Dogan KAYA (TUR) df. Lucas Alexandros LAZOGIANIS (GER), 8-6 
97kg
GOLD - Gabriel Alejandro ROSILLO KINDELAN (CUB) df. Patrick NEUMAIER (GER), 8-0 
BRONZE - Uladzislau PUSTASHYLAU (BLR) df. Gerard Cyprian KURNICZAK (POL), 3-1 
BRONZE - Beytullah KAYISDAG (TUR) df. Alex Gergo SZOKE (HUN), 1-1