Russians Dominate Day One
Friday, January 26, 2018 - 16:32 By Eric Olanowski
KRASNOYARSK, Russia (January 26) -- Russia dominated day one of the 29th Annual Ivan Yarygin Grand Prix in Krasnoyarsk with wrestlers from the host nation facing each other in the night's 57kg, 61kg and 70kg finals. Yarygin is the first of United World Wrestling's Ranking Series, with medalists earning worldwide standing points based on their placement.
In the night's opening freestyle bout, defending Yarygin champion Zavur UGUEV (RUS) faced Azamat TUSKAEV (RUS) in the 57kg finals. The duo tangled early, but Uguev was successful with a takedown midway through the first period earning him a commanding 3-0 lead heading into the second. Uguev closed out the match 4-1 and take home eight points in the ranking series.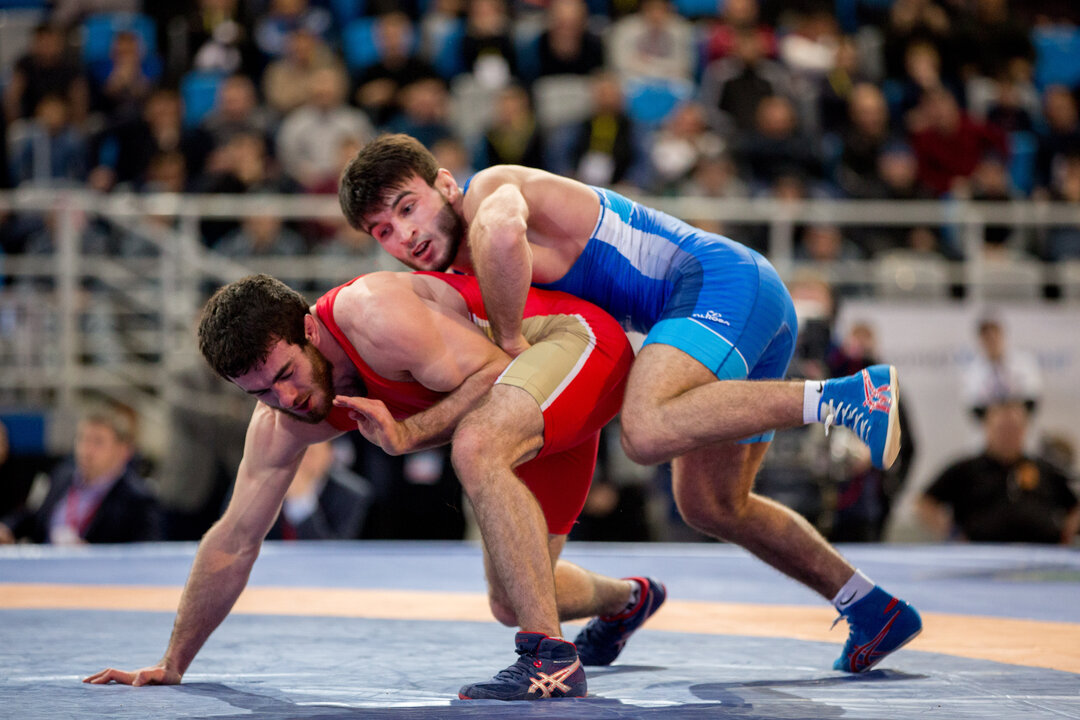 Gadzhimurad RASHIDOV (RUS) and Ismail MUSUKAEV (RUS) faced each other in the 65kg finals, treating fans to a back-and-forth tango. The duo were tied 2-2 late when a Musukaev flurry at the edge, fell in favor of Rashidov who earned the decisive one point advantage on a step out, winning 3-2.  
Magomed KURBANALIEV's (RUS) trailed his close friend Magomedrasul GAZIMAGOMEDOV (RUS) 1-0 with :30 seconds left in the 70kg gold medal final, but found a late takedown and the eventual 2-2 victory on way to his third Yarygin title.
In a non-ranking series event, women's wrestling competed alongside their male counterparts Friday night in four gold medal finals. 
With a revamped coaching staff the Chinese women had a hefty gold medal haul on day one of women's wrestling at the Ivan Yarygin Grand Prix. Ningning RONG (CHN) and Chuying TANG (CHN) were each successful in capturing their first Yarygin crowns in dominating fashion, while Japan's stalwarts Yuki IRIE (JPN) and Andoriahanako SAWA (JPN) also won golds for Team Japan.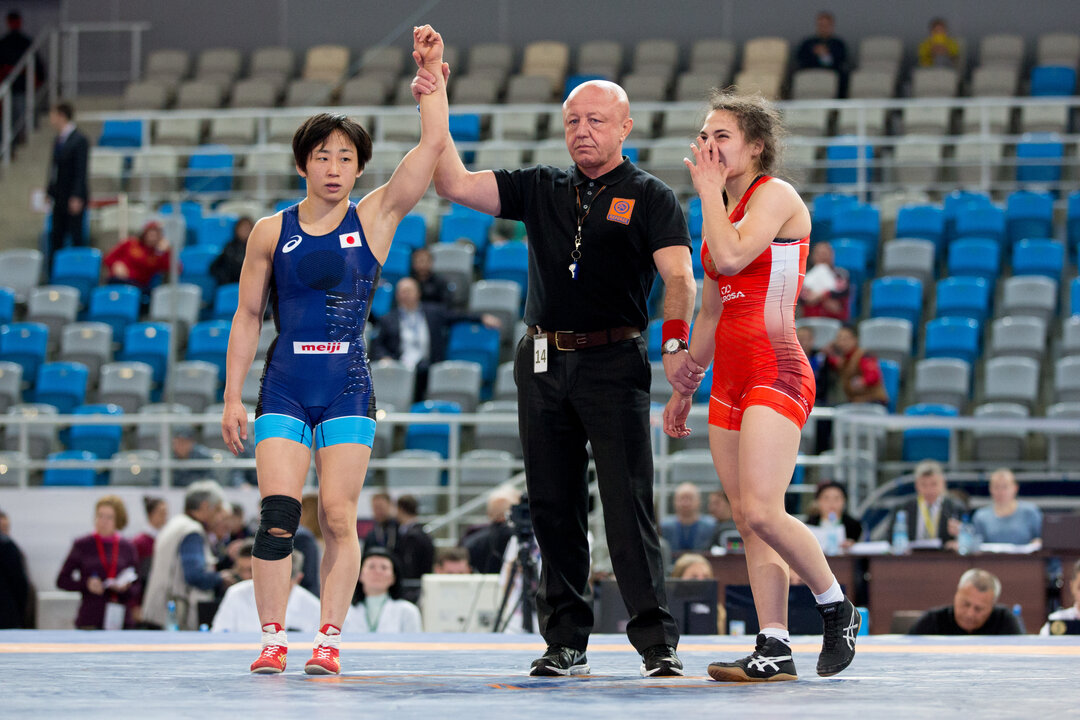 Looking for her third Yarygin title, Yuki IRIE (JPN) found herself with a comfortable five-point lead heading into the second period. After picking up a takedown and gut wrench, Irie's lead over Sonhyang KIM (PRK) grew to 9-0.
Halfway through the second period, the tides turned as Irie found herself fighting off Kim's late surge, giving up eight unanswered points, but holding on to win on to win, 9-8.
When asked about the second period, Irie said "I became relaxed in the second period and she became strong. I need to train more. She felt very strong."
At 55kg, XIE Mengyu (CHN) went big twice and had an 8-5 lead with under 30 seconds remaining. Sawa continued to push the pace and picked up a takedown along with a gut wrench as time expired. The scoreboard read 9-8 in favor of Sawa. After a Xie lost challenge, Sawa hand was raised and she was award the 10-8 victory.
Ningning RONG (CHN) was in control of the 59kg gold medal bout whistle to whistle. Entering the second period, Rong led 6-0. The match ended after Rong scored four additional points, giving her the 10-0 technical superiority victory over Alli RAGAN (USA).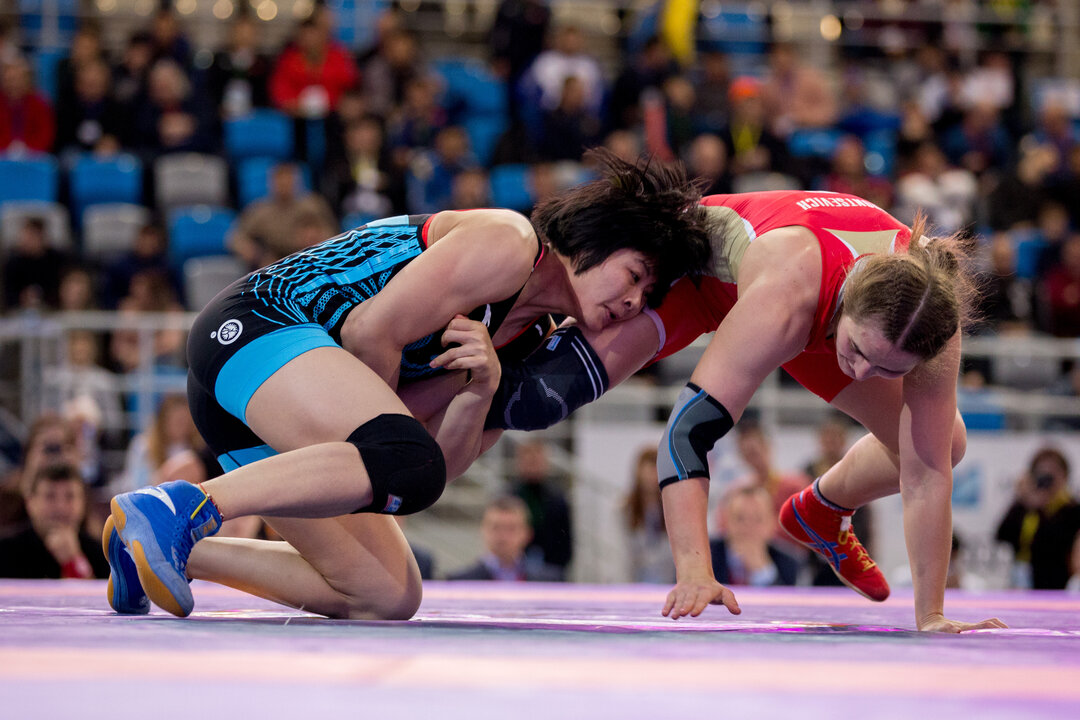 Chuying TANG (CHN) trailed Yulia PRONTSEVITCH (RUS) 1-0 after the first period of the 65kg final. The Chinese wrestler was able to pick up at takedown and gut wrench, sealing her 4-1 victory.
Freestyle
57kg
Gold – Zavur UGUEV (RUS) df. Azamat TUSKAEV (RUS), 4-1.
Bronze – Tsogbadrakh TSEVEENSUREN (MGL) df. Baris KAYA (TUR), 5-1
Bronze – Khuresh ool DONDUK OOL (RUS) df. Frank PERRELLI IV (USA), 5-3
Semifinal – Zavur UGUEV (RUS) df. Frank PERRELLI IV (USA), 8-3
Semifinal – Azamat TUSKAEV (RUS) df. Tsogbadrakh TSEVEENSUREN (MGL), 7-0
61kg
Gold – Gadzhimurad RASHIDOV (RUS) df. Ismail MUSUKAEV (RUS), 3-2
Bronze – Aleksandr BOGOMOEV (RUS) df. Anthony RAMOS (USA), 4-0
Bronze – Tuvshintulga TUMENBILEG (MGL) df. Abbos RAKHMONOV (UZB), 5-1
Semifinal – Gadzhimurad RASHIDOV (RUS) df. Aleksandr BOGOMOEV (RUS), 2-0
Semifinal – Ismail MUSUKAEV (RUS) df. Abbos RAKHMONOV (UZB), 5-0
70kg
Gold – Magomed KURBANALIEV (RUS) df. Magomedrasul GAZIMAGOMEDOV (RUS), 2-2
Bronze – Andriy KVYATKOVSKYY (UKR) df. Israil KASUMOV (RUS), 8-3
Bronze – Frank MOLINARO (USA) df. Levan KELEKHSASHVILI (GEO), 5-3
Semifinal – Magomedrasul GAZIMAGOMEDOV (RUS) df. Israil KASUMOV (RUS), 7-1
Semifinal – Magomed KURBANALIEV (RUS) df. Frank MOLINARO (USA), 8-5
Women's Wrestling
50kg
Gold – Yuki IRIE (JPN) df. Sonhyang KIM (PRK), 9-8
Bronze – Anzhelika VETOSHKINA (RUS) df. Valeriya CHEPSARAKOVA (RUS), 5-4
Bronze – Jie NI (CHN) df. Elena VOSTRIKOVA (RUS) via tf, 10-0
Semifinal – Yuki IRIE (JPN) df. Anzhelika VETOSHKINA (RUS), 14-3
Semifinal – Sonhyang KIM (PRK) df. Elena VOSTRIKOVA (RUS), 8-0
55kg
Gold – Andoriahanako SAWA (JPN) df. Mengyu XIE (CHN), 10-8
Bronze – Davaachimeg ERKHEMBAYAR (MGL) df. Aleksandra NITSENKO (RUS), 8-0
Bronze – Jonghwa CHOE (PRK) df. Nina MENKENOVA (RUS), 6-0
Semifinal – Andoriahanako SAWA (JPN) df. Jonghwa CHOE (PRK), 8-0
Semifinal – Mengyu XIE (CHN) df. Davaachimeg ERKHEMBAYAR (MGL), 9-5
59kg
Gold – Ningning RONG (CHN) df. Allison Mackenzie RAGAN (USA), 10-0
Bronze – Veronika CHUMIKOVA (RUS) vs. Mimi Nikolova HRISTOVA (BUL), 6-5
Bronze – Uliana TUKURENOVA (RUS) vs. Bilyana Zhivkova DUDOVA (BUL), 8-3
Semifinal – Ningning RONG (CHN) df. Mimi Nikolova HRISTOVA (BUL), 8-4
Semifinal – Allison Mackenzie RAGAN (USA) df. Bilyana Zhivkova DUDOVA (BUL), 9-6
65kg
Gold – Chuying TANG (CHN) df. Yulia PRONTSEVITCH (RUS), 4-1
Bronze – Bolortungalag ZORIGT (MGL) df. Anna SHCHERBAKOVA (RUS), 17-8
Bronze – Tsevegmed ENKHBAYAR (MGL) df. Oyuntuya OTGONBAT (MGL), 4-2
Semifinal – Chuying TANG (CHN) df. Bolortungalag ZORIGT (MGL), 2-0
Semifinal – Yulia PRONTSEVITCH (RUS) df. Oyuntuya OTGONBAT (MGL), 5-2