Sadulaev Helps Russia Go 4-for-4 in FS Semifinals
Thursday, December 17, 2020 - 18:23 By Andrew Hipps
Link:
Semifinal Highlights

BELGRADE, Serbia (December 17) -- Olympic champion Abdulrashid SADULAEV (RUS) helped Russia go 4-for-4 in Thursday's freestyle semifinal round at the Individual World Cup in Belgrade, Serbia.
Sadualev, a four-time world champion, outscored his three opponents 32-3 on Thursday, finishing his day with a 12-1 semifinal victory over Valerii ANDRIITSEV (UKR). Sadulaev gave up the first point of the match to go down 1-0, but dominated the rest of the way, getting a takedown off a single leg before locking up a gut wrench and turning Andriitsev five times to earn the technical superiority.
The Russian Tank will face Aliaksandr HUSHTYN (BLR) in the 97kg final. The two have met multiple times, including in the 2019 European Championships final. Hushtyn was impressive in his semifinal match, earning a shutout (8-0) over Shamil ZUBAIROV (AZE).
Russia's other semifinal winners on Thursday were Abasgadzhi MAGOMEDOV (61kg), Akhmed USMANOV (79kg) and Dauren KURUGLIEV (86kg).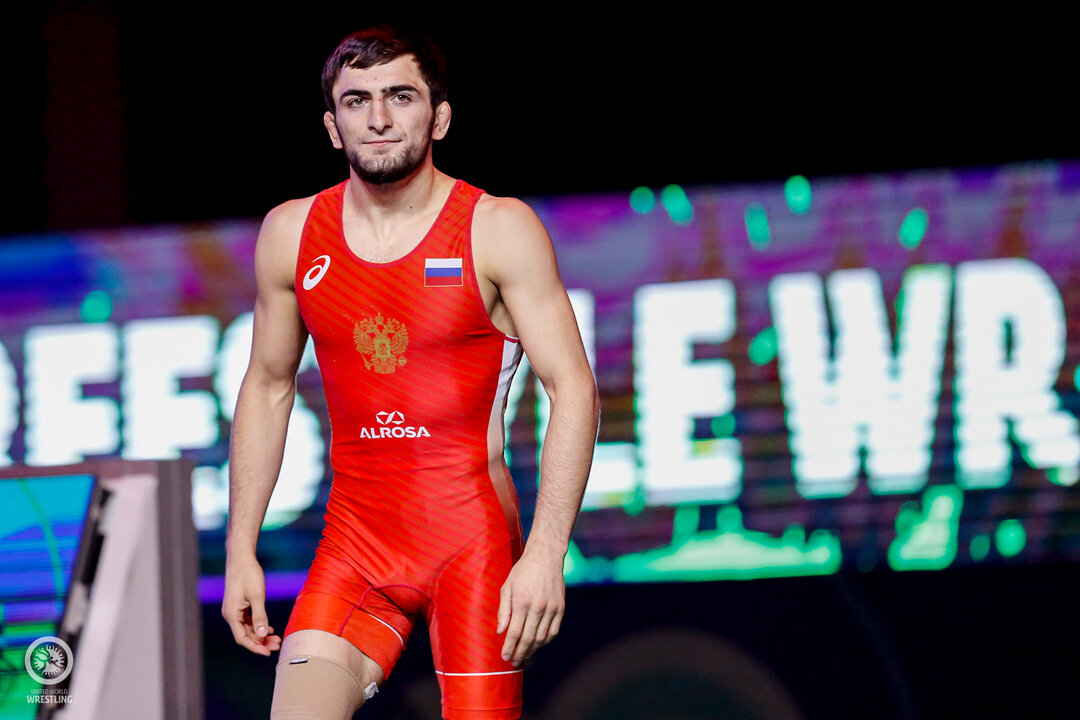 Abasgadzhi MAGOMEDOV (RUS) advanced to the finals at 61kg (Photo: Gabor MARTIN, UWW)

Magomedov blanked Agustin DESTRIBATS (ARG) 7-0 in his 61kg semifinal match. He led 5-0 at the break and added a takedown in the final period. The other semifinal winner was Akhmednabi GVARZATILOV (AZE), who topped Muhamad IKROMOV (TJK), 8-1. Gvarzatilov scored with a four-point move in the opening period, which helped him earn the victory. 
Usmanov rolled to a technical superiority (10-0) over Baliyan GOURAV (IND) to reach the 79kg final. After going up 7-0 in the first period, Usmanov scored with a step out and takedown to close out the match.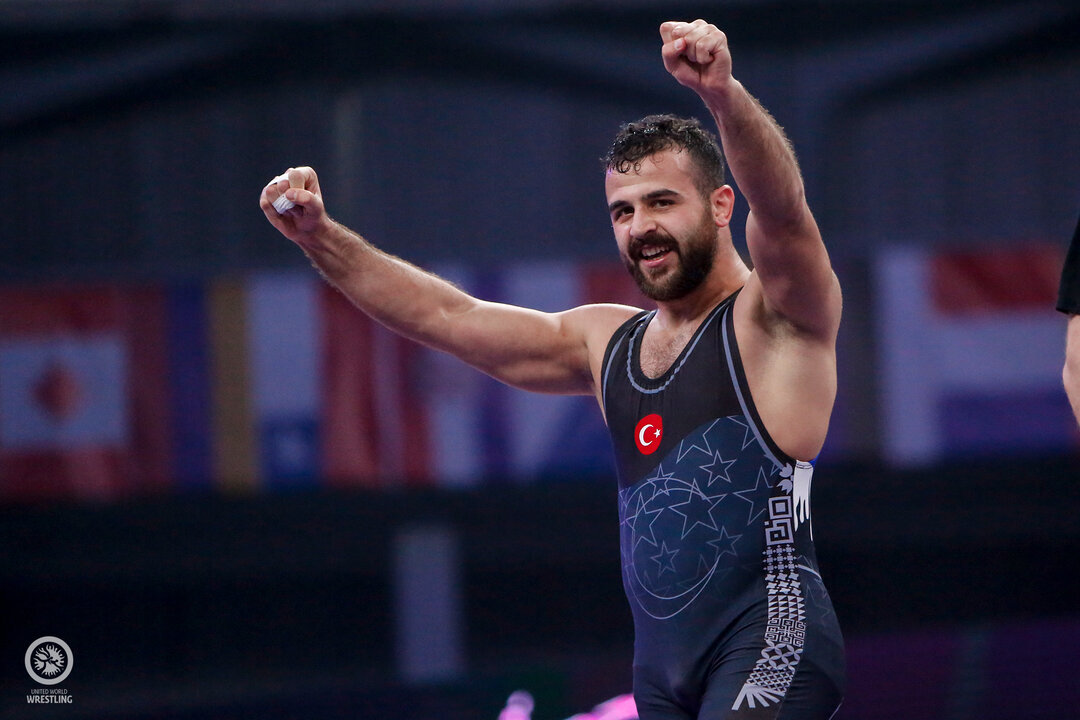 Muhammet KOTANOGLU (TUR) celebrates after reaching the 79kg final (Photo: Gabor MARTIN, UWW)

The other semifinal match at 79kg was much more competitive, with Muhammet KOTANOGLU (TUR) edging Vasyl MYKHAILOV (UKR) 4-4 on criteria. The Turkish wrestler scored with a four-point move in the opening period and led 4-2 at the break. Mykhailov picked up a takedown with just under 20 seconds remaining, but Kotanoglu held on to win by criteria on the strength of his four-point move in the opening period. 
Kurugliev shut out world No.2 Deepak PUNIA (IND) to advance to the 86kg final. All the scoring came in the first period, with Kurugliev getting a takedown and gut wrench. Winning the other 86kg semifinal was Zbigniew BARANOWSKI (POL), who edged Taimuraz FRIEV NASKIDAEVA (ESP) 3-2. Baranowski scored his first two points off the activity clock and led most of the match. With 35 seconds remaining, Friev Naskidaeva scored with a two-point exposure to take a very brief criteria lead before Baranowski earned the reversal, which turned out to be to be the difference in the match.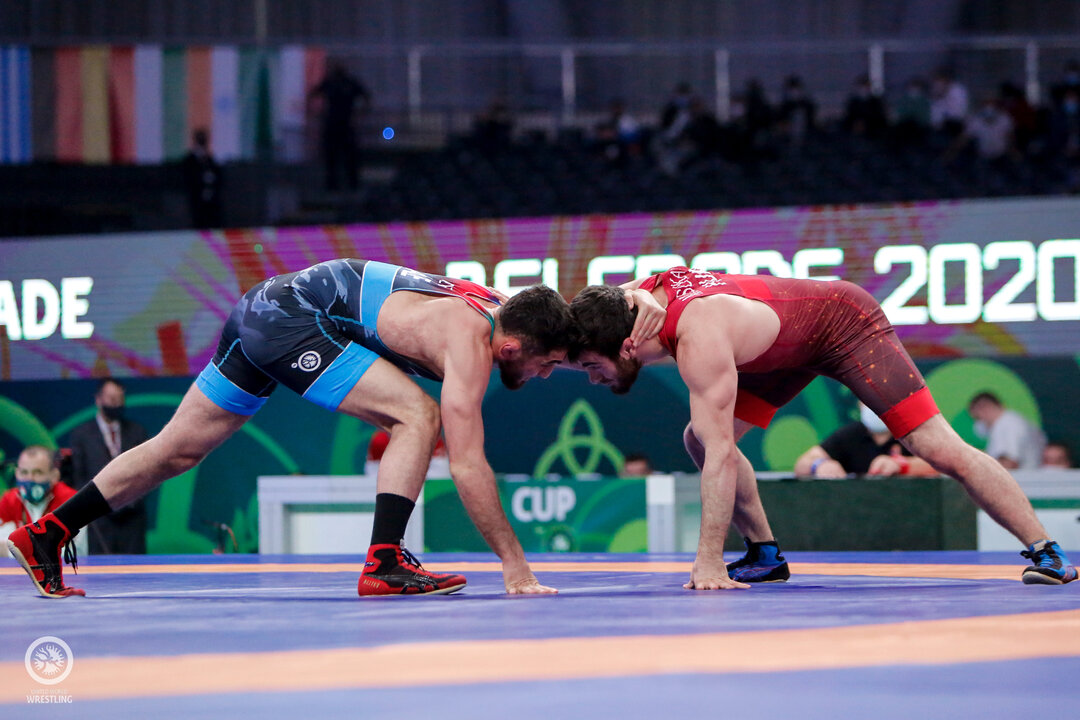 Iszmail MUSZUKAJEV (HUN) edged three-time world champ Haji ALIYEV (AZE) to reach the 65kg final (Photo: Gabor MARTIN, UWW)

One of the most anticipated semifinal matches took place at 65kg, with world bronze medalist Iszmail MUSZUKAJEV (HUN) facing three-time world champion Haji ALIYEV (AZE). Earlier in the day, Aliyev won by injury default over 2019 world champion Gadzhimurad RASHIDOV (RUS). Muszukajev edged Aliyev 7-6, scoring six quick points early in the second period, which included a four-pointer. Aliyev rallied, picking up two takedowns and a late step out but could not complete the comeback. Vazgen TEVANYAN (ARM) earned a 7-2 victory over Hor OHANNESIAN (UKR) in the other 65kg semifinal.
Freestyle Semifinal Results
61kg
Akhmednabi GVARZATILOV (AZE) df. Muhamad IKROMOV (TJK) by VPO1, 8-1
Abasgadzhi MAGOMEDOV (RUS) df. Agustin Alejandro DESTRIBATS (ARG) by VPO, 7-0
65kg
Vazgen TEVANYAN (ARM) df. Hor OHANNESIAN (UKR) by VPO1, 7-2
Iszmail MUSZUKAJEV (HUN) df. Haji ALIYEV (AZE) by VPO1, 7-6
79kg
Akhmed USMANOV (RUS) df. Baliyan GOURAV (IND) by VSU, 10-0
Muhammet KOTANOGLU (TUR) df. Vasyl MYKHAILOV (UKR) by VPO1, 4-4
86kg
Zbigniew BARANOWSKI (POL) df. Taimuraz FRIEV NASKIDAEVA (ESP) by VPO1, 3-2
Dauren KURUGLIEV (RUS) df. Deepak PUNIA (IND) by VPO, 4-0
97kg
Abdulrashid SADULAEV (RUS) df. Valerii ANDRIITSEV (UKR) by VSU1, 12-1
Aliaksandr HUSHTYN (BLR) df. Shamil ZUBAIROV (AZE) by VPO, 8-0