Sadulaev Reaches Summit of European Podium for a Fifth Time
Saturday, February 15, 2020 - 19:55 By Eric Olanowski
ROME, Italy (February 15) --- Abdulrashid SADULAEV (RUS) reached the summit of the European podium for the fifth time and improved his senior continental record to an unblemished 22-0. He has four European championship titles and a gold medal at the 2015 European Games which took the place of the European Championships in that year.
"It's my fifth European championship gold, but I hope it's not the last. There are six-time champions like Bouvaisar SAITIEV (RUS) and seven-time champions like Aleksander MEDVED (URS). Alexandre KARELIN (RUS) is a 12-time European champ, but I might not be able to achieve as much as he did." said Sadualev after he was asked if he's chasing Karelin's European title record. 
Sadualev led the cast of Russian wrestlers who claimed three of five gold medals on Saturday. Russia commands a 27 point lead over Azerbaijan in the team race heading into the closing the day of the European Championships. 
Sadualev defeated Albert SARITOV (ROU), 6-0, in what was a battle of Rio Olympic medalists. The Russian won gold in Rio and Saritov finished with a bronze medal. 
In the finals, the "Russian Tank" scored his first takedown with seven seconds left on the shot clock and led 2-0. He tacked on a second takedown and carried the 4-0 lead into the second period. The four-time world champion added a third takedown and claimed his sixth European gold medal with the 6-0 win. 
"It was not that easy to win. The draw wasn't good for me. Starting from the first match I had serious opponents. I am pleased with the result, but not really pleased with the way I wrestled," said Sadulaev.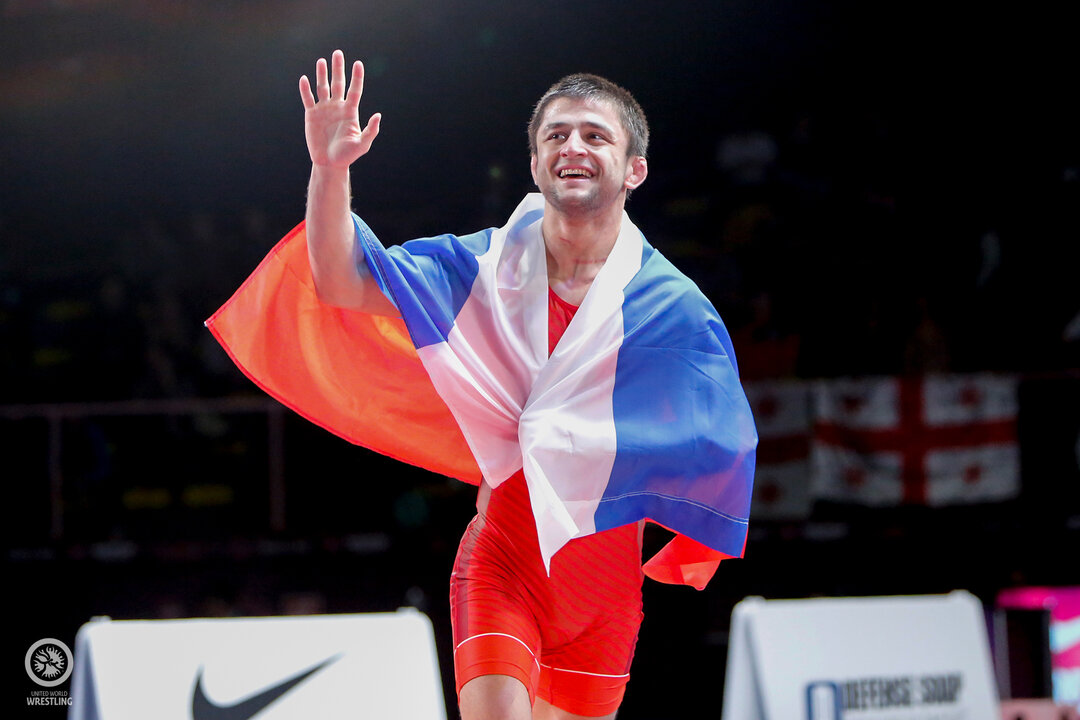 Azamat TUSKAEV (RUS) celebrates his 57kg gold-medal win by circling the mat with the Russian flag draped over his back. (Photo: Gabor Martin)
Azamat TUSKAEV (RUS) and Kurban SHIRAEV (RUS) were the two other Russian's who claimed continental gold on Saturday night. 
Tuskaev started the finals off on a good note for the Russian Federation. "I had to make all the others want to repeat my result, so it was a bit more difficult. If I had lost, it wouldn't have been nice for the others. I gave them the so-called impulse to win," said Tuskaev.
He topped Suleyman ATLI (TUR), 3-1, in the 57kg finals, stopping the Turkish wrester from winning back-to-back European titles.
He fell to Atli in the 2017 U23 European finals, 4-2, but avenged that loss on Saturday night. "We have wrestled against each other a few times already. Sometimes I won, sometimes he did," Tuskaev said. "I knew his wrestling style. Honestly, I didn't want to lose. It's my first time wrestling at the European Championships and I wanted to win." 
Tuskaev controlled the entire finals match with a left-sided underhook and stopped Atli from getting to any of his offense. In the first period, Tuskaev tossed Atli out of bounds for the one-point stepout and carried the slim advantage into the second period. He scored an inactivity point and extended his lead to two points but surrendered a head inside single near the out of bounds line and conceded the one-point stepout. The Russian grabbed another point after a failed Turkish challenge and stood atop the European podium for the first time in his career.
Tuskaev now sits behind reigning two-time world champion Zaur UGUEV (RUS) as the favorite to represent Russia at the Olympic Games. "I have to work three times harder to take over his spot. So, we will keep working hard and we will see. I will go back home, have some rest and then I will keep training," Tuskaev said about the potential path to taking Ugev's starting spot.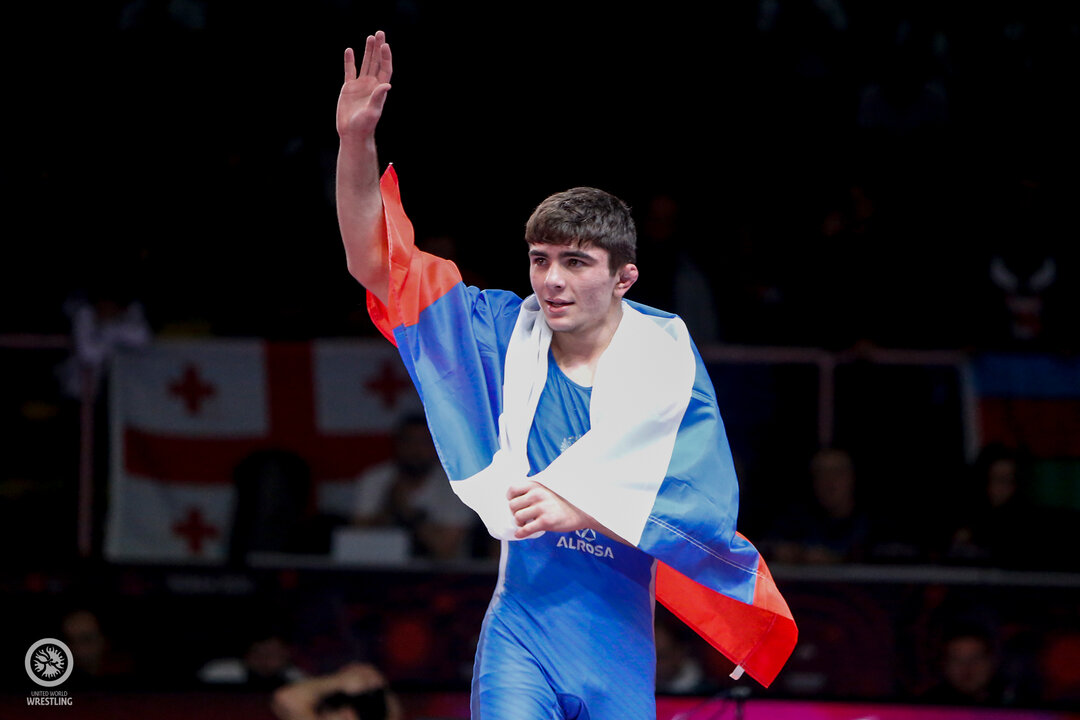 Kurban SHIRAEV (RUS) salutes the crowd after winning the 65kg gold medal. (Photo: Gabor Martin)
Kurban Shiraev, the 20-year-old phenom, was the third Russian gold-medal winner. He shutout Niurgun SKRIABIN (BLR), 5-0, in the 65kg finals and continued his dominant 2020 season that just saw him win the "Toughest Tournament in the World," the Ivan Yariguin. "We have come a long way to achieve it. We have been training a lot. I concentrated well on the match and I won," the youngster said after his match.
Shiraev showed that he has what it takes to wrestle with the best in the world. In the finals, He scored a takedown, an exposure and an inactivity point, while also putting on a defensive display of expertise en route to the 65kg title. 
Shiraev's emergence at 65kg adds to the insane depth that Russia already had. Gadzhimurad RASHIDOV (RUS) is the front-runner to represent Russia in the Tokyo Olympic Games. But Russia also has Rio Olympic champion Soslan RAMONOV (RUS), two-time world bronze medalist Akhmed CHAKEV (RUS) and now Shiraev, among many others, vying for the opportunity to be Russia's guy at 65kg.
When asked about where he sees himself in the pecking order at 65kg, Shiraev said, "I have to keep working hard. Of course, they are all my elder brothers and rivals at the same time. In general. I have to train hard to be a leader."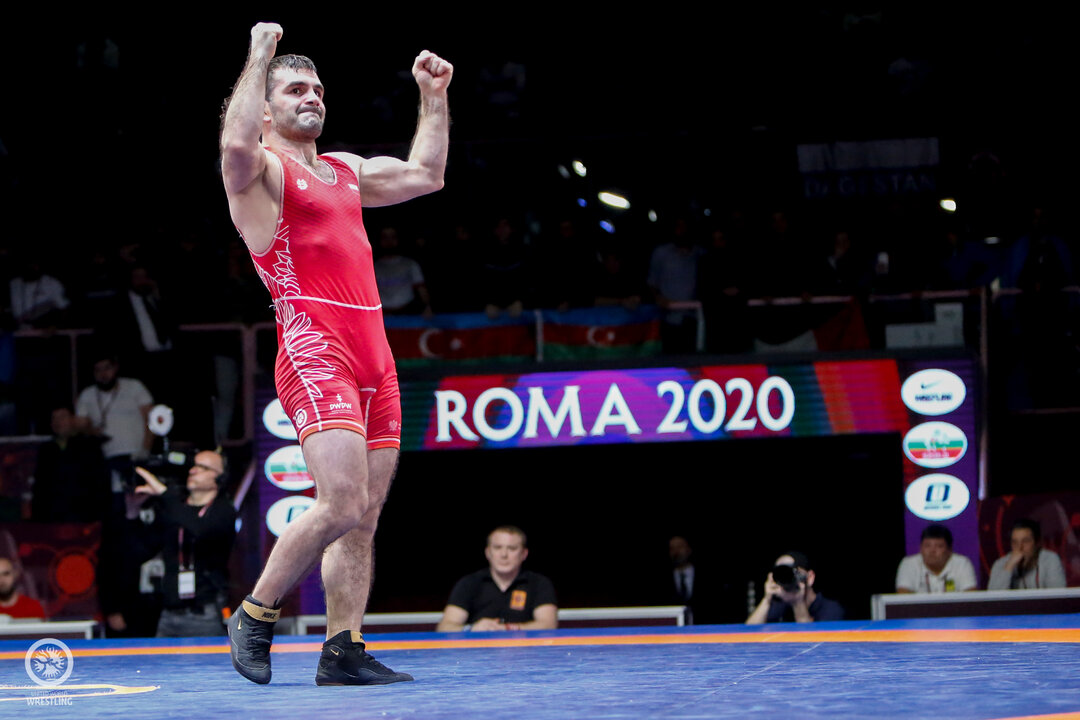 Magomedmurad GADZHIEV (POL) flexes after beating Aghahuseyn MUSTAFAYEV (AZE), 2-0, in the 70kg finals. (Photo: Gabor Martin)
Gadzhiev and Kadzimahamedau Non-Russian Champions 
Magomedmurad GADZHIEV (POL) and Mahamedkhabib KADZIMAHAMEDAU (BLR) were the two non-Russian wrestlers that claimed European golds on Saturday night. 
Gadzhiev scored an inactivity point in each period and defeated returning European silver medalist Aghahuseyn MUSTAFAYEV (AZE), 2-0, in the 70kg finals. 
Gadzhiev won his second career European title and first since 2016. Coming into Saturday finals, the Polish reigning world bronze medalist was 1-4 in continental gold-medal matches. Gadzhiev improved his European finals record to 2-4 with his win in Rome.
Kadzimahamedau stopped Magomed RAMAZANOV (RUS) in the 79kg finals, ending Russia's quest to go four-for-four in gold-medal matches on Saturday. Kadzimahamedau led 2-1 after the first period, but after surrendering a second-period takedown, he exploded to score eight unanswered points in the final 90 seconds. He walked away with the 10-3 victory and his first continental title.
The final session of the European Championships kicks off at 18:00 (local time) and can be followed live on www.unitedworldwrestling.org.
RESULTS 
57kg 
GOLD - Azamat TUSKAEV (RUS) df. Suleyman ATLI (TUR), 3-1 
BRONZE - Stevan MICIC (SRB) vs. Mihran JABURYAN (ARM), 10-0 
BRONZE - Horst LEHR (GER) df. Georgi VANGELOV (BUL), 6-3 
65kg
GOLD - Kurban SHIRAEV (RUS) df. Niurgun SKRIABIN (BLR), 5-0 
BRONZE - Erik ARUSHANIAN (UKR) df. Marwane Ahmed YEZZA (FRA), via fall 
BRONZE - Ali RAHIMZADE (AZE) df. Iszmail MUSZUKAJEV (HUN), 2-2 
70kg 
GOLD - Magomedmurad GADZHIEV (POL) df. Aghahuseyn MUSTAFAYEV (AZE), 2-0 
BRONZE - Mihail SAVA (MDA) df. Gevorg MKHEYAN (ARM), 8-7
BRONZE - Haydar YAVUZ (TUR) df. Mirza SKHULUKHIA (GEO), 7-1 
79kg 
GOLD - Mahamedkhabib KADZIMAHAMEDAU (BLR) df. Magomed RAMAZANOV (RUS), 10-3
BRONZE - Jabrayil HASANOV (AZE) df. Batuhan DEMIRCIN (TUR), 5 - 4
BRONZE - Vasyl MYKHAILOV (UKR) df. Dzhemal Rushen ALI (BUL)
97kg 
GOLD - Abdulrashid SADULAEV (RUS) df. Albert SARITOV (ROU), 6-0 
BRONZE - Elizbar ODIKADZE (GEO) df. Nurmagomed GADZHIYEV (AZE), 3-2 
BRONZE - Abraham CONYEDO (ITA) df. Gennadij CUDINOVIC (GER), 4-0