Snyder Clinches USA's First World Cup Title Since 2003
Monday, April 9, 2018 - 01:08 By United World Wrestling Press
IOWA CITY (April 8) - Seven and half months ago, Kyle SNYDER clinched a world title for the United States of America. On Sunday, the Olympic champion and multiple-time world champion clinched a Freestyle World Cup title for USA.
With USA leading 5-3 against Azerbaijan in the gold-medal match, Snyder came through with a dominant 14-3 victory over Roman BAKIROV (AZE) at 97kg. After Snyder built his lead to 4-1 with two takedowns he blew the match wide open with several consecutive tilts. He led 12-3 at the break and put the match away early in the second period with another takedown.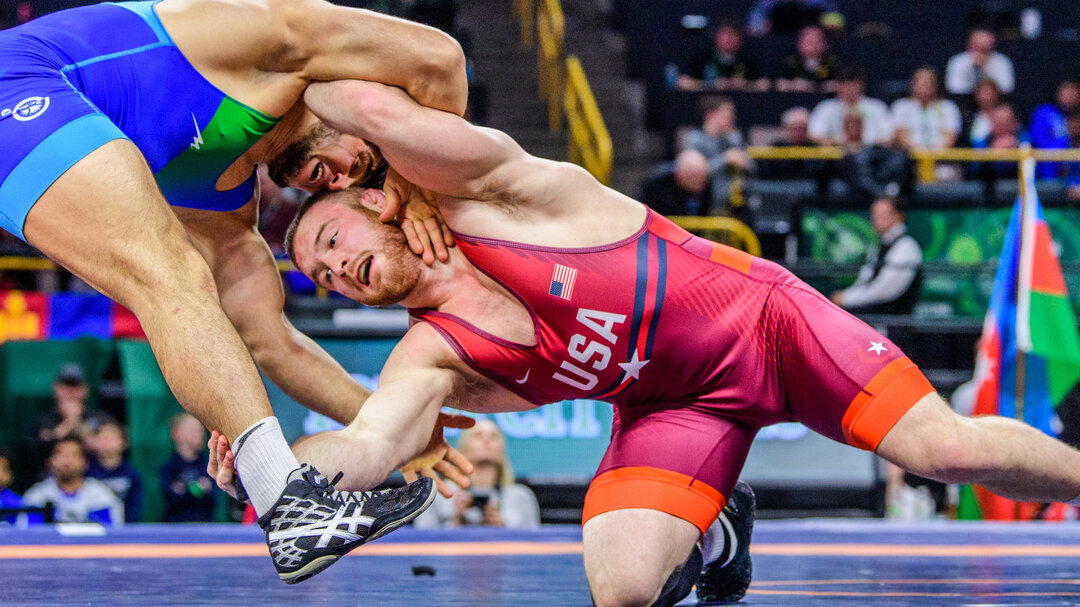 "It was another opportunity to seal it up for the United States," said Snyder. "I would always pick myself to go out there and wrestle when it comes down to a team win. We have a lot of good guys, but I feel real confident in my ability to wrestle under those kinds of circumstances."
It is USA's 14th World Cup title and first since 2003. 
"This is a great team and they performed really well this weekend," USA freestyle coach Bill Zadick said. "It was really exciting to win a heated finals match against a very good team from Azerbaijan."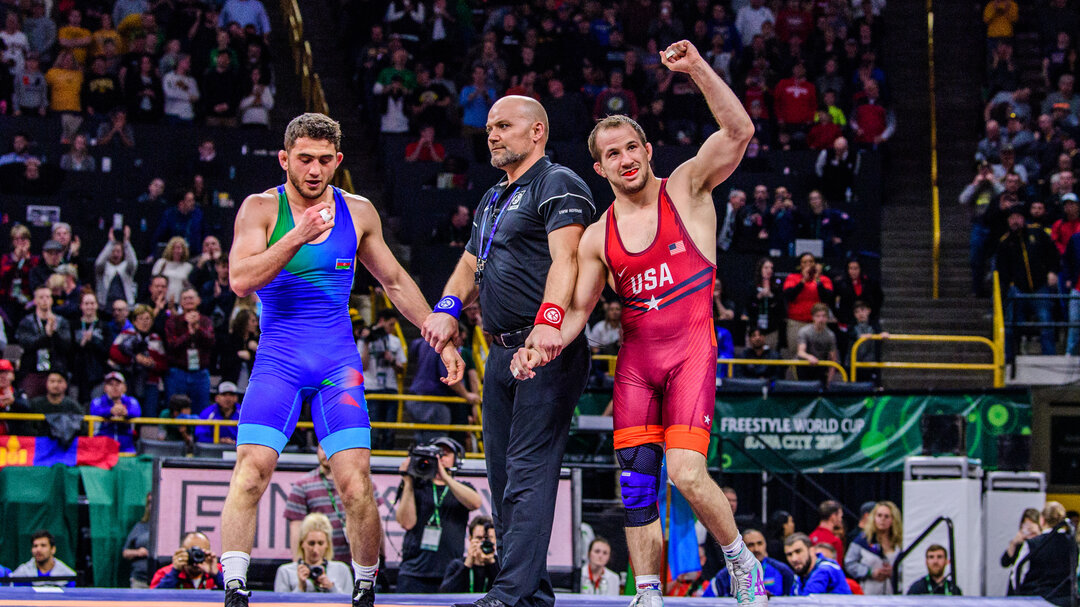 USA won two of the first three matches, highlighted by 2016 world champion Logan STIEBER (USA) knocking off three-time world champion Haji ALIYEV (AZE) 6-3 at 65kg.  Stieber led 2-1 at the break after a first-period takedown. He added to his lead early in the second period with another takedown. Aliyev responded with a takedown of his own to make the score 4-3. Stieber then closed out the victory with a takedown in the final 10 seconds to win by three.

At 70kg, Joshgun AZIMOV picked up a key win for Azerbaijan, edging multiple-time world bronze medalist James GREEN (USA) 4-4 on criteria at 70kg. 
But Jordan BURROUGHS, a 2012 Olympic champion and four-time world champion, would help ignite a string of three consecutive wins for the Americans. Burroughs, who is now 27-0 in World Cup competition, earned a second-period fall over U23 European champion Gadzhimurad OMAROV (AZE) at 74kg. 
Kyle DAKE followed up Burroughs' victory with a 5-3 win over Olympic bronze medalist Jabrayil HASANOV to put USA up 4-2 after six matches. 
American David TAYLOR gave the United States its fifth victory by beating world fifth-place finisher Aleksandr GOSTIYEV 12-2 at 86kg. Taylor built a 6-2 lead after the opening period, and then added two more takedowns and a late exposure to get the technical fall.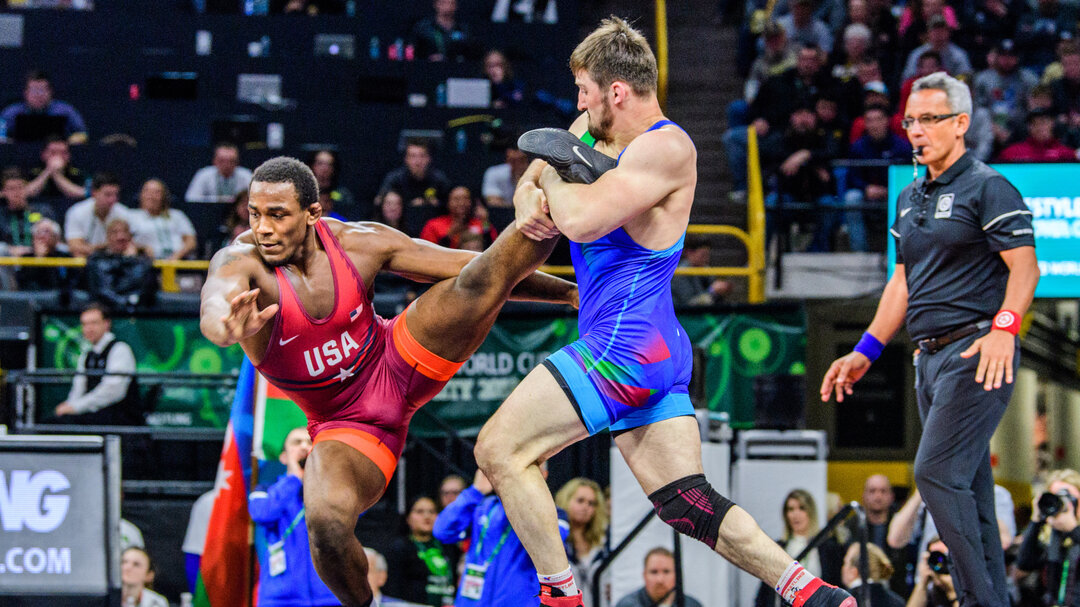 World bronze medalist Aslanbek ALBOROV kept Azerbaijan's hopes alive by edging another world bronze medalist, J'den Cox, 4-4 on criteria. 
After Snyder clinched the title for the United States at 97kg, Azerbaijan won the final match as Jamaladdin MAGOMEDOV used a late takedown to defeat returning world bronze medalist Nick GWIAZDOWSKI 4-3 at 125kg.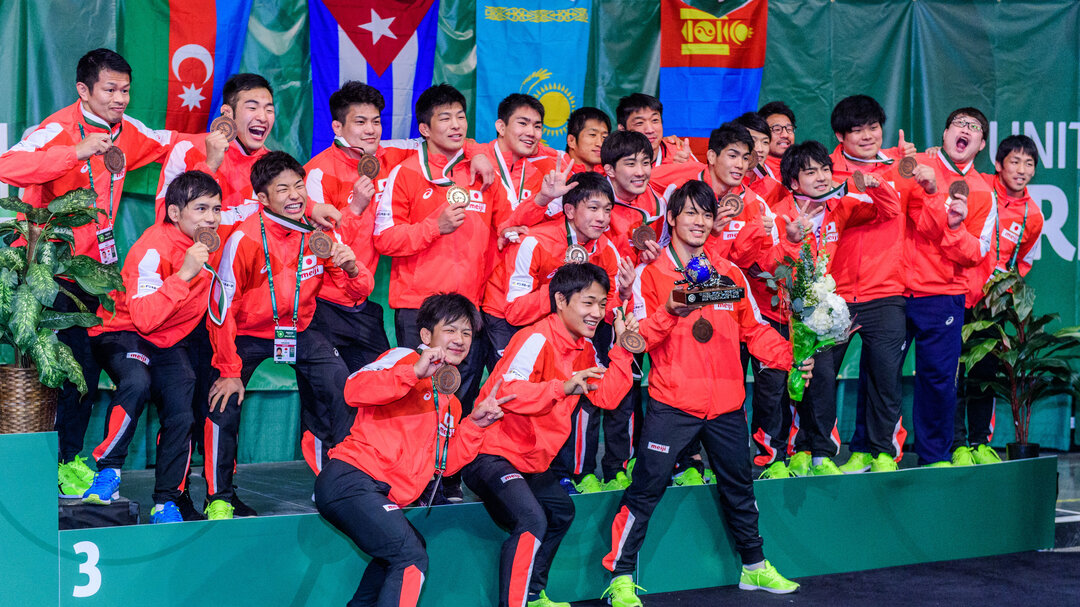 Japan captured the bronze medal by defeating Cuba 6-4. Japan won five of the first six matches, before Cuba had late surge, winning three consecutive matches from 86kg to 97kg. Japan led by one going into the final match before Taiki YAMAMOTO topped Yudenny ALPAJON ESTEVEZ 6-5 in a back-and-forth match at 125kg to give Japan the victory. 
Georgia came in fifth place with a 6-4 victory over Mongolia. After Mongolia won the first two matches, Georgia reeled off four consecutive wins to go up 4-2. Mongolia picked up a win at 86kg, but wins by Dato MARSAGISHVILI (92kg) and Givi MATCHARASHVILI (97kg) sealed the victory for Georgia. 
Kazakhstan finished in seventh place by shutting out India 10-0. 
1st place: United States 6, Azerbaijan 4
57kg: Giorgi Edisherashvili (Azerbaijan) dec. Thomas Gilman (USA), 8-7
61kg: Kendric Maple (USA) dec. Afghan Khashalov (Azerbaijan), 6-2
65kg: Logan Stieber (USA) dec. Haji Aliyev (Azerbaijan), 6-3
70kg: Joshgun Azimov (Azerbaijan) dec. James Green (USA), 4-4
74kg: Jordan Burroughs (USA) pin Gasjimurad Omarov (Azerbaijan), 3:15
79kg: Kyle Dake (USA) dec. Jabrayil Hasanov (Azerbaijan), 5-3
86kg: David Taylor (USA) tech. fall Aleksander Gostiev (Azerbaijan), 12-2
92kg: Aslanbek Alborov (Azerbaijan) dec. J'den Cox (USA), 4-4
97kg: Kyle Snyder (USA) tech fall Roman Bakirov (Azerbaijan), 14-3
125kg: Jamaladdin Magomedov (Azerbaijan) dec. Nick Gwiazdowski (USA) 4-3
3rd place: Japan 6, Cuba 4
57kg: Yuki Takahashi (Japan) dec. Reineri Andreeu Ortega (Cuba), 7-5
61kg: Kazuya Koyanagi (Japan) dec. Yowlys Bonne Rodriquez (Cuba), 9-6
65kg: Daichi Takatani (Japan) dec. Alejandro Enrique Valdes Tobier (Cuba), 10-8
70kg:  Franklin Maren Castillo (Cuba) dec. Keisuke Otoguro (Japan), 8-4
74kg: Yuhi Fujinami (Japan) tech. fall Livan Lopez Azcuy (Cuba), 16-5. 
79kg: Sohsuke Takatani (Japan) tech. fall Yoan Zulueta Morales (Cuba), 10-0
86kg: Yurieski Torreblanca Queralta (Cuba) dec. Shota Shirai (Japan), 4-1
92kg: Lazaro Hernandez Luis (Cuba) dec. Takashi Ishiguro (Japan), 4-4
97kg: Reineris Salas Perez (Cuba) tech. fall Taira Sonoda (Japan), 12-0
125kg: Taiki Yamamoto (Japan) dec. Yudenny Alapajon Estevez (Cuba), 6-5
5th place: Georgia 6, Mongolia 4
57kg: Bekhbayar Erdenebat (Mongolia) dec. Teimuraz Vanishvili (Georgia), 4-0
61kg: Tuvshintulga Tumenbileg (Mongolia) tech. fall Lasha Lomtadze (Georgia), 11-0
65kg: Magomed Saidovi (Georgia) by forfeit
70kg:  Levan Kelekhsashvili (Georgia) dec. Ganbayar Sanjaa (Mongolia), 2-1
79kg: Tarzan Maisuradze (Georgia) dec. Mandakhnaran Ganzorig (Mongolia), 7-1
79kg: Tariel Gaphrindashvili (Georgia) dec. Gantulga Iderkhuu (Mongolia), 22-17
86kg:  Uitumen Orgodol (Mongolia) dec. David Khutsishvili (Georgia), 12-5
92kg:  Dato Marsagishvili (Georgia) inj. dft. over Turtogtokh Luvsandorj (Mongolia), 0:45
97kg: Givi Matcharashvili (Georgia) tech. fall Batzul Ulziisaikhan (Mongolia), 10-0
125kg: Zolboo Natsagsuren (Mongolia) dec. Zviadi Metreveli (Georgia), 6-0
7th place: Kazakhstan 10, India 0
57kg: Mukhambed Kuatbek (Kazakhstan) by forfeit
61kg: Rassul Kaliyev (Kazakhstan) dec. Sandeep Tomar (India), 10-6
65kg: Sayatbek Okassov (Kazakhstan) tech. fall Sharvan (India), 10-0
70kg:  Meirzhan Ashirov (Kazakhstan) dec. Arun Kumar (India), 6-0
74kg: Daniyar Kaisanov (Kazakhstan) dec. Vinod Kumar Omprakash (India), 13-7 
79kg: Saken Aitzhanov (Kazakhstan) pin Sachin Giri (India), 1:31
86kg:  Elkhan Assadov (Kazakhstan) dec. Pawan Kumar (India), 3-0
92kg: Iliskhan Chilayev (Kazakhstan) dec. Deepak Punia (India), 10-3
97kg: Mamed Ibragimov (Kazakhstan) tech. fall Viky (India), 10-0
125kg: Daulet Shabanbay(Kazakhstan) tech. fall Pushpender Singh (India), 10-0