Special Guests and Sport Leaders Kick Off Women's Forum in Istanbul
Monday, November 25, 2019 - 16:38 By United World Wrestling Press
ISTANBUL (November 25) -- United World Wrestling president and IOC Executive Board member Nenad LALOVIC hosted figures of international sports along with UWW Bureau Members in Istanbul last night during the launch of the second annual Women in Wrestling Global Forum.
Prof. Dr. Ugur ERDENER, President of Turkish Olympic Committee (TOC) and IOC Vice President, was a special guest at the event and addressed welcoming speech, about the importance of advancing gender equality in sports.


UWW President Nenad Lalovic (right) hosted figures of international sports along with UWW Bureau Members in Istanbul (Photo: Kadir Caliskan)

"We are grateful to have Mr. Erdener here in attendance for this wonderful event." said Lalovic. "The development of women's wrestling has been a major focus within our organization and this event -- which invites more than 50 women leaders in our sport -- is another example of just how important women are to the growth and sustainability of wrestling."
The opening ceremony took place Sunday evening at the Crowne Florya Plaza with speeches by Prof. Dr. Ugur Erderner, Mr. Lalovic, UWW Executive Board member Natalia YARIGUINA, and Mr. Selahatin UYAN Vice President of the Turkish National Wrestling Federation.
Prof. Dr. Erderner touched on the importance of gender equality in the Olympic family and the great work UWW is doing to reach these targets, while Mr. Lalovic highlighted wrestling's expanding commitment to promoting more women into the sport's key leadership roles. Mrs. Yariguina discussed wrestling's commitment to developing gender equality, and Mr. Uyan (VP Turkish NF) welcomed the participants to Turkey.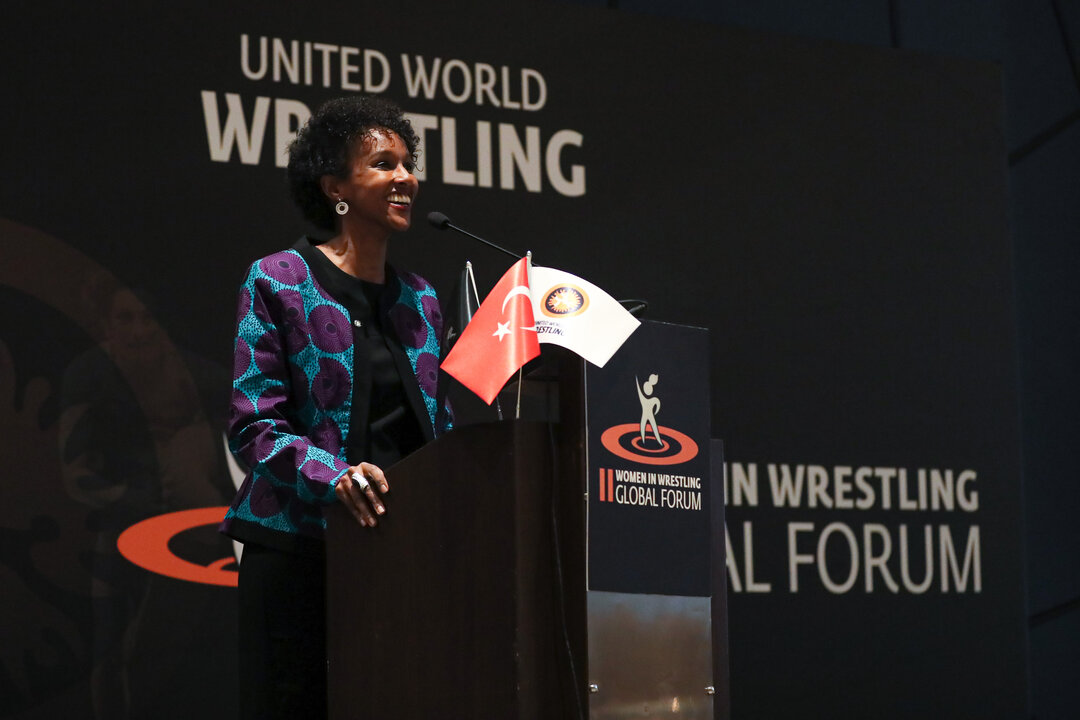 The event was hosted by Deqa Niamkey (Photo: Kadir Caliskan)
The event was hosted by Deqa NIAMKEY, UWW Development Director, Chair of ASDEG and member of Gender Equality and Diversity Commission, ASOIF.
Looking ahead to the week, Gabriela MUELLER MENDOZA, coach trainer and professional speaker, will conduct leadership and communication workshop for the first two days at the Women Empowerment Seminar on Monday and Tuesday.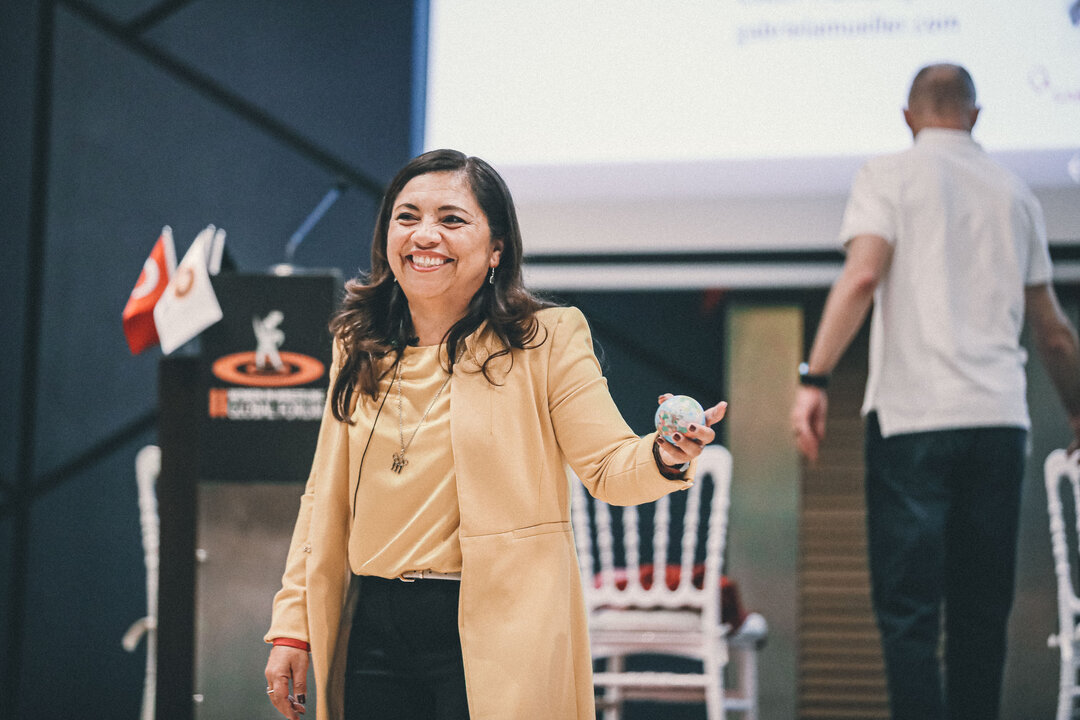 Gabriela Mueller Mendoza speaks at the event (Photo: Kadir Caliskan)

A variety of different topics will be covered in workshops Wednesday and Thursday, including the UWW election process, becoming a female president, going from athlete to leader, media training, coaching and mentoring female athletes, women refereeing and more. There will be three panel discussions during the event.
Olympic champion Hon. Daniel IGALI (NGR) and Lotta ANDERSSON (NOR) will lead workshops on coaching female athletes. Zach ERRETT (USA), UWW Education Manager, will lead a workshop on communication and transmission of knowledge through a variety of practical exercises for the participants to take away. The leadership panel will be conducted by Pedro SILVA.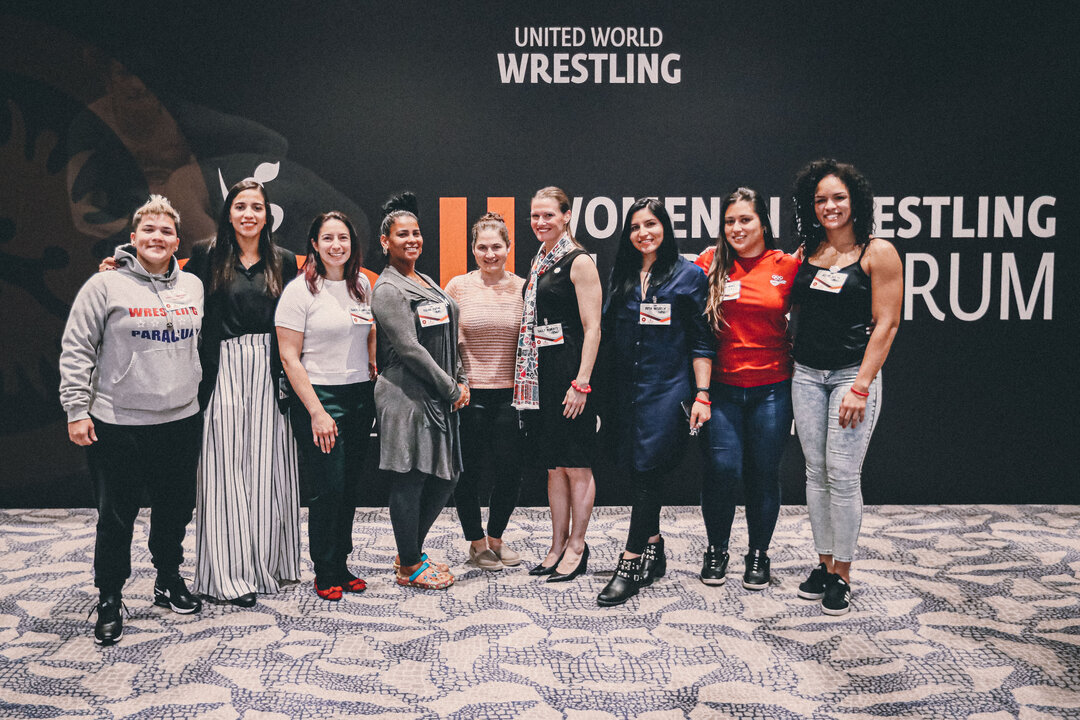 Women from several different countries are attending (Photo: Kadir Caliskan)

The Women in Wrestling Global Forum will conclude on Thursday with closing remarks and a ceremony followed by a dinner.