Stadnik Ends Decade-Long Gold Drought with Victory at 50kg; Pak Pulverizes Mukaida
Wednesday, September 18, 2019 - 17:49 By Ken Marantz
NUR-SULTAN, Kazakhstan (Sept.18)--- Since winning her last world title in 2009, Mariya STADNIK (AZE) had two children and piled up a number of global silver medals.
What never changed was her style of wrestling nor her determination to win, and that propelled her back to the top of the victory podium at the World Championships and end a decade of discontent. 
Stadnik captured the women's 50kg title with a comprehensive 13-0 technical fall over Alina VUC (ROU) in the final as the first four women's titles were decided in the night session on Day 5.
"Today is an anniversary," the 31-year-old Stadnik joked. "It was 10 years ago I won a gold medal."
Stadnik, who could not break through against a succession of Japanese wrestlers who dominated the lowest weight class, said not facing a Japanese in her run to the title did not diminish from her success.
"It doesn't matter which opponent I face because I came here to win the gold medal," Stadnik said. "But if you compete with strong wrestlers, you become stronger." 
Since her victory at the 2009 worlds in Herning, Denmark, Stadnik won silver medals in 2011, 2015 and 2018 and a bronze in 2014, as well as a silver at the Rio 2016 Olympics. 
"Not so many things have changed in my wrestling," she said. "Maybe some things changed mentally. Ten years ago, I was younger and I wrestled with emotion and a burning heart. Now, I'm older, and I use my head more."
Asian champion Yuki IRIE (JPN) was knocked out in the quarterfinals the previous day by SUN Yanan (CHN), who then lost to Stadnik in the semifinals. Coincidentally, Irie's loss marked the first time Japan did not make the final in the lightest weight class since 2009. 
In the final, Stadnik stormed out to a 5-0 lead in the first period. In the second period, a takedown, stepout and caution made it 9-0, then ended the proceedings with a 4-point tackle with :09 left on the clock.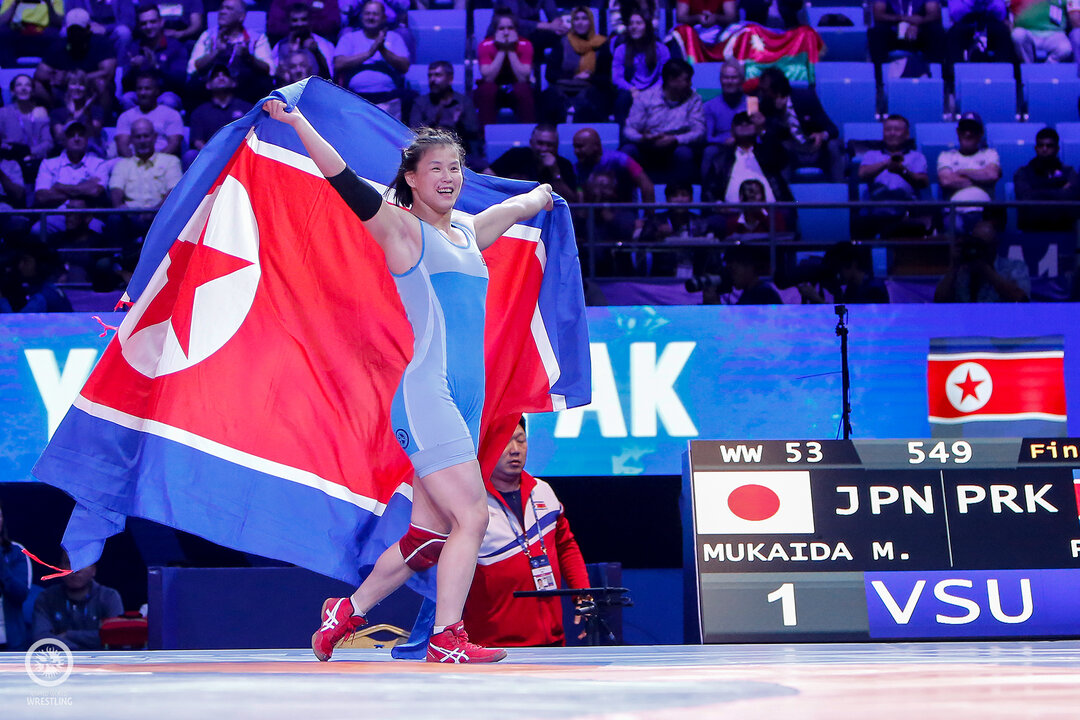 PAK Yong Mi (PRK) grabbed her second victory of the year over two-time world champion Mayu MUKAIDA (JPN). In the finals, Pak defeated Mukaida, 12-1. (Gabor Martin)
The surprise of the finals came at 53kg, not so much for the result as for how one-sided it was.
PAK Yong Mi (PRK) repeated her victory over two-time world champion Mayu MUKAIDA (JPN) from the final at this year's Asian Championships, but in much more dominating fashion as she rolled to a 12-1 technical fall.
"I didn't care about who is [the opponent]," said Pak, who became the DPR Korea's first female world champion. "I believe, I trust myself, my strength, my stamina, my agility, everything. This got me the gold medal."
At the Asian Championships in Xi'an, China, in April, Pak used a last-second takedown to stun Mukaida for the gold. This time, she pulled away with a second-period flurry.
Mukaida took a 1-0 lead after gaining a point with Pak on the activity clock in the first period. But in the second period, Pak scored two takedowns on go-behinds off Mukaida's tackle attempts. 
After the second takedown, Pak secured an arm-and-body lock, and ripped off four rolls to end the match at 4:31. 
 "Actually, that was not my strategy," Pak said of her takedown counters. "It was natural. In general terms, my coach trained me a lot about this situation. That's why automatically I did this technique. I prepared for every situation."
The 27-year-old Pak credited her success to her coach.
"Everyone knows that [to grow a] beautiful flower, there is somebody who is responsible for the flowering. That's my coach. My coach taught me best so I could win the gold medal in this event."
The Nur-Sultan worlds are also serving as the first qualifying tournament for the Tokyo 2020 Olympics, with the top six finishers in each of the Olympic weight classes clinching berths for their country.
Pak indicated that she expects similar results at the Olympics hosted by the Asian neighbor
"I will never be satisfied with my success today," she said. "I will try to do my best and live up to the expectations of my coaches, my family members and my fatherland."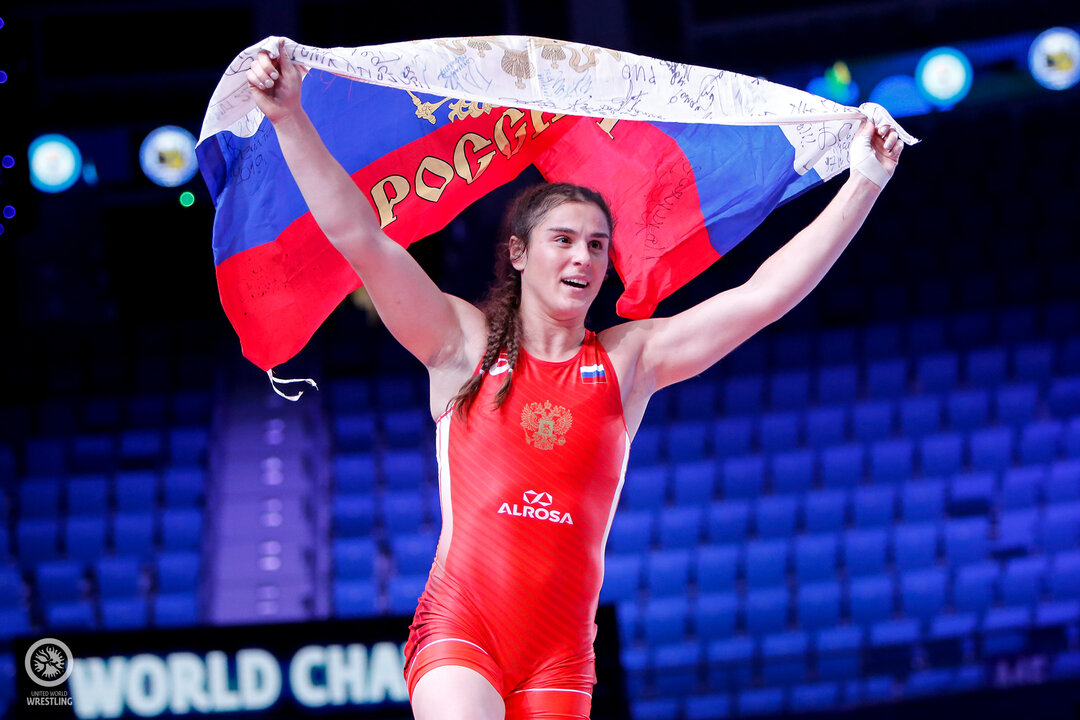 Natalia VOROBEVA (RUS) picked up a 4-1 win over European champion Alina MAKHYNIA (UKR) in the 72kg finals. (Photo: Gabor Martin)
The other golds on offer Wednesday, in non-Olympic weight classes, went to Natalia VOROBEVA (RUS) at 72kg and Jacarra WINCHESTER (USA) at 55kg. 
Vorobeva, a London 2o12 Olympic champion and Rio 2016 silver medalist who returned to the mat this winter after a long layoff, was untroubled in chalking up a 4-1 win over European champion Alina MAKHYNIA (UKR).
"It wasn't an easy match, but you can see I protected my lead to the end," said Vorobeva, who took 2 1/2 years off as she give birth to her first child in July 2018.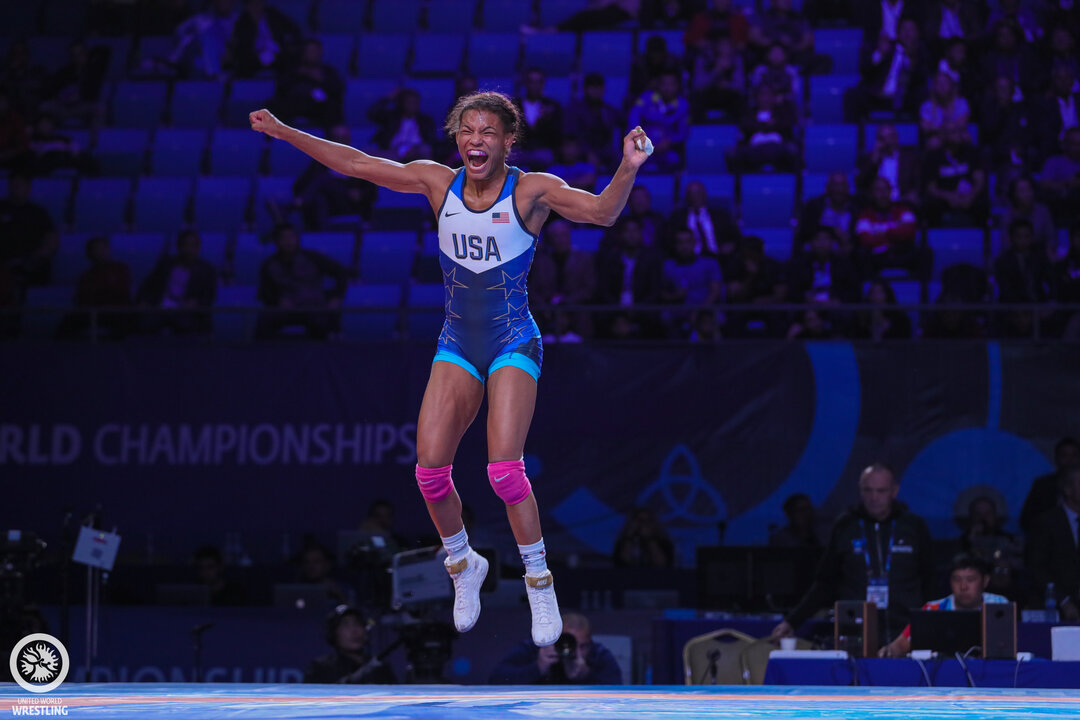 Jacarra WINCHESTER (USA) improved on her fifth-place finish from a year ago by winning the 55kg gold medal. (Photo: Kadir Caliskan) 
Winchester trailed 3-1 in the second period against former junior world champion Nanami IRIE (JPN) when she scored a takedown with 1:24 left and held on for a 5-3 victory.
In the bronze-medal matches, Sun came away empty-handed she gave up a 4-point headlock throw to Ekaterina POLESHCHUK (RUS) with :40 left, and that made the difference in criteria when the bout ended 9-9. 
Valentina ISLAMOVA BRIK (KAZ) denied Oksana LIVACH (UKR) a second straight world bronze when she won by fall in 3:27.
Asians swept the bronzes at both 53kg and 72kg. 
In the former, Vinesh PHOGAT (IND) defeated Maria PREVOLARAKI (GRE) by fall at 5:14 and PANG Qianyu (CHN) added to her 2018 bronze when Roksana ZASINA (POL) defaulted due to injury. 
At 72kg, Masako FURUICHI (JPN) edged Zhamila BAKBERGENOVA (KAZ) 2-0 and Paliha PALIHA (CHN), the Asian champion at 76kg, also cut it close in defeating Victoria FRANCIS (USA) 2-1
The third-place matches 55kg had mixed reults, with Olga KHOROSHAVTSEVA (RUS) rolling to a 13-0 technical fall of Marina SEDNEVA (KAZ) and Bolortuya BAT OCHIR (MGL) rallying late for a 12-9 win over Bediha GUN (TUR).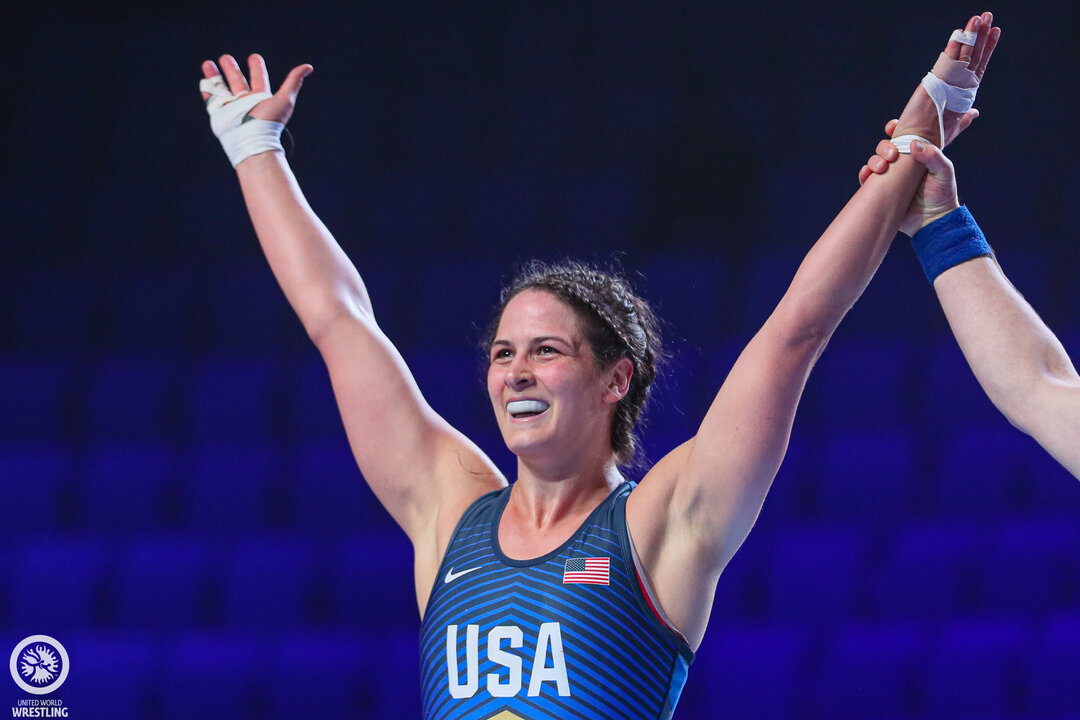 Adeline GRAY (USA) will try to win her fifth world title on Thursday night when she takes on two-time world bronze medalist Hiroe MINAGAWA (JPN) in the 76kg finals. (Photo: Kadir Caliskan) 
Gray gains place in 76kg final; Kawai-Rong showdown set at 57kg
In semifinals in four weight classes held earlier in the session, four-time world champion Adeline GRAY (USA) scored a pair of 2-point exposures late in the second period and held on for a 5-2 victory over former world champ Aline ROTTER FOCKEN (GER) at 76kg.
"Fokken is a world champion so she's been here before," Gray said. "We both were playing a strategy game of wanted to take enough risk. It became a chess match until she took a risk and I was able to capitalize on it."
In the final, Gray will face Hiroe MINAGAWA (JPN), a two-time bronze medalist who assured herself a higher place on the podium with a comprehensive 7-0 victory over Epp MAEE (EST).
The two met at the Women's World Cup in March 2018 in Japan, with Gray coming up a 6-1 win. 
For Gray, having clinched the Olympic spot the previous day relieves some of the pressure, and allows her to have the luxury of wrestling for herself. 
"There was this wave of relief when you get to the semifinal matches," Gray said. "These matches are now for us. It's like, we did our job for our country, we're qualified for the Olympics--which is so important, there's fewer qualifiers this year, fewer spots, so it's vital…And this put me in the finals of our Olympic trials. So I won a lot of matches today."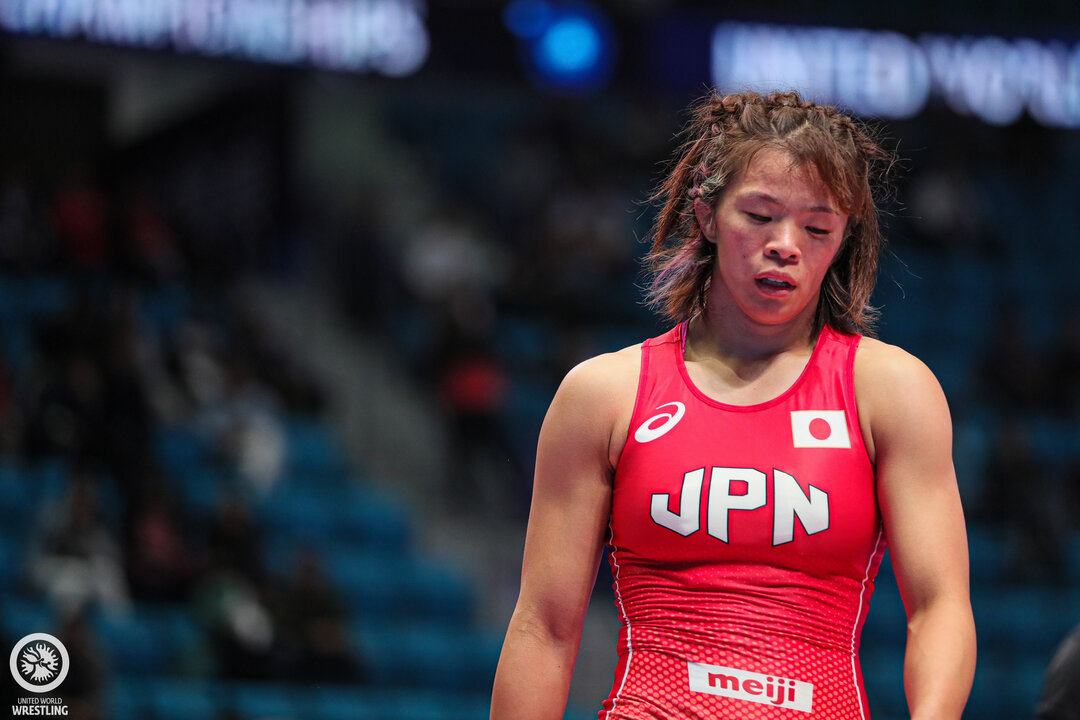 Two-time world and Olympic champion Risako KAWAI (JPN) will square off with reigning world champion RONG Ningning (CHN) in the 57kg gold-medal bout. (Kadir Caliskan)
The 57kg final will be a showdown between 2018 world champions as Rio 2016 gold medalist Risako KAWAI (JPN) will face RONG Ningning (CHN) after both won their semifinals by 6-1 scores.
Kawai, who won her second world title last year at 59kg before dropping down to the Olympic weight this year, managed to get through the defenses of the lanky Odunayo ADEKUOROYE (NGR).
Having given up a stepout in the first period, Kawai scored a takedown early in the second period while on the activity clock, then pulled away with a takedown and tilt.
"In the 57kg class, the Nigerian athlete has a unique style, and a physique that you don't see in Japan," Kawai said.
Rong, unbeaten this year with victories at the Klippan Lady, Dan Kolov-Nikola Petrov and Asian tournaments, was never in danger in ousting Jowita WRZESIEN (POL).
By making the final and assuring herself of a medal, Kawai clinched a place on Japan's team to the Tokyo 2020 Olympics, ending Kaori ICHO's bid for a fifth straight Olympic gold in the weight class. ]
In the other finals, Luibov OVCHAROVA (RUS) will face Linda MORAIS (CAN) at 59kg, while Iryna KOLIADENKO (UKR) and Inna TRAZHUKOVA (RUS) will clash for the 65kg gold.
On Thursday, the day session will see the qualification rounds in the final two women's weight classes, 62kg and 68kg, and the start of freestyle at 57kg and 65kg. All four divisions are on the Olympic program.
Women's Wrestling 
50kg (29 entries)
Gold – Mariya STADNIK (AZE) df. Alina VUC (ROU) by TF, 13-0, 5:51 
Bronze – Valentina ISLAMOVA BRIK (KAZ) df. Oksana LIVACH (UKR) by Fall, 3:27 (5-0)
Bronze – Ekaterina POLESHCHUK (RUS) df. SUN Yanan (CHN), 9-9
53kg (30 entries)
Gold – PAK Yong Mi (PRK) df. Mayu MUKAIDA (JPN) by TF, 12-1, 4:29 
Bronze –Vinesh PHOGAT (IND) df. Maria PREVOLARAKI (GRE) by Fall, 5:14 (4-1)
Bronze – PANG Qianyu (CHN) df. Roksana ZASINA (POL) by Inj. Def. 
55kg (18 entries)
Gold – Jacarra WINCHESTER (USA) df. Nanami IRIE (JPN), 5-3 
Bronze –Olga KHOROSHAVTSEVA (RUS) df. Marina SEDNEVA (KAZ) by TF, 13-0, 2:22
Bronze – Bolortuya BAT OCHIR (MGL) df. Bediha GUN (TUR), 12-9
57kg (31 entries)
Semifinal – RONG Ningning (CHN) df. Jowita WRZESIEN (POL), 6-1 
Semifinal – Risako KAWAI (JPN) df. Odunayo ADEKUOROYE (NGR), 6-1 
59kg (18 entries)
Semifinal – Luibov OVCHAROVA (RUS) df. Pooja DHANDA (IND) by TF, 10-0, 2:36 
Semifinal – Linda MORAIS (CAN) df. Shoovdor BAATARJAV (MGL), 3-1  
65kg (17 entries)
Semifinal – Iryna KOLIADENKO (UKR) df. Forrest MOLINARI (USA), 6-5 
Semifinal – Inna TRAZHUKOVA (RUS) df. Elis MANOLOVA (AZE), 6-1 
72kg (12 entries)
Gold – Natalia VOROBEVA (RUS) df. Alina MAKHYNIA (UKR), 4-0
Bronze –Masako FURUICHI (JPN) df. Zhamila BAKBERGENOVA (KAZ), 2-0
Bronze – Paliha PALIHA (CHN) df. Victoria FRANCIS (USA), 2-1
76kg (31 entries)
Semifinal – Hiroe MINAGAWA (JPN) df. Epp MAEE (EST), 7-0 
Semifinal – Adeline GRAY (USA) df. Aline ROTTER FOCKEN (GER), 5-2