Stefanek Rolls into Semifinals, Kazakhstan Wrestlers Stun Olympic Medalists
Friday, October 26, 2018 - 13:14 By Andrew Hipps
BUDAPEST, Hungary (October 26) -- Olympic champion Davor STEFANEK (SRB) looks primed for another shot at world gold.
The 33-year-old Serb needed just 19 seconds to earn a fall over Fredrik BJERREHUUS (DEN) in the quarterfinals of the World Championships at 67kg on Friday. He had two technical fall victories prior to the quarterfinals and did not surrender a point. 
Stefanek, a 2014 world champion, now faces Gevorg SAHAKYAN (POL), who also earned a fall in the quarterfinals. 
Kazakhstan advanced two wrestlers to the semifinals. Both stunned Olympic medalists in Friday's opening session.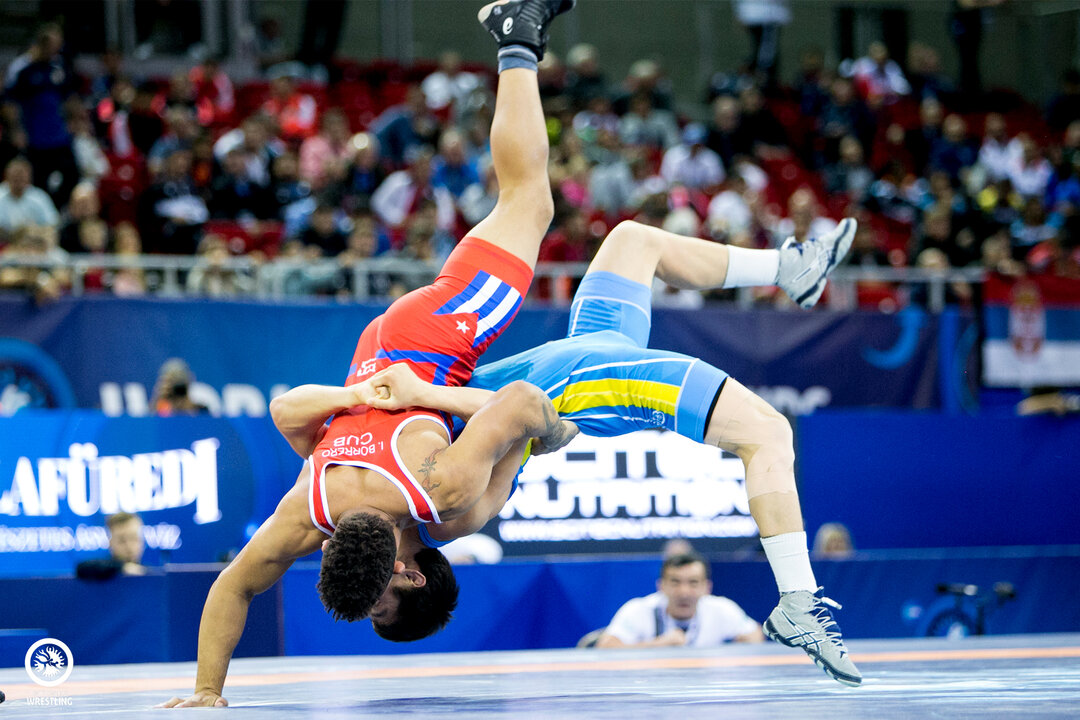 Meiirzhan SHERMAKHANBET (KAZ) picked up two technical falls and a fall to reach the semifinals at 67kg. The fall came in his second match over 2016 Olympic champion Ismael BORRERO MOLINA (CUB). The Cuban star jumped out to a 5-0 lead before Shermakhanbet stormed back to take the lead and eventually earn the fall. 
In the quarterfinals, he faced Mohammadreza GERAEI (IRI). Shermakhanbet used a four-point throw, which he followed up with a gut wrench, to take a 6-0 lead. He closed out the technical fall a short time later. Shermakhanbet's opponent in the semifinals will be two-time world bronze medalist Artem SURKOV (RUS).
Surkov, a European champion, topped Kamran MAMMADOV (AZE) 5-1 in the quarterfinals. The 25-year-old Russian trailed 1-0 at the break but scored with two gut wrenches in the final period after getting a passivity point. Many expected Surkov to face two-time world champion Hansu RYU (KOR), but he fell early to Denys DEMYANKOV (UKR).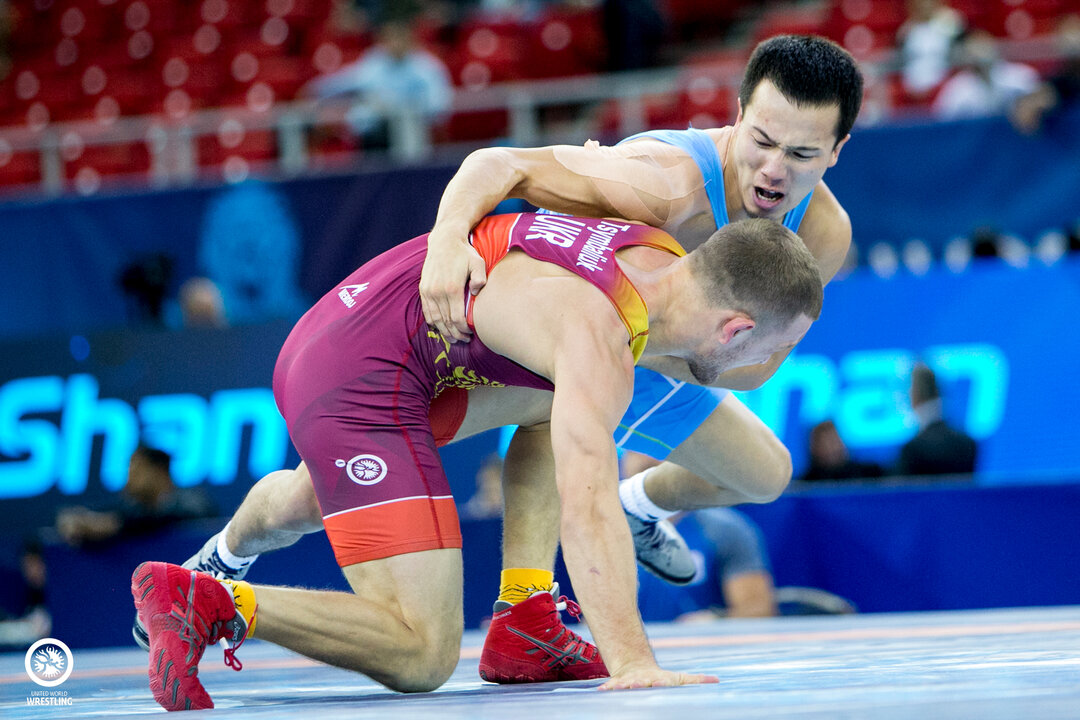 Aidos SULTANGALI (KAZ) stunned 2016 Olympic silver medalist Shinobu OTA (JPN) 7-5 in the round of 16 at 60kg. In the quarterfinals, Sultangali cruised to a 9-1 technical fall over Kaly SULAIMANOV (KGZ). He will now meet Sergey EMELIN (RUS), who blanked Se Ung RI (PRK) 7-0. 
Kristian FRIS (SRB), a 2007 world bronze medalist, earned his spot in the semifinals at 60kg by getting a fall over Luis Alberto ORTA SANCHEZ (CUB). Fris led 3-1 in the second period before throwing Sanchez to his back for the fall. In the semifinals he will face Victor CIOBANU (MDA).
Ciobanu edged Sailike WALIHAN (CHN) 6-6 on criteria in the quarterfinals. Walihan held a 5-2 lead in the second period before Ciobanu used a body lock for four points to take the lead. He held on for the victory.
Reigning world champion Metehan BASAR (TUR) edged returning world bronze medalist Roberti KOBLIASHVILI (GEO) 1-1 on criteria in the quarterfinals at 87kg. It sets up a semifinal meeting with Bekkhan OZDOEV (RUS).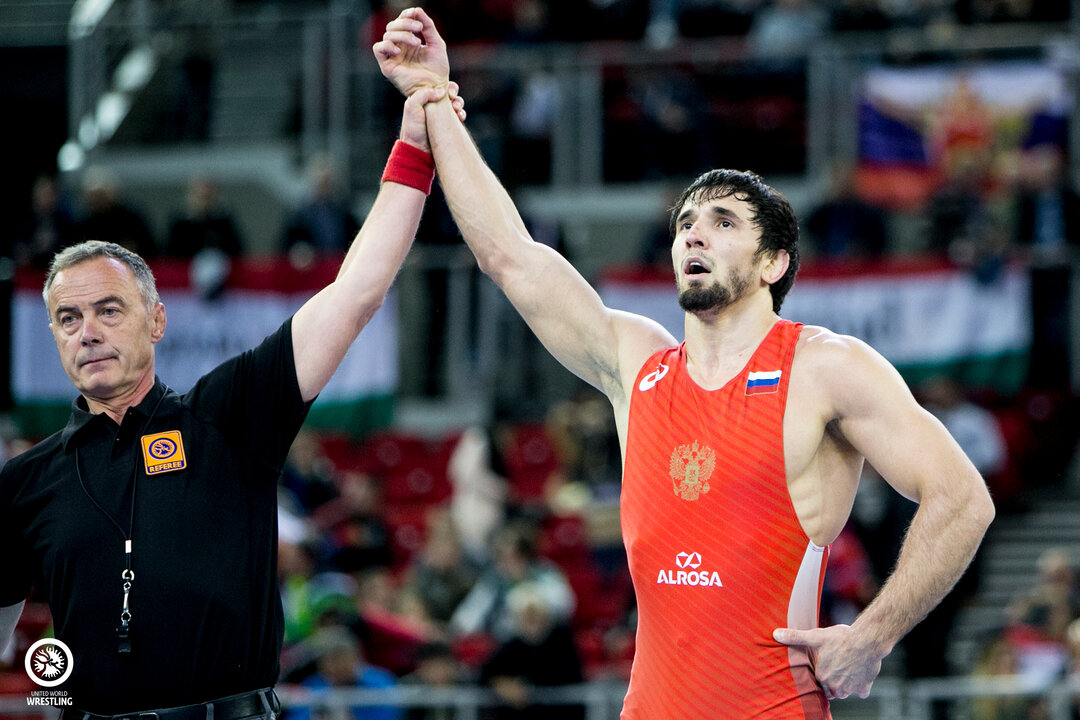 Ozdoev went up 6-0 early against Rustam ASSAKALOV (UZB) after a takedown and two turns. Assakalov would get back in the match but come up short.
Olympic silver medalist Zhan BELENIUK (UKR) trailed 2-0 in the second period of his quarterfinal match before throwing 2017 world bronze medalist Hossein Ahmad NOURI (IRI) for four points to take the lead. He held on for the 4-2 victory. He now faces Islam ABBASOV (AZE) in the semifinals.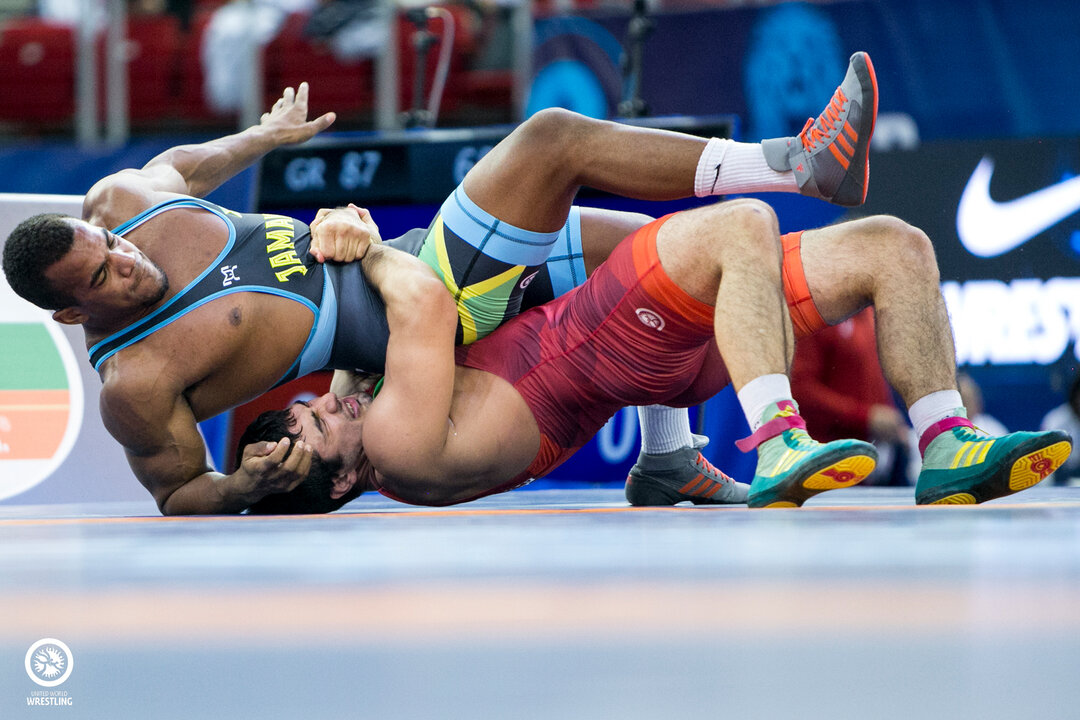 Like Beleniuk, Abbasov trailed after the opening period of his quarterfinal match against before grabbing the lead after a passivity and gut wrench, which was enough to take the 4-1 victory over returning world silver medalist Radzik KULIYEU (BLR) and earn a spot in the semifinals.
The semifinals are scheduled to begin at 5 p.m. local time.
Semifinal Matchups
Greco-Roman
60kg
Kristian FRIS (SRB) vs. Victor CIOBANU (MDA) 
Sergey EMELIN (RUS) vs. Aidos SULTANGALI (KAZ) 
67kg
Meiirzhan SHERMAKHANBET (KAZ) vs. Artem SURKOV (RUS) 
Davor STEFANEK (SRB) vs. Gevorg SAHAKYAN (POL)
87kg
Islam ABBASOV (AZE) vs. Zhan BELENIUK (UKR)
Metehan BASAR (TUR) vs. Bekkhan OZDOEV (RUS)