Superstars Burroughs and Chamizo to Clash on Sunday for Yasar Dogu Gold
Saturday, July 13, 2019 - 12:30 By Eric Olanowski
ISTANBUL, Turkey (July 13) --- Jordan Ernest BURROUGHS (USA) and Frank CHAMIZO (ITA) will meet on Sunday night for the Yasar Dogu gold medal at 74kg. It'll be the second consecutive year the two have met in the 74kg gold-medal bout at the Yasar Dogu. 
Their Sunday night meeting will be their fifth time squaring off against each other since Chamizo, the two-time world champion, made the jump up to the Olympic weight of 74kg last season. The American holds the 3-1 match advantage after winning their Beat the Street's matchup, the bronze-medal bout of last year's World Championships, and their second-round match-up at the Dan Kolov earlier this year. 
Chamizo's lone win came at last year's Yasar Dogu, where he outlasted the four-time world and Olympic champion in a 20-point shootout, winning 10-10 on criteria. 
Chamizo's Sunday night finals appearance seals up his No. 1 ranking for the World Championships because the Rio bronze medalist only needed four points to dethrone the current world No. 1, Russia's reigning world champion Zaubek SIDAKOV. 
With Chamizo grabbing the No. 1 seed from Sidakov, the Italian will be pitted against Budapest world runner-up and fourth-ranked Avtandil KENTCHADZE (GEO) in the top-side semifinal in Nur-Sultan, and Sidakov and Burroughs in the bottom side semifinal. That is, of course, if the seeds hold true in Kazakhstan.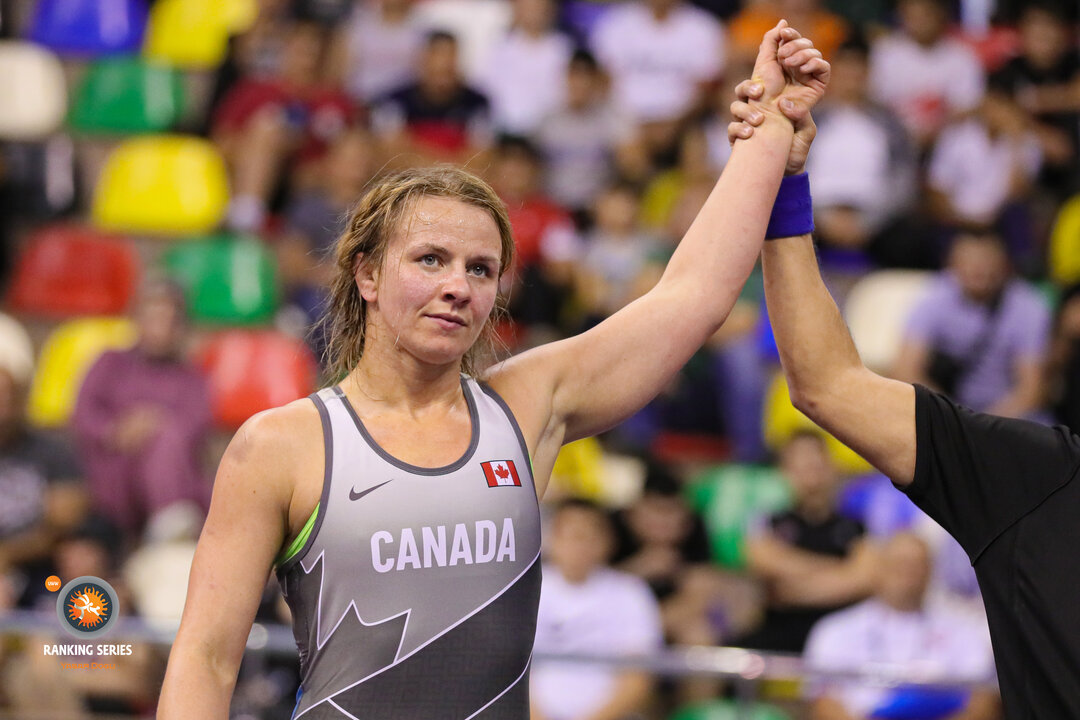 Erica Elizabeth WIEBE (CAN) defeated two top-three opponents on her way to the 76kg finals. (Photo: Kadir Caliskan) 
Meanwhile, Erica WIEBE (CAN) has been wrestling on another level over the past two months and continued to do so on Saturday by knocking off a third world or Olympic champion in the last two eight weeks. 
Wiebe, the Rio Olympic champion, won the Sassari City Tournament in late May with a fall over Olympic champion Natalie VOROBEIVA (RUS), then added a win over reigning world champion Justina DI STASIO (CAN) to win the Canada Cup title two weeks ago. 
On Saturday, she successfully navigated the bottom side of the bracket that included 2017 world champion Yasemin ADAR (TUR) and Aline FOCKEN (GER), who are ranked second and third, respectively, at 76kg. 
Wiebe opened her day up with a 10-0 routing of Kiran KIRAN (IND). Then, she dominated her way to a 6-2 win over second-ranked Yasemin Adar -- setting up a semifinals match against third-ranked Aline Focken. 
In her semifinals against Focken, Wiebe scored an inactivity point and used a peak out to pick up a 3-0 victory in the semifinals -- inserting herself in the finals, where she'll take on Aline DA SILVA FERREIRA (BRA) for the gold medal. 
The Day 4 finals begin 12:30 (local time) and will be broadcasted live on www.unitedworldwrestling.org.
RESULTS 

74kg 
GOLD - Frank CHAMIZO MARQUEZ (ITA) vs. Jordan BURROUGHS (USA)
SEMIFINAL - Frank CHAMIZO MARQUEZ (ITA) df. Enes USLU (TUR), via injury default 
SEMIFINAL - Jordan BURROUGHS (USA) df. Yakup GOR (TUR), 12-2
86kg 
GOLD - Aleksandr GOSTIYEV (AZE) vs. Deepak PUNIA (IND)
SEMIFINAL - Deepak PUNIA (IND) df. Osman GOCEN (TUR), 7-4 
SEMIFINAL - Aleksandr GOSTIYEV (AZE) df. Boris MAKOEV (SVK), 2-0 
92kg
GOLD - J'Den COX (USA)
SEMIFINAL - J'Den COX (USA) df. Shamil ZUBAIROV (AZE), 11-0 
SEMIFINAL - Viky VIKY (IND) df. Bendeguz TOTH (HUN), 4-0 
97kg
GOLD - Ali SHABANIBENGAR (IRI) vs. Kyle SNYDER (USA)
SEMIFINAL - Ali SHABANIBENGAR (IRI) df. Aslanbek ALBOROV (AZE), 10-0 
SEMIFINAL - Kyle SNYDER (USA) df. Pavlo OLIINYK (HUN), 10-0 
Women's Wrestling
72kg
GOLD - Anastasiya ZIMIANKOVA (BLR) vs. Buse TOSUN (TUR)
SEMIFINAL - Anastasiya ZIMIANKOVA (BLR) df. Nilufar GADAEVA (UZB), 12-2 
SEMIFINAL - Buse TOSUN (TUR) df. Alena STARODUBTSEVA (RUS), 15-4 
76kg
GOLD – Erica Elizabeth WIEBE (CAN) vs. Aline DA SILVA FERREIRA (BRA)
SEMIFINAL - Erica Elizabeth WIEBE (CAN)  df. Aline ROTTER FOCKEN (GER), 3-0 
SEMIFINAL - Aline DA SILVA FERREIRA (BRA) df. Iselin Maria Moen SOLHEIM (NOR), 2-0