Superstars Staebler and Aleksanyan Soar to Top of European Podium
Wednesday, February 12, 2020 - 20:44 By Eric Olanowski
ROME, Italy (February 12) --- Deafening cheers of "Frankie" and "Artur" rebounded off the wooden topped Pala Pellicone Arena as superstars Frank STAEBLER (GER) and Artur ALEKSANYAN (ARM) closed out the Greco-Roman portion of the European Championships with gold medals. 
Staebler cruised past Iuri LOMADZE (GEO) in the 72kg finals and grabbed his second European title. His 6-1 win over Lomadze on Wednesday night came eight years after he won his first continental gold at the 2012 European Championships in Belgrade, Serbia.
After the match, Staebler announced that this was his last time he'd compete at the continental championships. "This was the last European Championships of my career. I am very happy to end the European cycle with a gold medal. The next stop is the Tokoyo Olympic Games for an Olympic medal." 
Staebler will make his descent back down to the Olympic weight of 67kg for a run at the one thing his resume is missing -- an Olympic medal. He's wrestled twice at the Olympic Games, but he's come up short of a podium finish in both of those appearances. He finished fifth in London and seventh in Rio.
Staebler went further on his retirement, saying, "My focus is 100% on the Olympic Games. After the Olympics, I will retire from wrestling and work as a keynote speaker."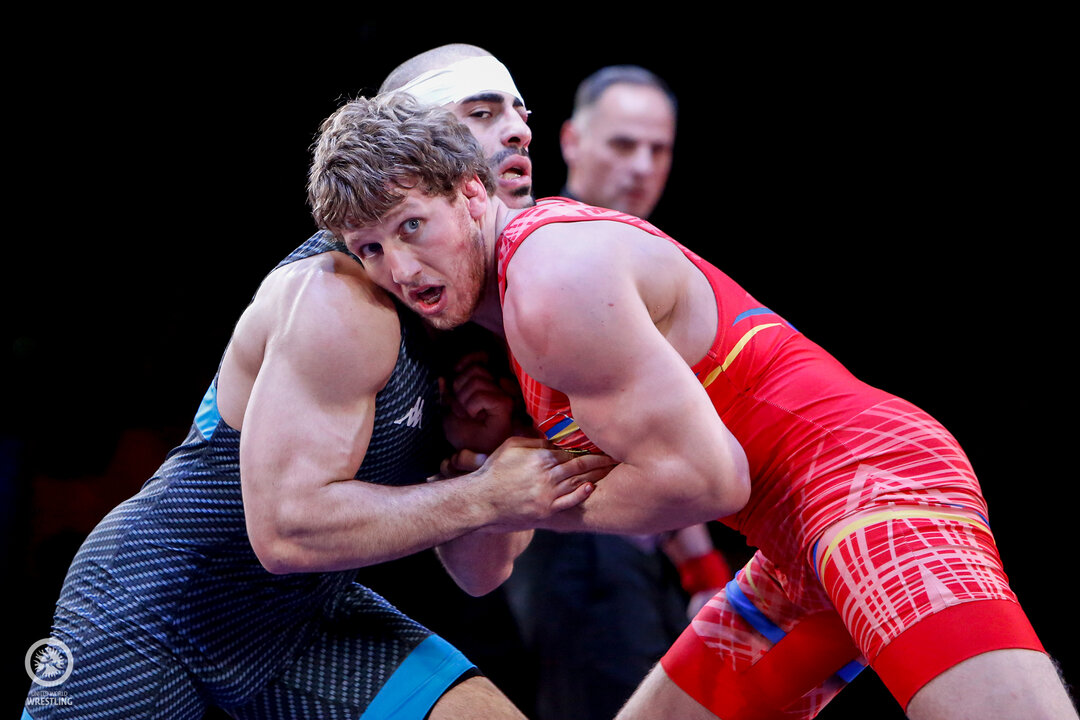 Artur ALEKSANYAN (ARM) became a six-time European champion with a 7-1 win over Nikoloz KAKHELASHVILI (ITA). (Photo: Gabor Martin)
Aleksanyan forged a rock-solid 7-1 finals victory over tenth-ranked Nikoloz KAKHELASHVILI (ITA) and claimed his fifth career European championship title. "I am very happy that I won the gold medal for our country. It's the second gold for us today and I think we showed some good wrestling today." 
Aleksanyan tied top-ranked Musa EVLOEV (RUS) for the world's top spot at 97kg with his win on Wednesday night. He carried 40 Ranking Series points to Rome, and with the addition of his 20-point European gold medal, the Armenian sits level with his Russian rival with 60 points.
But Aleksanyan said he isn't worried too much about his rankings. "I am not interested in what number I am in the rankings. The most important is that I got the license for the Olympics. There will be 16 athletes and I will be one of them wrestling for the Olympic gold."
The Rio Olympic champion had two goals coming into the year, and he checked one of those off tonight with his gold-medal performance. "My first goal was to become a five-time European champion. The Olympics are ahead and I want to become a two-time Olympic champion in Tokyo." 
Aleksanyan is headed back to Armenia for training camp and isn't sure when he'll compete next. When asked if he'll wrestle in the Poland Open and try to steal the No. 1 spot from Evloev, he said, "I don't know. That's not me who makes decisions. It's our coaches. Wherever they tell me to wrestle, I will do that. 
Gevorg GHARIBYAN (ARM) handed Armenia their second gold medal of the night with a 5-5 win over Kerem KAMAL (TUR). 
He surrendered an inactivity point in the first period and trailed 1-0. Gharibyan tossed Kamal with a massive four-point arm throw and gained the 4-1 lead after falling behind early in the first period. He extended his lead to 5-1 with an inactivity point but conceded a takedown and a caution-and-two and led 5-5 on criteria. 
Gharibyan stayed defensively sound in the final 60 seconds and stopped a flurry of Turkish attacks and won his first European title. Before his gold medal in Rome, Gharibyan never finished inside the top-ten in his two European appearances. 
Thoresen Becomes Second Norwegian European Champion in last 25 Years 
Morten THORESEN (NOR) joined Felix BALDAUF (NOR) as the only Norwegian Greco-Roman wrestlers to win a European gold medal in the previous 25 years. Furthermore, he became just the fifth Greco-Roman wrestler from Norway to ever claim a European title. 
"I think it's pretty funny because me and Felix lived together. He's (since) moved out and I'm the new European champion in the house," Thoresen jokingly said.
The 23-year-old won four hard-fought matches and capped off his title run with a 2-2 win over Nazir ABDULLAEV'S (RUS). "I had the flow through the whole competition. I had four really hard matches, but at the end of the day, I ended on top." He trailed 2-0 in the finals but finished on top thanks to a pair of one-point second-period exchanges.
Thoresen's focus now switches to qualifying Norway for the Olympic Games. "My goal is to qualify (Norway) for the Olympics. I'm going to go home and keep on training. Hopefully, you'll see me at the Olympic Games." 
Norway's Greco-Roman European Champions 
2020 - Morten THORESEN (67kg)
2017 - Felix BALDAUF (98kg) 
1992 - Lars ROENNINGEN (48kg) 
1990 - Jon ROENNINGEN (52kg) 
1988 - Lars ROENNINGEN (48kg) 
1927 - Sven MARTINSEN (58kg)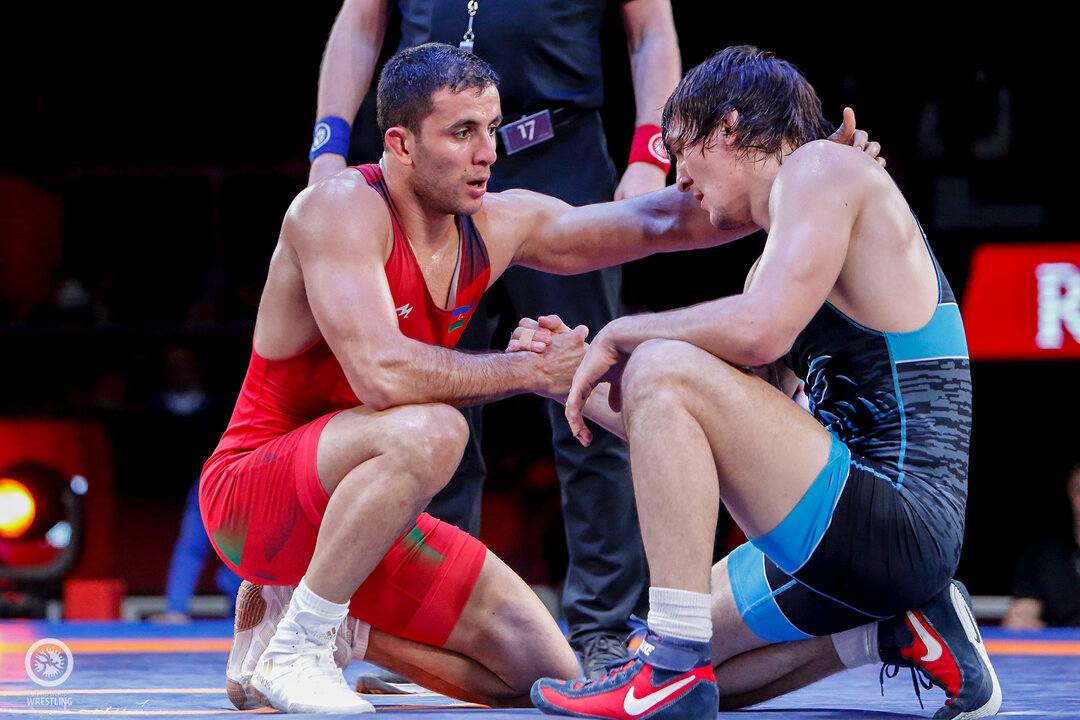 Rafig HUSEYNOV (AZE) and Daniel ALEKSANDROV (BUL) shake hands after their battle in the 82kg finals. (Photo: Gabor Martin)
Azerbaijan's Rafig HUSEYNOV (AZE) claimed the fifth and final gold medal of the day. He collected two inactivity points and beat Daniel ALEKSANDROV (BUL), 2-1, in the 82kg gold-medal match. 
The European Championships begin on Thursday at 11:30 (local time) and can be followed live on www.unitedworldwrestling.org.
60kg  
GOLD - Gevorg GHARIBYAN (ARM) df. Kerem KAMAL (TUR), 5-5 
BRONZE - Amiran SHAVADZE (GEO) df. Zhambolat LOKYAEV (RUS), 6-6
BRONZE - Murad BAZAROV (AZE) df. Helary MAEGISALU (EST), 9-0
67kg  
GOLD - Morten THORESEN (NOR) df. Nazir Rachidovitch ABDULLAEV (RUS), 2-2 
BRONZE - Karen ASLANYAN (ARM) df. Krisztian Istvan VANCZA (HUN), 7-5 
BRONZE - Kristupas SLEIVA (LTU) df. Aliaksandr LIAVONCHYK (BLR), 4-2 
72kg 
GOLD - Frank STAEBLER (GER) df. Iuri LOMADZE (GEO), 6-1
BRONZE - Selcuk CAN (TUR) df. Dominik ETLINGER (CRO), 7 - 5
BRONZE - Ulvu GANIZADE (AZE) df. Adam KURAK (RUS), 3-1
82kg 
GOLD - Rafig HUSEYNOV (AZE) df. Daniel Tihomirov ALEKSANDROV (BUL), 2-1 
BRONZE - Hannes WAGNER (GER) df. Stanislau SHAFARENKA (BLR), 8 - 3
BRONZE - Bogdan KOURINNOI (SWE) df. Ciro RUSSO (ITA), 6-4
97kg 
GOLD - Artur ALEKSANYAN (ARM) df. Nikoloz KAKHELASHVILI (ITA), 7-1 
BRONZE - Aleksandr GOLOVIN (RUS) df. Artur OMAROV (CZE), 8-0
BRONZE - Cenk ILDEM (TUR) df. Matti Elias KUOSMANEN (FIN), 3-3