Surprises Abound Friday Morning at Pan Ams
Friday, May 4, 2018 - 20:14 By Taylor Miller
LIMA (May 4) – Friday morning's session of the 2018 Pan American Championships wrapped up with a few surprises as 2017 Junior World champion Kamal BEY (USA) was knocked out of the competition when he suffered a broken rib in his first round of action at 77 kg.
Bey was going back and forth with two-time Pan American silver medalist Jair CUERO MUNOZ (COL) when the setback occurred. Bey was then forced to medical forfeit out of the tournament.
Cuero moved on to the finals at 77 kg and will do battle with 2018 Central American and Caribbean Championships gold medalist Ariel FIS (CUB).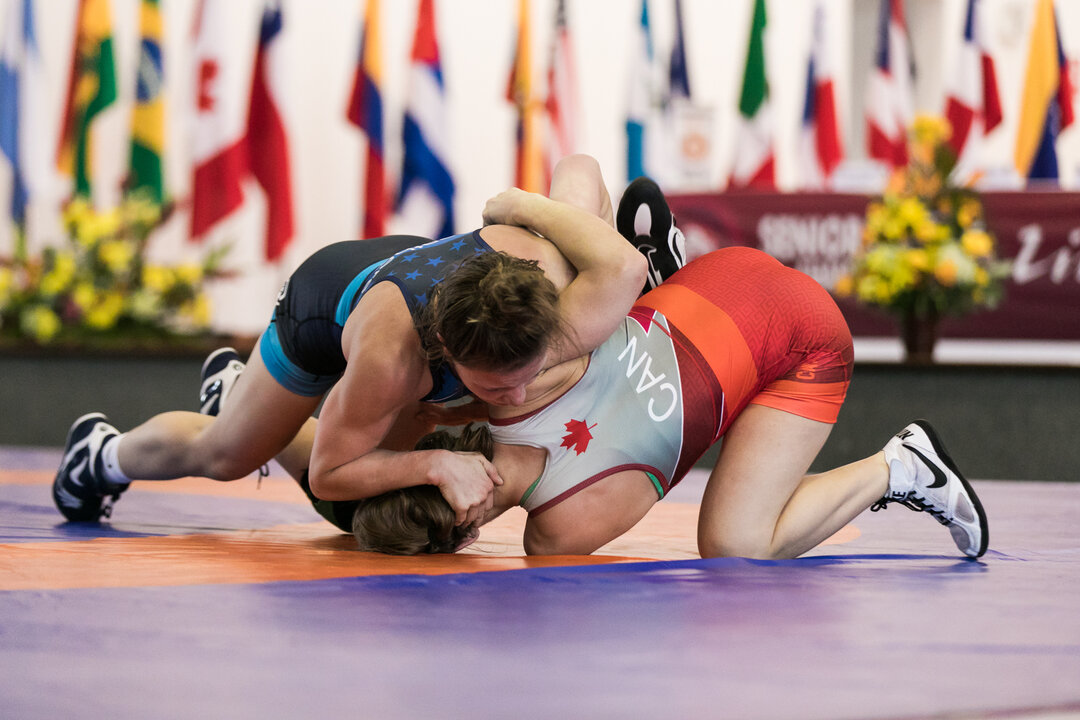 Other notable happenings from Friday morning included 2017 World bronze medalist Becka LEATHERS (USA) sealing a gold medal at 55 kg after she defeated the other two competitors in the field, Lady MORAN VALENZUELA (ECU) and Cara NANIA (CAN). It is her second-consecutive Pan Am title.
Moran Valenzuela and Nania will wrestle for silver tonight.
Also already securing a gold medal is Luis AVENDANO ROJAS (VEN), who has posted a 3-0 record at 82 kg in Greco, so far. Earlier in the day, he defeated the only 3-1 wrestler in the field, Geordan Speiller, a 2016 Pan Am champion, with an 8-0 tech fall.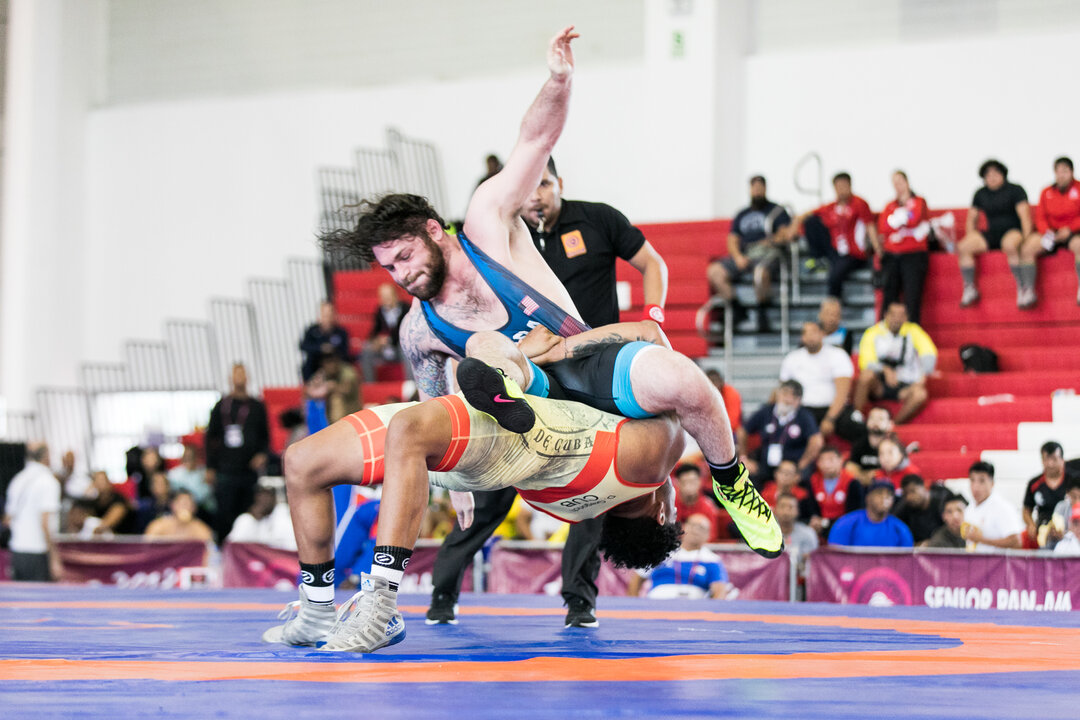 At 87 kg, the third Greco weight of the day, past Pan American medalists Yorgen COVA PULIDO (VEN) and Daniel GREGORICH (CUB) sailed to the finals and will face each other tonight for the crown.
Gregorich defeated Ben PROVISOR (USA) in a rematch of last year's Pan Am finals. Their last meeting ended in a 2-2 decision for Provisor. Not only did Gregorich flip the result but he also widened the gap, picking up a 9-0 technical fall.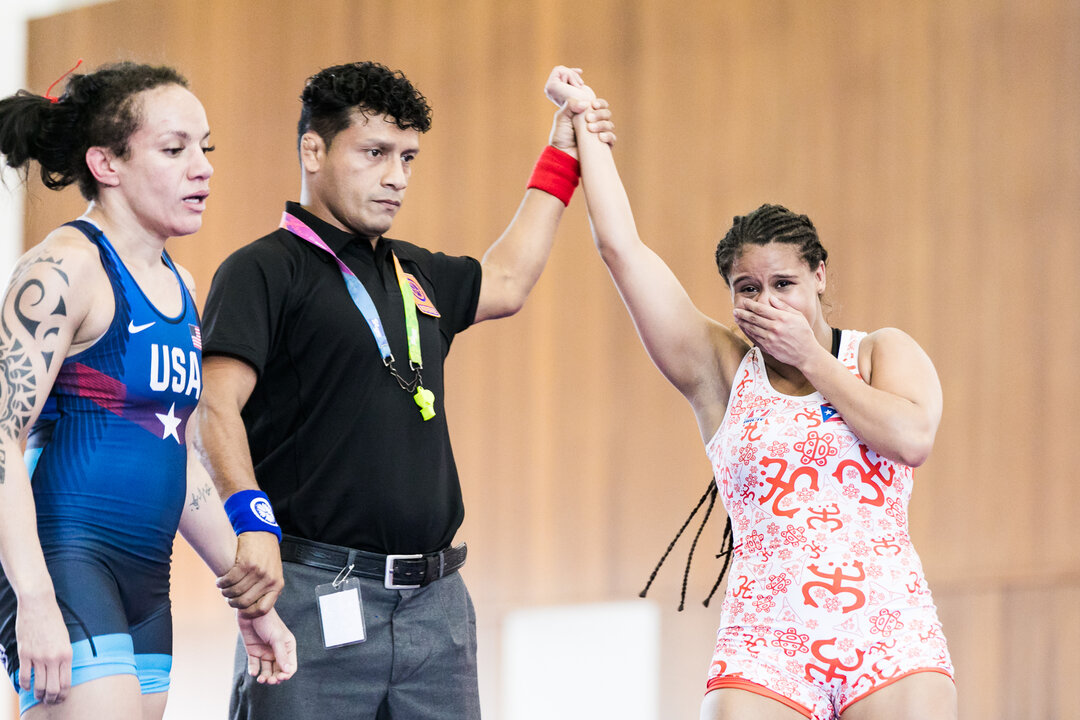 On the women's side, Andribeth RIVERA (PUR) knocked off two-time Pan American champion and 2012 Olympian Kelsey CAMPBELL (USA) with an decisive 10-4 win to put herself in position for gold at 59 kg, which is also a round robin weight.
Rivera will face off against Laurence BEAUREGARD (CAN) for the top prize in tonight's session.
There were no matches wrestled at 65 kg in women's freestyle as there are only two competitors in the bracket, counting 2017 Pan Am bronze winner Forrest MOLINARI (USA) and three-time University World medalist Breanne GRAHAM (CAN). The two will go head to head tonight for gold.
The final round of 72 kg competition will be contested tonight with three in the hunt for the top of the podium. Veronica KEEFE (CAN) leads the pack with a 2-0 record so far. She will take on Diana CRUZ ARROYO (PER), who is 1-1, suffering a loss to Josselyn PORTILLO MEJIA (ESA), who is also 1-1 on the day. Portillo Mejia will meet up with Hannah GLADDEN (USA) tonight.
The finals are set for 7 p.m. ET and can be watched live on unitedworldwrestling.org.
FINALS MATCH UPS
GRECO-ROMAN
77 kg
GOLD - Ariel FIS BATISTA (CUB) vs. Jair Alexis CUERO MUNOZ (COL)
BRONZE - Francisco Albano BARRIO (ARG) vs. Angelo Rafael MARQUES MOREIRA (BRA)
BRONZE - Reinier JIMENEZ TERRY (GUA) vs. Johan Antonio BATISTA (DOM)
82 kg
ROUND 5 - Brayden William AMBO (CAN) vs. Luis Eduardo AVENDANO ROJAS (VEN)
ROUND 5 - Carlos Moises ESPINOZA CASTRO (PER) vs. Adil Hendresson BARROS MACHADO (BRA)
87 kg
GOLD - Yorgen Jose COVA PULIDO (VEN) vs. Daniel GREGORICH HECHAVARRIA (CUB)
BRONZE - Alfonso Antonio LEYVA YEPEZ (MEX) vs. Benjamin Errol PROVISOR (USA)
BRONZE - Phillip Raweriio BARREIRO (CAN) vs. Carlos Alberto ADAMES PALMER (DOM)
WOMEN'S FREESTYLE
55 kg
ROUND 3 - Lady Raysa MORAN VALENZUELA (ECU) vs. Cara Gail NANIA (CAN)
59 kg
ROUND 3 - Andribeth RIVERA BELLIARD (PUR) vs. Laurence BEAUREGARD (CAN)
ROUND 3 - Karoline SILVA DE SANTANA (BRA) vs. Kelsey Rene CAMPBELL (USA)
65 kg
GOLD - Breanne Leigh GRAHAM (CAN) vs. Forrest Ann MOLINARI (USA)
72 kg
ROUND 3 - Veronica Helen Frances KEEFE (CAN) vs. Diana Luisa Victoria CRUZ ARROYO (PER)
ROUND 3 - Josselyn Tatiana PORTILLO MEJIA (ESA) vs. Hannah La Shae GLADDEN (USA)