Susaki Avenges Loss to Irie to Grab 50kg Title at Meiji Cup
Sunday, June 17, 2018 - 14:50 By Ken Marantz
TOKYO, Japan (June 17) —Yui SUSAKI got the revenge she sought and the second chance she needs in her continuing quest to defend her world title. 
For Rio 2016 Olympic champion Eri TOSAKA, the global stage remains a distant and currently unobtainable goal as she continues her comeback from a spate of injuries.
Susaki took a step closer to earning a place on Japan's team to the world championships when she scored a stunning victory by fall over Yuki IRIE in the women's 50kg final on the final day of the All-Japan Invitational Championships in Tokyo.
That avenged a devastating loss to Irie by technical fall in the semifinals of the All-Japan Championships, also known as the Emperor's Cup, last December that left her in tears. The two will now face each other again in a winner-take-all playoff for the berth on the team to Budapest.
"My feeling at this moment is that I'm happy to win the title, and, as there is a playoff in three weeks and I earned a place in it, I will start working tomorrow so that I can win it and go to the world championships," said the 18-year-old Susaki, a three-time world cadet champion who skipped the junior level and won the senior 48kg gold last year in Paris.
Under the Japan federation criteria, wrestlers who win their weight class at both the Emperor's Cup and the invitational tournament, known as the Meiji Cup, automatically qualify for the world team. If the winners are different, then the two will face in a special playoff to be held July 7.  
"I lost at the Emperor's Cup so I thought, I have nothing to lose, just put up a firm challenge and come out with the title," Susaki said. "I was the aggressor and controlled the flow of the match, and I think that led to the victory." 
In the final, Susaki, who posted technical fall victories in her first two matches, led 2-1 when she countered an Irie attack and pancaked her onto her back, securing the fall at 3:37 for her third straight Meiji Cup gold. 
For Susaki, now a freshman at Waseda University, the loss to Irie in December had even further ramifications, as it kept her off Japan's team to the Asian Championships in February, the Women's World Cup in March and the upcoming Asian Games in Jakarta.
"This time, I lost at the Emperor's Cup and that kept me from being able to enter various tournaments," Susaki said. "Seeing wrestlers other than me competing is very hard to take…So the only road open to me was to win here and get to the world championships. It became an obsession."
She did not remain idle, winning the 50kg gold medal at the Klippan Lady Open in February with a victor in the final over Rio 2016 silver medalist Mariya STADNIK (AZE). 
"That win gave me confidence, but if I don't win the national championships, I can't go to overseas [championships]. I put everything into this tournament and I still have a ways to go, but to achieve one goal is great."
Tosaka, competing in just her third tournament since winning the gold in Rio, was eliminated from the running for Budapest when she was dealt a 6-2 defeat by Irie in the semifinals. 
Tosaka scored the lone point of the first period when Irie was on the activity clock. But Irie roared back by scoring all of her points in the second period with a pair of takedowns and a roll. 
"Purely speaking, it was a match where I lacked strength," said Tosaka, who beat Irie 4-0 in the Meiji Cup final in 2015, the year she won the last of three straight world titles. 
"At 1-0, I did well to get in on a tackle, but not being able to clearly finish it off, that was the turning point of the match. My physical preparation and current condition were not bad. My opponent had a stronger desire to win and that was why I lost."
Tosaka underwent foot surgery after the Rio Olympics and returned to action in September 2017 at the lower level Japan Women's Open. That prepared her for the Emperor's Cup, but she suffered knee and ankle injuries just before the event and ended up defaulting her semifinal match.
"There is a gap between the expectations of those around me and my actual physical ability right now," Tosaka said. "There are expectations as the Olympic champion and everyone thinks I will win. But my level has not yet caught up."
Kawai, Okuno, Takahashi to defend world titles
In other action, Paris 2017 world champions Risako KAWAI, Haruna OKUNO and Yuki TAKAHASHI all completed the national double to secure their tickets to Budapest and earn a chance to defend their titles.
Meanwhile, Rio 2016 silver medalist Shinobu OTA took advantage of his main rival's absence in the Greco-Roman 60kg class to clinch his first trip to a world championships, while another Rio silver medalist, Rei HIGUCHI, saw his bid for a place in the freestyle 65kg playoff foiled by rising star Takuto OTOGURO.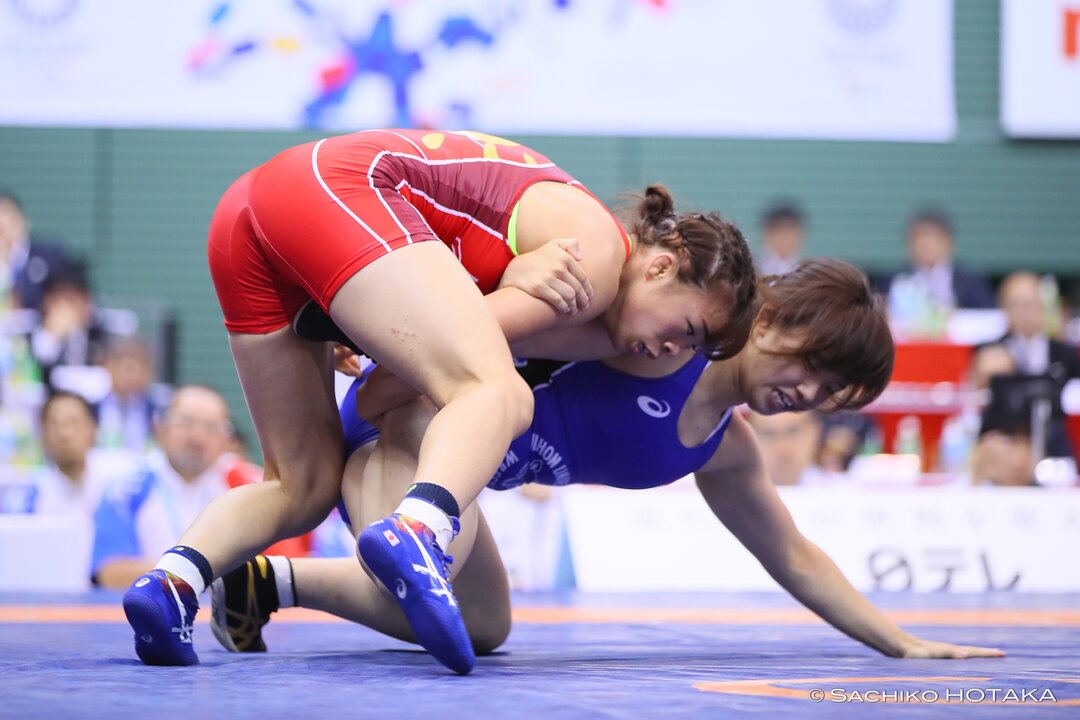 Kawai, the Rio 2016 gold medalist at 63kg, will aim for a second straight world title, this time at 59kg after crushing Yuzuru KUMANO by 10-0 technical fall in 5:28 of the final. 
Kawai scored all of her points on takedowns, and was less than enthusiastic about the quality of her performance in winning for the second straight year and third time overall.
"I switched weight classes with my sister, but I didn't have to cut weight and I felt I had prepared," Kawai said. "I can't say the way I wrestled was that good. I only had two matches and both were against junior teammates. I don't feel that I gained anything from my matches. There's still parts of my game that are lacking."
Kawai had won the Emperor's Cup at 62kg, but switched weight classes with younger sister Yukako, who had triumphed at 59kg. Yukako won the 62kg title on Saturday. Technically, that set up playoffs between the sisters in both weight classes, but they have decided that Risako will stay at 59kg and Yukako will seek her first world medal at 62kg.
Okuno repeated her victory from the Emperor's Cup over Yu MIYAHARA in the women's 53kg final, scoring the bulk of her points with a 4-point tackle in a 6-0 victory.
Okuno, who won her second straight title, did not look sharp in her two earlier matches. She won both by fall in the final seconds, but was trailing in both on last-point criteria going into the final minute.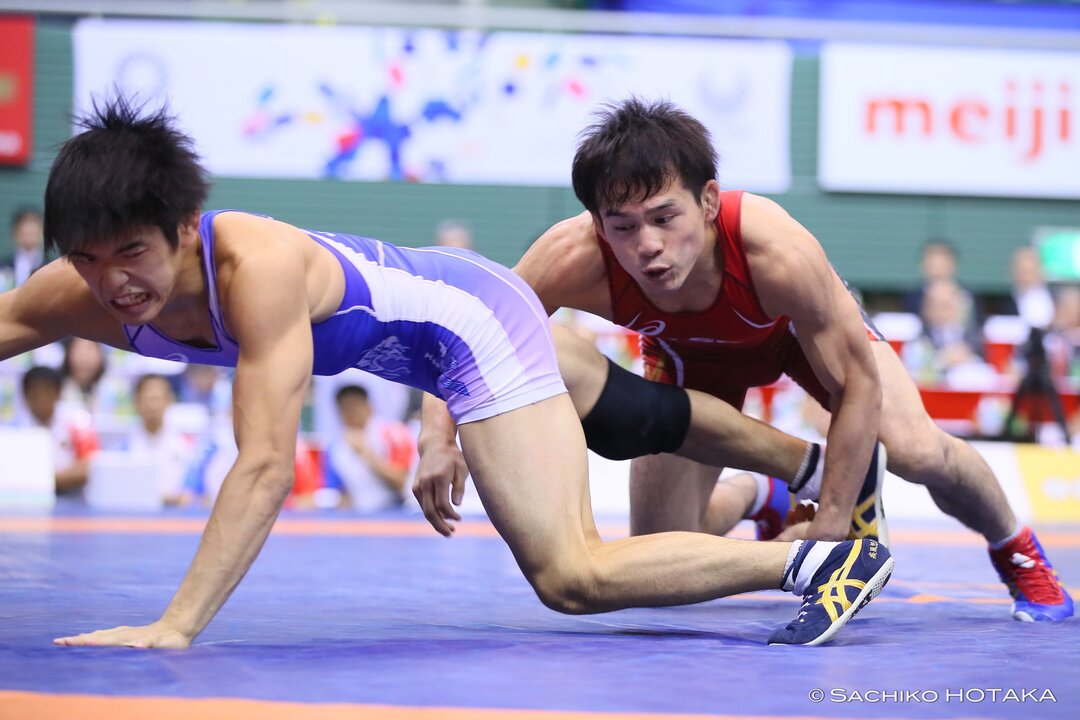 Takahashi, in contrast, was a whirlwind of activity, showing the speed and power that has brought him to the pinnacle of the freestyle 57kg division.
Following a pair of 10-0 technical falls that took 90 seconds or less each, Takahashi gave up an early takedown in the final against Tomohiro HASEGAWA -- as has become his trademark -- before scoring three takedowns of his own in a solid 7-2 win. 
"I was able to score points off my attack," the 24-year-old Takahashi said. "I've worked hard with the aim of going to the world championships and defending my title. Anyway, I have to forget this tournament and start preparing for the next."
Takahashi, whose last loss came in January 2017 in the first round of the Ivan Yarygin Grand Prix to Abasgadzhi MAGOMEDOV (RUS), knows it will be harder defending his world title than winning it the first time.
"I believe that suddenly winning out of the blue is not so difficult, but to win twice in a row, that's the sign of true strength," said Takahashi, who took home the Meiji Cup as the tournament's most outstanding wrestler. 
 
In following up on his Emperor's Cup victory, Ota did not have to contend this time with Paris 2017 champion Kenichiro FUMITA, who withdrew due to a knee injury. That opened the door for Ota to win his first Meiji Cup title and qualify for his first senior world championships. 
Ota, the gold medalist at the Asian Championships in Bishkek in February, did not have such an easy time, getting just two passivity points and giving up a point for fleeing in a 2-1 victory over Hayanobu SHIMIZU in the final.
 
"It's very disappointing that I didn't score any technical points," Ota said. "At the end, I had no intention of fleeing, but I gave that impression and it gave him a point. That's a sign of my immaturity and a lack of practice. I'll work harder so I can always aim for a technical fall."
Ota's day nearly came to a premature end. In his opening match, recklessness on a throw attempt left him having to fight off his back before he came away with a 12-8 win over teenager Ayata SUZUKI. He was more focused in his semifinal, which he ended by 9-0 technical fall in 31 seconds.
The emergence of Otoguro at 65kg adds more depth to an already stacked weight class for Japan. The 19-year-old shut down Higuchi in posting a 6-0 win in the final and earning a place in the world team playoff against Emperor's Cup champion Daichi TAKATANI.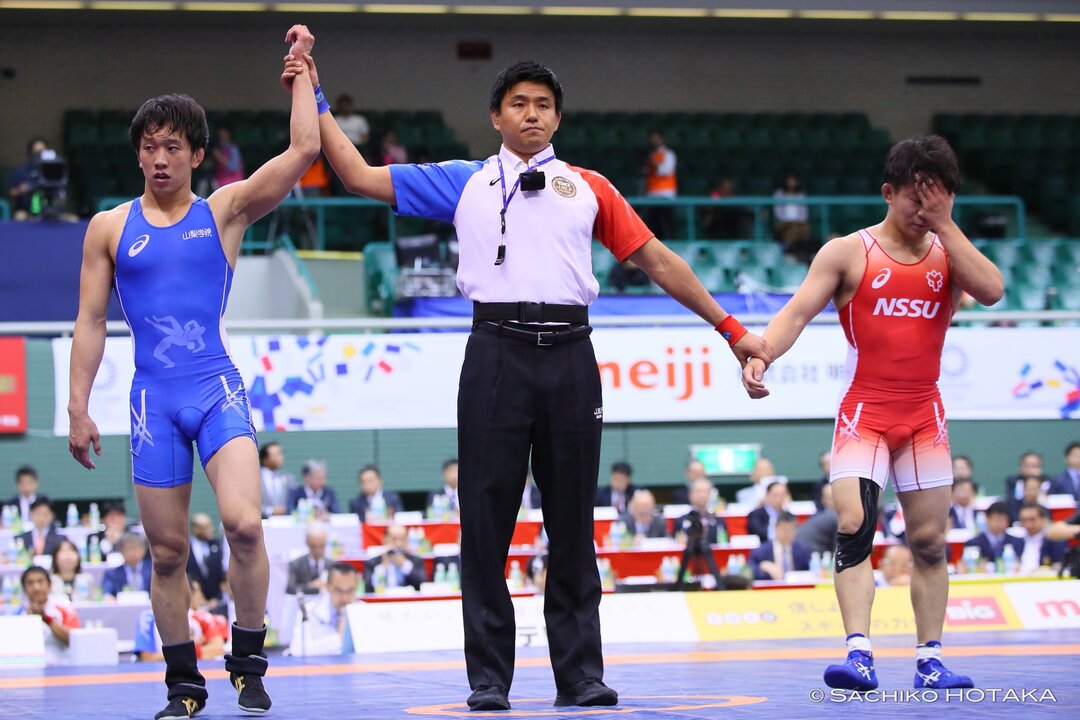 "There's a feeling of relief to win the title, but I still have the qualifying match for the world championships," said Otoguro, whose older brother Keisuke will take part in a playoff at 70kg. "I have to also win that. I'll do what I need to be prepared."
Higuchi was the runner-up in Rio at 57kg, but had since struggled to handle the extra size in moving up to the next Olympic weight of 65kg. Still, he held his own on Sunday, with his three wins en route to the final including an 8-5 decision over Takatani. 
Otoguro, the 2015 world cadet champion at 54kg, had faced Higuchi before, beating him 8-5 in the second round of the 2017 Emperor's Cup. 
"Last year we faced each other, and it was a match that could have gone either way," he said. "It looked like I would lose, but I ended up winning. That impression stuck with me and I won this time. Higuchi is strong and I'll do what I can to keep him from catching me."
Otoguro got a taste of global competition on the senior level in April as a member of the Japan team that won a bronze medal at the Freestyle World Cup in Iowa City. His two wins included a 10-5 victory over former world champion Logan Stieber of the United States.
"For the first time, I faced a former world champion," he said. "I'm happy that I could win, but he's not the champion now. The best thing is for me to go to the world championships and win the title. The World Cup was a good reference point and a good experience."
Results from Day 4
Freestyle
57kg (15 entries)
Gold – Yuki TAKAHASHI df. Toshihiro HASEGAWA, 7-2
Bronze – Kanta OKADA and Rikuto ARAI
Semifinal – Yuki TAKAHASHI df. Kanta OKADA by TF, 10-0, 1:02
Semifinal – Toshihiro HASEGAWA df. Rikuto ARAI by Def.
65kg (15 entries)
Gold – Takuto OTOGURO df. Rei HIGUCHI, 6-0 
Bronze – Hirotaka ABE and Koki SHIMIZU
Semifinal – Rei HIGUCHI df. Hirotaka ABE, 10-6
Semifinal – Takuto OTOGURO df. Koki SHIMIZU by TF, 10-0, :41
Greco-Roman
60kg (10 entries)
Gold – Shinobu OTA df. Hayanobu SHIMIZU, 2-1
Bronze – Kiyoshi KAWAGUCHI and Ryotaro FUJINAMI
Semifinal – Shinobu OTA df. Kiyoshi KAWAGUCHI by TF, 9-0, :31
Semifinal – Hayanobu SHIMIZU df. Ryotaro FUJINAMI, 7-0 
Women's Wrestling
50kg (9 entries)
Gold – Yui SUSAKI df. Yuki IRIE by Fall, 3:37 (4-1) 
Bronze – Eri TOSAKA and Miho IGARASHI 
Semifinal – Yuki IRIE df. Eri TOSAKA, 6-2
Semifinal – Yui SUSAKI df. Miho IGARASHI by TF, 10-0, 1:20
53kg (8 entries)
Gold – Haruna OKUNO df. Yu MIYAHARA, 6-0
Bronze – Yuka YAGO and Momoka KADOYA
Semifinal – Haruna OKUNO df. Yuka YAGO by Fall, 5:56 (8-2)
Semifinal – Yu MIYAHARA df. Momoka KADOYA, 6-2 
59kg (6 entries)
Gold – Risako KAWAI df. Yuzuru KUMANO by TF, 10-0, 5:28
Bronze – Kiwa IWASAWA and Yumeka TANABE
Semifinal – Risako KAWAI df. Kiwa IWASAWA by TF, 11-0, 1:44
Semifinal – Yuzuru KUMANO def. Yumeka TANABE by TF, 12-1, 3:35