Tynybekova and Mensah Inch Closer to Locking up Top Seed at Olympics
Thursday, January 30, 2020 - 11:12 By Eric Olanowski
*The highest number of potential points a wrestler can earn if he/she wins gold in a bracket with 20+ competitors at the continental championships (22 points) and Poland Open (18 points) is 40 points.
CORSIER-SUR-VEVEY, Switzerland (January 30) --- Aisuluu TYNYBEKOVA (KGZ) and Tamyra MENSAH-STOCK (USA) inched closer to locking up top seeds at the 2020 Olympic Games in Tokyo after medalling at the Matteo Pellicone Ranking Series tournament this month in Rome. 
Because the highest number of Rankings Series points a wrestler can earn the rest of the year is 40 (22 at continental championships and 18 at the Poland Open) defending world champions Tynybekova (62kg) and Mensah (68kg) are on the cusp of locking in their top seeds in Tokyo. The 2020 Games will be the first time wrestlers are eligible for a top-four seed seeding at an Olympics. 
Tynybekova, who took gold at the Matteo Pellicone, has amassed a comfortable 36-point lead over No. 2 Taybe YUSEIN (BUL) and will earn the No. 1 seed at 62kg in Tokyo if she earns four points at the Asian Championships February 18-23 in Delhi. Tynybekova is the defending Asian champion.
Mensah-Stock finds herself in a similar situation heading into the Pan-American Championships March 6-9 in Ottawa.
Mensah-Stock (74 points) earned 60 with her gold at the world championships last September and added another 14 after taking silver at the Matteo Pellicone. She has a 34-point advantage over Jenny FRANSSON (SWE) and can put her out of striking distance -- and become the No. 1 seeded 68kg woman at the Olympic Games -- if she scores six points at the Pan-American Championships.
Vinesh and Adekuoroye Sneak up to No. 2 Spot 
VINESH Phogat (IND) and Odunayo ADEKUOROYE (NGR) claimed gold the Matteo Pellicone and slipped into the second spot of the rankings at 53kg and 57kg, respectively.
Vinesh moved one-point ahead of Mayu MUKAIDA (JPN) and four points ahead of PANG Qianyu (CHN) with her 4-0 shutout win over Luisa VALVERDE MELENDRES (ECU) in the Matteo Pellicone Ranking Series finals. The Indian star positioned herself to take over the No. 1 spot with a potential 20-point gold-medal finish at the Asian Championships.
Vinesh, Mukaida and Pang are all entered into the 53kg bracket in New Delhi, but the weight will be missing reigning world champion Yong Mi PAK (PRK).
Vinesh is the lone top-four wrestler with enough points to overthrow Pak with a win at the continental championships. She'd control the one-point advantage over Pak heading into the final Ranking Series event.
Adekuoroye jumped RONG Ningning (CHN) and is now the lone woman from Africa in the top two of the rankings. The Nigerian superstar trails three-time world champion and 2016 Olympic champion Risako KAWAI (JPN) by 17 points.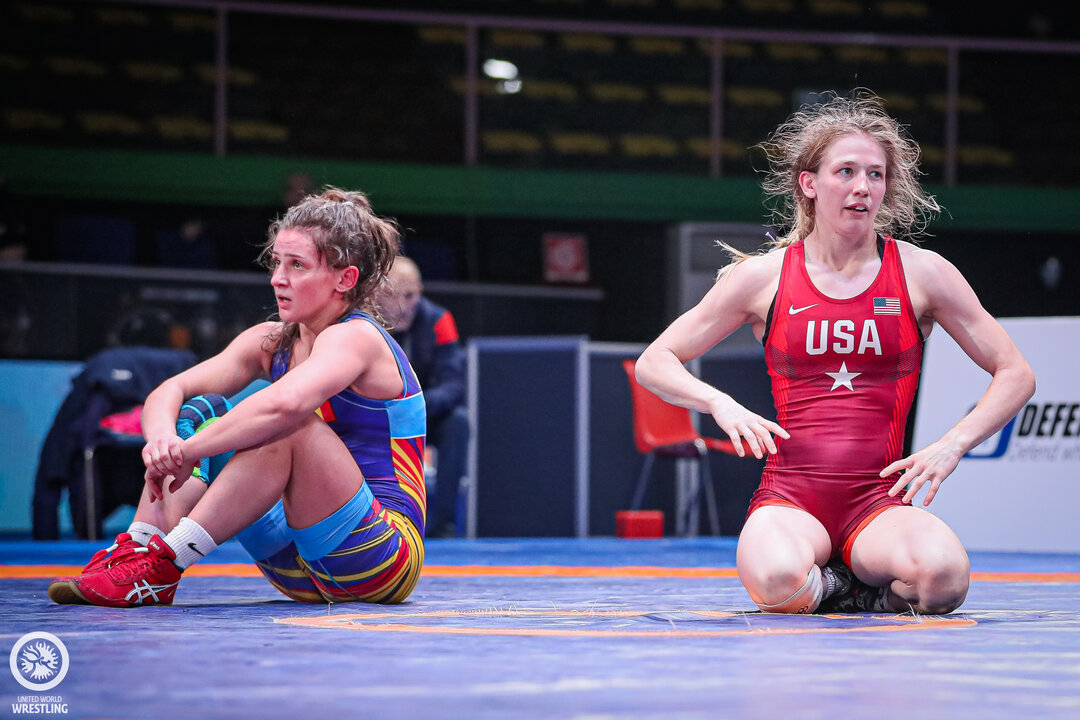 Alina VUC (ROU) trails Mariya STADNIK (AZE) by six points heading into the European Championships. (Kadir Caliskan)
Vuc Closes Gap with Matteo Pellicone Silver; Hildebrandt Debuts at 50kg
Alina VUC (ROU) claimed a silver medal at the Matteo Pellicone, closing the gap between her and top-ranked Mariya STADNIK (AZE). Vuc trailed Stadnik by 20 points heading into to the Matteo Pellicone but closed the Azeri's lead to just six points after taking silver to Sarah HILDEBRANDT (USA) in a back-and-forth finals.
Hildebrandt, who last year was briefly top-ranked at 53kg, answered a lot of questions about her move to 50kg with her 4-2 victory in the gold medal finals of the Matteo Pellicone. The win moved Hildebrandt into No. 10 slot at 50kg with 16 points.
Epp Mäe (EST) dropped to seventh in the 76kg rankings after three wrestlers moved into the top-five with Matteo Pellicone podium finishes. (Photo: Gabor Martin)
Mäe Slips to Seventh after Top-Heavy Changes at 76kg
Epp Mäe (EST) slipped three spots in the rankings after failing to reach the podium in Rome. ZHOU Qian (CHN), Elmira SYZDYKOVA (KAZ) and Erica WIEBE (CAN) finished in the top-five to move ahead of Mäe in 76kg rankings.
Mäe's costly loss in the quarterfinals in Rome moved her down to seventh while Zhou, Sydykova and Wiebe moved into the No. 4 to No. 6 spots, respectively. 
The next Ranking Series tournaments will be the continental championships held in February and early March. Gold medal winners are eligible for 12 points plus a bonus based on the number of entries in their weight category.
Please go to UnitedWorldWrestling.org for the updated competition calendar and guidelines for accumulating points during the Ranking Series.
Top-Ten Women's Wrestling Rankings

50kg 
1. Mariya STADNIK (AZE) - 60
2. Emilia Alina VUC (ROU) - 54
3. Oksana LIVACH (UKR) - 32
4. Valentina Ivanovna ISLAMOVA BRIK (KAZ) - 25
5. Ekaterina POLESHCHUK (RUS) - 25
6. Yanan SUN (CHN) - 20
7. Evin DEMIRHAN (TUR) - 18
8. Yuki IRIE (JPN) - 16
9. Sarah Ann HILDEBRANDT (USA) - 16
10. Ellen RIESTERER (GER) - 14
53kg 
1. Yong Mi PAK (PRK) - 60
2. Vinesh VINESH (IND) - 41
3. Mayu MUKAIDA (JPN) - 40
4. Qianyu PANG (CHN) - 37
5. Luisa Elizabeth VALVERDE MELENDRES (ECU) - 32
6. Maria PREVOLARAKI (GRE) - 20
7. Roksana Marta ZASINA (POL) - 20
8. Lianna de la Caridad MONTERO HERRERA (CUB) - 16
9. Sarah Ann HILDEBRANDT (USA) - 14
10. Vanesa KALADZINSKAYA (BLR) - 12
55kg
1. Jacarra Gwenisha WINCHESTER (USA) - 58
2. Nanami IRIE  (JPN) - 38
3. Iryna HUSYAK (UKR) - 28
4. Bolortuya BAT OCHIR (MGL) - 23
5. Olga KHOROSHAVTSEVA (RUS) - 23
6. Bediha GUN TUR) - 18
7. Marina SEDNEVA (KAZ) - 18
8. Anna LUKASIAK (POL) - 14
9. Vanesa KALADZINSKAYA (BLR) - 14
10. Annika WENDLE (GER) - 12
57kg
1. Risako KAWAI (JPN) - 60
2. Odunayo folasade ADEKUOROYE (NGR) - 43
3. Ningning RONG (CHN) - 40
4. Iryna KURACHKINA (BLR) - 25
5. Jowita Maria WRZESIEN (POL) - 20
6. Anastasia NICHITA (MDA) - 20
7. Marina SIMONYAN (RUS) - 18
8. Giullia RODRIGUES PENALBER DE OLIVEIRA (BRA) - 16
9. Anshu ANSHU (IND) - 16
10. In Sun JONG (PRK) - 14
59kg
1. Linda MORAIS (CAN) - 58
2. Liubov OVCHAROVA (RUS) - 38
3. Anhelina LYSAK (UKR) - 32
4. Shoovdor BAATARJAV (MGL) - 23
5. Xingru PEI (CHN) - 23
6. Pooja DHANDA (IND) - 18
7. Tetiana OMELCHENKO (AZE) - 16
8. Yuzuka INAGAKI (JPN) - 14
9. Sandra PARUSZEWSKI (GER) - 12
10. Yuliya PISARENKA (BLR) - 12
62kg
1. Aisuluu TYNYBEKOVA (KGZ) - 76
2. Taybe Mustafa YUSEIN (BUL) - 40
3. Yuliia TKACH OSTAPCHUK (UKR) - 30|
4. Kayla Colleen Kiyoko MIRACLE (USA) - 26
5. Henna Katarina JOHANSSON (SWE) - 25
6. Yukako KAWAI (JPN) - 25
7. Marianna SASTIN (HUN) - 20
8. Jong Sim RIM (PRK) - 20
9. Kriszta Tunde INCZE (ROU) - 14
10. Liubov OVCHAROVA (RUS) - 14
65kg
1. Inna TRAZHUKOVA (RUS) - 72
2. Iryna KOLIADENKO (UKR) - 38
3. Elis MANOLOVA (AZE) - 23
4. Xiaoqian WANG (CHN) - 23
5. Yuliana Vasileva YANEVA (BUL) - 18
6. Forrest Ann MOLINARI (USA) - 18
7. Aina TEMIRTASSOVA (KAZ) - 16
8. Kadriye AKSOY (TUR) - 14
9. Malin Johanna MATTSSON (SWE) - 12
10. Oksana KUKHTA HERHEL  (UKR) - 12
68kg
1. Tamyra Mariama MENSAH (USA) - 74
2. Anna Jenny Eva Maria FRANSSON  (SWE) - 40
3. Blessing OBORUDUDU (NGR) - 30
4. Danielle Suzanne LAPPAGE (CAN) - 26
5. Anna Carmen SCHELL (GER) - 25
6. Battsetseg SORONZONBOLD (MGL) - 25
7. Alla CHERKASOVA (UKR) - 20
8. Sara DOSHO (JPN) - 20
9. Agnieszka Jadwiga WIESZCZEK KORDUS (POL) - 16
10. Feng ZHOU (CHN) - 16
 72kg
1. Natalia VOROBEVA (RUS) - 58
2. Alina BEREZHNA STADNIK MAKHYNIA (UKR) - 38
3. Paliha PALIHA (CHN) - 23
4. Masako FURUICHI (JPN) - 23
5. Victoria Christine FRANCIS (USA) - 18
6. Zhamila BAKBERGENOVA (KAZ) - 18
7. Beste ALTUG (TUR) - 16
8. Alexandra Nicoleta ANGHEL (ROU) - 14
9. Maria SELMAIER (GER) - 14
10. Komal Bhagwan GOLE (IND) - 12
 76kg
1. Adeline Maria GRAY (USA) - 60
2. Hiroe MINAGAWA SUZUKI (JPN) - 40
3. Aline ROTTER FOCKEN (GER) - 37
4. Qian ZHOU (CHN) - 34
5. Elmira SYZDYKOVA (KAZ) - 30
6. Erica Elizabeth WIEBE (CAN) - 30
7. Epp Mäe (EST) - 25
8. Hui Tsz CHANG (TPE) - 18
9. Alla BELINSKA (UKR) - 16
10. Kamile GAUCAITE (LTU) - 12