Ukraine Leads Bulgaria By Ten Points After Day 4
Thursday, April 11, 2019 - 20:31 By Eric Olanowski
BUCHAREST, Romania (April 11) - Ukraine's national anthem played three times on Thursday night as Oksana LIVACH, Iryna HUSYAK, and Alla CHERKASOVA captured three of the five women's wrestling European Championships titles on the fourth day of wrestling in Bucharest, Romania. Ukraine, who finished Day 4 with 85 points, leads Bulgaria by 10 points heading into the final day of the women's wrestling competition. 
In the 50kg gold-medal bout, Oksana Livach trailed 4-4 on criteria with under 15 seconds left but was able to gain the 6-4 outright advantage over her Bulgarian opponenet Miglena SELISHKA to win her first senior-level European title. 
Ukraine's second European champion came at 55kg, where Iryna Husyak also defeated a Bulgarian wrestler to win a gold. Husyak trailed Evelina NIKOLOVA (BUL), 4-2, after the first period, but was the aggressor in the second period. She scored eight points off two takedowns and a four-point throw to reach the top of the continental podium for the first time with a 10-4 victory. 
Reigning world champion Alla Cherkasova gave Ukraine their third and final Day 4 gold medal. In what turned out of being the most exciting bout of the day, Cherkasova and her Czech Republic opponent Adela HANZLICKOVA combined to score 17 points. But, it was the reigning world champion who prevailed in the end, winning the 68kg gold medal, 11-6.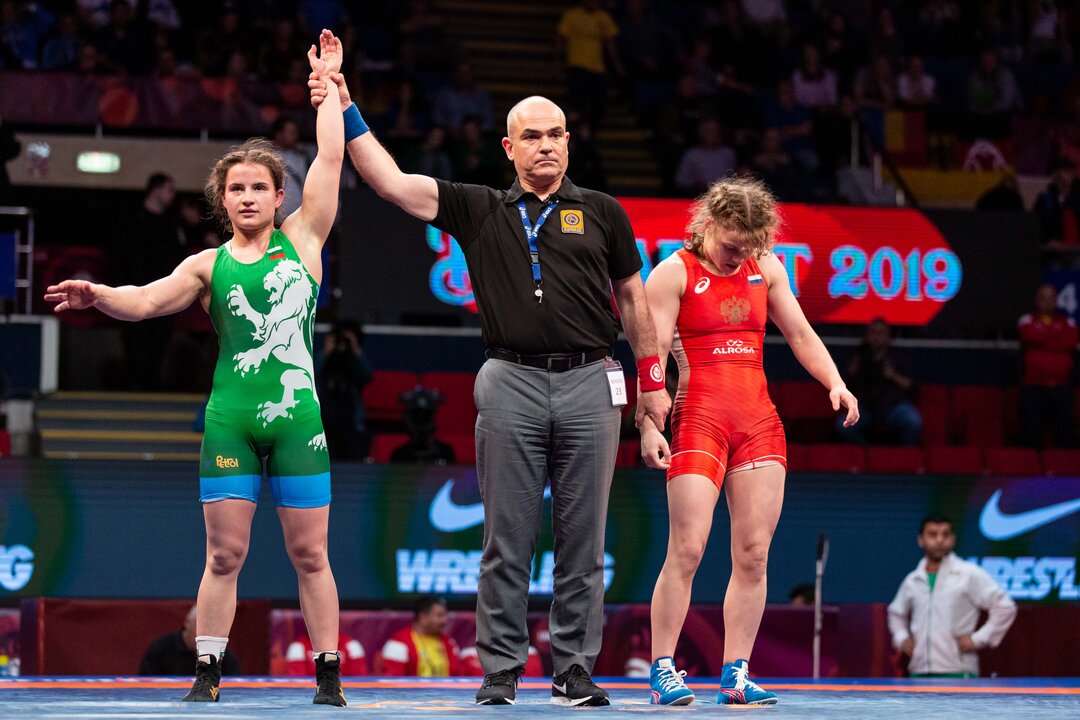 Bilyana DUDOVA (BUL) won her second consecutive European title with a 3-0 victory in the 59kg finals. (Photo: Gabor Martin) 
Bulgaria, who sits in second place in the team race, finished with one champion and two silver medals. 
Bilyana DUDOVA  was Bulgaria's Day 4 champion, where she won the title at 59kg. The reigning world runner-up at 57kg made the smooth transition up to 59kg and capped off her run to her second consecutive continental gold medal, stopping Russia's Svetlana LIPATOVA (RUS), 3-0. Dudova scored an inactivity point and a takedown off a Russian tie and helped Bulgaria claim the 25 first place points. 
Bulgaria's two silver medals came from the aforementioned Miglena Selishka and Evelina Nikolova who fell short in the 50kg and 55kg gold-medal bouts respectively. 
Turkey is in third place heading into the final day of women's wrestling. They had a champion in Yasemin ADAR and a trio of bronze medalists, Evin DEMIRHAN, Bediha GUN, Elif YESILIRMAK. 
Yasemin Adar, last year's world runner-up, was the final women's wrestler who won a gold medal on Day 4. Adar defeated Austria's Martina KUENZ (AUT), 6-1, using an arm spin and four-point throw to win her fourth consecutive European title.
Adar, who entered the European Championships ranked No. 2 in the world, will take over the top spot in the world after her title-winning performance in Bucharest.  
Greco-Roman wrestling begins tomorrow at 11:30 (local time) and can be followed on www.unitedworldwrestling.org.
Team Scores 
GOLD - Ukraine (85 points)
SILVER - Bulgaria  (75 points)
BRONZE - Turkey (70 points)
Fourth - Azerbaijan (41 points)
Fifth - Romania (35 points)
50kg 
GOLD - Oksana LIVACH (UKR) df. Miglena Georgieva SELISHKA (BUL), 6-4 
BRONZE - Kseniya STANKEVICH (BLR) df. Stefania PRICEPUTU (ROU), 10-2 
BRONZE - Evin DEMIRHAN (TUR) df. Turkan NASIROVA (AZE), 10-3
55kg
GOLD - Iryna HUSYAK (UKR) df. Evelina NIKOLOVA (BUL), 10-4
BRONZE - Andreea ANA (ROU) aforementioned. Mariana DRAGUTAN (MDA), 6-4 
BRONZE - Bediha GUN (TUR) df. Zalina SIDAKOVA (BLR), 10-0 
59kg 
GOLD - Bilyana Zhivkova DUDOVA (BUL) df. Svetlana LIPATOVA (RUS), 3-0 
BRONZE - Elif YESILIRMAK (TUR) df. Ramona GALAMBOS (HUN), 5-1 
BRONZE - Elmira GAMBAROVA (AZE) df. Anhelina LYSAK (UKR), 11-6
68kg 
GOLD - Alla CHERKASOVA (UKR) df. Adela HANZLICKOVA (CZE), 11-6 
BRONZE - Anna FRANSSON (SWE) df. Iryna Petrovna NETREBA (AZE), 5-2
BRONZE - Anastasija GRIGORJEVA (LAT) df. Danute DOMIKAITYTE (LTU), 8-3 
76kg
GOLD - Yasemin ADAR (TUR) df. Martina KUENZ (AUT), 6-1 
BRONZE - Aline ROTTER FOCKEN (GER) df. Kamile GAUCAITE (LTU), via fall 
BRONZE - Zsanett NEMETH (HUN) df. Iselin SOLHEIM (NOR), 6-1